IKEA Secrets They Don't Tell You So You End up Spending More
So recently, we came across this Facebook post about how IKEA tricks you into buying more.
While some people shared that the tactics didn't work on them, I've got to say that I didn't think so much about shopping at IKEA until I read this post.
IKEA furniture is a cult favourite so you should learn these tactics because…one reason for personal finance is to avoid overspending.
We've summarised some of the tactics discussed so that you can take notice and not be lured into buying more than you need!
---
TL;DR: 9 Untold IKEA Secrets That Made You Buy More & More
Gotta say these reasons helped explain why I ended up getting… ziplock bags during my random trips to IKEA, even though I was clearly there to window shop at first.
The 'IKEA effect' is actually quite mind-blowing!
Click here to jump:
---
1. Distract Your Kids To Focus on Shopping
We love our children!
But it can be hard to multitask when you need to shop and your child needs to be entertained.
Don't worry, IKEA's Småland is a children's play haven!
The play area is opened daily and children between 90cm to 120cm are welcome to spend time there.
Within the playgrounds, children can do colouring, play in the ball pit, play hopscotch or watch TV, and there're toilets inside for our children to use.
If you've been to IKEA Alexandra and IKEA Tampines, you would've seen these playgrounds near the entrances.
See the trick yet?
Once you've dropped off your child, you can finally focus on shopping and have more time to browse, thereby increasing your chances of buying more!
---
2. IKEA Helps Make Your Shopping Easier
Well, if you're lazy, you might not have created a shopping list or made measurements of the items you need.
Some people said that IKEA places pencils and paper strategically so that you can create a shopping list.
There're also others who've shared that the stationery is placed together with a tape measure/ruler so that you can measure the furniture, and check out the available space you have at home or office.
Regardless of the intent, we can't deny that this does help make your shopping more convenient.
A good practice to prevent overspending in every shopping spree is to jot down the prices of the items and calculate them right before you head to the counter. This can help you keep your budget in check!
---
3. No Sunlight & Windows Showing Outdoors So You'll Lose Track Of Time
Well, this claim is said to be a tactic borrowed from casinos.
If you've never been to a casino, we're here to let you know that most casinos have no clocks or windows so that players can focus on playing the games.
This has also been said to make players lose track of time eventually.
It was due to this possibility of people losing track of time thus leading them to lose control of their gambling, that the Singapore casinos are mandated to have clocks.
Coming back to IKEA, most of us would've noticed that the windows don't necessarily lead to an outdoor view (note: it could also be because the showrooms are indoors).
The clocks used in showrooms are also either fake or do not show the real timing.
Either way, if you don't wear a watch or check your phone often, this could lead you to spend more time than you originally planned!
---
4. IKEA Is A Maze So You Can Spend More Time There
If you've spent some time at IKEA, you might have encountered situations where you can't find your way.
There's a reason for this – the stores are designed to be a MAZE.
This is known as the Gruen effect – When a store's layout is so complex that you forget why you arrived there in the first place, resulting in impulse purchases.
Marcus Engman, IKEA's Global Chief Designer, has revealed the furniture company's stores are built like mazes so they look like walk-through catalogues.
"The maze is a technique of overwhelming the senses. There's a lot of stimuli. The sunlight's blocked out and it gets you to stop thinking about time and space." – Consumer psychology expert Paul Harrison
The IKEA layout is essentially a "technique" to get customers to spend more time in stores.
Just take a look at this floorplan.
Suffice to say this worked on me.
There were moments when I grabbed something and wanted to put it back. However, I ended up losing my way and surfing through tons of other items before getting to where I came from.
---
5. You Think Less With Designated Shopping Trails
Have you spotted these arrows at IKEA?
In conjunction with the maze layout, these arrows on the floor might've prompted you to keep walking non-stop because…you think less.
Just follow the arrows and you don't have to think about where to go next.
You might not be one of them, but some people have really spent a lot of time following these arrows unknowingly.
---
6. Making Impulse Purchases Because You Are There
"Oh yeah, I've always wanted to get this, might as well just get it now that I'm here."
Are you guilty of making impulse purchases, no matter how small the item is?
NGL, I am actually guilty of this. I've randomly purchased…candles, photo frames and even… a plant stand, even though all I wanted to do was window shop.
As the stores are filled with showrooms, you may be tempted to buy every small thing you spot in stores.
This includes bedsheets, glass jars and cooking utensils.
So, before you buy impulsively, always tell yourself that since you haven't been eagerly making a purchase decision on this item, do you really need it? Would it be cheaper to get it elsewhere, for example, Taobao?
---
7. IKEA Locations Are Very Convenient
The post has shared that IKEA stores overseas are usually located outside the city centre so that consumers are committed to buying and won't leave empty-handed.
Contrary to what the post mentioned, IKEA stores in Singapore are actually located in the heartlands – Queenstown, Jurong East and Tampines.
Singaporeans love the convenience of our public transport, it's no wonder that these stores are conveniently located at places where you can reach by buses and MRTs.
The most out of the way would probably be IKEA Tampines, but there are daily free shuttle buses from Bedok MRT and Tampines MRT.
During the weekends & public holidays, you can also take the free shuttle bus from Seng Kang MRT and Pasir Ris MRT.
---
8. Free Parking at IKEA
This is not from the post, but it's also something I've noticed from personal experiences.
If you're driving, parking is free at IKEA Tampines!
At the Alexandra outlet, parking is free for the first 3 hours if you spend a minimum of $15 on IKEA products or $5 if you are an IKEA FAMILY member.
Do note that IKEA products here do not include spending on food and… it's not that hard to hit $15 at IKEA.
---
9. IKEA Meatballs & Restaurant
Now, this should be something very familiar to you.
The famous IKEA meatballs.
These meatballs are the icons of IKEA and I do know people who head down to IKEA just for the meatballs.
According to research, 30% of IKEA shoppers went there for its food.
It's not just about the food, it's also the inexpensive food prices that make you 'feel good'.
A plate of salmon and prawns with organic spaghetti with cream sauce is $12.90, and there's also an occasional free kids' meal!
There are two dining options in a typical IKEA store:
On the main floor, there is a Swedish restaurant that provides meatballs, salmon, desserts and other Scandinavian dishes.
And then there's also a bistro/cafe where you can purchase hot dogs, cinnamon buns, pizza, and other fast-food favourites near the exit.
Even if you're not there for the furniture, you may inadvertently spend on food because they are cheaper!
---
You Can Shop Smart Using Credit Cards
If you need to spend at IKEA, make sure you check out credit cards that can optimise your spending.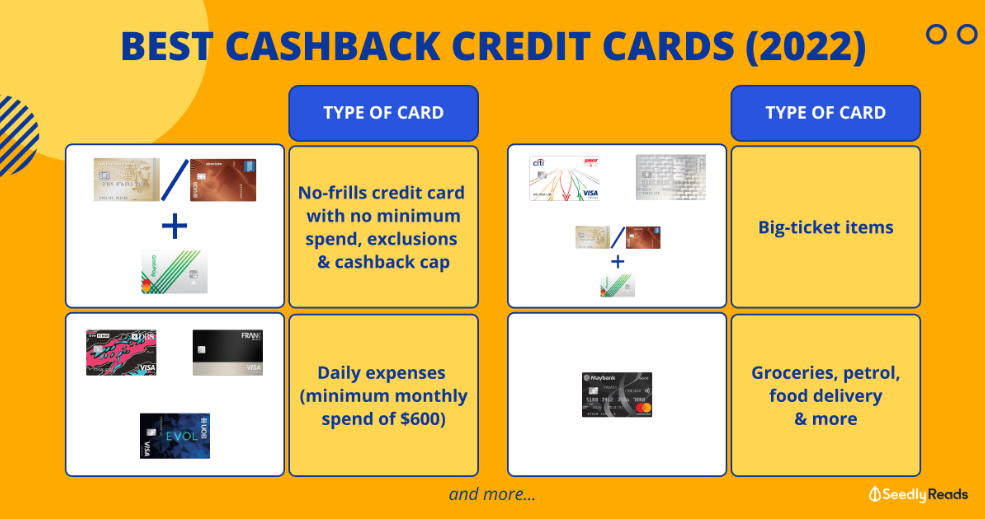 With an incoming recession and ongoing inflation, we do want to pay attention to everything we spend as every dollar saved is a dollar earned.
If in doubt, you can always try out the Seedly 50-30-20 budgeting rule to keep your finances in check.
Now that you've learnt about how these tactics work, you can start saying 'No'.
Share with us in the community if you have more tips to share to avoid overspending at IKEA!
Related Articles
About Hui Juan Neo
The typical friend you have when it comes to breaking down complex info, comparing prices of things and doing reviews.
You can contribute your thoughts like Hui Juan Neo
here.