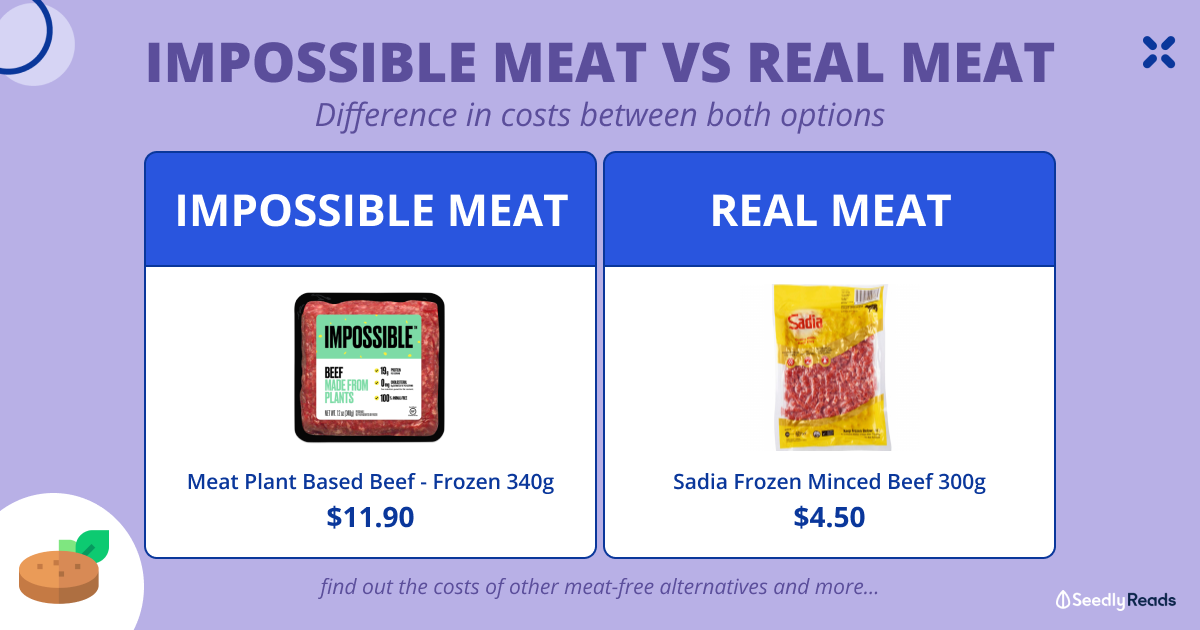 Impossible Burger or Real Beef Burger? The Cost of Switching to a Plant-based Diet
Recently, I keep seeing this new trend everywhere.
I grab a nice burrito for lunch, I see Impossible Meat options. Takeaway a salad bowl, I can opt for Impossible Meat patties as my protein choices.
Now, this has been going on for quite a while, so naturally, I'd be curious.
So just the other day, I went and bought an impossible meat burrito.
I honestly couldn't believe it when I took a bite of the burrito.
It tastes just like actual beef!
Now for many of us, eating healthier is probably one of our New Year's resolutions, and with something tasting shockingly close to the real thing, it's going to be tempting for all of us.
Which gets me wondering, how much more expensive are meat-free alternatives than the real thing?
Do I have to burn a hole in my wallet for this potentially healthier option?
Let's break it all down in this article!
---
TL;DR: Impossible Burger or Real Beef Burger? Price of Impossible Meat vs Real Meat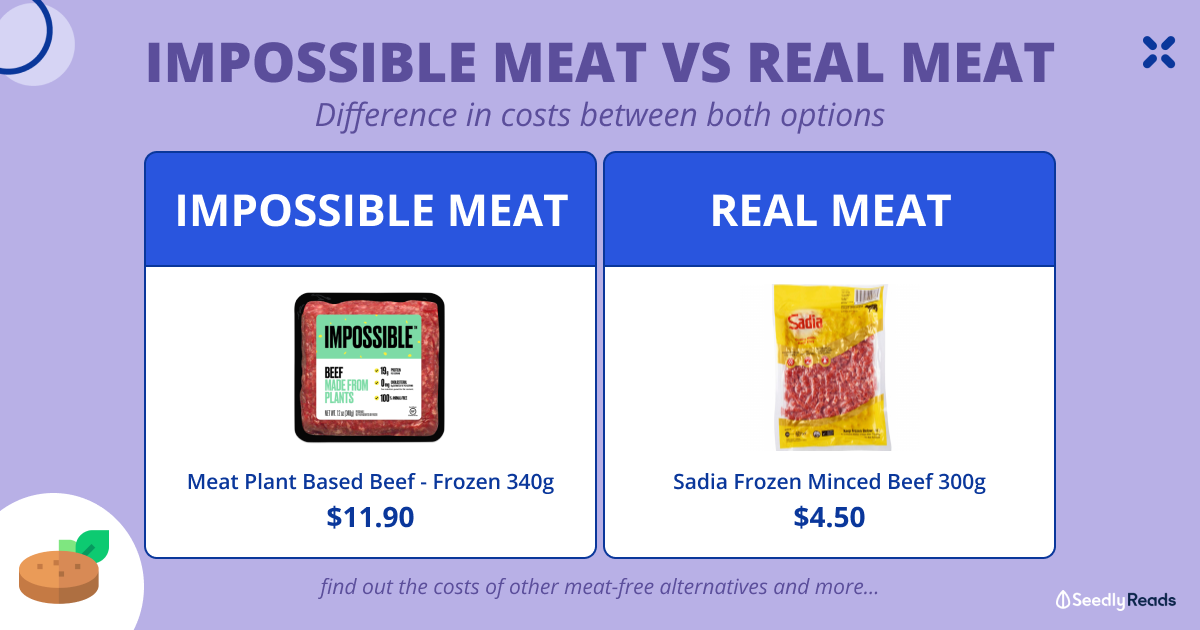 ---
What Are Meat-Free Alternatives and Why Are They So Popular?
So what exactly are these popular meat-free alternatives?
Plant-based "meats" such as the famous Impossible Meat or Beyond Meat are made from ingredients from plants such as soy or peas.
By taking protein from plants, these companies replicate the nutritional content found in real meat.
What makes them so unique compared to other types of mock meat that you can find is that they taste exactly like actual meat!
Another reason why plant-based alternatives such as Impossible Meat are popular is because plant products reduce the need to slaughter animals on farms.
Which can be an incentive for people who are against animal cruelty.
Furthermore, opting for meat-free alternatives can potentially benefit the environment as it reduces greenhouse gases released from animal farms.
Hence, people are switching to plant-based meat for their multitude of benefits.
Cost Comparison of Meat-Free Alternatives and Their Counterparts
It is somewhat expected that meat-free alternatives such as Impossible Meat are pricier than their real meat counterparts.
Over the years, Impossible Meat or Beyond Meat have been adjusting their prices to meet their customers' demands.
Hence, we have taken the liberty of comparing the prices of some common meat-free alternatives and similar real meat products:
| Plant-based Alternative | Cost | Real Meat Option | Cost |
| --- | --- | --- | --- |
| ALTN Meat Free Nugget 500g | $9 | Farmpride Chicken Nuggets 500g | $5.25 |
| Beyond Meat Sausage Hot Italian 400g | $18.85 | Savour Italian Spicy Sausages 350g | $10 |
| Impossible Meat Plant Based Beef - Frozen 340g | $11.90 | Sadia Frozen Minced Beef 300g | $4.50 |
| Omnimeat Luncheon 240g | $8.50 | Mili Luncheon Meat 397g | $2.50 |
| Quorn Vegan Fishless Fingers 200g | $7 | Seawaves Mahi Mahi Fish Fingers 250g | $6.90 |
Prices are accurate as of 14 Jan 2022. All prices are taken from Cold Storage for a more accurate comparison.
Judging by cost alone, some of the real meat counterparts with roughly the same weight cost close to half as much as their meat-free alternatives.
Of course, it would seem like a wiser decision to make the change only if you're able to afford the price difference for the potential benefits it can provide.
Why Are Meat-Free Alternatives So Expensive?
With that much price difference, it's natural for people to wonder why these meat-free alternatives are so expensive?
See, here's the thing, many factors go into the crops required for farming animals and making meat-free alternatives.
In the case of animal farming, cheaper crops such as corn, wheat, or soy are used to feed the livestock, and meat-free products using these as ingredients tend to be on the cheaper side.
However, when it comes to plant-based meats such as Impossible Meat or Beyond Meat, crops such as peas or mung beans are used to get the proteins to match real meat's nutritional content.
Furthermore, the technology required to develop meat-free alternatives costs quite a lot, and companies have yet to recover the sum used in these products' Research & Development (R&D).
With all of these factors combined, the costs of these plant-based meat alternatives will skew towards the higher side.
Closing Thoughts
Of course, making changes to eat healthier or to support a good cause is never easy.
As much as you would love to do so, it's always best to do it within your means.
There is no sense in making bad financial decisions that could harm you in the long run, right?
For those of you who would love to start eating healthier while saving money, feel free to check out this guide on how to meal prep as well as some of the cheapest healthy food deliveries!
Want to learn how you can support the environment while investing?
Check out some of the environmentally-friendly REITs you can invest in now!
About Jin Hua Yeo
Fantasy writer writing about essential tips in real life. Feels content about starting a career in content marketing.
You can contribute your thoughts like Jin Hua Yeo
here.