A Guide To Decorating Your Home With The Prettiest Indoor House Plants
It is no secret that I'm a huge fan of our editor's house. Honestly, with a home looking as gorgeous as this, who could blame me?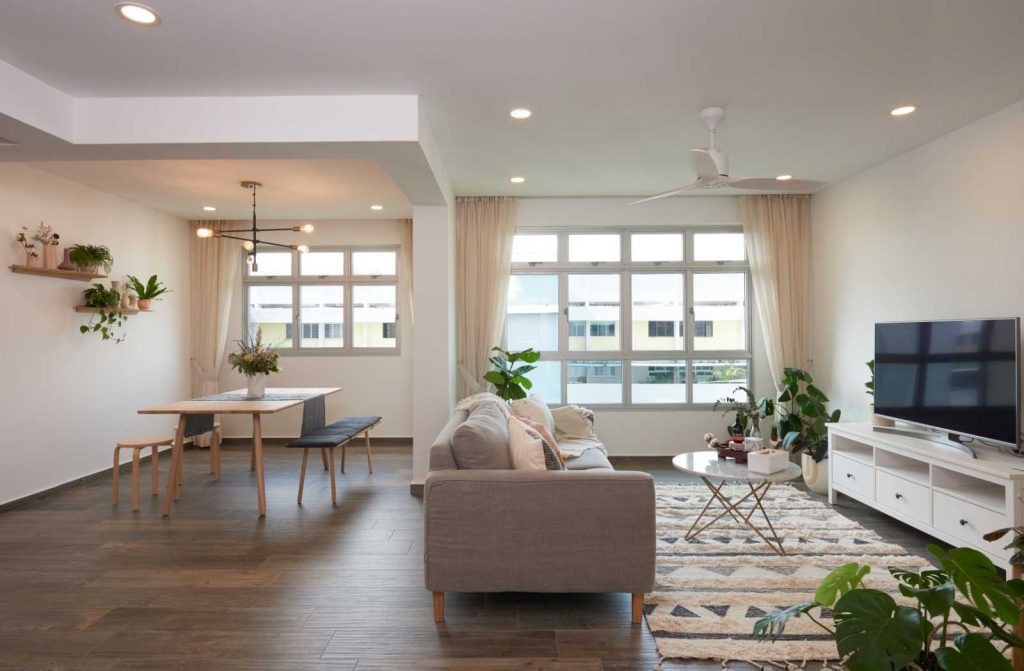 Now, we all know that a great way to jazz up your home would be to have beautiful plants strategically placed to add a touch of greenery. Yet, choosing the right plants is a little tricky, especially plants that are suitable to be grown in an indoor environment.
To help you decorate your home with the right plants, here are some of the best house plants you can get, that are both gorgeous and low-maintenance.
TL;DR: The Best House Plants You Can Get To Jazz Up Your Home
Plant
Price Range (for a medium sized plant)
Best Location
Maintenance Level
Pet/ Children Friendly?
Monstera Deliciosa/ Swiss Cheese Plant
~$28
Best for large spaces.
In a fairly bright room, or bright room with a shady area.
Medium
No
Snake Plant
~ $18
Can survive both in high or low light conditions.
Low
No
Pothos / Devil's vine
~ $16.60
'Higher locations.
Low
No
Spider Plant
~ $18
Can take up space. Best in rooms with big windows.
Medium
Yes
Philodendron Green

~ $20.10
Putting on a high shelve/ hanging planter.
Low
No
Aloe Vera
~$18.10
At bright spots of the house.
Low
No
Dracaena

~$10
Kept away from direct sunlight.
Low
No
English Ivy
~$8
Loves moist soil and cool room temperature. Perfect for an air conditioned room.
Low
No
Rubber Tree Plant
~$24
Needs lots of bright, but not direct sunlight.
Low - Medium
Yes
Peace Lily
~$19.50
Grows well in dim rooms.
Low
No
1. Monstera Deliciosa/ Swiss Cheese Plant
The Monstera Deliciosa is a favourite amongst Singaporeans who opt for minimalist decor. With its unique leaf design, it makes a good centrepiece for your home. Do note that the Swiss Cheese plant has huge leaves and relatively thin stems, so it is best to have them near sturdy structures for support.
If you live in a small flat with cramped spaces, you may want to reconsider this plant, as it requires a fair bit of space to flourish. As an alternative, a similar-looking variety you can get would be the M. deliciosa borsigiana or mini, which are the slightly more compact varieties.
Cost: ~$28 
Pet/Children Friendly? : No. Poisonous when ingested.
2. Snake Plant
Also known as the 'mother-in-law's tongue', the snake plant is a classic home plant with a sword-like, foliage design. The snake plant is a great air purifier, as it helps remove toxins such as formaldehyde, xylene, toluene, and nitrogen oxides. It is also a great producer of oxygen at night, so you will get the added benefit of more oxygen in your rooms.
Cost: ~$18 
Pet/Children Friendly? : No. Poisonous when ingested.
3. Pothos
While Pothos is arguably one of the easiest house plants to grow, its vines can trail as long as 30 feet, so some effort is needed to shake them loose so that they don't get tangled every now and then. Pothos is best grown in high areas, such as a high bookshelf, or a small hanging pot.
Cost: ~$16.60
Pet/Children Friendly? : No. Poisonous when ingested.
4. Spider Plant
The spider plant has long arching foliage that can grow extensively. Put them in a nice hanging basket to spruce up your house. The plant is known for its air-purifying abilities and is best kept in a shady area, away from direct sunlight.
Cost: ~$18
Pet/Children Friendly? : Yes!
5. Philodendron Green
The Philodendron Green has vibrant green leaves that are heart-shaped. It is easy to grow and gives the house a breezy, tropical feel. Similar to the Monstera Delicosa, this plant t requires a fair bit of space to flourish as well and is best used as a space-filler to spruce up the living room.
Cost: $20.10
Pet/Children Friendly? : No. Harmful if eaten, and can be a skin and eye irritant.
6. Aloe Vera
Besides it being a soothing skin balm or a healthy snack, the aloe vera plant is a great air purifier. It is best kept in a shady place that is brightly lit, as direct sunlight may cause dark spots to appear on the plant.
If you are intending to consume the aloe vera, do note that the leaves are comprised of three parts: the skin, the gel and the latex. Not properly cutting and removing the yellow latex from the aloe vera may cause laxative effects such as stomach ache and diarrhea during consumption.
Cost: ~$18.10
Pet/Children Friendly? : No. Laxative effects if consumed directly,
7. Dracaena
An upright plant with spectacular foliage, the Dracaena plant comes in a number of shapes, colours, sizes and patterns. There are many different types of Dracaena varieties you can check out, and they are easy to grow as they accept low and indirect sunlight.
Cost: ~$10 
Pet/Children Friendly? : No. Toxic to dogs and cats.
8. English Ivy
English Ivy plants are evergreen, and are known for their woody vines. They can be used as ground covers and can reach up to 8 inches in height.
Due to their aerial rootlets, they can climb to the heights of 50 feet for more and are best kept in high areas. You can plant your English Ivy in containers or baskets, where the trailing vines are able to hang down.
Cost: ~$8 
Pet/Children Friendly? : No. Poisonous when ingested.
9. Rubber Tree Plant
If you avoid getting house plants due to pollen allergies, you can opt for the rubber plant, where flowers and fruits don't often grow if it is potted and kept indoors.
Rubber plants are great for removing formaldehyde, carbon dioxide and carbon monoxide from the air, so it is perfect for those with newly renovated flats with a fresh coat of paint, or houses facing busy roads or expressways.
Cost: ~$24
Pet/Children Friendly? : No. Poisonous when ingested.
10. Peace Lily
The peace lily has a small long-standing white flower amidst its large glossy emerald green leaves. This plant thrives in the shade, with moderate watering.
If you have children or pets though, do note that the plant contains an irritating toxin that is can be dangerous to dogs and children when ingested.
Cost: ~$19.50
Pet/Children Friendly? : No. Poisonous when ingested.
Where Can I Buy Indoor House Plants In Singapore?
If looking at these gorgeous house plants have enticed you into getting your own, here are a few shops and nurseries you can check out!
Plant Nurseries in Singapore You Can Check Out
| Places To Buy Plants | Best For | Location |
| --- | --- | --- |
| A Tilly A Day | Air Plants, Indoor Plants | Punggol |
| Candy Floriculture | A variety. Includes rare, imported plants. | Thomson |
| Cheng Tai Nursery | Bonsai | Sungei Tengah |
| Easi Grow | Succulents, Miniature Home Plants | Tanjong Pagar |
| Far East Flora | Flowers, Larger plants | Thomson |
| FittoniaMania | Small/ Mini Indoor Plants | Serangoon Central | Upper Thomson Road |
| Ikea | House Plants | Tampines/ Alexandra |
| Ideal Flora & Landscape | A Variety of Plants | Kovan |
| Koon Lee Nursery Pte Ltd (Hougang Floral Ctr) | A Variety of Plants | Kovan |
| Noah Garden Centre | A Variety of Plants | Online |
| Sing See Soon, BLG Nursery | A Variety of Plants | Punggol |
| Spa Flora | Air Plants | Thomson |
| Song Lang Garden | Mix of Outdoor and Indoor Plants | Tanjong Katong |
| Tumbleweed Plants | Indoor Plants | Geylang |
| The ChloroFeel Shop | Rare succulents and small indoor plants | Online |
| World Farm (Hua Hng Trading) | A Variety of Plants | Sembawang |
Redesigning Your Home With Indoor House Plants
If you've done the right research and find the best plants for your home, it will look as tastefully decorated as Ken's house. Having indoor house plants may really help with ventilation and purifying the air. However, if you have pets or children, do keep in mind to leave these plants in locations that are hard to reach, as they may be poisonous if consumed by your pet or child.
About Rachel Yeo
Breaking down complicated financial pieces into idiot-proof articles.
You can contribute your thoughts like Rachel Yeo
here.