Getting Dengue Taught Me Life Lessons & Why Insurance Is Important
Does this banner look familiar to you?
If you've stepped out of the house, you would've seen these ads in your neighbourhood warning you about dengue.
And yes, as the title suggested, I've survived dengue recently.
Not that you've asked, but if you're wondering how it was…
It was terrible.
I've always thought that dengue was just a fever, but it was more than that.
Now that I'm almost recovered, I'll do this mozzie dance to get rid of mosquitoes…
Jokes aside, if you haven't met anyone who's gotten dengue, I want you to know that dengue could actually lead to a series of health concerns.
From the onset of a high fever till my recovery, I had multiple health scares and thought I should share my story with you.
---
TL;DR: Hard Lessons I'm Reminded To Remember At Heart
NGL, my health is not at its best this year.
I've contracted COVID-19 less than 90 days ago and now I'm recovering from dengue.
Talk about the chances of falling sick…
Not restricted to dengue per se, here are some actionable steps to take if you encounter a health situation next time:
Note: If you've gotten dengue prior to reading this article, your experience might differ from mine and I'm glad that you've recovered from it!
---
1. Health Insurance Is Important To Help Cover Your Bills
I've always known that I need to own certain insurance policies.
And I'm very thankful that I've upgraded my health insurance prior to catching dengue because it helped cushioned my medical bills.
To give you some context, I developed a 39-degree celsius fever over a random night.
You might be wondering why I didn't choose to go to the hospital right from the start.
I wasn't actually diagnosed with dengue when I visited a General Practitioner.
On the third night when no amount of Anarex and cough syrup could alleviate my symptoms, I was also experiencing some bleeding and decided it was time for a hospital visit.
I called my insurance agent just to make sure that I would be covered if I were hospitalised.
Making Sure I Had Insurance Coverage For Hospitalisation
If you're unsure what type of health insurance you own, check out this table.
Type of Health Insurance
Coverage
Premiums Payable By
MediShield Life
Inpatient and outpatient treatments (for up to Class B2/C wards in public hospital)

Includes pre-existing conditions
Fully payable via MediSave

Family members can also pay premium on behalf
Integrated Shield Plan
Enhanced coverage for inpatient and outpatient treatments (Private hospitals, A/B1 ward public hospitals)

Might exclude pre-existing conditions
MediSave can be used, subjected to Additional Withdrawal Limits (AWLs)
CareShield Life
Lifetime payout for severe disability, including individuals with pre-existing severe disabilities
Fully payable via MediSave
Disability Income Insurance
Fixed sum each month to replace loss of income during active employment years
Payable by cash
Critical Illness (CI) Insurance
Lump-sum payout for 37 severe-stage medical conditions
Payable by cash
Hospital Cash Insurance
Includes cash benefits for day surgery, recuperation, overseas hospitalisation or medical evacuation etc.
Payable by cash
As a Singaporean, you're actually automatically enrolled for the Medishield Life.
This is one of the national insurance that offers very basic inpatient and outpatient coverage to help defray expensive medical costs.
Personally, I've topped up for an Integrated Shield Plan (ISP), which is an 'upgrade' of MediShield Life via private insurers.
If you have an ISP, the coverage extends to all public hospital wards and private hospitals and your claim limit also increases.
I didn't opt for the option to upgrade to a private hospital because the waiting time at the hospital was shorter than expected.
But, I might have opted for a transfer and forked out a 5% of my total hospital bill if my condition was more severe.
Regardless, I'm able to claim all expenses I've made and in hindsight, I was glad that I could choose my preferred care options without worrying about my bills.
Was Dengue Covered Under Insurance?
While I didn't make my medical claims via Personal Accident insurance, you might be able to do so if dengue is covered under your existing plan.
It would be good to check in with your insurance agent, or if you have your queries, check out the Seedly Q&A!
One of our community members pointed out that the AIA Solitaire Personal Accident II is an option.
Other notable plans include Tokio Marine TM Protect MosBite and Tiq ePROTECT safety plan.
---
2. Emergency Funds – Start Setting Aside Money For It
Getting dengue was also a timely reminder to prepare me for emergencies.
If you're not an avid saver, it's probably time for you to at least put money aside for urgent and unplanned life events.
My colleague Justin had written about the importance of having emergency funds for such situations.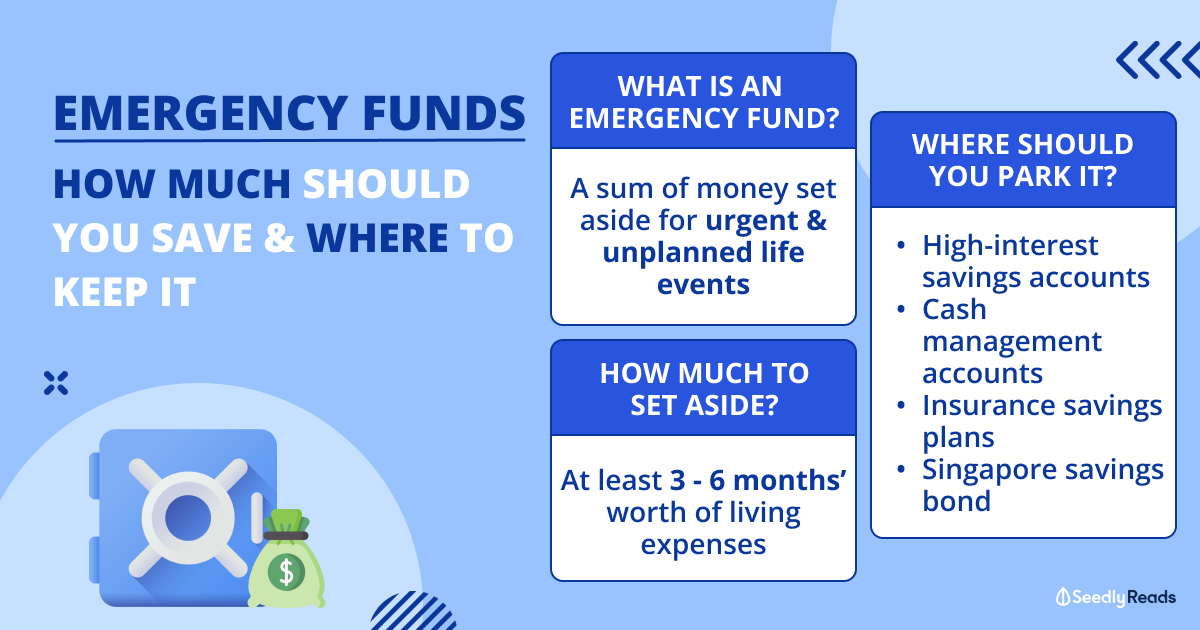 I was glad that I didn't have issues paying my bills as I have already set aside money for medical emergencies.
I did this using the 20-30-50 allocation method and it has been effective for me thus far.
The expenses for treating dengue came from the monthly 20% I've set aside for emergencies.
Ideally, one should have at least three to six months' worth of living expenses as emergency funds.
Amidst the chaos and breathlessness, the last thing that I needed to worry about was unexpected out-of-pocket expenses.
---
3. Prevention Is Better Than Cure
This saying never gets old.
I would like to share with you that the follow-ups for dengue were very leceh (difficult, inconvenient, troublesome).
Once my fever subsided, I had to do daily blood tests to monitor my platelet and white blood cell count.
The popped-up veins and needle holes on my elbows were glaring but on top of that, what was worrying was my platelet count, which was dropping consistently.
This is not the most pleasant photo I know, but I felt the need to show you what I had to go through.
I couldn't eat normally, I risked bleeding internally and the possibility that I had to be hospitalised.
I was also asked not to brush my teeth for three days in case I experienced gum bleeding.
FYI: As of 11 June 2022, there're a total of 1,466 dengue cases reported in Singapore.
The number of dengue cases is expected to peak this month with weekly cases likely to cross 2,000.
This would be Singapore's highest record if it comes true…
The National Environment Agency (NEA) has also just announced that Project Wolbachia will be expanded to more than 1,400 Housing Board Blocks, covering some 300,000 homes.
This is one of Singapore's main strategies in the fight against dengue and involves releasing Wolbachia-carrying Aedes mosquitoes into the air to help combat dengue.
If this still doesn't look that serious, according to the Centers for Disease Control and Prevention, globally, up to 400 million people get infected with dengue each year.
And among this number, approximately 40,000 people died from severe dengue!
When I put the numbers together, does it look serious yet?
So, apart from making sure your house is not a breeding spot for Aedes mosquitoes, I'd suggest that you bring a repellant around.
---
4. Aside From Finances, You Also Need Emotional Support
Throughout my dengue ordeal, I'm very thankful that I have wonderful and reliable colleagues who've had my back.
They let me rest without disturbing me throughout and I could only jump back to work steadily because of the strong support they've shown me.
At home, I'm also blessed to have family members who've taken good care of me when I couldn't help around the house.
Suffice to say, I could recover properly because I have a support system that made sure things were taken care of.
---
COVID-19 May Be Over, But Dengue Is Still Around
Getting dengue fever was honestly random and unexpected.
To date, I could not locate my mozzie bite and I don't know where I've gotten bitten at.
In any case, dengue isn't taking a backseat and it can be fatal for some, especially those with a weakened immune system.
It is an important time to stay vigilant and be a considerate neighbour by doing regular checks on your plants and pails.
Do you have a similar experience or have gotten yourself covered for dengue?
Share with us in the community!
Related Articles
About Hui Juan Neo
A savvy shopper and foodie at heart, I'm always on a lookout for discounts and deals to snag the best bargains.
You can contribute your thoughts like Hui Juan Neo
here.