Is Hiring a Professional Photographer To Help Sell Your Property Worth It?
Joel Koh
●
In Singapore, selling your property can get really expensive.
On top of having to pay Seller Stamp Duty, agent fees, legal fees, mortgage loan prepayment penalty fee (if any), HDB Resale levy and other fees, you might not want to pay more to engage a professional photographer to help sell your photographer.
After all, why engage a professional photographer to take photos of my property, when you can do it yourself with your phone's wide-angle lens?
Well, there's more to it.
Supporters of professional property photography say that good photos can increase a property's selling price and help the property sell faster as it leaves a better impression on potential buyers.
But is that always the case?
To find out, I will be weighing the costs and benefits to see if hiring a professional photographer to take photos of your property is really worth it.
Benefits of Professional Interior Photography in Singapore
It appears Singaporeans are obsessed with property, according to findings for the HSBC's 2019 Beyond the Bricks survey.
HSBC polled about 1,000 respondents from Singapore and found that they spent about 3.29 hours a week doing property window shopping, which includes activities like scouring online property listings and pouring through property magazines.
The study also found that respondents were doing this even though they were not actively looking for a new home.
Even with the COVID-19 pandemic, interest in online property platforms like PropertyGuru and 99.co which provide online listings for property in Singapore is growing steadily.
Great Photography Leaves a Memorable First Impression
Generally, most home seekers use photos and videos as the first level of filtering before deciding whether to physically view a unit.
When it comes to visual marketing like advertising for your house, first impressions are vital and more often than not, you would not get a second chance to make another first impression.
Thus, it is vital that your potential buyers have a good first impression for your property listing, and a great way to make this impression is with high-quality photos from a professional interior photographer.
Take the photos above as an example. The photos on the left and right are photos of the same house taken by an amateur photographer and a professional photographer.
And now, imagine that you are a potential homeowner and come across an old website with amateurish and low-quality photos like the ones of the left.
I would think that you would click away and find better quality photos that can give you a more realistic portrayal of what it is like to actually live in that space.
This is where professional interior photographers who have house staging expertise, photography skills and editing skills can make your property stand out.
A great photographer can ensure that your house is aesthetically pleasing and bring out the best and unique details of a design.
What Do The Research Show?
Seattle based real estate brokerage Redfin (NASDAQ: RDFN) conducted a 2013 study that compared online listings with amateur photographs and listings that were photographed professionally with a digital single-lens reflex (DSLR) camera.
The data showed that professionally photographed online home listings in the US$400,000 to $499,999 price range were sold three weeks faster than home listings in the same price range with amateur photos.
In terms of price, there are also a couple of advantages to engaging a professional photographer.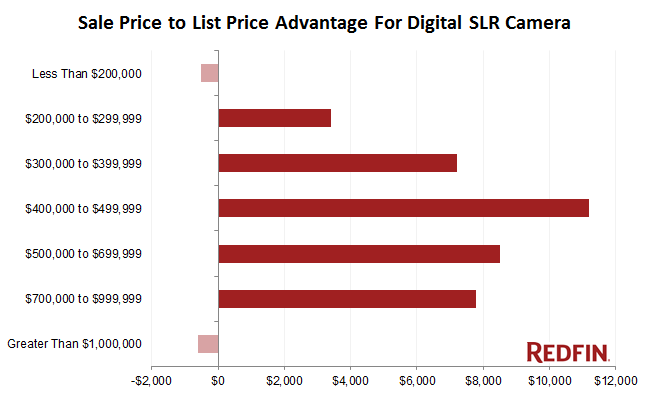 The study found that professionally photographed online home listings priced between US$200,000 and US$1 million sold for US$3,400 to US$11,200 more relative to their list prices.
However, for homes that were priced below US$200,000 and above US$1 million sold for less than their list prices.
Another study done by VHT Studios, a professional real estate photography and marketing service provider found that:
"Chicago-area homes that were professionally photographed sold 32% faster, spending an average of 89 Days on Market (DOM) – compared to 123 DOM for other homes. According to the analysis, Realtors who utilized professional real estate photography cut average DOM by nearly five full weeks."
To put together this study, the team at VHT studios evaluated homes across every price range in the study, highlighting that most home listings will benefit from professional photographs.
Granted, these studies are based in the US and do not directly translate to online property listings in Singapore.
But on balance, even when accounting for the cultural differences, consumer behaviour should not diverge too widely.
Singapore Interior Photographer Rates 2020
So, why are we still seeing many online home listings with bad photos that hardly give you an idea of what the house is like?
Well, cost is a big factor.
As mentioned earlier, most people might not want to fork out extra to engage a professional photographer as think that the cost is excessive.
But according to Shutterturf a Singapore based tech company whose primary business is to provide an on-demand professional photography booking service, prices for a professional photography package can vary, ranging from S$150 to S$300 per shoot for residential property. As for commercial properties, prices start from S$1,000 and up.
This amount goes towards paying for the photographer's expertise which includes shooting, editing and additional digital imaging work (e.g. to remove reflections) if needed.
Homeowners and business owners alike can all benefit from this service, but, you will need to weigh if the cost makes sense for your property sale.
Tips on Engaging Interior Photographer
When it comes to engaging a professional photographer, do not focus too much on the photographer's gear. There are photographers with entry-level cameras that can outshoot photographers with more expensive and impressive looking equipment.
Instead, ask the photographer for their portfolio and enquire if they have shot similar properties to yours for evaluation.
You should also ask about their previous work and experience.
When evaluating their portfolios here is what you should look out for:
Basic home staging knowledge: Do the property's photos look open, bright, and spacious?
Good knowledge of camera angles, light and the right lens to use – Do the property's photos look sharp, not too bright or dark or look distorted at the edges?
White balance – Do the property photos have realistic colours that are not exaggerated?
Details – Is there any glare or reflection on glass surfaces?
In other words, the right photography can help your potential homebuyer vividly imagine what living in the space will look like, as well as portray your property in the best possible light.
To help you develop an eye for this, you can consider online interior photography magazines like YellowTrace.
Pro-tip: As with many other professional services, we would advise you to work with a budget and get multiple bids, picking the most value for money service that still provides high-quality images.
Closing Thoughts
At the end of the day, the cost of engaging a great professional photographer with a great track record for your property listing should be viewed as an investment.
The right photographer can help your property stand out and help you sell it sooner (people will not be wondering what's wrong with your listing if it has been on the market for too long) and for a higher price.
Got Any Other Questions About Property?
Why not head on over to our friendly Seedly Community and ask your question over there. Our friendly and savvy community are here to help!
About Joel Koh
History student turned
writer
at Seedly. Before you ask, not a teacher. I hope to help people make better financial decisions and not let money control them.
You can contribute your thoughts like Joel Koh
here.