Best Investment Blogs And Websites In Singapore 2022
Investment Blogs And Websites
Some of us are probably still getting over the closure of the investment content website, The Motley Fool. The Motley Fool's franchise in Singapore ceased its operation on 31 October 2019, and their investment content will be missed dearly by Singaporeans.
Despite this minor setback in the finance content scene, Singaporeans are very much well taken care of by the vibrancy of our financial blog scene.
The rest of the investment blogs and websites have got Singaporeans' back. We urge Singaporeans to lend them our support too (and share Seedly's article with your friends, thank you)!
---
How Now Brown Cow
Most investors in Singapore now will probably have a few questions in mind.
Where do we go for investment-related content and stocks analysis now?
Where are the content writers for Motley Fool at?
Are Singaporeans not deserving of good things (a debate for another day)?
Fret not, here's a list of "good things" if you are looking for investment ideas, stocks analysis and anything to do with investing.
We present to you a compilation of the best investment blogs and websites in Singapore
---
Best Investment Blogs And Websites In Singapore
With so many investment blogs and websites around, we compiled a list of the more active ones to help you make smarter investing decisions.

The Smart Investor
From the ashes of the Motley Fool Singapore, a few members of The Motley Fool Singapore team went on to set up The Smart Investor.
Co-founded by David Kuo, Joanna Sng and Chin Hui Leong, the team is passionate about educating Singaporeans about stocks investing and securing their financial future. We look forward to more useful investment-related content from them.

Seedly
Seedly's recent abduction of The Motley Fool's writer Sudhan P  ensured that Singaporeans will still be able to enjoy useful, digestible investment content.
At Seedly, we help Singaporeans make smarter financial decisions with the right tools, content and the right mindset. Stay tuned to more exciting Seedly's investment-related content as we look to bring you investment content catered to every stage in your investment journey.
Stay tuned as we bring you more stocks analysis, REITs related and ultimate stocks guide for your daily consumption.

Investment Moats
Set up by Kyith Ng since the year 2005, Investment Moats is one of the OG (original gangster) in the investment blog scene. Kyith selflessly shares his experiences making sense of money, how money works and his investments to his readers.
His resource page is filled with useful guides from wealth management, dividend income investing, active investing, passive investing etc. Investment Moats also shares his stock trackers with Singaporeans.

Pro Butterfly
Co-founded by Tam Ging Wien, who is an avid equity and real estate investor for over 10 years, Probutterfly aims to educate Singaporeans financially to help Singaporeans achieve financial freedom.
DrWealth
DrWealth provides trusted financial education to Singaporeans. They believe in teaching researched and actionable investment methods to help Singaporeans in their investment journey and to achieve market-beating returns.
Courses by DrWealth have also gained positive reviews from their graduates with an average rating of 4.7/5.0.

The Fifth Person
The Fifth Person believes that sound investment knowledge, financial literacy and intelligent money habits can help Singaporeans achieve financial independence. Their blog is filled with knowledge they share with that mission in mind.
The Fifth Person was also awarded SGX Orb Award Winner in the year 2018 for the Best Independent Investment Website category!

Financial Horse
Gallop towards greener pastures with the investment-related content on Financial Horse.
The interesting part about the Financial Horse is that every content you read is based on his first-hand experience. He does not recommend products which he will not invest in. His take on certain investment products and topics is really in-depth and well-researched, which is also one of the main reason for the rise in popularity amongst Singaporeans. His portfolio includes equities (US and Singapore), S-REITs, mandatory CPF contributions, and an emergency fund held via savings accounts and bonds.

Singapore IPOs
A blog dedicated to companies listing on SGX Mainboard and the Catalist, Singapore IPOs is the place to go for IPO lovers. As a Chartered Financial Analyst and a Chartered Accountant, Mr IPO likes to share his investing journey towards financial freedom on his blog.
He shares his chilli ratings on companies seeking to list in Singapore, along with his insights and strategy on various IPOs on his blog.

A Singaporean Stocks Investor (ASSI)
The Singaporean Stocks Investor (ASSI) is started by AK, who is a household name for local investors. He believes in creating a stream of reliable passive income with high yield through investing. Despite AK having a huge following in Singapore, no one really knows what he looks like.
This is his get-up when in public:
He is also the man behind the quote: "Don't ask barbers if you need a haircut", to tell Singaporeans to be careful with their money.
DollarsAndSense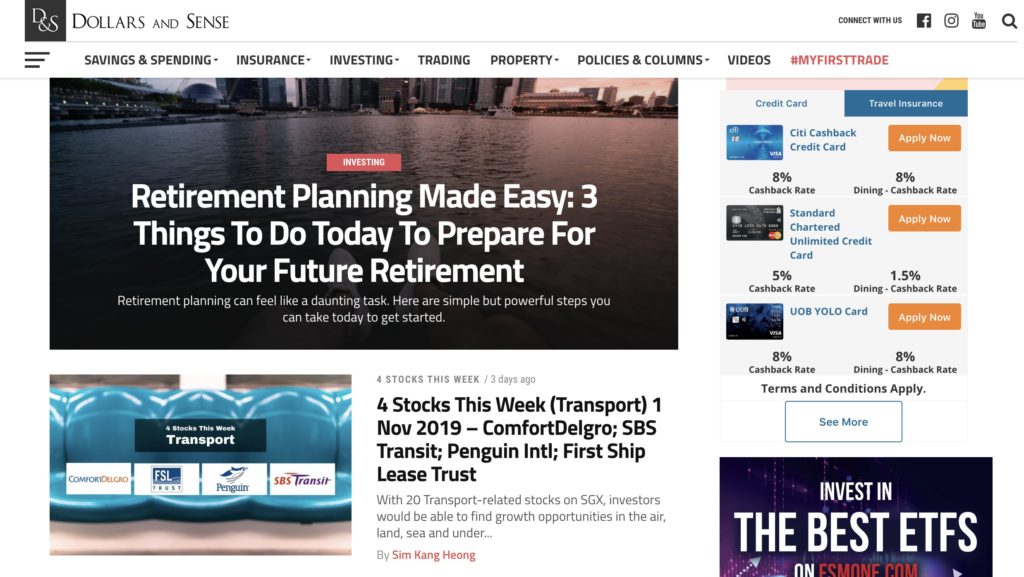 DollarsandSense started a really nice initiative with their "4 Stocks This Week" article where they choose 4 stocks to talk about for the week. I personally follow them every week to get stocks investment ideas. On top of that, their investing articles cater to investors of various stages too.
DollarsandSense aims to help people make better financial decisions with their content and has been doing so for years.

A Path To Forever Financial Freedom (3Fs)
With more than 650 articles written so far, Brian started the blog in the year 2011 to educate and learn to be a better investor.
With his experience as a financial controller for the past years, readers can check out his portfolio, read about why he made certain investment decisions and almost every financial decision he makes.
SG Young Investment
Navigate the world of finance and investments with SG Young Investment. SGYI is an investor for close to 10 years and enjoying every bit of economics, finance and investment.
The blog aims to simplify investing and finance for Singaporeans.

SmallCapAsia
Not for the faint-hearted, SmallCapAsia focuses a lot on small-cap stocks. SmallCapAsia believes that education is essential for investors, and aims to provide the essential research, tools and analysis for you to accelerate your learning curve.
My Sweet Retirement
Perfectly named after every Singaporean's dream, the Sweet retirement blog was created to share his retirement journey. As a salaried professional in his mid-30s, his circumstances will be very similar and relatable to most Singaporeans.
Find out how he manages long office working hours, work-life balance and his money and investment portfolio!

$$$ KPO and CZM $$$
KPO and CZM was set up to list down all the money-saving tips and to document him and his wife's investment/journey to financial freedom.
They constantly update their portfolio, set investment goals and allow their readers to follow their investments.
---
Communities And Platforms To Discuss Investment Ideas
On top of reading up and getting investment knowledge, joining and discussing investment ideas with a group of like-minded individuals can help one improve faster.
The community approach can also help one get more point of view for certain stocks and analysis.
Here are some platforms and communities to discuss investment ideas:

Investing Note
InvestingNote is of the biggest social media platform used by stock investors in Singapore. They give one free access to technical charts, stock prices and estimates from thousands of investors.
Seedly Community
Seedly Community's stocks discussion kicked off on their Community platform in the year 2019. Till date, way more than 4,000 investment ideas and stock tickers were discussed on the platform.
ValueBuddies

Sharejunction
For more forum-style discussion on stocks, investors can also look at stocks discussion platforms such as ValueBuddies and Sharejunction to find out what Singaporeans are talking about for a particular stock.
---
With all the resources available, there is officially ZERO excuses to not kick-start your investment journey.
Before you start investing, it is important to ensure that you have enough knowledge, do not rush into any investment, and do not be afraid to ask questions!
About Ming Feng
A stint in
Bloomberg
gifted me with a beer belly, which only grew larger when I moved on to become a Professional Trader. Now I turn caffeine into digestible finance-related content.
You can contribute your thoughts like Ming Feng
here.