Singaporeans will be heading to the polls on Friday, 10 July 2020.
To cast their vote for the Singapore General Election 2020 (GE2020) on Polling Day.
.
.
.
By now, you should've received your Poll Card in the mail.
And you should be familiar with how to vote.
At the same time, you're probably also hearing stuff like:
"Eh, don't anyhow vote ah. They can track your serial number if you vote for the opposition!"
"Really meh? I thought our vote is secret?!"
"You try lah. Don't cry if don't get your BTO or you lose your job or you don't get that lift upgrade for your block or (insert some other ridiculous reason)!"
NOT.
TRUE.
PLEASE.
Here's what the ACTUAL vote-counting process is like and how your vote is a secret.
So… What's the Vote Counting Process Like?
According to the Elections Department Singapore (ELD), there is a rigorous process in place to ensure that voting secrecy is maintained.
All candidates, agents, and elections officials who are part of the electoral process will also have to take an oath of secrecy.
Failure to comply will land you a fine not exceeding $1,500 or imprisonment not exceeding 9 months.
Or BOTH.
1) Before Polling Commences
At 8am, all the ballot boxes are marked and shown to the candidates as well as their Polling Agents who are present.
This is to allow everyone to verify that the boxes are really empty — meaning no hidden surprises or sneaking of extra votes in.
The boxes are then sealed by election officials.
2) During Polling
When you arrive at the polling station to cast your vote.
The Presiding Officer or an elections official will cross-check the serial number on your Poll Card against the Registers of Electors.
Before issuing you your ballot paper.
When the ballot paper is issued, your voter serial number will be written on the ballot paper counterfoil to facilitate vote tracing if necessary.
Note: the keyword here is "if necessary", but RELAX… more on this in a bit.
Doing so helps prevents counterfeiting and voter fraud.
It also helps election officials to take stock of the number of voters who cast their vote.
And ensures that only 1 person gets to vote only 1 time.
There'll be plenty of election officials present watching the ballot box like a hawk.
So don't try anything funny.
Just drop your vote in and leave immediately!
3) After Polling Closes
When the polls are closed at 8pm.
Election officials will seal the ballot boxes containing the ballot papers which have been cast — so no extra votes can be added or removed at any time.
Again, candidates and their polling agents will witness this entire process.
And they may also place their own seals on the ballot boxes — this way they'll know for sure that no one has tampered with the boxes.
The sealed ballot boxes are then transported under Police escort to the designated counting centre.
FYI: counting centres are usually nearby schools or community centres.
Doing so ensures that there's no 'funny business' along the way.
4) Counting the Votes
Party candidates and their Counting Agents who are present at the counting centre may inspect the ballot boxes again to ensure that:
all ballot boxes are accounted for
the seals of all ballot boxes are intact and have not been tampered with
Once they are satisfied, the seals are broken by Election officials and the ballot boxes are opened.
The ballot papers are poured out, sorted, and counted by hand.
This is where spoilt votes will be removed.
So make sure that you vote properly!
For this GE2020, there will be mechanical counting machines deployed to ensure that the votes are counted accurately and efficiently.
The emptied ballot boxes will then be examined and confirmed to be completely emptied by the candidates and their Counting Agents.
Just in case any votes are stuck in the boxes and aren't tabulated in the final count.
5) Announcement of Election Result
After the count, the Assistant Returning Officer at the counting centre will inform the Returning Officer (RO) — who is at the principal counting area — of the results.
FYI: for GE2020, the Returning Officer is Tan Meng Dui, CEO of the National Environment Agency. He was a former Group Assistance Returning Officer during the 2015 General Election.
What About Overseas Votes?
For Singapore citizens who are residing overseas and have registered as an elected voter.
They will cast their votes at one of the 10 overseas polling stations.
These overseas polling stations are closed before polling ends in Singapore.
And the sealed ballot boxes are transported back to Singapore for counting.
The Returning Officer has to receive the boxes within 10 days after Polling Day in Singapore for the votes to be valid and counted.
If the RO deems that the overseas votes have no impact on the election results.
The elected candidate will be announced once counting is completed in Singapore.
.
.
.
However, if the overseas votes may have an impact on the results.
The RO will announce the number of votes cast in Singapore as well as the candidate who is in favour of winning.
Once the overseas votes reach Singapore and have been counted.
The elected candidate will then be announced.
6) After the Announcement of Election Result
After the Election Result has been announced.
The ballot papers and other official documents used in the election are placed in separate boxes and sealed again.
Once again, Candidates and their Polling Agents will witness the entire process and can place their own seals on the boxes.
The boxes are then transported under Police escort.
All of the boxes will be locked away for 6 months in a vault at the Supreme Court.
After that, they are incinerated to maintain vote secrecy.
Unless directed otherwise by order of the President.
If you're curious, here's a behind-the-scenes look at what the vault looks like:
Before the boxes are destroyed, the Candidates will be invited to check the boxes and ensure that the seals are not tampered with.
They can also choose to witness the boxes being destroyed.
So… Is My Vote Really A Secret?
Yes, it is.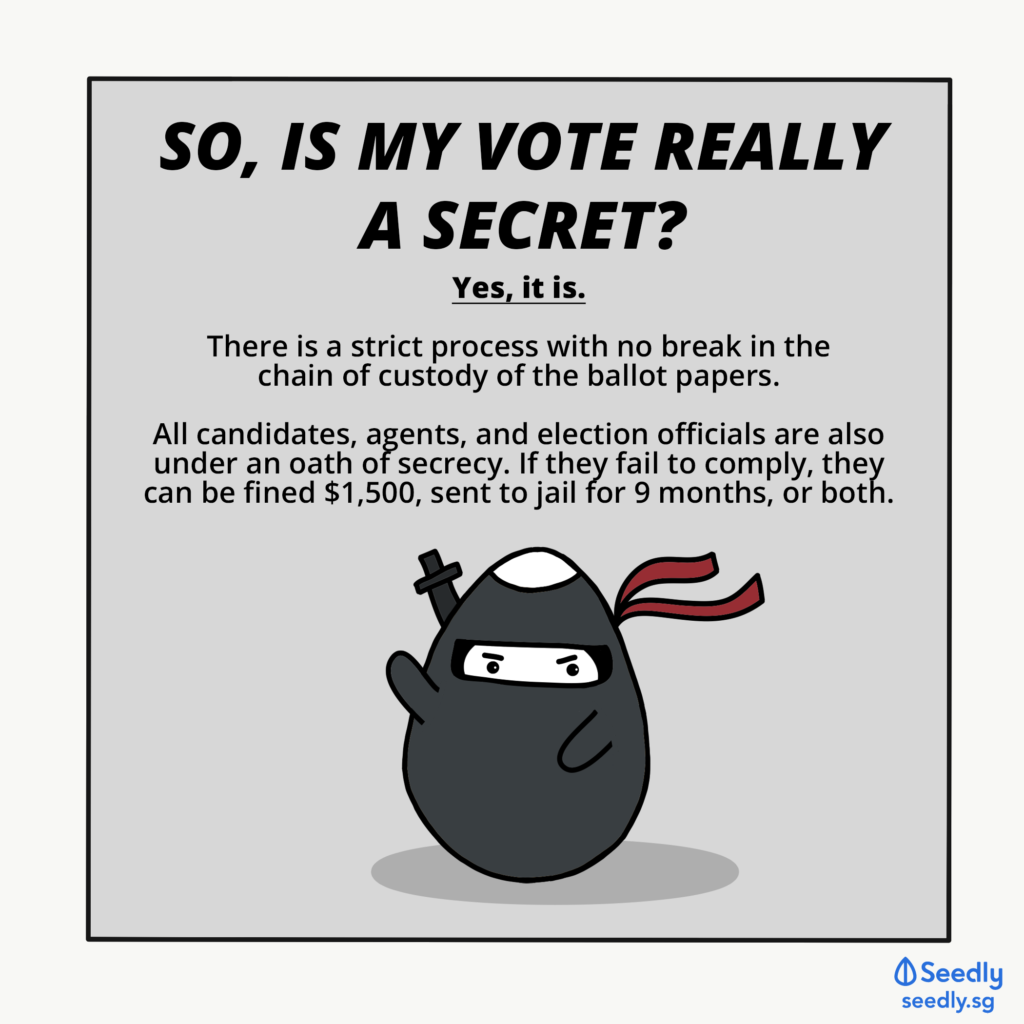 Some Commonly Asked Questions About The Vote Counting Process
If it's your first time voting, you'll probably also be wondering…
1) When Will the Official GE2020 Results Be Out?
For the 2015 General Elections, the ELD released a sample count of the votes after the polls for the first time.
So my guess is that we should be able to expect the same for GE2020.
This rough indication is usually released at around 9:30pm on Polling Day.
A sample count is performed at the start of the counting process to get an agaration of the possible electoral outcome for that electoral division.
And, by the way, the ELD is not being kan cheong (Hokkien: hasty or impatient) by doing this.
They conduct this sample count to prevent speculation and misinformation before the official counting is completed and the actual election results are announced.
But before you celebrate, wait for the official election results which will be announced by the Returning Officer.
2) How the Heck Is My Vote Still a Secret If It Has a Serial Number on It?!
As I explained earlier, the serial numbers on the ballot papers allow proper accounting of all ballot papers issued and cast.
This way, there is no chance for ballot stuffing or for voter impersonation.
The ELD has mentioned that technically, it is POSSIBLE for someone with access to the ballot papers to identify who cast a particular vote.
However, this can only happen under court order.
And the court will only issue such an order if it suspects that a vote has been fraudulently cast and the results of the elections may have been affected.
But if you just think about it…
Nobody's got the time to sort through 2.65 million votes just to try to figure out who Tan Ah Kow from Tanjong Pagar voted for.
It's just too much time, effort, and the cost of such an operation is waaaaaay too high.
Let's say the government really damn boliao (Hokkien: nothing better to do) and sorted through all the votes to identify who voted for the opposition.
They'll then proceed to either:
mess up your BTO application so you don't get your flat
get you fired from your job, or
mark your block as one of those that won't get a lift upgrade (What if the rest of your neighbours voted for the incumbent but only you didn't? Then how? Skip your floor?)
Erm…
Firstly, the whole point of punishing you for voting for the opposition is so that you won't do it again, right?
But it's not like they can send you an 'official letter' explaining why you can't get your BTO because you voted for the opposition.
Hello?!
In this day and age, that letter would be all over the internet within seconds.
You'll probably just think that you're damn suay (Hokkien: unlucky) and will just try again for the next BTO launch.
And when the next General Election rolls around, you'd just vote for the opposition again (if you wanted to)…
See where I'm going with this?
Why Can't We Just Do Online Voting?
In a COVID-19 world, it seems like the most practical solution, right?
Just login with our SingPass or something and vote online lah…
Why must queue up and all just to vote?
However, Trade and Industry Minister Chan Chun Sing mentioned in Parliament that it would be difficult to prevent voter impersonation and ensure voting secrecy.
Because even if we were to vote via SingPass, there's no way voting officials can ensure that the vote was cast by the person logging in.
Or if someone else was 'assisting' the person.
Also, there's a little thing about present-day IT verification systems.
While our traditional paper ballots will be kept for 6 months before they are destroyed — technically leaving no paper trails.
Online voting will require the system to retain information on the voter's choice and that might compromise voting secrecy.
About Dion Lim
Busy
undergrad
by day, an aspiring entrepreneur by night. Fuelled by floorball and doodling, I chomp on bite-size pieces of finance to prep for an adventure that won't make me yawn.
You can contribute your thoughts like Dion Lim
here.