Meet Jamie Koh, The Brains Behind Brass Lion Distillery
"Take one and crush it," I'm being instructed.
I cautiously extract a dried juniper berry from an open jar on the marble countertop, then amateurishly pry it open between index finger and thumb and bring it to my nose.
"It smells like gin," I blurt in wonder, and the bartender laughs.
Next, the waxy petal of a torch ginger flower is presented to me, and I dutifully split it. A waft of Chinese rojak sauce lingers in the nose — but this time, I hold the thought.
I later learn the ingredient is indeed key to a good plate of rojak, and also part of the 22 botanicals that make up the essence of the homegrown distillery's Singapore Dry Gin.
Educating visitors about the gin-making process is only a sliver of the magic that happens behind the doors of Brass Lion Distillery.
And 34-year-old Jamie Koh, the brains behind the concept, isn't here to judge my (lack of) knowledge.
In fact, changing Singaporeans' perception of gin as an atas spirit is one of many reasons she took a leap of faith in 2018, when she planted $1.2 million into bringing her dream to life.
That dream has manifested in an experiential space that's home to a bar, gin school, herb garden and microdistillery — alongside peripheral experiments including a barrel of aged whisky, which sits like a curious anomaly in the two-storey establishment.
Considering Jamie's past, though, you'd hardly have guessed the things she would be capable of. 
Picture this: it's the year 2009, and at 24 years old, Jamie's returned to Singapore fresh from her time in Atlanta, Georgia — the most populous city in the south of the United States — with the intent of starting an F&B concept.
Except it isn't a passing thought, nor a dream born of wishful thinking.
"I can't do a nine to five," Jamie laughs, of her first job in consulting back in the US. "If you're not passionate about something, you naturally wouldn't shine. I like thinking up new concepts, and wanted to create something to call my own."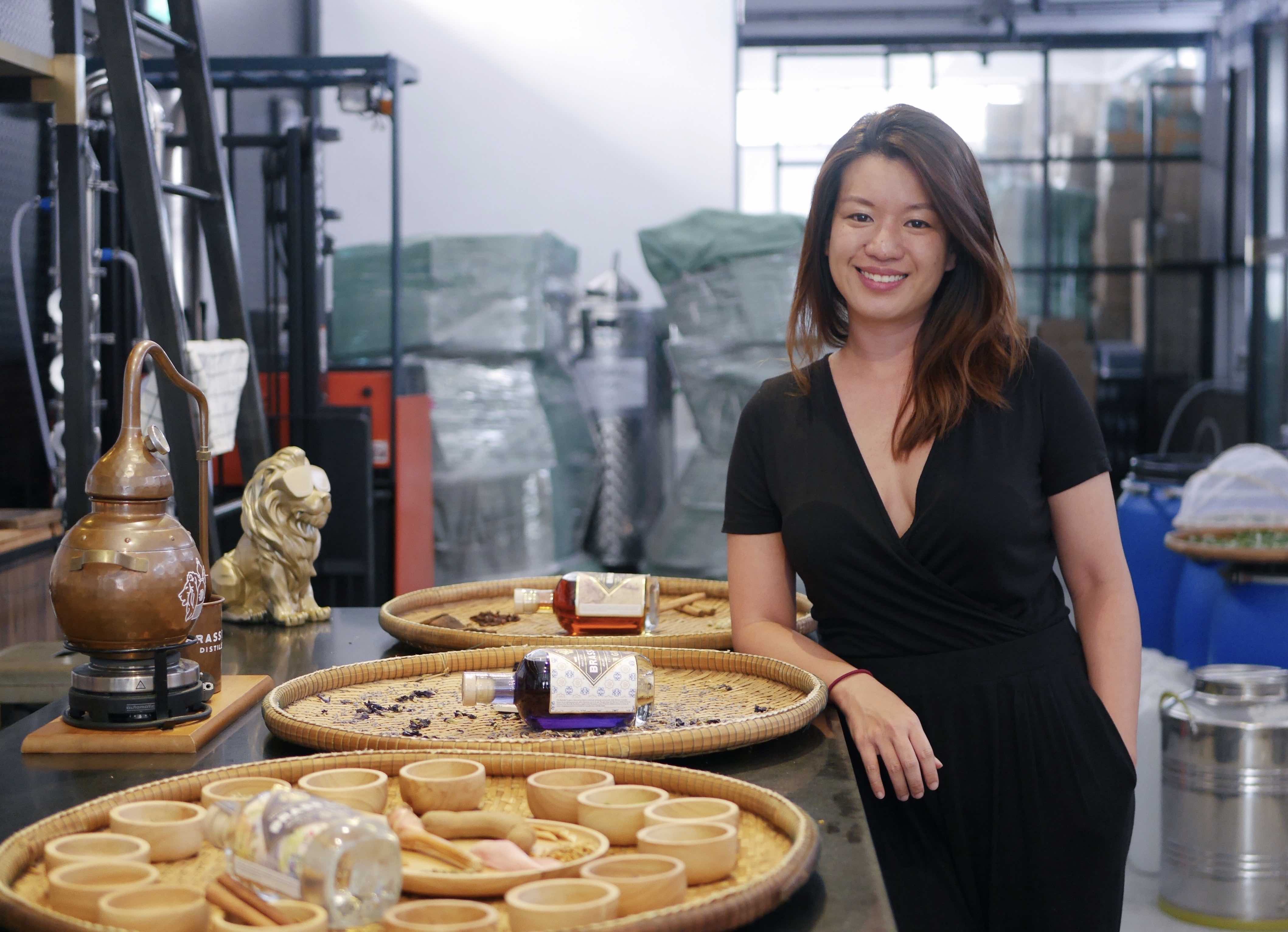 Aptly, her return to Singapore coincided with a CapitaLand contest — one that called for F&B concept pitches from entrepreneurs. The prize: a rent-free, 680-square-foot space fronting the footways of Clarke Quay for six months, and a $20,000 grant. 
"I came up with the idea of a shots bar because it fit the environment," Jamie explains. "Imagine: you eat, get some pre-game shots, go clubbing, get more shots. It hadn't been done in Singapore yet. And so…our pitch won."
The Birth of Chupitos Shots Bar
Armed with the grant money, she secured a further $50,000 by way of an entrepreneurship grant, then topped up another $10,000 of her own — and, in 2010, Chupitos Shots Bar was born.
Several immediate problems arose prior to its opening, though.
The space had to meet certain requirements to fit the overall look of the area, but with the venue only guaranteed for six months, pumping in an excess of capital to jazz up Chupitos seemed impractical.
"It wasn't a fantastic value proposition, to be honest. But it got me started on my F&B journey early, which had always been my intention. We decided that if we could just build up the brand and break even, that'd be good enough." 
The bar's enduring success till today is telling of Jamie's entrepreneurial spirit and determination — and that's only skimming the surface.
I glean this early on in the chat: that when Jamie wants something, she will make it happen.
Between Chupitos and her next venture — The Beast Southern Kitchen + Bourbon Bar, a concept inspired by the hearty, uncomplicated food she enjoyed in the American South — Jamie spent a year travelling.
Her 2012 sojourn took her from Iceland to Spain, where she lounged on beaches in-between Spanish language classes. When the mundanity took a toll, she upped and left for South America, sampling spirits while on the road — from Brennivín, an Icelandic liquor, to Agwa, a Bolivian herbal liqueur fashioned from coca leaves and other botanicals.
"These experiences got me thinking: why did every country have some kind of spirit or liqueur that showcased their native produce? And why didn't Singapore have one?"
To bridge that gap, Jamie spent the next six years doing her due research.
In-between running Chupitos and The Beast, she enrolled in a distillery school in the US, faced multiple rejections while sourcing for apprenticeship opportunities, and eventually secured hands-on experience with a master distiller in Germany's famed Black Forest region.
"There was a whole wave of craft distilleries [in the US] that had newer ways of producing spirits," Jamie shares. "But I wanted to learn the traditional way of doing things, and set my sights on the Black Forest area."
Just like that, she made for the pine-wooded mountain ranges of Germany — a region famed as much for its homemade liqueurs as its association with the Grimm Brothers.
If it sounds like a dream, it may as well have been; Jamie went around sampling fruit schnapps and leaving tokens of appreciation, but also spoke with locals through a mix of gestures to express her interest in learning to distill.
By referral, she was eventually connected to a master distiller whose traditional distillation methods set the ball rolling for Brass Lion's first gin.
"I really liked his way of thinking — making us crush juniper berries by hand, and peeling all the citrus peels fresh [rather than buy them dried]. His ethos was, you can't take shortcuts if you want something to be good."
On one of her annual return trips to the area, Jamie packed a suitcase of 40 botanicals — think lemongrass, cloves and star anise — and distilled each under the master distiller's guidance.
The end result: the Singapore Dry Gin, a citrusy concoction of 22 botanicals that delivers a light, rounded kick on the palate.
Brass Lion Distillery has since developed other two expressions of gin — the tropical Butterfly Pea Gin, whose floral notes and tinge of sweetness sits well with a mostly female demographic; and my personal favourite, the Pahit Pink. It's sapid and bold; a potent tonic to the soul that's sharply spiced with almost 40 botanicals and spices, including cinnamon and nutmeg.
And, drawing from her experiences in Black Forest, Jamie ensures the local gin is produced the traditional way.
Botanicals are sourced from TCM shops and markets, then hand-peeled and sun-dried before being macerated in a neutral spirit to bring out the best flavours.
At the final stage, everything's brought together with water and ethanol, and produced in an impressive, custom-made copper still named Nala.
Naming stills after females is a tradition that hawks back to a time when women of yore distilled spirits for medicinal
purposes.
The week-long process culminates in a batch of 180 bottles of Singapore Dry Gin, the base from which other permutations — namely, the Butterfly Pea and Pahit Pink expressions — are then developed.
"For it to be called gin, you just need a base made predominantly of juniper berries," Jamie explains. "What's important is getting the heads, hearts and tails right."
Much like perfume notes, the flavours produced in each batch of distilled spirits aren't consistent. The heads and tails are typically discarded (or 'cut') for their harsh or spent quality; the hearts, then, are the essence that's bottled and sold.
It sounds simple enough, but distilling a gin in itself is in itself is both a science and an art, given it combines aspects of chemistry, tasting and blending.
Unpaved Paths
The profits from Jamie's three F&B ventures — starting with Chupitos, of course — have more or less allowed these businesses to run themselves, although Jamie acknowledges Brass Lion Distillery still has miles to go, particularly when it comes to changing the mindsets of some consumers and bars in Singapore.
"These days, it's all about supporting local and lowering your carbon footprint, so a lot of people have expressed their interest in carrying our gin."
The difficulty, she admits, "is convincing people who haven't switched around to the idea… that a local gin shouldn't be priced the same as a global gin brand. Perhaps they don't consider that a global gin is mass manufactured in an industrial process, whereas we make ours in small batches."
It isn't the only curveball the young entrepreneur has been dealt.
When she first began seeking the relevant approvals for her concept — a multipurpose, experiential gin establishment — she found that it fell between the cracks, given it didn't fit under a specific license in Singapore.
It took close to three years for the distillery's long-awaited birth in 2018 — the same year a separate homegrown gin distiller, Tanglin Gin, planted its roots in the city.
Making the Dream Work
These days, the bulk of Brass Lion's revenue comes from a collection of things: its Tasting Room, the gin school, bar sales, and private events.
Jamie's got far bigger plans, though, including conquering the Southeast Asian region — and the world, although she's taking baby steps for now.
"We've never had external funding, but to build this into a global brand, we're of course open to possibility if the right fit comes along. It's my hope that distribution will Brass Lion's main source of revenue, of course. For now, we're focusing on building a strong enough household brand locally, and making sure its identity remains consistent as we grow."
And that, of course, requires a special kind of resilience, bound by a strong team — one whose employees are given the chance to shine in each of their roles.
"Without a good team, your ideas mean nothing," Jamie asserts.
"I knew I never wanted to be heavily involved in the day-to-day, apart from the first couple of months of operations. When you delegate [work], you have to understand that it's never gonna be exactly the way you expect it to be. You have to trust that people can do it and align your expectations. You have to know what each person's end game is, and put them in a place that'll allow them to shine."
It's an unusual stance to take, and perhaps tied to the fact that Jamie's never enjoyed the operational aspects of the business.
There's something admirable about the irony in how the young entrepreneur functions: she's taken smart, calculated moves, backed by her appetite for risk. Yet she errs on the side of caution when it comes to her other investments: a portfolio of low-risk mutual funds and bonds.
It's perhaps part of the formula behind running a successful business — something Jamie readily admits.
"There're things you can learn to run a successful business, like being comfortable with numbers. But softer skills can't be taught, I think. Your ability to think out of the box [and] leadership. Given the rules, these skills can be followed in theory…but it ultimately comes down to personality. And a reliable team, of course."
About Rebecca Liew
Lactose-intolerant, but also BS-intolerant. Having written for the likes of Marina Bay Sands and Time Out, I now spend my days saving up for my stationery shop retirement dream.
You can contribute your thoughts like Rebecca Liew
here.