Job searches are always mentally exhausting.
We spend a lot of time googling for suitable job portals to scroll through, opening multiple tabs, and then spam-sending resumes.
We then refresh our emails more than we refresh our Instagram feed, waiting for that magical email to appear.
With the current economic climate, job searching has is becoming a very difficult task as the job markets become even more competitive.
However, not all hope is lost as there are still several companies out there who are constantly on a lookout for potential candidates.
To help with this, we have rounded up the best job portals for you, to make your job-seeking journey a slightly more bearable one.
(Pssssst…. we are hiring too! Click here to find out what positions are available.)
---
TL;DR: Best Job Search Websites in Singapore
Category
Job Portal
Best General Job Portals
FastJobs
Indeed
JobsDB
Jobstreet
Monster
MyCareers Future
STJobs
TalentTribe
Wanted.jobs
Best Portals with Professional Insights
Glassdoor
Linkedin
Best Industry-Specific Job Portals
Cultjobs
eFinancialCareers
Nodeflair
Best Startup Job Portals
e27
F6S
Startup Jobs Asia
Tech In Asia
Best Portals for Young Adults
Glints
InternSG
---
Best General Job Portals
Fastjobs
Fastjobs is a recruitment job portal which is generally catered for non-executive jobs.
It mainly contains job postings by recruitment agencies, and is perfect for someone who is looking for a part-time job, or students who are looking for temporary jobs.
You can find a wide range of jobs including fields as such customer service, driving and delivery, hospitality, retail and sales, as well as warehouse and logistics.
Indeed
Indeed is a comprehensive platform that features job postings from different websites, allowing it to have a huge database of jobs to search from.
This platform also provides salary information for different job titles, as well as reviews by employees of companies, allowing job seekers to be well informed during their applications.
In addition, cater to the current COVID-19 situation, there is even a banner at the top of the site for #SGUNITEDJOBS, which leads to a page of job postings that are in demand in this current climate.
JobsDB
JobsDB is a leading online employment website based in Asia, with job postings from Hong Kong, Indonesia, Singapore and Thailand.
It is very well-known – I've used it several times for my own job searches previously!
This platform offers a lot of postings from various industries, and job seekers can easily look for any job by entering simple keywords into their search function.
In addition, jobs can also be searched via the preferred area or MRT station, which is a nice touch to this site.
You can now find jobs close to anywhere you wish!
Jobstreet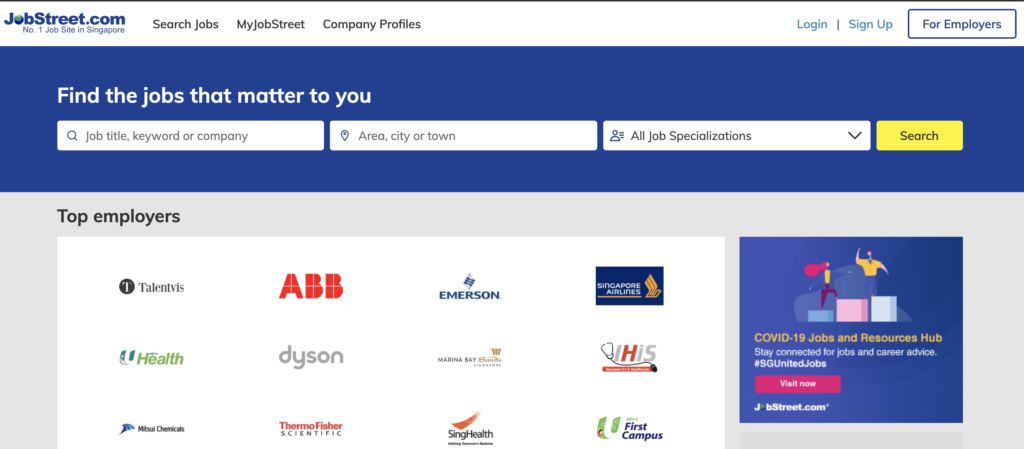 Jobstreet is another extremely popular job search portal here in Singapore.
Similar to JobsDB, this site features numerous job postings, covering all types of industries and also all job types.
In addition, Jobstreet offers career resources such as interview tips, and skills for career advancement. These articles would definitely come in handy when you are preparing for the next step of your career.
Monster
Monster is another job portal which has been established for more than 20 years, and have expanded their services beyond just being a 'job board'.
Besides job postings, this website now also includes career management, and talent management products and services.
The job postings on Monster are neatly categorized into different types, and even has a new 'Work From Home' category which caters to anyone who is looking for a home-based job.
By creating a profile, job seekers would also be able to get email updates on jobs that might be suitable based on their experiences.
MyCareersFuture
MyCareersFuture is a portal developed by Workforce Singapore (WSG), who partnered with the Government Technology Agency.
This portal aims to help job seekers find suitable jobs based on their skills and competencies.
At the same time, MyCareersFuture also highlights jobs that are eligible for Government support through the WSG's Adapt and Grow programs, encouraging individuals to explore new career opportunities.
A Career Toolkit is also available for job seekers, which includes resources that would provide guidance in their career planning process.
STJobs
STJobs began in 2006, and was previously known as ST701 Jobs.
As you've guessed it, STJobs carries the initials of our national newspaper, The Straits Times.
On this portal, job seekers have access to over 50,000 employers, where a wide range of job postings is available, covering different industries and job roles.
In addition, STJobs offers a job matching technology, and also Resume Scan in which less time is required to fill in personal information during the process of job application.
TalentTribe
TalentTribe offers a different form of career search – allowing job seekers to look for jobs at a deeper, more personal level.
Through the website, individuals are able to explore different companies, and understand different job roles through interviews done with the employees of these offices.
Such personal information is hard to come by, and is definitely valuable for anyone who has an interest in specific companies.
It also offers deeper insight and perspectives which would be helpful in one's decision to apply for any role.
What an opportunity to have a sneak-peek into companies!
(P.S. The firm has also started a Telegram channel that curates job and internship opportunities, and even career hacks for early-career job seekers! Super useful.)
Wanted.jobs
Have you ever heard of a job portal that offers rewards for referrals?
Wanted.jobs is a pretty interesting platform, and provides a win-win situation for both the employers and employees.
Companies usually prefer applications with referrals, where an applicant with a referral is 3 times more likely to be hired than someone without one.
Here's the best part – you can get paid up to $1700 for referring someone you know, or even by being hired via the platform!
What a sweet deal.
Best Portals with Professional Insights
Glassdoor
Glassdoor is a website that collects anonymous company reviews and salaries from employees of companies, and allows these details to be viewed by the members.
This transparency provides valuable insights to anyone who is interested in any particular industry, allowing applicants to be truly informed of the market.
By providing some basic information, Glassdoor is able to suggest job positions that are related to an individual's experience.
Job seekers can also directly refer to a specific company's information through these job postings.
Linkedin
Linkedin is best known for professional networking, a place where employees post their jobs and job seekers post their resumes.
(And also a place for us to stalk our acquaintances to see where they are working at. #sneaky)
Users are able to connect with one another, i.e. Facebook for professional relationships.
This allows a very efficient job search process, as both employees and employers have information readily available on both ends.
As a job seeker, you would be provided information such as relevant skill matches, any connections who have worked in this company, and how you are compared to other applicants. These are information that is not readily available on other job search websites.
Another wonderful feature of Linkedin would be the contact information provided on the job postings.
You are now able to contact the job poster directly, which would be a great help to the application process.
Best Industry-Specific Job Portals
Cultjobs
Cultjobs is a platform dedicated to the creative industry in Singapore. This portal was created as there was a gap for job searches in this field, where interested job seekers had to trawl through general job portals to look for such opportunities.
For people who are interested in the creative field, this platform includes job postings including graphic designers, curators, copywriters, fashion assistants and more.
For those who are looking for other types of positions, Cultjobs also offer positions such as design, content, marketing, PR in the creative field.
eFinancialCareers
eFinancialCareers is a website dedicated to jobs related to the financial service industry. For finance professionals, this is a great portal to look for the latest job opportunities, including areas such as investment banking and fintech.
In addition, this portal offers resources such as finance-related news and the latest industry insights.
During this difficult COVID-19 period, eFinancialCareers have also set up a COVID-10 Resource Center, providing job seekers the best information available with regards to the impact it has on the finance industry.
Nodeflair
Nodeflair is a job portal which is dedicated to the software industry.
As only eligible companies would be approved on this platform, job seekers can look for positions much more efficiently, allowing the job search process to be fast-tracked.
To make the process of entering the software engineering field less intimidating, a starter kit was created to provide guidance to anyone who needs it.
In addition, talent advocates from Nodeflair also offer services such as aiding in the interview process and improving your resumes.
Sounds wonderful already.
Best Startup Job Portals
e27
e27 is a platform that focuses on the technology and innovation landscape in Asia. Inspired by the start-up scene in Silicon Valley, two passionate students came together to create this platform, which allows for the connection of the startup community.
On the e27 portal, job seekers can easily look for hundreds of startup jobs from countries including Singapore, Malaysia, and other parts of Asia.
F6S
F6S is a network catered to the startup scene, and is home to over a million tech founders, 800,000 startups, and more than 10,000 startup programs globally.
Sounds like the perfect platform for anyone who is interested to be involved in a startup.
Set the filter to 'Singapore' on the website, and you're ready to scroll through several jobs in the startup field.
Startup Jobs Asia
StartupJobs Asia was created as there was a recognition of challenges in terms of talent acquisition by startups in Asia.
This platform was therefore established to allow startups to find suitable candidates to join their companies.
If you're interested to hustle in a startup, this is a website you have to check out.
Tech In Asia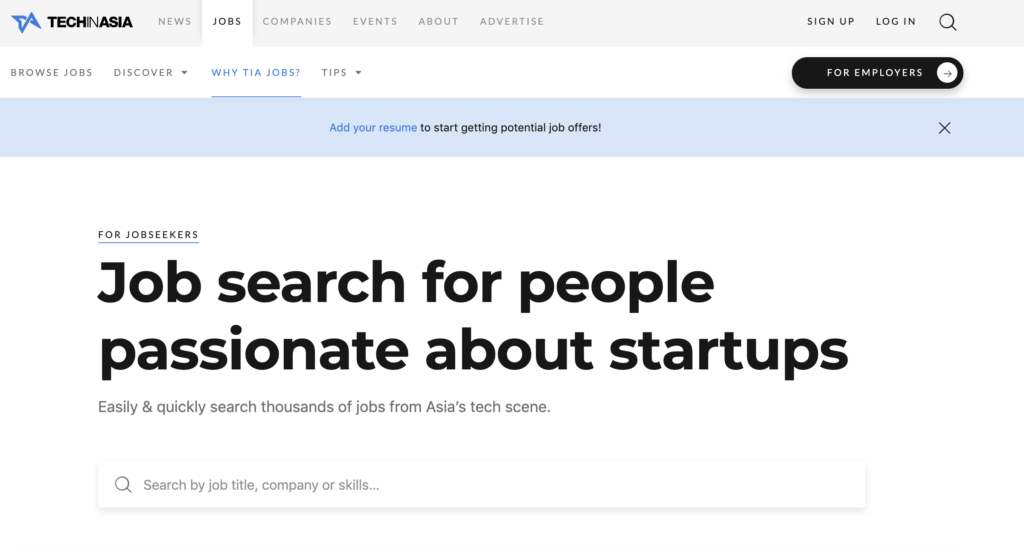 Tech In Asia is the largest English-language technology media company in Asia, and its goal is to serve and build Asia's tech and startup community.
Besides producing editorial content, Tech in Asia offers a job search platform, allowing job seekers to look for the best job opportunities in the tech startups field.
This company also conducts annual tech-related conferences, allowing for engagements within the tech ecosystem.
Best Portals for Young Adults
Glints
Glints is a tech-enabled platform headquartered in Singapore, and allows young individuals to seek for internships and graduate jobs.
Besides job postings, Glints also helps in building career readiness by providing resources on their webpage, including tips and tricks to help with the transition into the workforce.
If you're a fresh graduate or a student who is looking for opportunities to kickstart your career, this is the perfect portal for you.
InternSG
Established in 2014, InternSG is a portal that focuses on providing internships, part-time, and graduate jobs in Singapore. It offers opportunities which includes a multitude of companies, from Small & Medium Enterprises (SMEs) to Multinational Corporation (MNCs).
For a student, taking up internships are beneficial in various ways.
You get to take a peek at the corporate world, and pick up tangible skills and knowledge which would be useful in the future.
You also get to have a 'trial test' to decide whether a certain career path would be suitable for you.
Best Job Search Websites in Singapore
Job searching is pretty tiring, but could be made better with the right resources and tools.
What are some of the best job search websites you've used? Let us know below!
About Xue Miao
A
millennial
who is learning to adult. She doesn't believe in the rat race and hopes to live on a farm someday.
You can contribute your thoughts like Xue Miao
here.