Here's Why I Chose To Leave My Stable Government Job To Join a Startup During COVID-19
COVID-19 disrupted most of our lives.
Some of us faced a circuit breaker for the first time or faced economic difficulties during this pandemic.
Some of us also decided to take the opportunity to upskill or even plan a pandemic wedding.
Amidst all the uncertainties that COVID-19 has caused us, I decided to introduce another uncertainty into my life – which is to leave my stable public service job and hop into the arms of a startup instead.
In the midst of an economic crisis.
Much to my surprise, instead of dissuading me, my loved ones encouraged me to choose whatever seemed right for me.
To some, making such a decision did not seem like the logical thing to do, especially during an economic crisis.
However, I eventually took the leap and left my cushy job for a new adventure – which is to join a startup.
Why I Chose To Leave My Stable Government Job To Join a Startup During COVID-19
When it comes to choosing a job, most people would usually be vying for roles in big, established companies for obvious reasons.
However, bigger doesn't always necessarily mean better.
There are various other factors that are involved when it comes to determining your career decisions.
In fact, choosing a company is like choosing a partner.
You need to have the right fit, and you have to look for the one that aligns with your own priorities and values.
Here are some reasons why I chose to make a switch from an established firm to one that is arguably much smaller in terms of size and funding.
Evaluate Your Priorities at Your Current Life Stage
One thing that helped with my decision was the evaluating of the priorities I had at the current stage of my life.
As a fresh graduate, what was most important to me was job stability.
Therefore, entering a government agency back then felt like a dream because of its reputation of being an 'iron rice bowl'.
Over the years, as with our priorities in life, our top priorities in a job might also change along the way.
Something that was most important for you a few years ago might not be as important to you now.
What I did was to take some time to deeply reflect and list the things I hope to learn from my job, and what is the career direction that I hope to head towards.
COVID-19 allowed me to further revisit such reflections and even offered fresh perspectives to what I wanted in a job.
From there, I realised that joining a startup seemed to fit more of what I was looking for at that point in time.
Risk vs Reward
"If you are not willing to risk the unusual, you will have to settle with the ordinary."
Making a switch definitely comes with risks.
But it can also potentially reap great rewards.
I strongly believe in pushing our own limits to see how far we can go, especially when we can still afford to do so.
There's also a reason why most of us would prefer staying in our comfort zone, and that is because of the fear of the unknown on the other side of the equation.
And why fix something when it's not broken right?
For me, the scary thing about the comfort zone is that it often comes along with complacency.
And I was not ready to settle with that, knowing that it was something that I would potentially regret in the future.
In addition, I am also fortunate to be in my current position (with no dependents and commitments) where I can afford to take risks and experiment with new directions in my career.
This privilege meant that I could afford to fail, and it allowed me to have the chance to explore beyond my usual boundaries.
Pros and Cons of Each Company Structure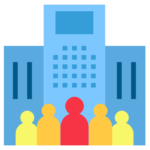 Beyond the idealistic and dreamy front of forging a new path in a smaller company, leaving a big company definitely meant having to give up on certain privileges.
Larger firms typically meant higher greater access to funding, which meant more resources and having a solid structure meant having well-established developmental roadmaps in place.
Employee benefits are also usually more attractive in larger corporations due to a larger budget, and these little privileges do help boost the appeal of a job.
It is therefore important to weigh the pros and cons of each role and company and to see whether the pros of switching would outweigh the pros that I was about to give up.
I basically evaluated to see whether the risk was worth giving up the benefits that I was receiving.
For me, I found that joining a startup would mean a flatter company structure, which meant more transparency with less bureaucracy.
Having this structure also meant a higher possibility of seeing your efforts come to fruition, as work contributions would have a larger and more direct impact in a smaller company.
That also meant gaining more flexibility in the job role where I could create my own opportunities in different areas.
Skills Sets That I Wish To Acquire From My Job
COVID-19 has shown us how vulnerable we all are towards economic downturns and retrenchment.
And if there is one thing to take away from this, it would be the importance of future-proofing our employability.
With that, I started to place even greater emphasis on the skill sets that I could acquire from a job.
Being in my previous job ever since graduation made me realise that while I was still learning at my job, I was hoping to upskill in a different area which might be more transferrable in the future.
I began to look at the skills gap that I had, and what were the potential positions there were in demand out there.
That being said, finding a new area to upskill can be a tiring process that requires effort and discipline.
And so it is important to also look for a company that aligns with your long-term career goals.
Values and Focus of the Company
When it comes to the values of the company, the company size is not a determinant.
And one thing that would help to keep us going at our jobs is the alignment of the company's values to ours.
As you guys might have guessed it now, I am currently being employed by Singapore's largest personal finance community.
Prior to this, I have been following Seedly for the longest time.
I have been a silent lurker on their Facebook page, absorbing knowledge from the SeedlyCommunity and an ardent fan of the Seedly App.
I attended the first Seedly Personal Finance Festival (PFF) in 2019 and took many sneaky photos of the event.
Just one of the sneaky low-resolution photos I took during the event.
(I also carried the PFF event bag as my work bag on a daily basis!)
I even reached the level of recognising the front-facing faces of the team, who are (funnily) now my bosses and colleagues. #fangirlalert
Since the beginning, I've strongly believed in the company's goal of helping Singaporeans make better financial decisions.
Being aligned with the company's goals and working alongside them to achieve these goals brings about a kind of motivation that doesn't come easy.
And it feels amazing.
Closing Thoughts
Deciding on such a move during an economic downturn was definitely difficult.
I did have my period of struggling to make a decision, knowing that choosing either of both options would bring about very different results.
However, I am also grateful to be able to have such an option in the midst of a recession, where I could still chart my own journey and make changes to my career.
All in all, what I've also learnt during the process of job switch is that:
Bigger better career opportunities can also come from smaller companies.
About Xue Miao
A
millennial
who is learning to adult. She doesn't believe in the rat race and hopes to live on a farm someday.
You can contribute your thoughts like Xue Miao
here.