What You Should Know About Keppel Corporation's (SGX: BN4) Privatisation Bid for SPH's (SGX: T39) Non-Media Business
This morning, Keppel Corporation (SGX: BN4) announced that it's bidding for Singapore Press Holdings Limited's (SGX: T39) (SPH) non-media assets.
Here's what you should know about the big announcement in just 60 seconds!
Keppel Corp's Acquisition of SPH's Ex-Media Business
Keppel is looking to acquire SPH for S$2.24 billion through a scheme of arrangement. The deal will exclude SPH's media arm and a part of SPH REIT (SGX: SK6U).
Keppel's ultimate aim is to delist and privatise SPH, provided the proposed restructuring of SPH's media assets goes through.
Under the proposed deal, here's what shareholders will get:
Each SPH shareholder will be entitled to S$0.668 in cash and 0.596 Keppel REIT unit (valued at S$0.715 each) for every SPH share held.
SPH will concurrently distribute in specie around 45% of its stake in SPH REIT to SPH shareholders while retaining a 20% stake in the REIT. Each SPH shareholder will therefore receive 0.782 SPH REIT unit (valued at S$0.716 each) for every SPH share.
The total sum of the above comes up to around S$2.099 per SPH share, which is an 11.6% premium over SPH's closing share price of S$1.88 on 30 July 2021.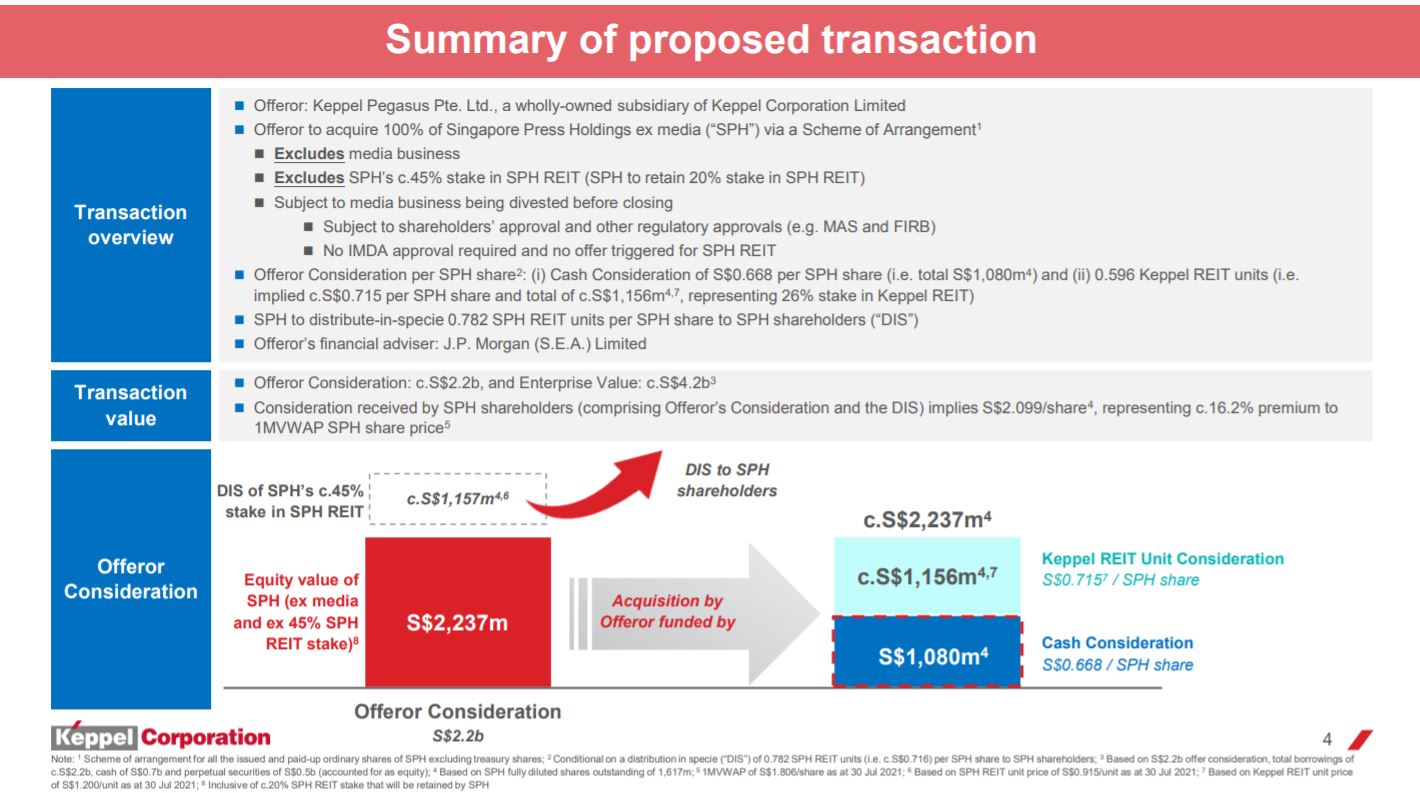 Rationale for the Transaction
Keppel said that the acquisition will accelerate its Vision 2030 plans to become an integrated business providing solutions for sustainable urbanisation, with an asset management arm to fund its growth and provide a platform for capital recycling.
More specifically, Keppel sees the following benefits:
Expand into the secular growth sectors of purpose-built student accommodation (PBSA) and senior living
Benefit from the recovery in retail
Consolidate its ownership of M1 and Genting Lane data centre asset
Improve its earnings quality in line with its asset-light business model
As for SPH, it said that the proposed deal is an outcome of the second stage of SPH's strategic review, after the media business restructuring as announced on 6 May.
Timeline of the Transaction
The proposed transaction is subject to approvals by Keppel's and SPH's shareholders at their respective extraordinary general meetings by the end of October/November 2021, among other things. 
The transaction is expected to be completed by the end of this year.
If the deal is approved, SPH will be delisted and will become a wholly-owned subsidiary of Keppel.
This is how Keppel will look like post-acquisition (it will exclude Keppel's offshore and marine business, which is to be merged with Sembcorp Marine (SGX: S51), and Keppel Logistics):
Have Burning Questions Surrounding The Stock Market?
You can participate in the lively discussion regarding stocks here at Seedly and get your questions answered right away! 
Disclaimer: The information provided by Seedly serves as an educational piece and is not intended to be personalised investment advice. ​Readers should always do their own due diligence and consider their financial goals before investing in any stock. The writer doesn't own shares in any companies mentioned. 
About Sudhan P
It isn't fair competition when only one company in the world makes Monopoly. But I love investing in monopolies. Before joining the Seedly hood, I had the chance to co-author a Singapore-themed investment book – "Invest Lah! The Average Joe's Guide To Investing" – and work at The Motley Fool Singapore as an
analyst
.
You can contribute your thoughts like Sudhan P
here.