Key Takeaways From NetLink Trust 2019 AGM
NetLink NBN Trust (SGX: CJLU) is the sole owner of Singapore's passive fibre network infrastructure, which provides nationwide coverage of fibre broadband services.
It is also responsible for the maintenance and operation of any infrastructure related to the fibre network, including ducts, manholes, fibre cables, and central offices.
As a business trust, NetLink distributes 100% of its cash flows after company expenses such as management costs and interest payments.
This enabled the company to pay shareholders a healthy distribution per share of 4.88 cents over the past year. This translates into an attractive yield of 5.55% based on its closing price of S$0.88 on 8 August 2019.
While the dividend yield is enticing, it is important to find out whether the dividend can be maintained (or increased) going forward. In light of this, I attended NetLink NBN Trust's 2019 AGM for more business insights.
Here are 10 things I learned from the NetLink Trust 2019 AGM.
Disclaimer: This is not a sponsored post. Opinions expressed in the article should not be taken as investment advice. Please do your own due diligence.
---
Revenue And EBITDA
NetLink generated S$353.6 million in revenue and S$247.9 million in EBITDA in fiscal year 2019.
The figures were 3.3% and 3.2% above management's 2017 projections respectively.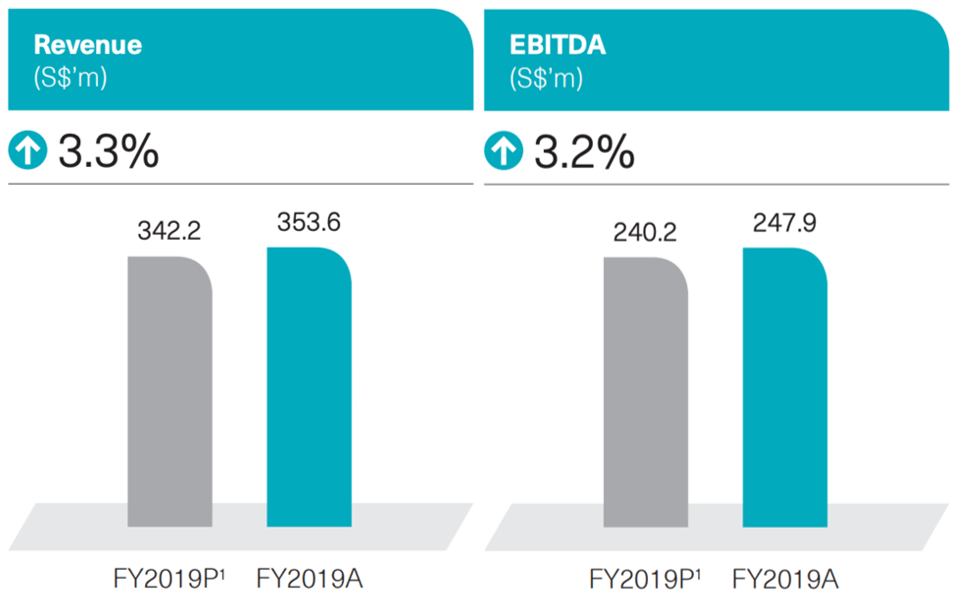 This may seem like a rather unconventional comparison, given that most local companies compare current year revenues against previous year revenues instead of management projections.
NetLink's management team clarified that fiscal 2019 figures cannot be compared to prior year figures as NetLink has only existed in its current form since 19 June 2017.
As a result, its fiscal 2018 financials only account for nine months of operations between June 2017 and March 2018.
Recurrent Revenue Streams
Over 90% of NetLink's revenues are recurring in nature.
As seen above, NetLink has eight revenue streams:
residential connections
non-residential connections
NBAP and segment fibre connections
ducts and manholes service revenue
installation-related revenues
diversion revenues
co-location and other revenue, as well as
central office revenue
Two of these sources – installation-related revenue and diversion revenue – are non-recurring in nature.
These services are only required when there is a need to divert existing fibre cables for a new infrastructure project. Given that such services are largely ad-hoc, the company does not consider these as recurring revenues.
Combined, these two segments account for 9.8% of the company's total revenue.
However, the remaining 90.2% of NetLink's revenue is recurring in nature.
The bulk of this recurring revenue comes from the provision of fibre broadband services to residential customers, non-residential customers, and non-building access points (NBAPs).
Given the importance of internet connectivity in this day and age, these customers are likely to continue paying for these services.
Its three other recurring revenue streams are generated from the leasing of ducts and manholes, co-location space, and central office space.
These services are essential to local telcos like Singtel and Starhub who lease these spaces to provide telecommunication services.
Regulated Rate Of Return
NetLink earns most of its revenues at a regulated rate of return.
As seen in the table above, nearly 80% of NetLink's revenues are regulated by Singapore's Info-communications Media Development Authority (IMDA) under the Regulated Asset Base (RAB) model.
Under the RAB model, NetLink is promised a pre-tax return that is equal to its pre-tax weighted average cost of capital (WACC).
The WACC measures the company's net cost of borrowing money, weighted by the company's total debt and equity.
During IMDA's last round of price revisions in 2017, NetLink's pre-tax WACC was 7%.
As such, IMDA has set fibre connection prices such that NetLink will make a 7% pre-tax return on its past capital investments.
Given that the IMDA revises prices once every five years, current prices will be retained until the next review in 2022.
Low Debt Levels
NetLink's debt levels are low for an infrastructure company with stable revenues.
At the end of fiscal year 2019, NetLink held S$149 million in cash and S$636 million in debt.
This translates to a net debt position of S$487 million, which is less than twice of the company's EBITDA of S$248 million.
EBITDA refers to earnings before interest, taxes, depreciation and amortisation, and is the preferred profitability metric for infrastructure companies that record a high depreciation on their assets.
In his prepared remarks, CEO Tong Yew Heng commented that Netlink's gearing level is still very low, given that its infrastructure assets have a long useful life and its revenues are largely recurring.
This means that the company has the ability to increase its borrowings significantly should it decide to invest more into the business.
Minimal Management Fees
NetLink pays a minimal management fee to its manager, Singapore NBN Trust, due to its trust structure.
This is because NetLink shareholders also own a stake in its trustee manager, Singapore NBN Trust.
As a result, the trustee manager is not profit-seeking and receives a payment that is just enough to cover its costs.
Unlike NetLink, most other business trusts and REITs hire an independent manager that manages the operations of the trust.
This manager is usually a profit-driven company with shareholders of its own, which mean that they tend to charge significantly more than their costs.
Nationwide Launch Of 5G Connectivity
The nationwide launch of 5G connectivity will largely be beneficial to NetLink.
According to Chairman Charly Mah, the rollout of 5G will involve setting up a large number of micro base stations in close proximity to each other.
Given that fibre connections are required in each of these base stations, the chairman believes that the launch of 5G will present a significant opportunity for NetLink.
While IMDA has not decided who it will employ to make these connections, the chairman expressed confidence that NetLink will ultimately benefit from the launch.
Obsolescence Of Fibre Broadband
A shareholder asked if the launch of 5G could push fibre broadband towards obsolescence.
The CEO replied that he does not see 5G networks replacing fibre-based fixed broadband services. He cited two reasons for this.
Firstly, while 5G's capabilities will greatly exceed that of 4G's, the capabilities of fibre broadband would also improve over time.
Secondly, the cost of transmitting data on a mobile network significantly exceeds the cost of transmitting data on fibre broadband.
In light of these factors, the CEO expressed optimism about the future of fixed broadband services. In his view, consumers will increase consumption of both mobile and fixed broadband services in tandem.
Sustainability Of Dividend
Another shareholder expressed concern about the sustainability of the dividend.
Referring to NetLink's cash flow statement, he noted that the company's distribution of S$221.3 million exceeds its free cash flow of S$158.5 million.
In response, CFO Lester Wong explained that the S$221 million recorded includes a S$126 million distribution that represented the company's 2018 distributable cash flows.
However, it was recorded in the company's 2019 statements as it was paid at the start of fiscal 2019.
Excluding this figure, the company has distributed S$95 million so far in fiscal 2019.
Including another S$95 million distribution that will be paid in early fiscal 2020, NetLink will distribute a total of S$190 million from its operations in 2019.
However, the CFO acknowledged that the distribution of S$190 million in fiscal 2019 still exceeds the company's free cash flow of S$158.5 million.
He attributed this to the fact that the company funds its capital expenditures from a combination of cash and debt to increase the efficiency of its balance sheet.
Declining Net Asset Value
Another shareholder asked why NetLink's net asset value (NAV) had fallen from 81 cents at IPO to 77.7 cents in fiscal year 2019 despite growing earnings.
The chairman explained that the company depreciates a significant amount of assets every year due to the nature of its business.
Such depreciation is recorded as an expense on the income statement, reducing the level of recorded profit.
However, depreciation is a non-cash expense that does not impact its cash flows.
As the company makes distributions based on cash flows and not earnings, NetLink's distributions have tended to exceed the level of its accounting profit.
This has caused a decline in NetLink's equity base. Given that this trend will continue into the foreseeable future, the chairman expects NAV to continue declining going forward and stressed that shareholders should focus on cash flows and not NAV.
Is SP Telecommunications A Threat?
Another shareholder asked if SP Telecommunications' (SPTel) Alternative Data Fibre Network initiative is a competitive threat to NetLink.
According to its press release, SPTel plans to 'build a fibre network equipped with intelligence capabilities as an alternative to the existing network infrastructure in Singapore'.
This new network aims to 'cater to the dynamic network demands of today's enterprises'.
The CEO replied saying that NetLink does not see SPTel as a competitor but instead a customer.
In order to build its fibre capabilities, SPTel has engaged NetLink for the installation and connection of a portion of its fibre network.
While SPTel will be competing with NetLink in the non-residential space, SPTel is still operating on a very small scale compared to NetLink.
Besides, SPTel has not shown an interest in the residential fibre connection industry, which accounts for the bulk of NetLink revenues.
Want More In-Depth Analysis And Discussion?
Why not check out Seedly's QnA and participate in the lively discussion surrounding stocks like NetLink NBN Trust and many more!
Stock Discussion on NetLink NBN Trust
---
Seedly Contributor: The Fifth Person

For our Stocks Analysis, the Seedly team worked closely with The Fifth Person, who is an expert in the field to curate unbiased, non-sponsored content to add value back to our readers.
The Fifth Person believes in spreading a message – that sound investment knowledge, financial literacy and intelligent money habits can help millions of people around the world achieve financial security, freedom, and lead better lives for themselves and their loved ones.
Their company and the knowledge shared was born from that vision and they hope to foster smarter, more profitable investment decisions for people and the world at large.
If you have any questions on the mentioned stocks, feel free to discuss them with the Seedly Community here.
Read other articles by The Fifth Person: