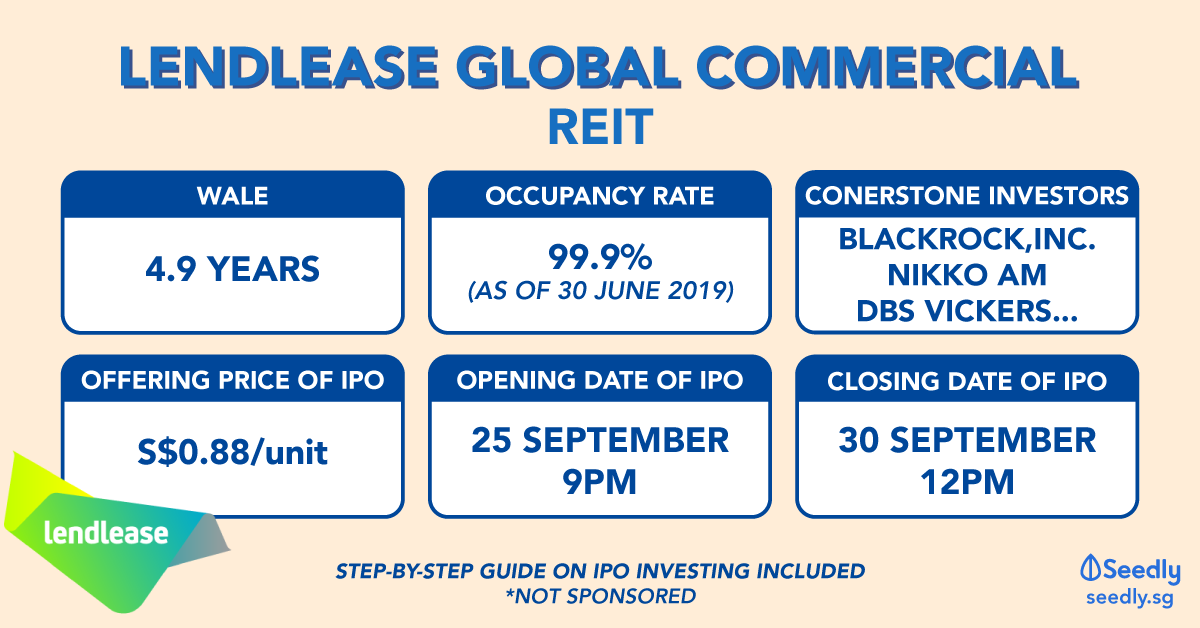 LendLease Global Commercial REIT IPO: What Singaporeans Need To Know
Here Comes A New REIT – Lendlease Global Commercial REIT
You might have heard of a new REIT coming to town. With REITs always popular among Singaporean investors, we might be looking at a very popular IPO with a high chance of it being oversubscribed.
Lendlease Group's presence in Asia, especially in Singapore can be represented in the likes of properties such as Jem, Parkway Parade, [email protected] and Paya Lebar Quarter.
Details On Lendlease Global REITs IPO?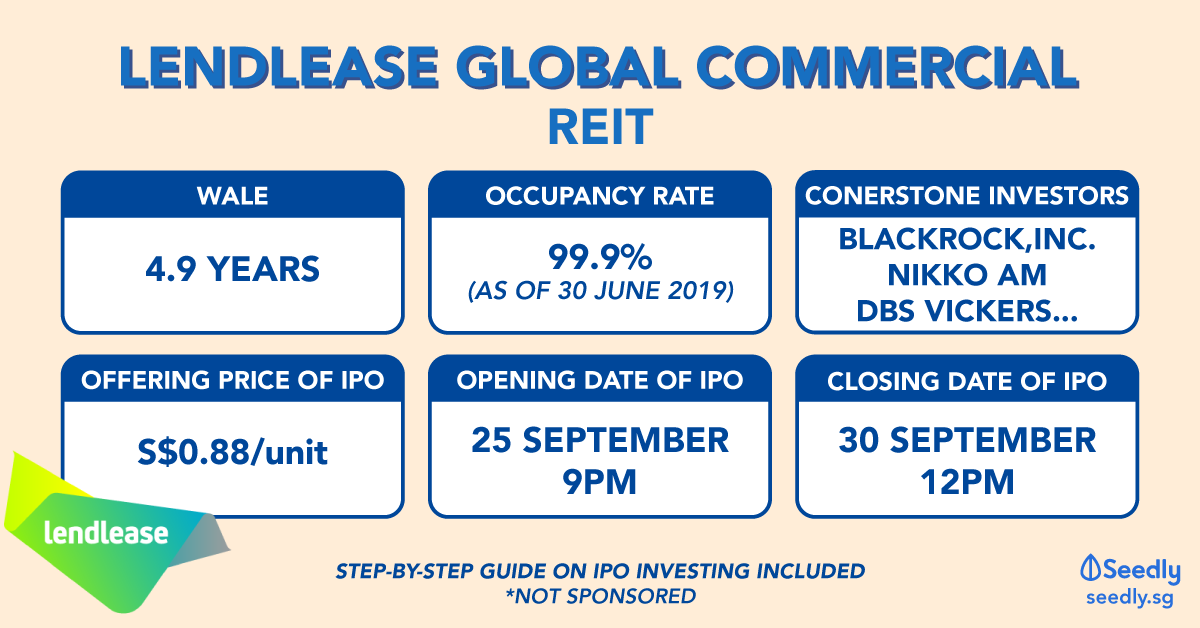 Do note that we will be very factual about this IPO in this article and it is not a recommendation.
Before diving deeper, here's a quick overview of Lendlease Global REITs IPO:
The Whats?
More Details
What Does This Mean?
The Sponsor
LendLease Group
Usually the major shareholder of the REIT
Cornerstone Investors
AEW
Asdew Acquisitions Pte Ltd
BlackRock, Inc.
DBS Bank (on behalf of certain wealth management clients)
DBS Vickers (on behalf of certain wealth management clients)
Fullerton
Lion Global Investors
Moon Capital
Nikko Asset Management
Principal Singapore
Soon Lee Land Pte Ltd
The Segantii Asia-Pacific Equity Multi-Strategy Fund
TMB Asset Management
Cornerstone Investors are usually institutional investors or well-known individuals to whom shares of the IPO are allocated under the placing tranche at the IPO price.

It usually acts as a signal about the trust-worthiness and if an investment is worth investing.
Invest In
[email protected] in Singapore
Freehold office property Sky Complex, which is made up of three office buildings in Milan, Italy
What is in this REIT's Portfolio.
We looking at retail and office.
Appraised Value Of Portfolio
S$1.41 billion
The evaluation of a property's value.
Weighted Average Lease Expiry (WALE)
4.9 Years
Average length of the lease tenants of the REIT
Occupancy Rate
99.9%
(as of 30 June 2019)
Percentage of rented or used space to the total amount of available space
Dividend Yield
5.8% (Year 2020)
6.01% (Year 2021)
Dividend return on investment
Timeline Of Lendlease Global REITs IPO?
If you are interested to invest in the Lendlease Global REITs IPO, here's a timeline to take note:
Important Events for Lendlease Global REIT IPO
Time and Date
Offering Price
S$0.88 per units
Units Offered
387,474,987 units
Opening time and date of IPO
25 September 2019
9pm
Closing time and date of IPO
30 September 2019
12pm
Balloting of applications for IPO
1 October 2019
Commence Trading
2 October 2019
2pm
The refunding of excess application monies back to unsuccessful or partially successful applicants will take place on 1 October 2019.
---
Step-By-Step Guide To Subscribe To Lendlease Global REITs IPO?
For a start, an investor needs to open a CPD account with SGX to start investing.
After which, one can either apply for the IPO through the ATM or through Internet banking.
Subscribing To An IPO Through Internet Banking
Step 1: Log in to your ibanking account. You can apply for IPOs through ibanking platforms of DBS, OCBC and UOB.
Step 2: After logging in to your ibanking account, head over to the "invest" or "investments" tab, depending on the banking platforms which you are on.
Step 3: For OCBC users, simply select "Initial Public Offering". For DBS/POSB users, select "Electronic Shares Application (ESA)".
Step 4: You should be able to select the shares which are on IPO. Choose the one you wish to invest in.
Do note that there will be a charge of $2 per application.
Unsuccessful or if your orders are partially filled, the remaining amount will be returned to your savings account.
Alternatively, you can head over to an ATM to subscribe to an IPO.
Subscribing To An IPO Through ATM
Assuming that you already have a CDP account with SGX, head over to an ATM (usually DBS/ POSB given that they have the widest network).
Subscribe to the IPO through the ATM by selecting Electronic Shares Application before the closing date and time.
Application fee of $2 applies.
Unsuccessful or if your orders are partially filled, the remaining amount will be returned to your savings account.
---
More Details On LendLease Global Commercial REIT
One can formulate a decision to invest or not, based on the numbers we pull out earlier. Do take note that dividend yield should not be the only factor which one looks at.
The Sponsor
The Lendlease Group has a portfolio of 21 projects across 10 Gateway Cities. Projects based in Singapore such as the Paya Lebar Quarter will be something that Singaporeans can relate to.
Other projects include The Exchange TRX in Kuala Lumpur, Barangaroo South in Sydney, just to name a few.
Do note that you are not entirely investing in all the projects under the sponsor. While a strong sponsor helps, it is important to look at what this portfolio has to offer.
Top Tenants By Gross Rental Income For Lendlease Global REIT
Their top 10 tenants for the month of June looks diversified across various sectors.
Here are some of their top tenants, and the relevant percentage of Gross Rental Income they contribute:
Sky Itali (28.9%)
Food Republic (3.8%)
Zara (3.3%)
Cotton On (3.2%)
Sony (2.9%)
Marche (2.7%)
Hai Di Lao (2.0%)
Forever 21 (1.6%)
TEMT (1.6%)
K Bowling Club (1.4%)
Things To Take Note Of Before Investing
On top of that, check out the location of their projects, in this case, Sky HQ Complex and [email protected]
Location of Sky Complex:
Location of [email protected]:
About Ming Feng
A stint in
Bloomberg
gifted me with a beer belly, which only grew larger when I moved on to become a Professional Trader. Now I turn caffeine into digestible finance-related content.
You can contribute your thoughts like Ming Feng
here.