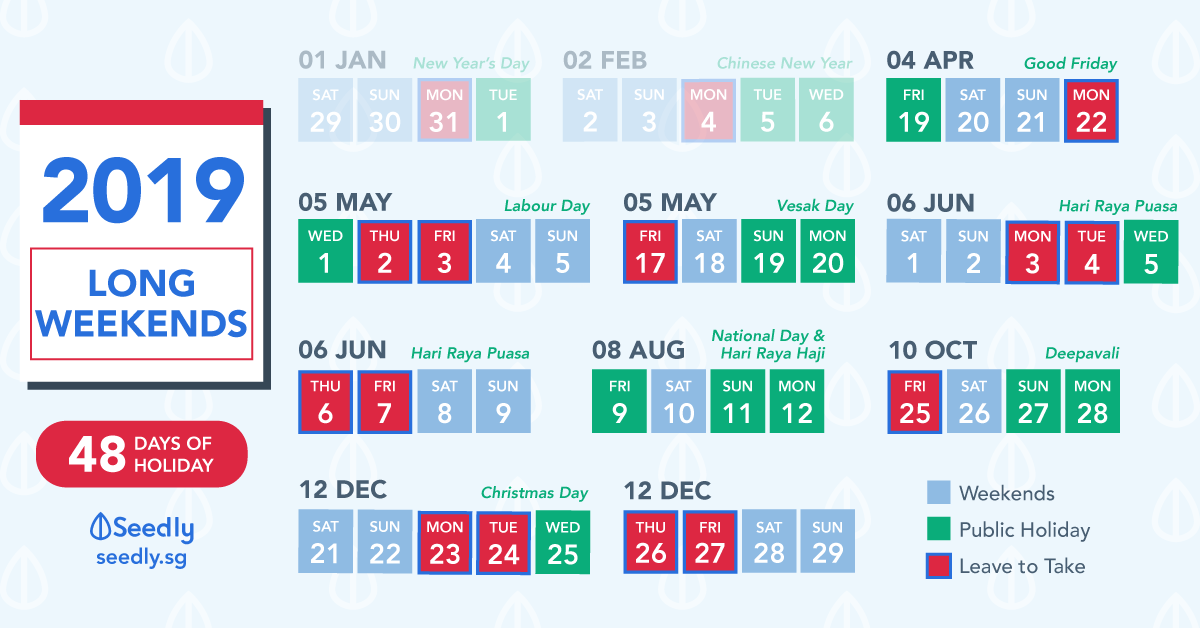 Long Weekends in 2019: Maximise Your Annual Leave
Ministry of Manpower had announced that in 2019 we will be having 11 public holidays, 3 of which falls on a Sunday.
You know what that means? Off-in-lieu on Monday! Woohoo, an extended weekend!
With these 11 public holidays that was graciously bestowed upon us, we expanded the 11 days to 48 DAYS OF NO WORK!
---
TL;DR: Long Weekends in 2019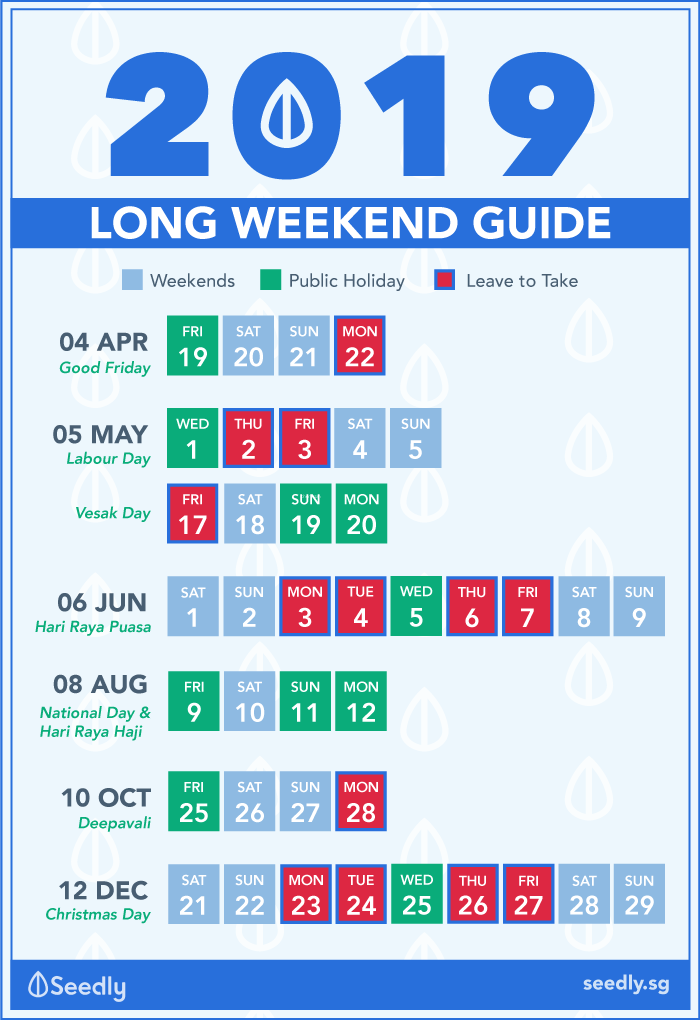 *Save this for you to refer to while booking your annual leave!
9-Day Long Holiday Opportunities
| Month | Dates | Leaves to Take |
| --- | --- | --- |
| April / May | 27 April - 5 May | 4 days |
| June | 1 - 9 June | 4 days |
| December | 21 - 29 December | 4 days |
It is amazing that some of these 9-day long holiday opportunities fell on both June and December holidays!
Very timely for parents to maximise their annual leave to cater for school holidays.
Disclaimer: While we are affiliated with ShopBack… we select and review products and services independently in line with our Seedly Code of Ethics.
---
Places To Visit To Enjoy The Long Weekends
Why look at mainstream destinations when you can stand out, here we have listed a few unconventional but yet scenic travel locations.
TIP: Be sure to download these apps before you travel, they will make travel less stressful!
Caticlan, Philippines
Yaazzz beach! Caticlan is in the Philippines and is the Instagram-worthy beach paradise gateway to Boracay. With beautiful powder beaches surrounded by blue water, taking a dip in the water is a definite must. Once night falls, enjoy the live music from nearby bars!
Not interested in swimming? Take a walk around the city and visit museums as well as boutiques.
If you have a flexible holiday schedule and are not affected by school holidays, November is the best time to visit to enjoy the dry season! Be sure to book tickets by June for the best prices.
Kathmandu, Nepal
Step into another world and experience Kathmandu, the capital of Nepal. Enjoying the old town in a rickshaw or the intoxicatingly beautiful heritage sights such as Boudhanath, the most famous Buddhist stupa which was listed as the UNESCO world heritage site in 1979.
Experience a celebrated festival – Gaijatra (Festival of Cows), which is the local version of Halloween that falls between August and September and is celebrated for 8 days. Best time to book a ticket would be April.
NOTE: Singaporeans need a visa to enter Nepal – get a visa on arrival at Tribhuvan International Airport or get it in advance in Singapore.
Jaipur, India
A city painted in pink! This beautiful city, bustling with auto rickshaws and surrounded by incredible historic palaces and ancient forts is a MUST visit. The Hawa Mahal (Palace of Winds), is the ideal location to snap of a photo and boast to your friend when swapping holiday stories.
Take a walk around the bazaar where your senses will go into overdrive with all the wonderful sights and smells!
This location is starting to attract fellow Singaporeans based on the 63% increase in searches from 2016. So be sure to book it ASAP in order to catch the Elephant Festival in February and March.
Okinawa, Japan
This city is not the first place you think of when you want to go diving but it is one of the most famous diving spots in the world! Visit Yonaguni of the Yaeyama Islands that holds an underwater structure called the Yonaguni monolith.
If diving is not your forte, check out the hot springs or even go whale watching if you intend on going between January and March.
To experience Okinawa's large-scale dance festival called 10,000 Eisa Dancers Parade in the first week of August, book your tickets in March!
Nadi, Fiji
Another increasingly popular place to visit with a 75% jump in interest would be the Fiji Islands!
Enjoy heaven on earth with golden beaches surrounded by the crystal clear water of the South Pacific Ocean which will make you feel like you escaped the hustle and bustle of reality.
With the new Fiji Airways direct flight, you will be able to reach this little slice of heaven in less than 10 hours. Tickets may be slightly pricey, but who can put a price on perfection?!
The five destinations above is just the tip of the icebergs in regards to interesting holidays! Be the first of your friends to visit such exciting locations and make the most out of the very few long weekends we are given in 2019.
Always make sure to double check, triple check from different airlines for the cheapest tickets available, do use comparison sites like Skyscanner and cashback sites like ShopBack to make sure you are making your money's worth!
Also, always be sure to keep track of your expenses so you don't go overboard!
Public Holidays for 2019:
Public Holiday
Date
Day
New Year's Day
1 Jan 2019
Tuesday
Chinese New Year
5 Feb 2019
Tuesday
6 Feb 2019
Wednesday
Good Friday
19 Apr 2019
Friday
Labour Day
1 May 2019
Wednesday
Vesak Day
19 May 2019
Sunday
Hari Raya Puasa
5 Jun 2019
Wednesday
National Day
9 Aug 2019
Friday
Hari Raya Haji
11 Aug 2019
Sunday
Deepavali
27 Oct 2019
Sunday
Christmas Day
25 Dec 2019
Wednesday
About Cherie Tan
Turning finance into boba-sized pieces. One iced milk boba tea, please!
You can contribute your thoughts like Cherie Tan
here.