Mapletree Industrial Trust (SGX: ME8U) Second Quarter Earnings: Future Looks Brighter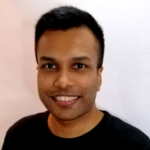 Sudhan P
●
Mapletree Industrial Trust (SGX: ME8U) is a REIT with a portfolio of 84 industrial properties in Singapore and 27 properties in North America.
On 27 October, Mapletree Industrial Trust announced its financial results for its second quarter ended 30 September 2020 (2QFY20/21).
Let's look at some of the important aspects of the announcement right here.
---
TL;DR: Mapletree Industrial Trust's 2QFY20/21 Financial Performance
Here's a summary of Mapletree Industrial Trust's latest earnings:
For the latest quarter, gross revenue grew 1.5% year-on-year while net property income went up by 2.0%.
The increase was mainly on the back of contributions from newly-acquired data centres in the US.
However, distribution per unit (DPU) declined by 1% year-on-year to 3.10 Singapore cents due to an enlarged unit. On a quarter-on-quarter basis, DPU grew 8%.
The REIT didn't withhold any distribution this quarter, unlike the previous two quarters, due to the improving COVID-19 situation here.
Mapletree Industrial Trust is also increasing its exposure to the resilient and growing data centre space.
---
Growth in Gross Revenue from New Acquisition
For 2QFY20/21, gross revenue and net property income grew 1.5% and 2.0%, respectively, both on a year-on-year basis.
The growth was largely due to new revenue contribution from 14 data centres in the US that were fully acquired in September 2020 (more on this later).
However, rental reliefs extended to tenants due to the pandemic and loss of revenue due to the redevelopment of Kolam Ayer 2 Cluster partially offset the rise.
The redevelopment, which is expected to be completed by the second half of 2022, will transform two flatted factories to new hi-tech buildings, including a build-to-suit (BTS) facility for an anchor tenant (a global medical device company headquartered in Germany).
Distributable income for the quarter rose 14.8% to S$72.9 million, coming on the back of higher net property income and distributions declared by joint ventures.
Despite the increase, distribution per unit (DPU) dipped 1% to 3.10 Singapore cents, down from 3.13 cents a year back.
The fall was due to an enlarged unit base from a private placement to mostly fund the data centre portfolio acquisition.
Portfolio Occupancy and Balance Sheet Update
Mapletree Industrial Trust's Singapore portfolio saw an improvement in occupancy from 90.2% the previous quarter to 91.5% for 2QFY20/21.
Overall, portfolio occupancy rose from 91.1% to 92.3%.
As for its balance sheet strength, gearing ratio remained sound at 38.1% (as of 30 September), an improvement from 38.8% seen at the end of June 2020.
There's also no debt maturing in FY20/21 and interest coverage ratio for the quarter was high at 7x.
Both gearing and interest coverage ratios are well within the range I look out for.
Larger Data Centre Exposure
On 1 September 2020, Mapletree Industrial Trust completed the acquisition of the remaining 60% interest in the 14 data centres in the United States from its sponsor.
Two weeks later, the REIT announced the proposed acquisition of a data centre and office located in Virginia, US. The purchase is slated for completion in the first quarter of 2021.
Over the longer term, growth prospects for the data centre industry remain bright, especially with the rapid digitalisation brought about by the pandemic.
More on the DPU
Even though Mapletree Industrial Trust's DPU fell for the latest quarter on a year-on-year basis, the outlook seems to be improving for the REIT.
The REIT's manager said that it would not be "withholding any income in 2QFY20/21 in view of the gradual stabilisation of the COVID-19 situation in Singapore".
For 1QFY20/21, DPU of 0.32 cent was held back while for 4QFY19/20, DPU of 0.30 cent was withheld due to the uncertainty from the COVID-19 pandemic then.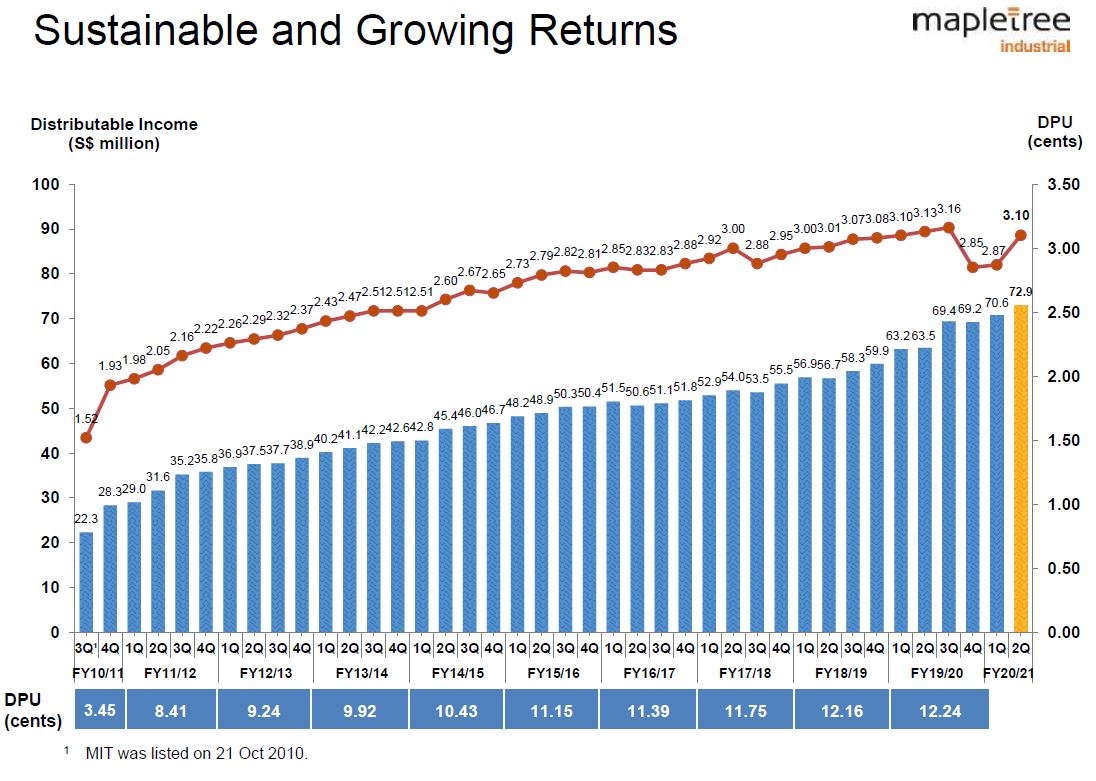 At Mapletree Industrial Trust's current unit price of S$3.15, it has a price-to-book ratio of 1.9x and a distribution yield of 3.8%.
Want More In-Depth Analysis And Discussion?
Why not check out the SeedlyCommunity and participate in the lively discussion surrounding REITs and more!
Stocks Discussion on Mapletree Industrial Trust
Disclaimer: The information provided by Seedly serves as an educational piece and is not intended to be personalised investment advice. ​Readers should always do their own due diligence and consider their financial goals before investing in any stock.
About Sudhan P
It isn't fair competition when only one company in the world makes Monopoly. But I love investing in monopolies. Before joining the Seedly hood, I had the chance to co-author a Singapore-themed investment book – "Invest Lah! The Average Joe's Guide To Investing" – and work at The Motley Fool Singapore as an
analyst
.
You can contribute your thoughts like Sudhan P
here.