Today, when we think of the Marvel Cinematic Universe, we associate it with our favourite superheroes, one of Hollywood's biggest brand, a multi-billion-dollar business.
Let's take a look back at how far Marvel has come from the 1960s to 2019 with their latest movie, Avengers: Endgame.
TL;DR: Marvel's journey from bankruptcy to billions and personal finance
Editor's Note: There will be NO SPOILERS for AVENGERS: Endgame in this article. I promise!
If you haven't bought your tickets to catch Avengers: Endgame, use this movie ticket pricing guide we have here to help you get the cheapest ticket!
Also, let's play a fun mini game! Share with us which Avengers represent which investment products?
---
How much does Marvel Cinematic Universe profit from each movie?
Out of curiosity, here's how much Marvel Cinematic Universe Movies profited from their movies.
| Release Date | Movie | Production Budget (Approx) | Worldwide Box Office Income (Approx) |
| --- | --- | --- | --- |
| May 2008 | Iron Man | $186 million | $585.1 million |
| June 2008 | The Incredible Hulk | $138 million | $265.6 million |
| May 2010 | Iron Man 2 | $170 million | $621.2 million |
| May 2011 | Thor | $150 million | $449.3 million |
| July 2011 | Captain America: The First Avenger | $140 million | $370.6 million |
| May 2012 | The Avengers | $225 million | $1.519 billion |
| May 2013 | Iron Man 3 | $200 million | $1.215 billion |
| November 2013 | Thor: The Dark World | $150 million | $644.6 million |
| April 2014 | Captain America: The Winter Soldier | $170 million | $714.3 million |
| August 2014 | Guardian of the Galaxy | $170 million | $773.3 million |
| May 2015 | Avengers: Age of Ultron | $331 million | $1.405 billion |
| July 2015 | Ant-Man | $130 million | $519.3 million |
| May 2016 | Captain America: Civil War | $250 million | $1.15 billion |
| November 2016 | Doctor Strange | $165 million | $677.7 million |
| May 2017 | Guardians of the Galaxy Vol. 2 | $200 million | $863.8 million |
| November 2017 | Thor: Ragnarok | $180 million | $854 million |
| February 2018 | Black Panther | $200 million | $1.34 billion |
| April 2018 | Avengers: Infinity War | $400 million | $2.05 billion |
| Jul 2018 | Ant-Man and the Wasp | $130 million | $622.7 million |
| Mar 2019 | Captain Marvel | $152 million | $1.1 billion |
| Apr 2019 | Avengers: Endgame | $400 million | T.B.C. |
Source: The Numbers
*Note: The figures are reflected in USD
Here is what the numbers above tell us:
Marvel spent a total of approximately S$3.91 billion on production
And made $17.74 billion and counting from their movies
"Money. The best superpower of all." – IronMan
History of Marvel
With the crazy success that we are looking at now, it is hard to believe that Marvel almost ceased to exist years back.
Very much like most of their superhero movies, there is usually a phase where it all seems lost. The heroes are losing the war, the city that they are trying to protect is in ruins. Ultimately, they managed to overcome those difficulties to emerge victoriously.
Below is a break down of Marvel's story.
In 1996: Marvel filed for bankruptcy
The year 1996 is probably the darkest day for Marvel.
With the company losing money after a series of financial bubbles and bad decisions, what Marvel did:
Filed for bankruptcy on December 27, 1996
Buried in so much debt
Laid off one-third of their employees
Marvel sold cinematic rights to survive
Desperate to stay afloat, Marvel sold the cinematic rights of their characters to whoever willing to put some money into their pocket.
Given the circumstances, most of these deals were not in favour of Marvel.
A few examples of such deals include:
Blade to New Line Cinema
X-Men and the Fantastic Four to 20th Century Fox
Spider-Man to Sony Pictures
Hulk to Universal Pictures
Source: schmoesknow.com
While most of these movies went on to bag in good profits, while Marvel earned "peanuts" from the success.
Blade earned $131.2 million at the U.S. box office. Marvel only pocketed $25,000 from the rights
Spider-Man 1 and 2 brought in $3 billion for Sony Pictures, but Marvel only got $62 million
In 2005: Marvel launched Marvel Studios
It is definitely painful to watch, with other filmmakers milking profit out of Marvel's characters except for themselves.
Marvel at this point in time, is left with characters that might have been popular with comic fans but not so popular when it comes to households.
Source: T-Shirt Terrorist
Editor's note: Back then, most people assume Iron Man was a robot.
Marvel's last resort was to put up the remaining of their character rights as collateral for the $525 million loan which they were about to take up to form Marvel Studios.
The collateral includes the rights to these characters:
Nick Fury
Black Panther
Ant-Man
Captain America
The Avengers
Cloak & Dagger
Doctor Strange
Hawkeye
Power Pack
Shang-Chi
Marvel took the risk with Iron Man and Hulk.
Hulk was an A-list Marvel character and was expected to do well
Plus, Hulk already had an exposure to live-action
Iron Man, on the other hand, was a bigger risk
Iron Man has never been in live-action
Both the Iron Man and Incredible Hulk movie will include parts of the bigger Marvel Universe, as part of the plan to build up to the Avengers
In 2009: Marvel's gamble paid off, Disney's Acquisition of Marvel
The risk they took paid off. Iron Man made $585.2 million. It kick-started a whole chain of successful movies after, under the Marvel Cinematic Universe.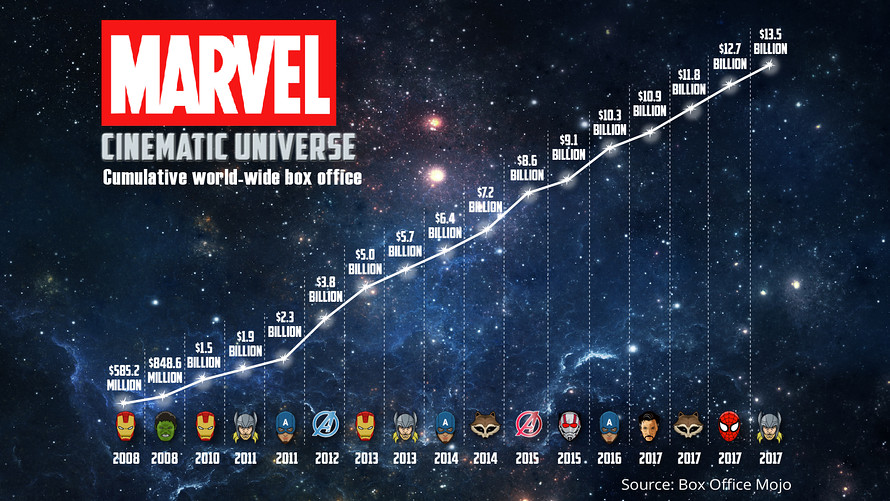 Source: Market Watch
The success ultimately caught Disney's attention and they eventually acquired Marvel for $4 billion in the year 2009. Which, as of today, has reaped more than 300% of whatever they paid for.
Avengers is like your portfolio
Not all of them is a success
(eg. Hulk was bad, Black Panther broke the cinematic records etc.)
---
After-Credits: What Marvel's success taught us about personal finance

Investments: The need to look out for market changes and staying relevant
Marvel was not poor, to begin with. Some background story:
Marvel has always been a big name and had created some of the world most recognised superheroes. They enjoyed great success in the 60s through the 80s when comics were popular.
As the world transit into the 90s where more advanced technology made available, comic books became a dying medium.
While they always had the idea of movies, they did not put much emphasis on it. Because of that when the comic bubble of the 90s burst, Marvel went bankrupt.
Since then, they shifted their positioning and expanded their business models from comics to include films under Marvel Entertainment.
Personal Finance Takeaways
Advancements in technology often render business models obsolete, sometimes seemingly overnight.
With that in mind, investors should pick companies which are nimble enough to adapt to such changes or are constantly reinventing themselves and seeking diversification.
Career: Looking out for market changes and Staying relevant
From a career perspective, it is important for employees to constantly upgrade ourselves to stay relevant.
Very much like business models, the demand for a specific skill set can decrease too.
There is probably no career that can grant you true stability, which makes constant self-upgrading especially important.

Investment: Diversification in your portfolio
Marvel could have gone all out on Iron Man's success and just produce Iron Man series, but they didn't.
If we go down the list of all the movies they did over the years, they all bring in different percentages of profit when compared to their cost of production.
Think of Avengers as your investment portfolio
While each stock brings in a different return, there was a combination of safer stocks and risky ones
(Iron Man was considered a risky investment back then, and the Hulk was the safer investment)
Fast forward to today, ultimately the diversification paid off and made money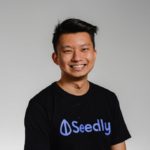 About Ming Feng
A stint in
Bloomberg
gifted me with a beer belly, which only grew larger when I moved on to become a Professional Trader. Now I turn caffeine into digestible finance-related content.
You can contribute your thoughts like Ming Feng
here.