Tips And Tricks To Maximise Your Ang Bao Money This CNY
TL;DR: Maximise Your Ang Bao Money This CNY
Changing your lifestyle can help you save $16,124.50 per year
Growing your Ang Bao money to beat inflation can help you Huat even more
Whether you have $100 or $500 in ang bao money, there are plenty of ways to grow your money!
---
New Year – New Huat
As we usher in the new year, let's start things on the right foot by reviewing our lifestyle choices. The real huat starts with not buying 4D and by making smarter day-to-day decisions!
Here are 8 (huat!) areas you can start with, and how much money you can save in a year if you make those changes!
1. Change Your Telco Plan: SIM Only
Our mobile phones are basically an extension of ourselves. And contrary to what many people believe, buying your phone without a combo plan might actually save you heaps in the long run.
Comparison Scenario for an iPhone XS Max (256GB):
Contract:  With a

5GB

 2-year combo plan, my plan will be $40/month and the cost of my re-contract phone will be $1,195, amounting to $2,155 in 2 years.
SIM-only: With a

5GB

 2-year SIM-only plan, my plan will be $20/month and the cost of my phone bought elsewhere (eg. Carousell) will be $1,500, amounting to a grand total of $1,980 over 2 years.
Cost Savings: At least $87.50 / year
2. Meal Prep: Make Your Own Lunch
Doing meal prep for just 1 meal every weekday can save you up to $50 a week!
A typical working adult spends around $5.40 minimally at the food court every weekday, adding up to $27 per week.
However, meal prep can cost as little as $12.50 a week, complete with 5 main ingredients such as chicken, broccoli etc.
Plus you can control what you're putting into your mouth, meaning you can make healthier choices!
Making your own lunch for every weekday in a year: ($27 – $12.50) x 52 weeks = $754
Cost Savings: At least $754 / year
3. Allocate Your Monthly Salary
Take time to sit yourself down and properly allocate your monthly salary. The start of the New Year is the best time to straighten up your finances!
It's always tempting to treat yourself when you first get your pay. But the way to long-term financial stability comes with a bit of discipline.
For a start, follow our 20% Savings, 50% Expenses, 30% Wealth guide:
Automate a transfer of 50% of your pay to a spending account for use with a cashback credit or debit card
Put 20% of your savings into a savings account. Assuming it is the DBS Multiplier, as broken down by our best savings account analysis

, there will be at least 1.80% interest.

Put 30% into your wealth accounts such as ETF or a regular savings plan, with average returns of 6.3% per annum.
Total Huat accumulated (assuming $2000/month salary): At least $12,581 / year
4. Prolong The Lifespan Of Your Beauty Products
Both men and women use skincare and beauty products every day. Here are some quick tips to save your skincare products and lighten the burden on your wallets:
Use multi-purpose products instead of specific purpose products
Keep your beauty products away from sunlight and heat
Reinvent and recycle foundations and leftover lipstick
If we replace specific-use products, for example, a fancy lip balm and eye cream with say… A gentle moisturiser or Vaseline, it can save you up to $50 / 4 months
Cost Savings: At least $150 / year
5. Know Where To Find Cheap Air Fares
If you fall into the "I aim to travel once a year" category, this tip is extra important for you. With 9 long weekends in 2019, this is the year to satisfy your wanderlust without breaking the bank.
Here are 4 essential tools to help you before you embark on your trip-planning frenzy!
Skyscanner: Airfare aggregator that compares cheap air tickets across 30+ websites
Expedia: Flights+hotel aggregator with Expedia+ Rewards Points program
Hellowings: Airfare aggregator that compares air tickets across the year
Airline newsletters: Sign up for newsletters to get exclusive airline deals in your inbox
Cost Savings: Average $300 / year (assuming you only go on one trip a year)
6. Change Your Expensive Gym Membership
Fitness quickly becomes one of the main concerns of a working adult. Yes, we mean metabolism slowing, beer belly showing — that kind of stuff.
But worry not, there are many ways you can keep fit cheaply without a fancy gym membership.
Swimming will cost you less than $2 and join Fit Club's group exercises are less than $5 per session.
If we compare gym memberships solely, you know that ActiveSG meets most of your exercise needs (Unless you need a personal trainer!)
When you sign up for ActiveSG a free $100 will be given to you for gyms, pools and external classes.
More high-end gym memberships such as the ones at Anytime fitness cost around  $1,000 / year
Considering that MyActiveGym's membership is $300 a year for adults and you switch over from a high-end gym membership:
Cost Savings: At Least $700 / year
7. Know Your Money Saving Tools
The internet is a wonderful place – that helps you save money.
Carousell can save you $10 on the same dress you saw online, and if you're lucky, $200 on a TV
ShopBack gives you up to 10% cashback (and even more depending on when they have upsized cashback)
RATEX can help you save on conversion fees when you splurge on a big ticket item
Taxibot can save you $4 with promo codes, and so on…
Going about the whole year with a constant $4 saved on rides, $10 on clothing and $200 on bigger purchases, we can conservatively add this up to ($4 x 100) + ($10 x 50) + ($200 x 2) = $1,300 / year!
Cost Savings: At Least $1,300 / year
8. Change Your Broadband Plan
Home is where the WiFi connects automatically. That is why your broadband plan is so important.
Assuming your family is currently subscribed to a typical Singtel 24-months 1GBPS plan, you are currently paying approximately $60 / month.
Alternatively, a WhizComms 1 GBPS 2-year contract is about $39/month inclusive of a router.
Switching can save you: At least $252 / year
Of course, if you have other needs such as gaming broadband series or you prefer no-contract plans, read more here for a more comprehensive breakdown of the best broadband deals out there.
Conclusion: Adopting Our 8 Huat Tips Can Save You A Whooping $16,124.50 In A Year:
Huat Tips
Money Saved: 1 Year
1
Telco Plan - SIM Only
$87.50
2
Meal Prep
$754
3
Allocate Monthly Salary
$12,581
4
Prolong Lifespan -
Skincare Products
$150
5
Find The Cheapest Air Fares
$300
6
Cheaper Gym Membership
$700
7
Money Saving Tools
$1,300
8
Broadband Plan - WhizComms
$252
Total $ Saved
$16,124.50
---

New Year – Even More Huat
Chinese New Year is a great time to put the clichéd "New Year, New Me" resolution to work. So what we do with our Ang Bao Money really matters, especially in the long run.
On top of the above lifestyle tips that can save you a lot of money, there are definitely ways to grow your Ang Bao money! Here are some of the ways:
Choosing the right credit or debit card based on your spending habits
Switching to the best savings account to get the most bang for your buck
Finding the right brokerage to start investing
With Ang Bao money ranging from $0 (assuming you lost all your Ang Bao money while gambling ?) to more than $500. Here are some ways to help you grow it!
Note: For the below illustrations, we're going to use Singapore's median salary of $3,500 easier calculation.
---
My Ang Bao Money Is $0
Assuming you lost all your money at your cousin's gambling table, or Netflix kept you away from house-visiting. Here are some simple financial choices to make for an even more huat Chinese New Year.
Best Savings Account For Students
Still a student? You can and should start being financially responsible! Get a headstart by getting the best student savings account possible.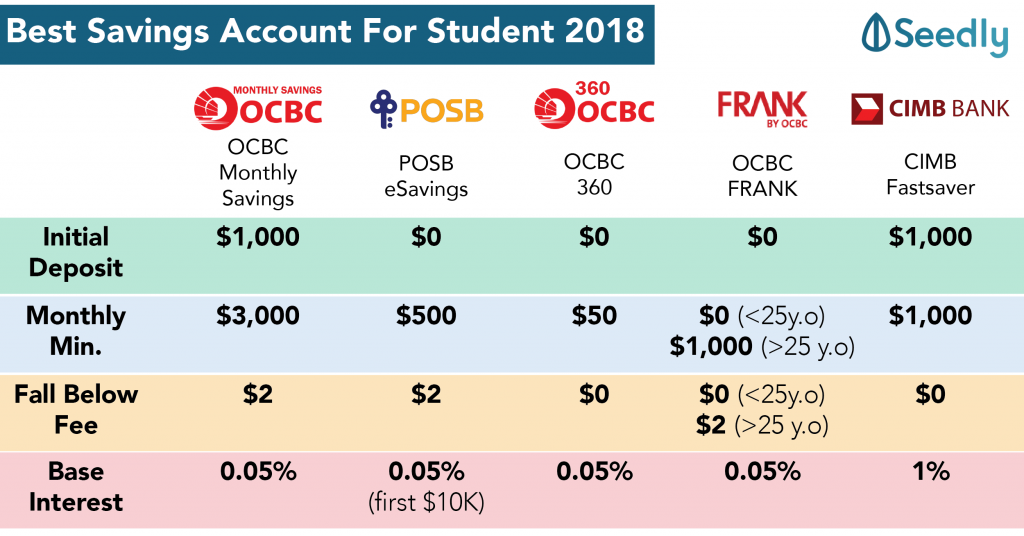 If you're one of the few who managed to save up $1,000. We recommend going for the CIMB Fastsaver to enjoy the 1% interest rate. And assuming you leave that $1,000 there and don't add any more to it for the rest of the year…
Switching to the best savings account: $10.05 / year
Best Savings Account For Working Adults
For working adults, choosing the best savings account can give one up to 1.85% per annum worth of interest. That's free money just by leaving your savings in the correct account.
Let's assume that you managed to follow our 20% Savings, 50% Expenses, 30% Wealth guide. And put aside $700 every month for a year with DBS, to earn say… A conservative estimate of 1.85% interest on your principal.
Switching to the best savings account: $84.65 / year
Best Credit Card For Students
As we grow older, our expenses somehow start increasing. And if it's going to increase, then we should find out what are the best credit cards for students, in order to get the best rewards possible.
We did an analysis and concluded that the Citibank Clear and DBS Visa debit offer the highest cash rebate at 5-10%.

Assuming $200 in expenses each month for an entire year, with at least a 5% cash rebate.
Getting that credit card: $120 / year
Best Credit Card For Working Adults (Cashback/ Miles)
Depending on whether you are from the cashback camp or the miles game there are cards that cater to both preferences.
Want the best cashback credit cards? Or check out this useful table we put together:
Big Purchases

Unlimited Cash Back

Dining/ Entertainment/ Online

Transport/ Groceries

Max cashback etc.

UOB One

SCB Unlimited Cashback

AMEX True Cashback

BOC Family

Citi Cash Back

OCBC 365

UOB Yolo

OCBC Frank

Citibank SMRT ez-link

Cashback
rate

3.3%-5%

1.5%

1.5%

5%-7%

8%*

3%-6%*

3%-6%

3%-6%

2%-5%

Max. cashback cap

$50/ $100/ $300 per quarter

None

None

$100 per month

$100 per month
($25 per category of dining/groceries/petrol)

$80 per month

$60 per month

$60 per month

Max 600 SMRT$ per year

Min. Spend (Monthly)

$500/ $1,000/ $2,000

None

None

$500

$888

$600

$600

$400

None

Best for

UOB One bank account holders/ Wedding/ Renovation payments

Fuss-free
Unlimited cashback

20% Uber Cashback*

Fuss-free
Unlimited cashback

BOC SmartSaver account holders, Dining, Online

Grab rides,
Dining, Groceries,
Petrol

OCBC 360 bank account holders, Online shopping (3%),
Weekend dining (6%), Weekday (3%)

Weekend dining & entertainment (6%), Weekday (3%), 1-for-1 at Cathay Cineplex

Online Shopping

2% on ez-link auto top-up, 5% on groceries, fast food, movies and coffee

Sign-up bonus

None

$138 for new customers

$25 Grab/NTUC voucher

None

None

$125 Grab/NTUC voucher

$120 cash back if you hit $200 per month for 6 months

None

$50 cash credit*

None

$125 Grab/NTUC voucher

$120 cash back if you hit $200 per month for 6 months
Looking for the best air miles credit cards? We got you, fam.
Getting that credit card: up to $1,200 / year (max cashback cap)
Best Brokerage/ Stock Trading Account
Trading on the cheapest stock trading platform can definitely help you save in the long run:
Stock Brokerage (Cash Upfront) Comparison
Stock Brokerage
(Cash Upfront)
Minimum Fees
Trading Fees
KGI Connex
$25
0.18%
CIMB Securities
$8
0.18%
DBS Vickers
$10
0.12%
Maybank Kim Eng
$10
0.18%
Phillips Securities
(Poems)
$10
(till 30 June 2018)
0.12%
(till 30 June 2018)
OCBC Securities
$18
0.18%
UOB KayHian
$10
0.12%
FSMOne.com
$10
0.08%
---
My Ang Bao Money Is About $100
Congratulations on your ang bao haul! And guess what? You can start your investment journey with as little as $100!
Regular Savings Plan
We did an illustration based on past results for a Regular Savings Plan that buys into the Straits Times Index ETF for only $100 per month. Check out the cheapest Regular Savings Plan here:

Let's assume you continue to put $100 every month for a year (that's a total of $1,200 in principal), and your plan gives you a very conservative 5% yield.
Embarking on a regular savings plan nets you: $132.26 / year
Robo-Advisors
Robo-advisors promise low-cost, diversified, passive investing for as little as $100 per month. As it is a relatively new product, there aren't really a lot of data on past returns. But then again we all know that past performance is not a guarantee of future returns. Check out our comparison of the various robo-advisors available:
Oh, and did you know that you can also read REAL user reviews on robo-advisors before deciding which one to use?
P2P Lending Platforms
P2P Lending platforms connect the public to businesses in need of funding. Public investors can lend money to these businesses and get returns based on interest rates when borrowers repay the loans. We did a comparison of the different P2P lending platforms too.
Read real user reviews about P2P Platforms in Singapore too!
---
My Ang Bao is more than $500
Lucky you! Your Ang Bao money opens doors to many other investment instruments.
Singapore Savings Bond
$500 is all it takes to make an investment in a low-risk Singapore Savings Bond. While the returns are not as high as investing in equities, it is arguably one of the safer instruments, which Singaporeans have the privilege of investing in.
Assuming you only put $500 into an SSB…
Investing in Singapore Saving Bond with 2% returns (on average): $10 / year
Funds and Blue Chips
$500 can open the doors to various funds and even investment in blue chips too. This was made easier since the Singapore Exchange lowered the minimum lot size for its stock market from 1,000 shares to 100 shares since Jan 19.
Naturally, investments of these nature will require a LOT more effort to read up and study. You can start with learning how to read a fund factsheet.

Whether you love or hate our content... WE WANT TO HEAR WHAT YOU THINK!
About Junel Seet
Most of my expenditure is on sustenance. Yes, I meant food.
You can contribute your thoughts like Junel Seet
here.