Received Some CNY Ang Bao Money? Here's How to Maximise it for the Future
As we usher in the new year, let's start things on the right foot by reviewing our lifestyle choices.
After all, the real huat (Hokkien: prosper) starts with not buying 4D and making smarter day-to-day personal finance decisions for your future!
---
TL;DR: Maximise Your Ang Bao Money This CNY

Disclaimer: The information provided by Seedly serves as an educational piece and does not constitute an offer or solicitation to buy or sell any investment product(s). It does not consider the specific investment objectives, financial situation or particular needs of any person. ​Readers should always do their own due diligence and consider their financial goals before investing in any investment product(s).
Click to Teleport
---
Before Maximising Your Ang Bao Money…
1. Clear Existing Debts
Depending on your luck this year, you may have racked up some debts from all the late-night poker or mahjong games, unforeseen emergencies or periods of unemployment.
If you are on the losing end, remember to start the year right by clearing those debts so that you can enjoy the rest of your Ang Bao Money with peace of mind.
Not to mention that with some of these debts, the interest rate on them is guaranteed.
In our article A Beginner's 4-Step Checklist Before Starting Your First Investment, we explored why you should look to clear your debt first:
Simply put, if you are in debt, you are fighting a losing battle where you are paying off a loan at an interest rate which may be rendered redundant if you are trying to invest also.
Here is a simple illustration:
You have a student loan debt of $15,000 with a guaranteed interest of about 5% per annum (p.a.).
Instead of allocating more funds to pay off the debt, you are trying to invest that additional funds into an exchange-traded fund (ETF) that yields a non-guaranteed ~5% p.a.
There are two main problems with this.
Firstly, you need to know that your investment returns are not guaranteed, while the interest on your student loan is guaranteed to keep accumulating.
Volatility in the stock market means that your investment might crash, like what happened with the stock market in 2022:
Also, even if your investment does well and yields about 5% p.a., your net investment gain will still be about 0%…
Thus, you are effectively wasting the costs incurred from investing (brokerage fees etc.) to go back to square one.
Instead, you should fight the negative yield (in this case, clearing your loan first).
This is actually a pretty common situation we observe with individuals with student loans. My answer would be to focus on clearing that down first before moving to the next step of building up your savings reserve.
Another big red flag is credit card debt. Never get into such deep waters because these debts generally have an interest rate of about 26% p.a., which can get you neck-deep in financial trouble real quick.
Thus, you should prioritise clearing your credit card debt or other high-interest debt if you have it.
Here are two tried and tested ways to clear debt: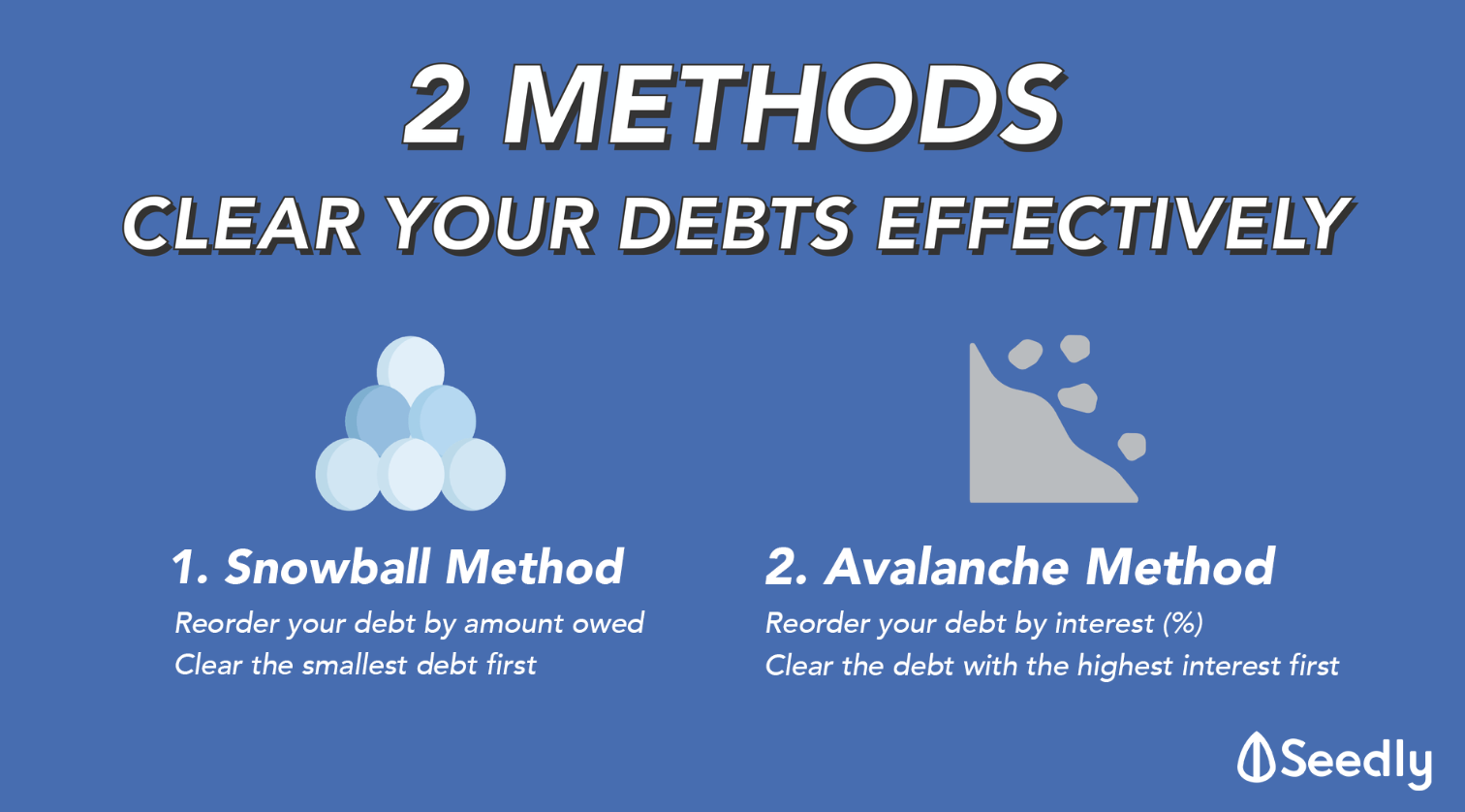 Manageable Debt
Even though the interest on these debts is guaranteed, the interest rate on these debts is generally lower.
For example, you have your housing and mortgage loans where you can actually predict the interest rate (e.g. ~1.0% to 2.6%) or use your CPF every month.
Granted, this method is still risky as investment returns are not guaranteed.
But you can actually look to build wealth at a yield above that interest rate.
2. Replenish Your Savings and Make Up For Your CNY Expenditure
Bought a new $100 Cheongsam this CNY?
Spent too much on Bak Kwa or Abalone?
Set aside a portion of your ang bao money to cover these costs!
How To Grow Your Ang Bao Money?
For those who have not gambled away your ang bao money, here are some ways to consider growing your cash!
1. Set a Savings Goal
If you have some extra cash to spare from your ang baos this year, you can always create a savings goal and deposit your money in it!
For example, if your goal is to go on a three-week-long backpacking trip to Vietnam when the COVID-19 situation improves and we can travel again; you will need about ~$1,500.
You can set up a savings goal accordingly and deposit your money into the fund.
2. Put Your Money Into Low-Risk Instruments
If you can't stomach volatility.
You might want to consider these low-risk investments to park your money and grow your savings.
Whether you're new to investing or seeking shelter in low-risk investments from the volatile stock market, here are some of the safest, low-risk investments in Singapore to consider:
3. Use Your Ang Bao Money to Kickstart Your Investment Journey
For those who are new to investing, the extra ang bao money you get on hand can be used to kickstart your investment journey.
Just ensure that you have checked off the items on this list first.
How Do I Start Investing?
If you'd like to learn more about how you'd like to grow your money, you can take a look at our comprehensive guide to investing in Singapore:
In addition, here is a beginner-friendly instrument you can consider:
Robo-Advisors
Robo-advisors promise low-cost, diversified, passive investing for as little as $1 per month.
Instead of a fund manager, these trusts provide investment solutions based on mathematical rules or algorithms.
If you're wary and only trust humans to handle your investment, it's not like there's completely no human touch at all when it comes to Robo-advisors.
These algorithms are calculated and programmed by humans based on financial models and risk appetites set by the company. It's just that with Robo-advisors, the trust simply requires lesser human supervision.
This is, in contrast, to actively managed funds that are run by mutual fund managers. With the use of algorithms, the cost of managing the fund is cheaper than the usually hefty 2% – 3% in management fees that fund managers usually charge.
In Singapore, most Robo-advisors allow you to invest in U.S. and global ETFs, and the portfolios are usually exposed to a variety of asset classes that spans everything from equities to commodities and even gold.
But apart from the fees and minimum investment amount to start investing…
It's important to also find out about stuff like what the user experience and customer support are like!
No Robo-advisor or company can give a complete picture of this…
So the best way is to read our Comprehensive 2023 Robo Advisor Guide:
Maximising Your Ang Bao Savings in 2023
As you enjoy this festive season, we've provided some tips and tricks for you to stretch your ang bao money!
Do save this article if you find it helpful!
Read More
About Junel Seet
Most of my expenditure is on sustenance. Yes, I meant food.
You can contribute your thoughts like Junel Seet
here.