National Day Rally 2019: What Can Singaporeans Do About The Slow Economic Growth?
Singapore's Slow Economic Growth
Here's a piece of bad news.
Singapore economic growth has slowed down significantly in the year 2019.
Some of the main factors affecting the slowing down of economy include:
Lower global demand and international trade
Sectors that took the most hits are the manufacturing and trade-related services sector
Retail continues to be affected by the rise of e-commerce and online shopping (looking at you, fans of Taobao…)
A slump in the electronics sector
Is Our Economy Still Relevant?
On a brighter side, Singapore managed to attract major investments this year.
Finnish oil company Neste invested more than $2 billion in Singapore to expand its renewable energy plant.
Such investments are essential to our economy as they create new job opportunities for Singaporeans, especially with our economy slowing down.
What Can Singaporeans Do?
The next ten years may be more uncertain than whatever we have experienced so far.
And this is mainly due to a few factors:
Tensions between countries which can impact Singapore
Advancement in technology
The ever-changing demands of our economy
The good news is that Singapore's unemployment rate remains low:
If we take a closer look, our overall unemployment rate in the year first half of 2019 remains at 2.2%.
And if we think about it, 2.2% is actually a really healthy percentage despite the economic downturn. This is as compared to 2009 – Singapore was recovering from the global financial crisis – when the unemployment rate was 3.3%.
Depending on the mindset we adopt, it can either be "the worse has yet to come" or "it's not that bad as we think".
Singaporeans, however, need to be prepared for an economic downturn.
Some ways that Singaporeans can "bullet-proof" their jobs is to pick up new skills to stay relevant with the upcoming economic transformation.
Being more open to possible career switches might be an inevitable solution for some.
Here are some ways that you can hustle during such uncertain times:
Good Personal Finance Practice Is More Important Than Ever
With slow economic growth, making smarter personal finance decisions is more important than ever.
In times of uncertainty, every dollar and cent saved counts. If you need help understanding how to make smarter personal finance decisions, why not try our Seedly Money Framework?
Once you've established an emergency fund (I personally recommend at least 6 months), and have sufficient coverage for protection, it's time to start making proper investment decisions to help you overcome these dark times.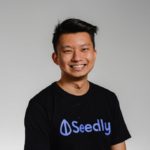 About Ming Feng
A stint in
Bloomberg
gifted me with a beer belly, which only grew larger when I moved on to become a Professional Trader. Now I turn caffeine into digestible finance-related content.
You can contribute your thoughts like Ming Feng
here.