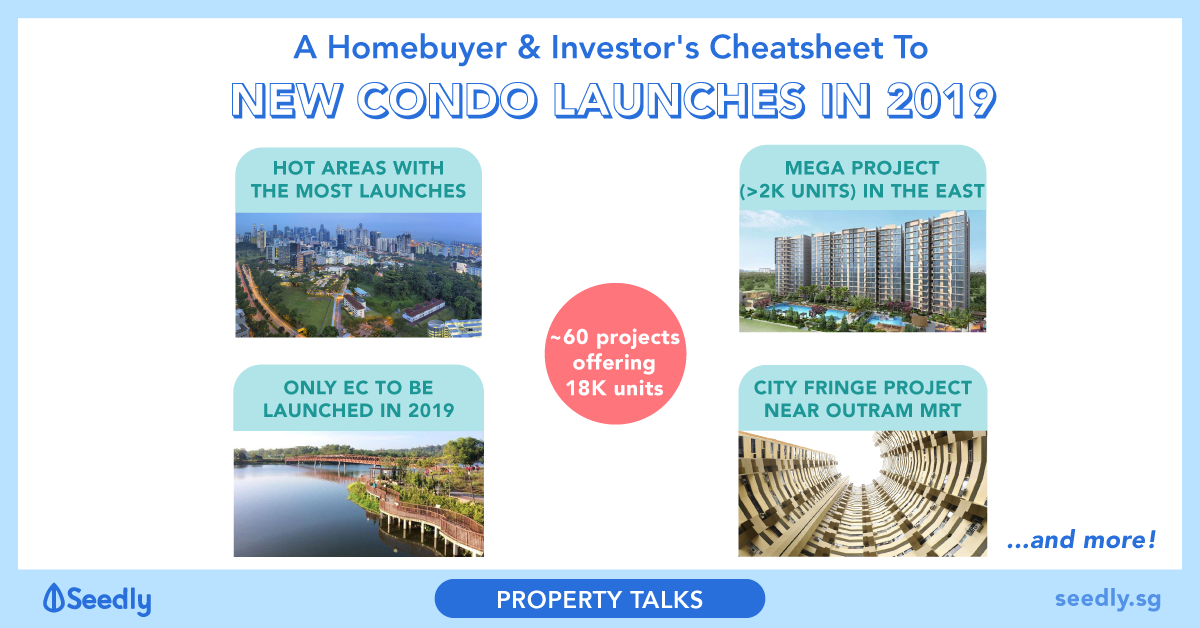 A Homebuyer & Investor's Cheatsheet To New Condo Launches In 2019
For Property Investing, the Seedly team worked closely with EdgeProp, who is an expert in the field, to curate unbiased, non-sponsored content that would be of value to our readers.
Disclaimer: This is not a sponsored post. Opinions expressed in the article should not be taken as investment advice. Please do your own due diligence.
If you have any questions, feel free to discuss them with the Seedly Community here.
---
TL;DR: New Condo Launches To Look Forward To In 2019
Due to the high number of launches (55 to 60 projects, offering 17,000 to 18,000 units), developers are likely to have special offers at soft launches and incentivise agents to push sales
Hot areas with most launches: Holland Road and Bukit Timah in District 10, and East Coast enclave in District 15
Mega-project alert: 

Treasure at Tampines, on the site of the former Tampines Court, 

is a 2,225 unit 

project that has limited competition and will likely be priced competitively

Only EC to be launched in 2019: Sumang Walk in Punggol Central (955 units)
Highly anticipated project with city-fringe location: An 800-unit new project on the site of the former Pearl Bank Apartments might set new benchmark prices in the neighbourhood with its views from high-floor units and proximity to Outram MRT station
40% of projects for launch are in Districts 9, 10, and 11: freehold tenure, proximity to the Orchard Road and top international schools
No further cooling measures are expected in 2019, but market sentiment could be hit by rising interest rates
---
Most years start at a relatively sedate pace, with just a sprinkling of new launches.
Not 2019.
Several developers have already lined up previews in January, ahead of Chinese New Year on Feb 5. They include Roxy-Pacific Holdings' Fyve Derbyshire and RV Altitude; TEE Land's 35 Gilstead (the former Casa Contendere); One Meyer by Sustained Land; and Jervois Prive (former Jervois Green) by a consortium led by the owner of Spring Court restaurant, says Ismail Gafoor, PropNex executive chairman and CEO.
Another slate of new launches is being readied for launch after Chinese New Year, and these are bigger projects, including SingHaiyi's The Gazania (former Sun Rosier) and The Lilium (former How Sun Park).
The two biggest projects that will be rolled out in 2019 are the former Normanton Park (1,882 units) and Treasure at Tampines (former Tampines Court), with more than 2,000 units. "These are also likely to be launched in 1Q2019, after Chinese New Year," says Gafoor.
In the pipeline for launch in 2019 are about 60 projects. "The window of opportunity for launching projects is just eight to nine months," says Gafoor. This is after discounting Chinese New Year (February), the June school holidays and December holidays, he says.
Desmond Sim, CBRE executive director of research for Singapore and Southeast Asia, says: "Developers will definitely avoid the Hungry Ghost Month [in 2019] as well. In a bull market, people will still launch during the Hungry Ghost Month, and there will still be buyers, but not in a cautious market."
With the ramp-up in the number of projects coming onstream, developers are also likely to deploy "all kinds of marketing strategies — from special offers at soft launches to incentivising agents — to make the best of their launch", adds Sim.
Hot Areas With The Most Launches
This year is likely to close with 40 new projects and a total of 14,000 units launched, says Tricia Song, Colliers International head of research for Singapore. In the pipeline for launch in 2019 are an estimated 55 to 60 projects, offering 17,000 to 18,000 new units. "Depending on market conditions, some of these project launches may spill over into 2020," she reckons.
Based on en bloc and government land sale (GLS) sites sold from end-2017 to 1H2018, there are more projects that could be launched in Districts 10 and 15, says Colliers' Song (see chart).
Note: District 10 (Tanglin) consists of Balmoral, Bukit Timah, Grange Road, Holland, Orchard Boulevard, River Valley, and Tanglin Road. District 15 (East Coast) consists of Katong, Marine Parade, Siglap, Tanjong Rhu.
"Prime locations such as Holland Road and Bukit Timah in District 10 and the popular East Coast enclave in District 15 have not seen new launches of large projects – more than 250 units – in a long time," adds Song. "These new larger projects are able to provide a variety of facilities and social spaces for residents."
New launches in the Amber Road-Meyer Road neighbourhood should see "keen interest", given their proximity to East Coast Park and Katong," says Ong Teck Hui, senior director of research at JLL. "The popularity of East Coast among the expatriate community makes properties in the area good for both owner-occupation and investment," he adds. "East Coast diehards will eagerly await the launch of these projects."
The Thomson-East Coast MRT Line is also expected to be ready by 2023, notes Colliers' Song. "Residents in these projects will get to enjoy the convenience of the commute to the city and the proximity of these projects to good schools."
'Mega Projects' In 2019
Some districts, such as District 5, may have just three new projects in the pipeline: The two notable ones are the redevelopment of the Normanton Park en bloc site (1,882 units) and the former Park West condo (1,454 units). Their combined total of 3,336 units, however, is more than the 2,128 units from a total of 12 projects in District 10; and 1,342 units from eight projects in District 15.
Note: District 5 (South West) consists of Buona Vista, Dover, Pasir Panjang, and West Coast.
Normanton Park and Park West are also in areas that saw new launches of sizeable projects recently, notes Song. For example, Normanton Park is near the 548-unit Kent Ridge Hill Residences, launched in November. Meanwhile, Park West is near the 520-unit Twin Vew and the 716-unit Whistler Grand, which were launched in May and November respectively.
2019 will see at least a handful of projects with more than 1,000 units. "Some of these launches will be spread out to 2020, as there were significantly fewer land sales since July 2018," says Song. Many of these sites are redevelopments in privatised HUDC estates purchased en bloc from 2H2017 to 1H2018. The biggest is Treasure at Tampines on the site of the former Tampines Court (2,225 units). Florence Residences on the site of the former Florence Regency (1,410 units) is another new launch.
"Tampines Court has limited competition in the locality," says Song. "But owing to the sheer size of the project — 2,225 units — it is likely to be priced competitively and still offer a compelling theme."
Keen Competition
Florence Residences located on Hougang Avenue 2 in District 19 is in an area that saw a high level of new launches in 2018: the 613- unit Garden Residences; the 1,052-unit Affinity at Serangoon; and 1,427-unit Riverfront Residences. "Thus, the developer needs to either offer something differentiated or compete on pricing," says Song.
Two new mega projects that will feature about 1,000 units but occupy sites purchased in GLS are:
A private residential project at Silat Avenue in Kampong Bahru, with 1,101 units
An executive condo (EC) on Sumang Walk in Punggol Central, with 955 units
"The EC project should sell well because it's the only one to be launched in 2019," says PropNex's Gafoor.
These launches "should be fairly exciting to watch", given their huge plot sizes, which would allow developers to come up with interesting development concepts, says JLL's Ong. He sees these projects "remaking" their neighbourhoods, especially if they incorporate "fresh ideas and concepts that spell a different living and lifestyle experience for home buyers".
These "mega projects" tend to be located in the suburbs and would, therefore, draw buyers looking for opportunities at, or near, entry-level pricing for new private homes, adds Ong. "They would meet the needs of owner-occupiers, including HDB upgraders."
The 800-unit new project on the site of the former Pearl Bank Apartments is another highly anticipated large-scale development because of its city-fringe location, says Ong. He expects the new project to "set new benchmark prices" in the neighbourhood, owing to "the breath-taking views" from the high-floor units and its proximity to Outram MRT station.
Prime Districts Take The Lead
About 40% of projects headed for launch in 2019 are in prime Districts 9, 10, and 11. Developers of these projects have the option of showcasing them overseas if sales at home are soft, says Nicholas Mak, ZACD Group executive director and head of research. These projects appeal to an international audience because of their freehold tenure, and proximity to the Orchard Road shopping belt and top international schools, he adds.
While the additional buyer's stamp duty (ABSD) for overseas buyers is high — at 20% since July, from 15% previously — Singapore still looks compelling compared with other global markets such as Hong Kong, Canada, Australia and the UK, "which have equally high tax regimes for foreign homebuyers", points out Mak.
In prime District 9, two projects on GLS sites that CBRE's Sim considers "attractive" are: Frasers Property's Jiak Kim Street development fronting the Singapore River, and City Developments' HAUS on Handy Road, just across the road from Plaza Singapura shopping centre and the Dhoby Ghaut MRT interchange station.
New-Home Sales In 2019 Could Top 2018 Volume
With the ramp-up in the number of new launches in 2019, the number of new units sold could range between 8,000 and 10,000 units, estimates JLL's Ong. "Demand will depend on economic and business conditions, which are contingent on external factors such as the [US-China] trade war."
The housing market is expected to be more challenging as well, with exuberance already curbed by the cooling measures in July 18 and the new regulation regarding minimum average unit sizes outside the Central Area announced in October. "No further cooling measures are expected [in 2019], though," says CBRE's Sim. "Still, sentiment could be hit by rising interest rates.
If demand is supply-led, new-home sales in 2019 could still do better than in 2018, says Colliers' Song. "1H2018 was really handicapped by a lack of available launches and choices," she adds. "2019 should see a gradual acceptance of the new cooling measures."
She expects developers to sell 9,500 to 10,000 new homes in 2019, "amid the substantial pipeline of new projects that could be launched for sale". She adds: "Developers are also likely to look towards a progressive and sustainable sales target to achieve full take-up within five years."
PropNex's Gafoor estimates new-home sales in 2019 to be in a similar range. "Despite the various rounds of cooling measures, and TDSR [total debt servicing ratio] introduced in 2013, the number of new homes sold in the three years from 2014 to 2016 was in the 7,000-to-8,000 range," he says. "That's the inherent demand from upgraders, local, and foreign homebuyers. It's not unimaginable to see sales figures of 9,000 to 10,000 units in 2019."
In the current market environment, developers aim to sell at least 20% of the units on the launch weekend, notes Gafoor. "That's considered a very credible performance today. Pre-cooling measures, the expectation was to sell 40% of the units on the launch weekend."
Price Sensitivity
Developers are aware of home buyers' "price sensitivity" and are pricing their projects accordingly to attract them, says Gafoor.
ZACD's Mak agrees, saying: "Most developers are realistic. They know it will take more than a year to sell all units in a project with more than 400 units. They are unlikely to slash prices to sell quickly, as this will hit their bottom line."
Selling out projects too quickly will mean having to buy new land parcels at a higher cost – given the 5% ABSD that they have to pay upfront, adds Mak. "It makes more sense for them to maintain their prices at a steady pace of sales until after the fourth year [of launch]. It's only then that developers have to decide whether to adjust prices. They will still have one more year to sell all the units in the project before the 25% ABSD kicks in at the end of the fifth year."
As such, Mak projects a price growth of "0% to 3%" for 2019.
---
Seedly Contributor: EdgeProp
EdgeProp is a Singapore-based property portal that aims to help users make better property decisions by providing all the latest property news and views, listings, data, and analyses.
Read other articles by EdgeProp: