Movies to Binge-Watch and Get You Excited About Personal Finance
Movies to Binge-Watch and Get You Excited About Personal Finance
Staying at home means that we can finally make full use (or over utilise) our video streaming subscriptions.
So much so that some of us have inevitably turned into a full-time couch potato.
While spending as much time as possible on the couch, binging on Netflix, and munching on your favourite snacks sound like the ideal life to lead.
You might be feeling a little guilty sometimes.
Especially if you see your friends improving themselves with free online courses.
But hey, there's a way to continue watching movies AND learn something.
Yep.
That's why I compiled a list of movies which are finance, money, or personal-finance related.
So, like me, you can continue chilling on the couch without guilt.
---
Great Movies and Documentaries About Personal Finance
Here's to being a productive couch potato!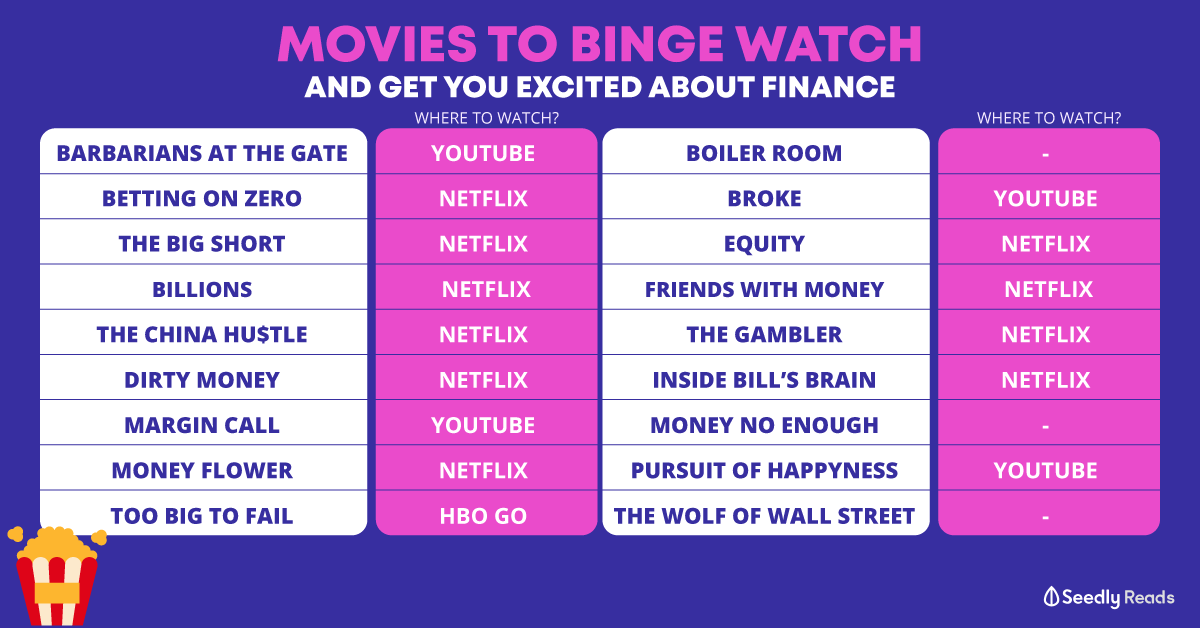 To make things a little easier, I've also provided resources for where you can watch these movies or documentaries.
For the rest of the movies which I can't find the links for, do share with me if you managed to find any!
---
Barbarians at the Gate
Barbarians at the Gate is a 1993 movie that is about the leveraged buyout of RJR Nabisco, an American tobacco and food conglomerate.
The plot revolves around self-made multimillionaire, F.Ross Johnson, CEO of RJR Nabisco, and his decision to take the conglomerate company private.
This decision was opposed by Henry Kravis and his cousin, two of the pioneers of what we know today in the financial world as a leveraged buyout.
Betting on Zero
Betting on Zero follows controversial hedge fund titan Bill Ackman and his crusade to expose one of the largest pyramid schemes in the world…
Herbalife.
The Big Short
Featuring one of my favourite actors, Christian Bale (he's Batman!).
The Big Short is based on a true story about a group of investors betting against the US mortgage market.
Which eventually triggered the financial crisis of 2007–2008.
Billions
The plot of Billions revolves around an attorney going after a prominent hedge fund king.
This movie is about a battle of wills between two extremely powerful men, in the city of New York.
Boiler Room
Yep.
You saw right.
Vin Diesel stars in the movie, Boiler Room, which takes a closer look at the greed and corruption in American businesses.
Watch how a talented cold caller get sucked into dirty dealings.
And eventually breaks the law just to keep his job and make his bosses happy.
Broke
Broke is about two real-world problems: being a sports superstar and fighting a gambling addiction.
Watch how a disgraced sports superstar with a gambling problem, sort his life out with the help of a fan.
The China Hu$tle
The China Hu$tle is a documentary that highlights the need for transparency in an increasingly deregulated financial world.
The producers in this documentary followed employees to uncover the biggest heist you have never heard of.
Dirty Money
Dirty Money is an investigative documentary series that exposes some of the acts of corporate greed and corruption.
In this Netflix series, there are a couple of interesting episodes that investigate individuals such as Najib Razak and Donald Trump.
Equity
Equity focuses on a senior investment banker who is threatened by a financial scandal.
Watch how she find ways to get out of it.
Freakonomics
Freakonomics was one of the first books that sparked my interest in economics.
This movie is based on the book and it explores the hidden side of almost everything you can think of in the world.
And how it's all related to human behaviour and the economy.
Friends with Money
Friends with Money is a comedy-drama with a plot which some of us may find relatable.
Having quit her job and facing many uncertainties about her future, Olivia (starred by Jennifer Aniston) finds herself unsure about her friendship with her wealthy friends.
The Gambler
The Gambler is about a literature professor with a gambling problem.
His gambling problem eventually lands him in huge debt, which he attempts to settle by borrowing money from his mother and loansharks.
To complicate things even more, he even gets involved with one of his students.
Find out how he risks his life for a second chance.
Glengarry Glen Ross
The film Glengarry Glen Ross depicts two days in the lives of four real estate salesmen.
And how desperate they become when they're informed that in a week's time, all except the top two salesmen will be fired.
Find out how cutthroat the world of real estate and sales is.
The Global Financial Meltdown
The 2007-2008 financial crisis birthed many films and documentaries explaining what happened.
The Global Financial Meltdown is one of the better ones which follow a four-part investigation into the greed that brought down the financial world during the crisis.
Inside Bill's Brain
If you are a big fan of Bill Gates, then this Netflix series will allow you to decode the man.
As you get to know more about one of the greatest tech visionaries, business leaders and philanthropists in the world.
Margin Call
Another movie that's about the 2007–2008 financial crisis.
Margin Call follows key employees of an investment bank during the early stages of the 2008 financial crisis.
Moneyball
Featuring Brad Pitt, Moneyball is about a general manager's successful attempt to assemble a baseball team on a lean budget.
He did so with the help of computer-generated analysis on players he wishes to acquire.
Money for Nothing: Inside the Federal Reserve
An independent documentary that looks at the Federal Reserve with a balanced point of view.
For those who are keen to know more about what the American's central bank does, this is the documentary to watch.
Money Flower
Fans of Korean dramas can now catch Money Flower on Netflix!
Money Flower is all about greed and how a trusted right-hand man of a powerful group came out with a scheme to bring down the mighty family behind it.
Money No Enough
Money No Enough is a Singapore comedy film about three friends with financial problems.
Starring Jack Neo, Mark Lee, and Henry Thia, Money No Enough is super relatable to Singaporeans given that the whole film is based in Singapore.
Can't get enough, then you might want to check out the sequel: Money No Enough 2.
Pursuit of Happyness
Starring Will Smith, the Pursuit of Happyness, is a biographical drama about how a struggling homeless salesman takes custody of his son.
If you need a little inspiration during these dark times, this is a pretty solid film.
As you'll watch how a man loses everything but eventually gets everything he ever wanted.
Rising High
Rising High is about a young man ready to do anything to get rich — even by committing fraud with his pals.
NOT that I'm recommending you to do so.
They soon got sucked into a maelstrom of lies and fraud and have to decide what is really important to them.
The Wolf of Wall Street
Based on the true story of Jordan Belfort, Wolf of Wall Street shows you how he rises up to become a wealthy stock-broker living the high life.
Until his crimes, lies, and corruption led to his downfall.
Too Big to Fail
This film is my personal favourite as there is a scene about Warren Buffett at McDonald's with his grandchildren.
Too Big to Fail is a documentary based on the 2008 financial meltdown.
And it takes the lens of US Treasury Secretary, Henry Paulson, and the Chairman of the Federal Reserve System, Ben Bernanke.
It's a huge eye-opener into the "too big to fail" theory which asserts that certain corporations — especially financial institutions — are so large and interconnected with the economy that their failure would cause the entire economy to collapse.
---
Now that most of us have a bit of free time due to Circuit Breaker, getting ourselves educated on finance through movies and documentaries sounds like a great idea!
If you know where we can watch some of these movies or documentaries (legally, of course) do let us know!
About Ming Feng
A stint in
Bloomberg
gifted me with a beer belly, which only grew larger when I moved on to become a Professional Trader. Now I turn caffeine into digestible finance-related content.
You can contribute your thoughts like Ming Feng
here.