Here's How You Can Earn $3,000 A Weekend With Your Photography Hobby!
Here at Seedly, we're all about making smarter personal finance decisions in our search for financial independence and freedom.
And naturally, we've talked about turning our Passion to Profit: How To Earn Money From Your Hobby.
For me, one of my personal hobbies is photography.
Regardless of whether you're just starting to explore photography, or if you've been practising your craft for many years now, did you know that there are many opportunities for you to earn some extra money from it?
---
TL;DR – How To Make Money From Your Photography Hobby?
Your experience with photography and the amount of time you can dedicate will definitely determine the type of services that you can provide.
As with everything, practice makes perfect!
You'll also need to have a lot of patience while you wait for potential customers to know about your work and eventually engage your services.
Here's how much you can potentially earn based on your level of experience as well as the services which you provide:
Level of Experience
Services Provided
Potential Earnings
Newbie
Passport-Sized Photo
$5 - $10 per project
Headshots
$50 - $100 per project
Photoshoots
$50 - $100 per hour
Photo Editing Services
$0.50 - $5.00 per photo
Amateur
Photoshoots
$100 - $150 per hour
Assistant Photographer
$150 - $500 per day
Professional
Wedding Photography
$1,800 - $3,000 per project
Conduct Workshops
$150 - $500 per student
Passive
Sell Photos (Stock Websites)
$0.20 - $1.80 per download
Sell Photos (Prints)
$15 - $500 per print
Contests
$100 - $2,500 per contest
Pro-Tip
Even if you're just starting out and you don't have an extensive portfolio yet, it's always a good idea to create and maintain a photography website as well as social media accounts to showcase your work.
By doing so, you're giving yourself more exposure, and providing ways that potential clients can view your work and contact you easily!
---
How Do I Turn My Photography Hobby Into A Lucrative Side Hustle?
Yeah, we understand your pain, you still have your 9-5 job and you can't afford to quit it to pursue your passion.
But if you're serious about making some extra dough, here's how you can utilise your evenings and weekends to milk something out of your hobby!
For Newbies – Start By Providing Photography Services For Family And Friends
Stay with me here.
I know you think it's not nice to charge them for things you can easily do for them for free.
But if you plan to use photography as your side hustle, or eventually turn it into a career; I'm sorry, but you'll have to.
And if you're just starting out, this could be the perfect platform to practise some of the tips and techniques you've read online too!
Just explain to your family and friends that you're a photographer-in-training and any amount that they pay you will help you develop (photography pun intended) and grow as a photographer.
P.S. you can even give friends and family discounts first!
That said, it doesn't mean that you can be sloppy about it.
Treat every single shoot like a professional one so your friends and family will feel obligated to pay you (and I'm sure you'll get good karma too!).
Not sure how much to charge? Talk to other photographers around you or search online for forums and guides – like this one!
At the end of the day, you will have to try out a scheme and adjust as you go along.
Here's a list of photography services which you can provide for your family and friends.
1. Passport-Sized Photos & Headshots
If you're really new, you can start with simple services like passport-sized photos and headshots.
I know it sounds boring and you're probably wondering, "How much can I earn from it?"
But these are necessities when it comes to stuff like:
Renewing your passport
Updating your resume and job applications
Other miscellaneous applications like a membership card and travel visa applications and etc.
And it's really simple to do this because the guidelines can be easily found online and you don't need any extra equipment apart from the camera you already own and probably a white wall.
Also, headshots are not as easy as you think! Professional headshots tend to involve the use of a studio and various lighting equipment.
By practising these shots with your family and friends, you will also gain invaluable experience and learn more about lighting, angles and other essential soft skills like how to make your client comfortable in front of the camera.
Depending on the quality and quantity of your photos, you should be able to charge about $5-$10 for passport-sized photos and $50-$100 for headshots.
2. Photoshoots
That's right, I'm talking about those photo albums that you revisit during yearly family gatherings or whenever your parents and grandparents are feeling nostalgic!
Although they may be embarrassing (sometimes), people will always love to have happy memories to revisit!
When you're more comfortable with your camera and have some experience with it already, you can start off by doing photoshoots for your family and friends.
In fact, there are so many occasions and milestones in life that call for a photoshoot!
Here are just some examples:
Commemorating a mother's first child
Celebrating a graduation
Family portraits
Pictures of pets for pet lovers
The list just goes on and on!
Even if you don't have access to a studio, there are many locations in Singapore that can provide a beautiful backdrop for such shoots.
Be creative, be spontaneous, or ask your clients for places that hold special meaning for them.
Typically, new photographers would charge an hourly rate for such photoshoots which range from $50 – $100 per hour.
3. Photo-Editing Services
Professional photographers usually have a lot of photos to curate and edit, and sometimes, even photography studios will look to outsourcing the photo editing process.
Once you've built up a portfolio, approach these photographers or photography studios and ask for freelance photo-editing work.
Note: you'll have to be really thick-skinned about this and learn how to deal with rejection!
As long as you have their briefs and know how to use the necessary software, you can do this easily in the comfort of your own home.
If you want to up your game, this is the perfect opportunity to pick up stuff from the photos you are helping to edit like:
How do these studios make use of props
The composition and lighting of a particular photographer
And many more!
Depending on the type of editing required for each project and the photographer or company you were engaged by, you'll likely be earning $0.50 – $5.00 per image. 
Pro-Tip For Newbies – Provide Services As A Photographer
Remember how we mentioned that it's important to have a website and social media accounts? Your family and friends are not the only ones who need those photos, so be sure to optimise those platforms so that potential customers can reach you easily.
Don't be disheartened as it will definitely start out very slow and quiet, but be patient, keep practising and updating your platforms. You might even have to be a little bit thick-skinned and ask your family and friends to recommend your services to their friends.
Similarly, since you are still new and learning the ropes, a good range to charge initially would be $50 – $100 per hour.
For Amateurs Planning To Turn Professional
Maybe you've been honing your skills for a while now and you've developed your own style.
If you're an amateur photographer who's looking to maximise your opportunities, here are some other services which you can start providing!
1. Provide Photography Services For Small Brands
Be proactive and take the first step to contact small and local businesses.
You'll be surprised to know how many of them are in need of photography services!
There are just so many services you can offer:
Food photography for cafes and restaurants
Event photography for small startups
Product photoshoots in a studio or lifestyle setting for a small brand
Once again, the list is never-ending!
It's just up to how gung-ho you want to be when approaching these businesses!
Best of all, if they really like your work, you're guaranteed a continued source of income if they constantly use your services. And if you're really good, they'll even recommend you and you'll get even more work by word of mouth.
Now that you're more experienced and skilled, your hourly rate should eventually go up to $100 – $150 per hour.
2. Be An Assistant Photographer
You've probably noticed how certain settings require a crew of photographers, so here's another chance to earn money while you're still trying to secure your own clients!
Being an assistant photographer is an excellent opportunity to make money since you just have to turn up and deliver the photos according to the main photographer's brief.
All the discussions and negotiations with the clients would have been done by the main photographer – which can be a pain sometimes – so all you need to do is execute!
What's more, you get to see firsthand how other professional photographers plan their photoshoots and this might help with your own process as well.
Depending on the project and your experience, being an assistant photographer can make you about $150 – $500 per day. 
3. Be Part Of A Photography Team
It doesn't always have to be a solo photographer that you are assisting.
You can also be part of an ad-hoc photography team.
There will always be events that require coverage from multiple perspectives and locations, and oftentimes, they would need a lot of photographers to help.
Similarly, turn up, take the required photos and your bank account will thank you!
For Professionals Who've Been Shooting For Many Years
Well hi, thank you for sticking with me all the way without losing patience since you've probably done all of the above, if not more.
Here are some ways you can bring your photography side hustle income to the next level!
1. Wedding Photography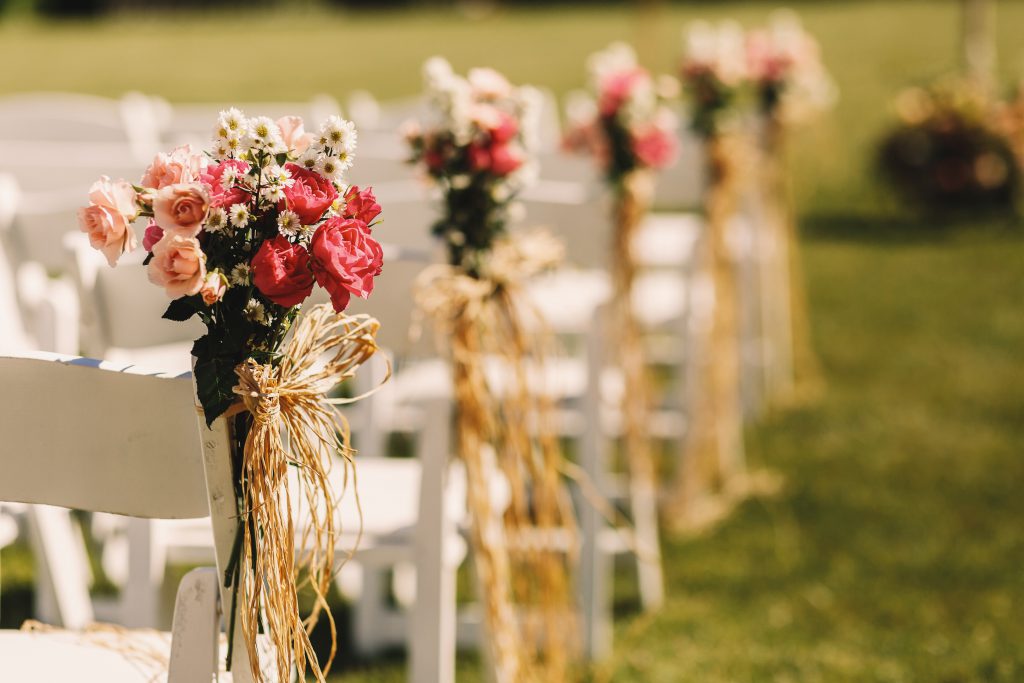 While some of you might think that this belongs in the previous category, wedding photography is not as easy as it seems.
Firstly, you will need a lot of experience. A LOT OF IT.
Weddings are once-in-a-lifetime events so once you've missed a precious moment, you won't get it back again.
So gather more experience with other events and assist other photographers before you start taking up wedding photography gigs of your own.
And when that time comes, it'll your turn to look for assistant photographers to help you out during your gig!
The great thing about weddings is that they usually happen on the weekends, so they're the perfect side hustles for you if you still have a regular job.
By the time you're doing actual day wedding photography, you should be charging about $1,800 to $3,000 per project. 
2. Conduct Photography Workshops
"When one teaches, two learn."
The best thing about gaining knowledge is the ability to share it with likeminded people, and it can be very rewarding to successfully teach someone!
Once you've been freelancing for a while and have built a reputation for yourself, there'll be plenty of newbies and amateur photographers who would like to learn from the best.
And since photography is not only restricted to the studios, it doesn't matter if your classes are in a studio or if you're a freelancer who brings your students out into the open to showcase and teach them how to develop and hone their techniques!
Depending on the topic or type of photography that you are teaching, you'll have to find and recce venues that will allow you to demonstrate and teach your students.
Given that you'll be guiding your participants and giving them tips you learned along the way, you'll likely earn about $150 – $500 per student, depending on the duration of your workshop and how reputable you are.
---
Bonus: Sit Back And Let The Money Roll In
Don't have time at all for ANY of the above?
We've still got your back, though the returns may be less enticing.
1. Sell Your Photos
Stock Websites
I'm sure you've had to search online once in a while for photos to use because you don't have one of your own. When you have been shooting for a long time, you would have a nice collection of photos and you can be the one who's providing the photos too!
Most of these stock websites would pay you a small amount for each download by their users. While it's not an attractive rate, if you are able to provide quality and in-demand photos, it'll eventually accumulate to a nice stream of passive income.
I did say that this will be passive income, so depending on the platform you are using, you'll earn about $0.20 – $1.80 per download.
Prints
Make full use of your website and offer your photos up for sale. Don't be lazy, offer a nice package and provide a choice of print material framing services as well.
After all, ain't nobody got time to frame photos on their own since they're likely to be buying it for their home or offices.
That said, depending on the different factors involved, you can potentially earn $15 – $500 per print. 
Contests
Go on, give it a shot and win some prizes!
I'm not going to lie here though… You won't win right away unless you're really skilled.
But there are so many photography contests and competitions available, so don't be discouraged! Even if you don't win, it's good exposure and business might come knocking!
Prizes depend on how prestigious the contests and competitions are, but a good range would be $100 – $2500 per contest should you be one of the lucky winners!
---
Please don't quote me if you decided to quit your job and do photography!
These are just some ways you can generate more revenue if you are already pursuing photography or want to find a new skill to learn.
And since you have all that extra cash now, why not look at building your investment portfolio to secure your financial future?
About Jacqueline Yan
Full-time coffee nerd playing the personal finance game to feed her insatiable wanderlust.
You can contribute your thoughts like Jacqueline Yan
here.