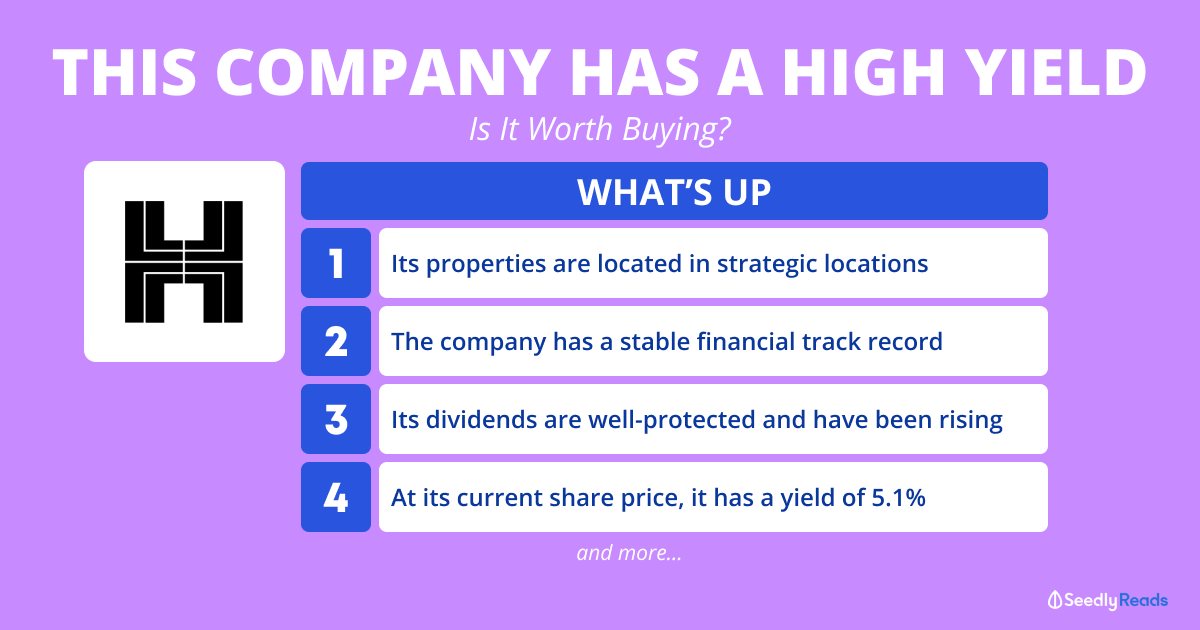 Is This Blue-Chip Stock With 5% Dividend Yield Potentially Undervalued?
The Straits Times Index (STI) is a widely-followed stock market index in Singapore.
During normal market conditions, many market watchers would expect companies that are part of the index (also known as blue chips) to be trading at a fair or expensive valuation.
However, that does not always happen.
Sometimes, a Straits Times Index component can trade at a low valuation for various reasons.
One such company right now is Hongkong Land Holdings Limited (SGX: H78), even though it has a great business going for it. 
---
TL;DR: Is Hongkong Land A Stock Worth Considering For Your Portfolio?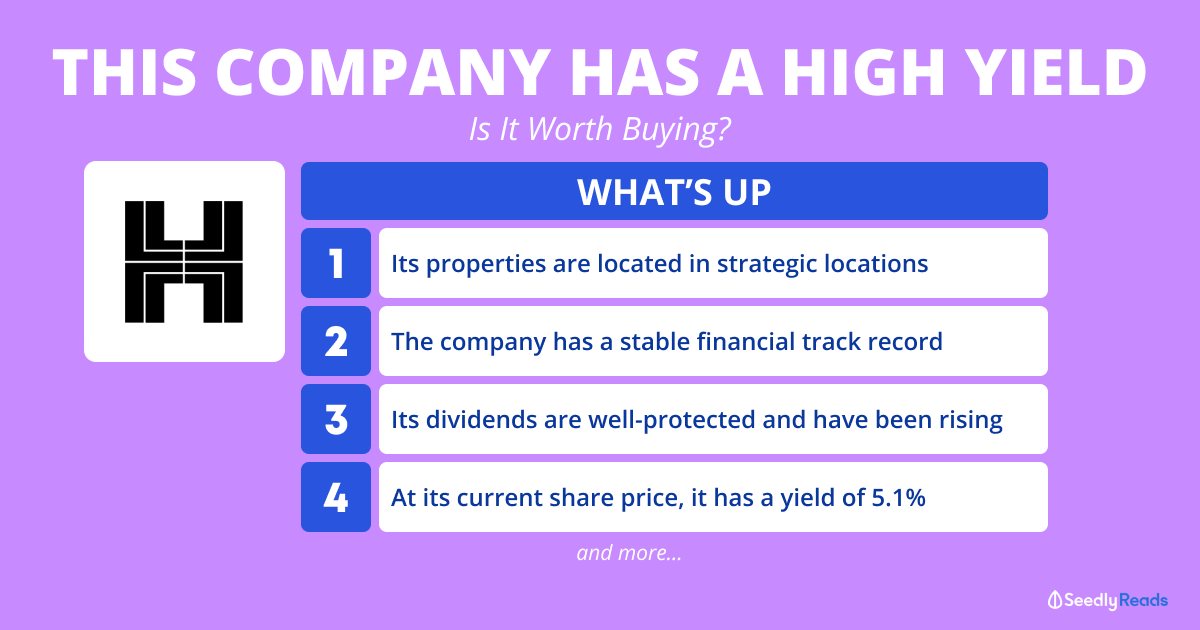 Investors might like Hongkong Land for its:
Quality properties located in strategic locations
Strong financial track record with net asset value growing at around 7% per year from 2014 to 2019
Consistently growing dividends which are well-covered
However, investors also need to recognise the short-term risks involved in Hong Kong given the current situation.
---
Quality Assets 
Hongkong Land is a property investment, management and development outfit with assets in places such as Hong Kong, Singapore, and China.
The company has two business segments, namely:
investment properties

development properties
Under its investment properties segment, Hongkong Land has over 850,000 square metres of prime office and luxury retail properties.
For example, in Hong Kong, the company owns vital assets such as Exchange Square, which is home to many leading international investment banks and financial institutions. Hong Kong's stock market operator also calls Exchange Square its home.
In all, Hongkong Land's Central Hong Kong portfolio represents around 450,000 square metres of prime space.
In Singapore, Hongkong Land has stakes in important landmarks in the Central Business District such as Marina Bay Financial Centre, One Raffles Quay, and One Raffles Link. 
On the other hand, Hongkong Land's development properties segment has a focus on seven countries, with Singapore and Mainland China being the key drivers.
Solid Financial Track Record
Hongkong Land has a solid long-term financial track record.
Its investment property portfolio grew from US$23.7 billion in 2014 to US$31.5 billion in 2019.
Consequently, Hongkong Land's net asset value per share rose from US$11.75 to US$16.39, up 6.9% per annum.
Meanwhile, its underlying profit attributable to shareholders (which reflects Hongkong Land's core business and excludes items such as fair value gains or losses on the revaluation of investment properties) rose from US$980 million in 2014 to US$1.1 billion in 2019. 
2014
2015
2016
2017
2018
2019
Underlying profit attributable to shareholders
(US$' million)
980
930
882
947
1,036
1,076
Investment properties
(US$' million)
23,697
24,957
27,712
32,481
33,712
33,191
Net asset value per share
(US$)
11.75
12.24
13.34
15.66
16.43
16.39
For the first half of 2020, underlying earnings fell 24% to S$353 million due to retail rent relief and fewer residential completions.
However, its Hong Kong Central office portfolio continued to register positive rental reversion, despite higher vacancy.
With a gearing ratio of just 14%, as of 30 June 2020, Hongkong Land has a strong balance sheet as well to tide through any tough economic conditions.
Ka-Ching!
If you're a dividend investor, you might like Hongkong Land for its sustainable dividend payout.
From 2014 to 2016, even though Hongkong Land's underlying earnings per share fell, its dividend was maintained at 19 US cents per share.
From 2017 to 2019, Hongkong Land's underlying earnings grew, and that gave rise to higher dividends as well. 
2014
2015
2016
2017
2018
2019
Underlying earnings
per share
(US¢)
41.64
39.53
34.92
40.24
44.24
46.12
Dividends
per share
(US¢)
19.00
19.00
19.00
20.00
22.00
22.00
Dividend payout ratio
46%
48%
54%
50%
50%
48%
Hongkong Land does not have a fixed dividend policy, but it aims to maintain its dividend per share through the up-and-down cycles and steadily increase it over time with higher earnings.
Its dividends are also well-covered since the dividend payout ratio is below 50% of its underlying earnings. 
For the first half of 2020, Hongkong Land maintained its interim dividend of six US cents per share, giving a dividend payout ratio of 40%.
Hongkong Land's Risks
Speaking of up-and-down cycles, the Hong Kong anti-government protests would undoubtedly be on investors' minds. 
On that front, there is certainly a risk and it could create short-term weakness in Hongkong Land's business. 
However, over the long-term, Hong Kong should continue being a credible financial centre in Asia.
In Hongkong Land's 2019 half-year earnings conference call, chief executive Robert Wong explained his thoughts on the Hong Kong situation (emphases are mine):
"And I think — I do still believe that Hong Kong, the — remains solid in terms of as a location to carry out business. The development of Greater Bay Area, the attraction of Greater Bay Areas (sic) [Greater Bay Area] and then the opportunities that it brings to Hong Kong and to the region, I think these, all business, of course, always have the short-term fluctuation and uncertainty.

And then looking at medium- to long-term prospects of the region, I don't see that, that has been significantly eroded. I don't see any strong evidence in that direction. And I don't think business will make a long-term decision just based on short-term events. And then of course, having said that, the — who knows what happens with protests, the — how it develops. I still believe that these are more short term in nature and the — and people would be able to adjust themselves in the sense that to adjust the business strategy, the — accordingly. But in the long run, it remains an attractive place to do business."
I agree with Wong that Hong Kong will remain an attractive place to do business since it's also a gateway for Western companies wanting to enter China.
We can also look at capital flows to determine Hong Kong's attractiveness.
The Hong Kong Stock Exchange is expected to claim second place, just behind Nasdaq, as 2020's top exchange for companies to list. With the US-China trade tensions, more Chinese companies trading in the US are also expected to come back to list in Hong Kong.
But the short-term risk for Hongkong Land is real. So investors should consider whether they are comfortable with the share price volatility that would come with it.
At Hongkong Land's share price of US$4.28, it has a price-to-book ratio of 0.3x and a dividend yield of 5.1%. 
Have Burning Questions Surrounding The Stock Market?
You can participate in the lively discussion regarding stocks here at Seedly and get your questions answered right away! 
Disclaimer: The information provided by Seedly serves as an educational piece and is not intended to be personalised investment advice. ​Readers should always do their own due diligence and consider their financial goals before investing in any stock. The writer may have a vested interest in the company mentioned. 
About Sudhan P
It isn't fair competition when only one company in the world makes Monopoly. But I love investing in monopolies. Before joining the Seedly hood, I had the chance to co-author a Singapore-themed investment book – "Invest Lah! The Average Joe's Guide To Investing" – and work at The Motley Fool Singapore as an
analyst
.
You can contribute your thoughts like Sudhan P
here.