Things I Wish I Knew Before Settling My Divorce: How To Manage Your Property After Separation
My friend recently told me that she separated from her husband.
It came as a shock because her ex-partner and she were high school sweethearts, and were once the couple everyone thought would 'last forever'.
Coming to such a decision is never easy and can feel incredibly isolating.
This is because separation is also treated as a hush-hush topic in our society, perhaps given how we are still largely rooted in our Asian culture that associates shame with such matters.
One of the biggest worries she had was the dealing of the house she has been living in with her ex-partner.
It was the biggest purchase they had together and it felt like a difficult problem to tackle, especially with a strained relationship.
She also had trouble navigating this topic as it was difficult for her to get advice for these processes.
TL;DR: How To Manage Your Property After Separation
According to SingStat, there are a total of 7,623 marriages that ended in divorce and annulment in 2019, a 3.8% increase as compared to the previous year.
If you're going through a difficult patch like this, know that you are not alone.
---
Annulment vs Divorce vs Separation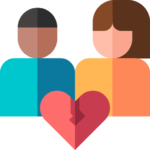 You might have heard of the different terms used.
What is the difference between an annulment, a divorce and a separation?
It depends on the duration of your marriage as well as your decisions afterwards.
If your marriage is less than three years, it can be considered an annulment.
Annulment
An annulment would mean that the marriage would be treated as if it never occurred in the first place.
This includes situations where the marriage has been registered and solemnised at the Registry of Marriages (ROM),
However, a divorce can still be filed if a marriage is less than three years, with a provision of evidence of exceptional circumstances, such as extreme physical violence.
Divorce
For marriages lasting more than three years, the couple can file for divorce.
It can only happen if there is an irretrievable breakdown of the marriage, and it has to be proven by either of these facts:
Adultery
Unreasonable behaviour
Desertion for at least 2 years
Separation for at least 3 years with spouse's consent
Separation for at least 4 years without spouse's consent
Separation
For couples where neither of the parties is at fault for the breakdown of the marriage, the couple may also choose to separate first before filing for divorce.
There are three ways to separate:
Informal separation – must have the intent for it to lead to a divorce, by physical separation, do not perform spousal duties like cleaning and cooking
Deed of Separation – formal document that records the mutual agreement to live separately, including terms such as the division of matrimonial assets
Judicial separation – for couples who want to file for a divorce but are unable to do so, due to their commitments such as their religion or children
---
How To Deal With Housing Matters After Separation
Breaking up after having a house is a very painful affair.
Besides giving up the space that both parties once called home, it is a very costly and tedious process as well.
Given that it is one of the biggest expenses of our lives, we can expect housing matters to be one of the biggest issues to tackle.
In this article, we will be talking about housing matters for HDB flats.
Breaking Up After You BTO-ed
We have seen how we might potentially lose $37,302.42 (along with housing grant and accrued interest) if a 4-room HDB BTO flat is being given up.
Besides that, you may also be barred from buying or balloting for another BTO flat for a set number of years, or lose First-Timer Applicant privileges (such as CPF grant eligibility and priority).
As if the heartbreak isn't enough.
Breaking Up After Owning A House
If you're both past the BTO stage and are already staying in the HDB flat, both partners must mutually agree on what should happen to it after splitting up.
If a mutual agreement cannot be attained, the court will decide this on the couple's behalf.
If the Minimum Occupation Period (MOP) Is Not Met
If this situation happens within the first few years of marriage, it is highly likely that the Minimum Occupation Period (MOP) is not met yet.
If there are no children in the marriage and the marriage is annulled, the flat has to be returned to HDB at the prevailing price (determined by HDB), subject to HDB's approval.
The exception is when either party's parents are originally listed in the application during the flat's purchase, in which the party can retain the flat with their parents.
Transfer of Ownership
One possibility could be the transfer of ownership to one party, allowing him/her to keep the flat.
The court may order you to transfer your share to your ex-partner if it is reasonable to do so, be it if it is held in joint tenancy or tenancy-in-common.
Transfer of ownership can be done by a way of gift or by way of sale.
The proposed owner can retain the flat if:
he/she has no children, under the Single Singapore Citizen (SSC) scheme
he/she has children and has custody of the child, if eligibility conditions are met
For the transfer of ownership, there is a need to ensure that the proposed owner has sufficient finances, which includes:
Outstanding mortgage loan
CPF refund to the existing owner who is withdrawing his/her ownership
Administrative fees
Stamp fees
Conveyancing fees
Valuation Fee
This can be paid using:
Monies in CPF Ordinary Account
Cash
New mortgage loan if available CPF monies for housing and cash is less than the amount that's required; taken from HDB/private banks/financial institution licensed by Monetary Authority of Singapore (MAS)
If the amount of HDB loan granted is less than the monies required, the proposed owner may need to raise funds externally to meet this shortfall.
An HDB Loan Eligibility (HLE) letter is also required before proceeding with the application for the HDB Home Loan.
Sale of Flat
Another possibility would be the sale of the flat, and splitting of the sale proceeds afterwards.
This can be done if the MOP is completed, where it can be sold in the open market within a six-month period stipulated by HDB.
The sales proceeds will be used to pay off any outstanding mortgage loan and also reimbursed to CPF with accrued interest.
The remaining balance will be divided between both parties, with the allocation based on the court order for the divorce.
Division of Property as a Matrimonial Asset
The court will decide on the division of assets, if the property is viewed as a matrimonial asset.
For Non-Muslims:
The Women's Charter defines "matrimonial assets" to be assets that are acquired by one or both parties during the marriage.
Most HDB flats are most likely a matrimonial asset which would be divided upon divorce.
This division will be portioned based on several factors, and is not necessarily divided equally.
According to Section 112(2) of The Women's Charter, some of these factors include:
The extent of contributions each party has made in terms of money, property or work towards acquiring, improving or maintaining the matrimonial assets
Any debt owing or obligation incurred or undertaken by either party for the joint benefit of any child in the marriage
The extent of contributions each party has made towards the family's welfare, such as looking after the home or caring for the family or any aged relative dependent on either party
Any agreement between the parties with respect to the ownership and division of matrimonial assets owing to the deed of separation
The needs of the children involved
The length of the marriage
The income, earning capacity, the standard of living and financial resources, which the family experienced before the separation and is likely to change in the anticipated future
If the HDB flat is acquired before marriage through means like inheritance or as a gift, it would not be considered as a matrimonial asset.
However, it can be considered a matrimonial asset afterwards if:
The house has been substantially improved over the course of the marriage by both parties, or by the other party
The house has been used by both parties while the parties are living together for various purposes, including for household, shelter or transportation
For Muslims:
According to Section 52(7) of the Administration of Muslim Law Act, the Syariah Court will have the power to order the disposition or division between the parties of any property or the sale of any such property.
The Court may also make one or more of the following orders:
An order for the sale of any property or any part thereof, and for the division, vesting or settlement of the proceeds
an order vesting any property owned by both parties jointly in both the parties in common in such shares as the Court considers just and equitable
An order vesting any property or any part thereof in either party
An order for any property, or the sale proceeds thereof, to be vested in any person (including either party) to be held on trust for such period and on such terms as may be specified in the order
Can I Still Purchase a Property as a Divorcee?
If you do not have children, you have to be at least 35 years old to purchase a flat as a divorced individual.
This is through the Singles Singapore Citizen Scheme where you can choose to buy either a 2-Room Flexi HDB BTO flat or an HDB Resale flat on the open market.
Here are some pros and cons for each flat type:
HDB Flat Options for Singles

2-Room Flexi HDB BTO Flat (99-Year Lease)
HDB Resale Flat
Price
More affordable
(from $86,000 excluding grants)
More expensive
(from $293,900, median prices for a 3-Room flat in Geylang, Q4 2021)
Location
Non-mature estates only
No restriction
Availability
Lower
(depends on HDB BTO launch)
Higher
(depends on your preference)
Income Ceiling
$7,000
(per month)
None
(but ceilings apply to grants)
Lease
99-Year
Remaining
(less than 99 years)
Size of flat
36 to 38 sqm (Type 1)
45 to 46 sqm (Type 2)

Note: 45sqm is about half the size of a 4-Room HDB flat
Varies
(2 to 5-Room)
Waiting Time
Longer
(about 3 to 5 years)
Shorter
(almost immediately)
Able to Sub-let?
Yes
(whole apartment; but only after 5-Year MOP)
Yes
(can rent out rooms)
If you are a single parent with children, you will be able to apply for a new flat based on your status and also get housing grants as well.
For first-timers, single parents can form a family nucleus and purchase a BTO or resale flat under the Public Scheme.
HDB considers a family nucleus as:
Parents, and siblings (if any)
Children under your legal custody, care and control (if divorced or widowed)
For second-timers, HDB has also set up the Assistance Scheme for Second-Timers (ASSIST), where 2- and 3-Room BTO flats in non-mature estates are set aside for divorced or widowed single parents with children (18 years old and below).
---
Closing Thoughts
Most of us fantasise about having our dream wedding and dream house with our partner.
However, reality sometimes does not turn out the way we wish for them to be.
Though these processes are very emotionally draining and financially painful, separation sometimes would be a better option for both individuals.
What's most important is to know that there is still a way out even after committing to big life decisions like this.
Got any questions about property?
Feel free to seek help from the friendly Seedly Community!
About Xue Miao
A
millennial
who is learning to adult. She doesn't believe in the rat race and hopes to live on a farm someday.
You can contribute your thoughts like Xue Miao
here.