Why Do People Regret Buying Their Investment-Linked Policy (ILP)?
ILPs are an extremely complicated product that is constantly evolving to suit our needs in this day and age where alternative investments are gaining traction.
We have encountered a number of people sharing their experiences and blaming their agents for making them buy an ILP.
What is an investment-linked plan (ILP)?
In short,
ILPs = Life Insurance Coverage + Investment
Life Insurance Covers
Investment Involves
• Death
• Total Permanent Disability (TPD) (Optional)
• Critical Illness (Optional)
• Early Critical Illness (Optional)
• Premiums are used to purchase units in one or more sub-funds of your choice.
• Some of the units purchased will be sold to pay for insurance and other charges
There are 2 types of ILPs available in the market, single-premium and regular premium, for this article, we will only be talking about the regular premium ILPs.
Regular Premium ILPs: You pay premiums regularly (e.g. monthly, semi-annually, annually) depending on you.
Quick Recap on the differences of:
You are covered for the period that you have paid for. No cash value.
You pay your premiums for a period of time (e.g. 20 years). You are covered till age 100, coverage usually decreases at age 65. Cash value available upon termination of insurance coverage.
Investment-linked Policies
You are covered for the period that you have paid for. With cash value depending on your investment performance available for withdrawal anytime.
We will not go through the nitty-gritty details of an ILP, we have previously covered it.
For now, we will get right to the tea (oops, I mean details).
Why do people regret purchasing their investment-linked plan?
You would have heard a number of people around regretting their ILP purchase, what are they actually regretting? Why are they so quick to point finger at their agents?
Reason #1: You found a cheaper alternative to protection, and investment separately
Simply put, you came across this phrase,
"Buy term, invest the rest"
You explored the world of known and unknown, discovered the different types of investment and ventured into investing based on your risk tolerance.
And it hits you,
"why am I paying so much for my policy which could be put to better use?"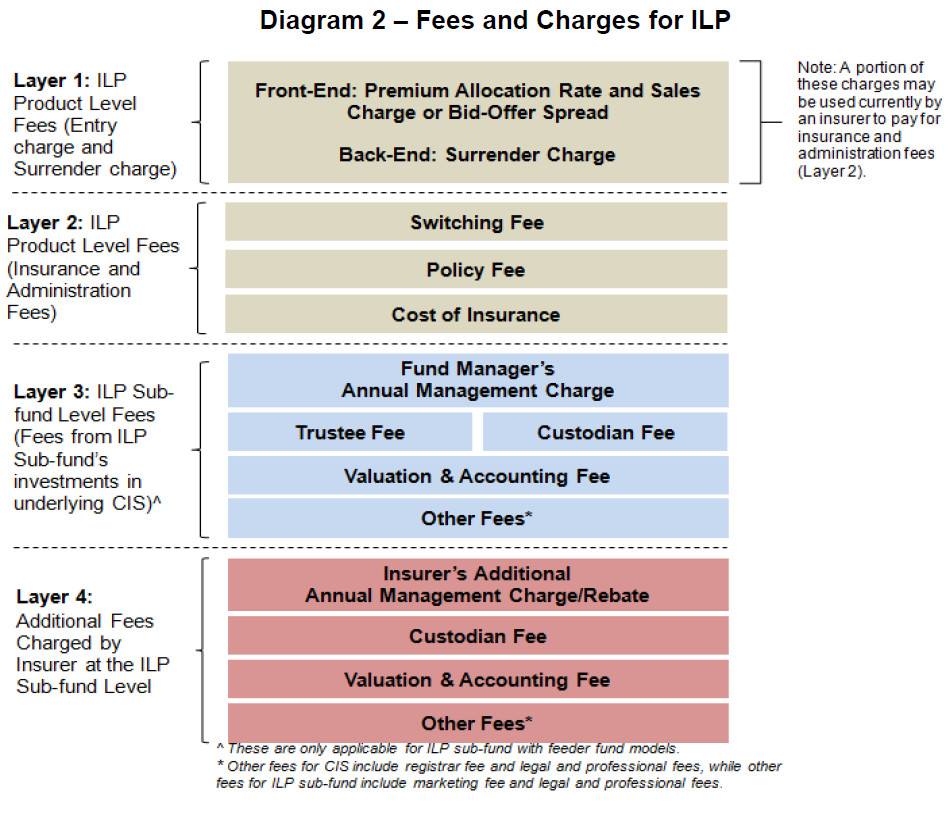 ILPs are expensive with plenty of underlying charges (refer to image above) that make the product complicated yet allows it to be flexible at the same time.
Reason #2: You read online where someone shared their regrets on their ILP
If you want to indulge yourself with sob-stories, feel free to Google "regret ILP" to read their stories, especially from hardwarezone.
If you are reading to prove to yourself that you made a huge mistake (not sure why you would want to do that), I would suggest you not to do that and remain objective.
Recommended Read: Anyone of you here surrendered your ILP or endowment before?
Can You Really Blame Your Agent?
Before we give in to our toxic thoughts, finger pointing, blame-pushing, let's reflect back on what your objectives were when you made the purchase.
No doubt, it is an expensive policy, experiencing cognitive dissonance would definitely occur. This is usually triggered when your belief clashes with a piece of new evidence that was presented to you.
Editor's Note: This is assuming that your agent ethically sold you the ILP. Let's be real, sometimes we zone out when our agent is explaining the technical details because it can get boring. 
1. You are responsible for your own due diligence
Don't be so quick to commit to something that looks too good to be true.
Even if it's true, there are a lot of underlying ropes ready for you to get entangled up in. In this day and age, there is a lot of information available for you to do your own due diligence.
There is a market for ILPs so the agent will think that you fit that market, it is your duty to find out that you don't (fit that market).
Here is a story shared by one of our community members,
"My dad (now 60) bought a Pru ILP for himself 20 years ago. Recently the agent came to advise him to surrender / reduce sum assured due to high mortality charges kicking in.

He made a profit due to the particular agent advising him to TOP up during a financial crisis. He wasn't financially savvy.

But fair enough, when the financial adviser is ethical and transparent about information, they do bring value. She admitted that when she sold the ILP 20 years ago. She wasn't aware of the mortality charges table.

He had enjoyed the high sum assured for 20 years and enjoyed the flexibility option of premium holiday. Now retiree mode find a lump sum of money out of nowhere."

~ Daryl Liao
If you are savvy-investor and seeking the XIRR of ILP plans then you're looking at the wrong product for your investment needs.
Recommended Read: Should You Cancel Your Investment-Linked Policy (ILP)?
2. Don't dare to reject the agent after all the persuading
Some of us will feel bad if we have to reject a salesperson after all their pitching, but if it doesn't fit your situation, why should you be ashamed to say 'No'?
If you were paiseh to reject the agent selling you the product, but who paiseh for you when you "lose" money?
It is
NOT

to be taken as a form of Investment in your portfolio

If you are looking at ILP as a form of investment to build your portfolio, please look away now.
There are plenty of less conventional investment opportunities available in this day and age like robo-advisors etc.

3. Remember WHY you first purchased your ILP
Try recalling why you purchase the product in the first place and your objectives or purpose for the purchase of your ILP.
Was it for investment purposes? Or
For protection purposes? With the flexibility that comes with it that a whole life plan did not offer?
According to Fiona Liew, a Seedly Community member,
"Those who buy ILPs thinking it's a wealth accumulation / investment plan will be sorely disappointed.

Those who buy ILPs thinking its a whole life insurance plan are mostly quite surprised by how fast and how much cash value it accumulates.

Especially those who find themselves with some cashflow issue midway, they are quite delighted to be able to keep their ILPs going without having to pay premium / take premium loans (high interest) etc."
Different strokes for different folks
As long as it makes you right? ILP is an extremely complicated product, having signed one does not mean it is the end of the world.
Here's how you can work around your ILP
By being more active in the investment aspect of your ILP with fund-switching (if you are a savvy-investor)
Reduce the number of riders in your plan
E.g. You're paying $200/month for premiums but $100 goes to pay for your riders and only $100 goes into investment, your cash value will require a longer time before breaking even.
Relook your insurance portfolio and terminate your plan before hefty mortality charges kick in.
If you JUST purchase your ILP (within the freelook period – 14 days)
Terminate your plan ASAP. 
Do seek advice from a professional and to review your needs properly before taking the next step. 
---
As previously discussed regarding ILPs as well,
"Is 99% ILP or RSP better?"… Read More

"What are the differences between Unit Trust vs ILP?"… Read More

"Difference between endowment and ILP plans?"… Read More
All GIF Credits: GIPHY
About Cherie Tan
Turning finance into boba-sized pieces. One iced milk boba tea, please!
You can contribute your thoughts like Cherie Tan
here.