Resources and Platforms to Help You Find a Job During COVID-19 Coronavirus Pandemic
The COVID-19 Coronavirus has hit the job market really hard. As companies seek to stay afloat during this tough period of time, pay cuts, voluntary unpaid leaves and even retrenchment becomes inevitable to deal with the situation.
A big group of Singaporeans are either out of jobs or made to accept a reduction in salary. In times like this, survival is key. Finding a way to sustain our cost of living, whatever it takes will be important.
We compiled some of the job opportunities available during this COVID-19 Coronavirus.
Remember, tough times don't last, tough people, do!
---
TL;DR: Surviving the Job Market This COVID-19 Coronavirus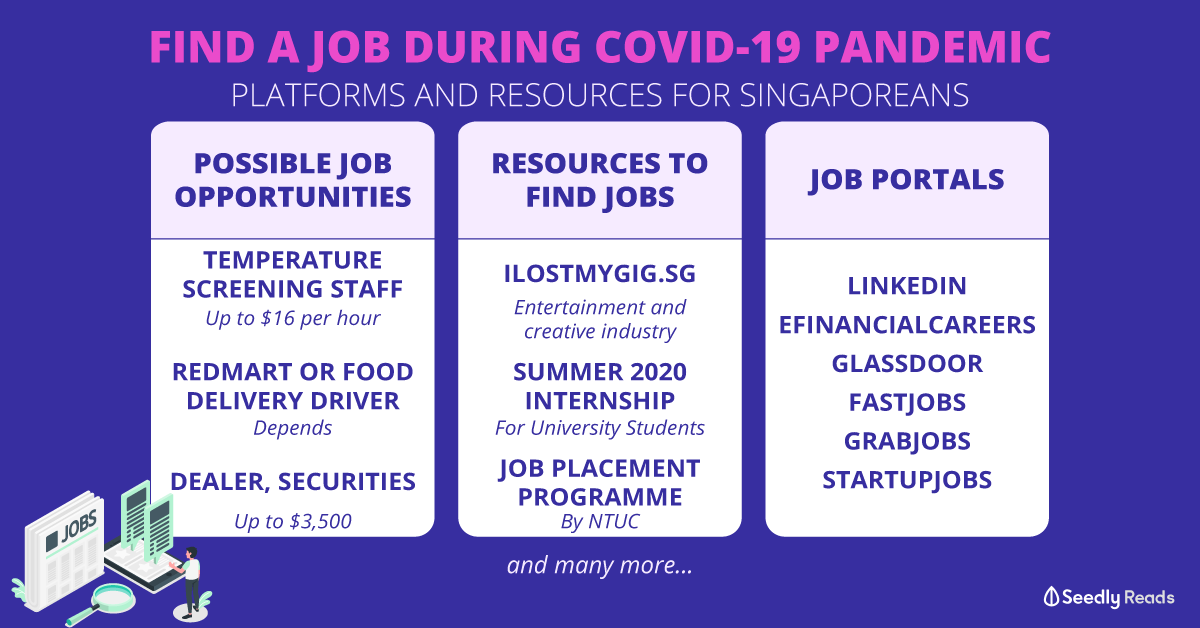 The power of community has proven to be the best thing in personal finance once again.
We asked our Seedly Community members if they know of any jobs or companies that are hiring. Some of them reached out to us.
Possible Job Opportunities During the COVID-19 Coronavirus
If you are wondering who is hiring during this period of time, we look at some job openings which may possibly require more manpower in times like this. We have also included the suggestions of our Seedly Community members.
Jobs Available
Salary
Where to Apply?
Description
Temperature Screening Staff
Up to $16 per hour
JobStudio

Jobsbuddy

Fastjobs

Recruit Express
Various location

Start immediately

To perform temperature register visitors
Food Delivery Rider
Depends on if you are with GrabFood, deliveroo or foodpanda
deliveroo

foodpanda

GrabFood
As we practise working from home and stay-home notice, the demand for food deliveries increase.

May require motocycle license.
Grab Driver
Depends
Grab
Singaporeans may prefer to increase their Grab rides as compared to taking the public transport during this period of time.

Requires driving license
Redmart Delivery Driver
Depends
Knownjobs
May require certain class of driving license
Part Time Relief Teachers
Up to $14 per hour
Some examples are:

The Orange Tree Preschool

Global EduHub

Raffles Institution
-
Dealer, Securities
Up to $3,500
Can reach out to brokerage houses. One example will be:

Phillip Capital
Due to increment in trading volume given the current market condition, some of the brokerages may require more manpower to deal with their day to day operation
Tutor
Depends
Online tuition agencies
Due to stay-home notices, some of the students might be seeking tuition in order to catch up with school work.
Bus Captain, Traffic Inspector, Mobile Traffic Inspector etc.
Depends
SBS Transit
The public transportation industry running both bus and rail services is fairly recession-proof. Most of our their operations/customer service roles do not require specialised skillset. May be a good choice for those who lost their jobs suddenly and is open to a career switch.
If you know of any organisation that is looking to hire, please reach out to us or comment in the comment box.
---
Resources to Help You Find a Job or Support in Singapore
There are also various initiatives and platforms to help Singaporeans with their job finding.
Telegram Channels for Your Job Search
There are a few Telegram channels which can help you with your internship and job search.
---
I Lost My Gig
Due to COVID-19, the entertainment and creative industry got badly affected. Events were cancelled or postponed, production cancelled, campaigns were halted and entertainment gigs reduced drastically. The loss in the Singapore Creative Industry is unprecedented.
ilostmygig.sg is an initiative by the SG COVID-19 Creative/Cultural Professionals & Freelancers Support Group to engage with the government and various organizations better in providing support for our community (media, art, design & entertainment).
---
Spreadsheet: Summer 2020 Opportunities for Singapore Uni Students
Due to travel advisories by the Ministry of Education, Singaporean students who were studying abroad for exchange programmes or on internships have been recalled back. Some of the students who were supposed to go overseas for their Summer internship were also affected.
This spreadsheet is a compilation of opportunities, added by friends/former bosses/alumni from Yale-NUS. If you are an employer who can use some interns, you can fill up this Google form to list the opportunity.
If you are a student looking for an internship: https://tinyurl.com/SummerOpps2020
---
Facebook Page: Support Singapore Through Covid-19 – SSTC
The Support Singapore Through COVID-19 Facebook Page is a project that aims to help people from all walks of life in Singapore deal with the COVID-19 crisis.
There are several shoutouts of job vacancies which you can look at.
---
NTUC Job Placement Programme (JPP)
NTUC members can seek assistance at the Job Placement Programme (JPP).
The Job Placement Programme (JPP) is an initiative that provides salary support to companies who hire local job-seekers registered with e2i. Job-seekers will also undergo training with regards to their new job.
---
Platforms to Look for Jobs in Singapore
Other than the platforms stated above, here are some platforms to look for jobs in Singapore. I remember stalking a lot of these platforms during my job search back then.
Ultimately, job hunting is a numbers game. The more you apply, the higher the chance of landing yourself one.
Here's a compilation of job platforms in Singapore:
---
Having a job and a stable income at the moment is the smart personal finance decision. Stay strong everyone!
About Ming Feng
A stint in
Bloomberg
gifted me with a beer belly, which only grew larger when I moved on to become a Professional Trader. Now I turn caffeine into digestible finance-related content.
You can contribute your thoughts like Ming Feng
here.