Foodies Unite
Circuit Breaker does not mean that the food adventures stop.
Based on a "verbal research" conducted by the Seedly Team, we realised that eating and dining is now an official hobby and favourite pastime amongst Singaporeans.
We are all foodies in our own respective field of cuisines and if there is an Olympic event on cafe hopping and exploring of restaurants, we are bagging that Gold medal.
Food delivery is a total lifesaver during Circuit Breaker, and we are seeing food delivery services for Bubble Tea, healthy food options, hawker food, hotpot, cakes, etc.
With Mother's Day around the corner, we compiled a list of fine dining restaurants delivery services, so that we can pamper the most important woman in our lives.
Spoiler alert: Some of these restaurants were awarded the MICHELIN Star!
Of course, given that we are probably less active at home this Circuit Breaker, we might want to keep a lookout for our weight.
---
Circuit Breaker: Restaurants Providing Islandwide Delivery Services
Restaurant
Minimum Order
How to order?
Cuisine
Area
Menu
A-One Claypot House
$35
Website
Chinese
Islandwide
https://www.aonedelivery.sg/en_SG/
Acqua e Farina
$50
WhatsApp: 8499 7156

Italian
Bukit Panjang, Bukit Batok, Chua Chu Kang, Jurong, Clementi, Bukit Timah, Holland and Tanglin
http://acquaefarina.com.sg/take-away-menu/
Amò
$40
Website
Italian
Islandwide
https://www.amorestaurant.sg/delivery
Bar-A-Thym
$150
WhatsApp: 9383 9083
Contact: 6557 2224
Website
French
Islandwide
https://www.bar-a-thym.sg/order/
Beast and Butterflies
$20
Website
Modern Asian
Islandwide
https://www.millenniumhotels.com/en/destinations/asia/singapore/m-social-singapore/order-food-online/
Birds Of A Feather
$40
WhatsApp/Contact: 9755 7115
Website
Modern Sichuan
Islandwide
https://theforeignprojectgroup.com/about/
Blue Jasmine
-
Contact: 6824 8851
Thai
Within 2-5km from Park Hotel Farrer Park
https://www.parkhotelgroup.com/en/farrerpark/promotions/bento-box
BTM Mussels and Bar
$75
WhatsApp: 81213247
Email: [email protected]
French
Islandwide
https://www.dhm.com.sg/btm
Buona Terra
-
Contact: 6733 0209
WhatsApp: 9456 3147
Italian
Islandwide
http://www.chateautcc.com/edm/apr2020/Buona-Terra-Takeaway-menu.pdf
Butcher Boy
$35
Website
Asian
Islandwide
https://www.butcherboy.com.sg/delivery
Burger and Lobster
-
Website
American
Islandwide
https://www.burgerandlobster.com/locations/singapore/jewel-changi-airport/#menu
Burnt Ends
-
Website
Modern barbecue
Islandwide
https://burntendstakeaway.oddle.me/en_SG/
Candlenut
-
Website
Peranakan
Islandwide
https://www.comodempsey.sg/restaurant/candlenut
Cheek Bistro
-
Website
Australian
Islandwide
https://cheekbistro.oddle.me/en_SG/
Chuan Hung Noodle
$40
WhatsApp/Contact: 9788 7417
Website
Sichuan
Islandwide
https://chuanhungnoodle.oddle.me/en_SG/
The Coconut Club
$50 - $60
(depending on location)
Website
Local
Islandwide
COMO Cuisine
-
Website
International
Islandwide
https://www.comodempsey.sg/restaurant/como-cuisine
Cure
$30
Whatsapp: 9338 4207
Website
Modern European
Islandwide
https://www.curesingapore.com/delivery/
Kin
$100
(Islandwide)

$50
(Within 1km radius)
Email: [email protected]
WhatsApp/ Contact: 9723 7028
Local
Islandwide
http://files.lobehold.com/KIN/KIN%20TAKEAWAY%20DELIVERY%20MENU.pdf
Meta Restaurant
-
Contact: 6513 0898
WhatsApp: 9750 8275
Website
Korean
Islandwide
https://iorder.aptsys.com.sg/120/224/menu
Mitzo
-
Contact: 6603 8855
Email: [email protected]
Website

Cantonese
Islandwide
https://www.parkhotelgroup.com/en/orchard/promotions/takeaway-menu
Nouri
-
Website
Cross culture
Islandwide
https://appetite.oddle.me/en_SG
Odette
-
Website
French
Islandwide
https://odette.oddle.me/en_SG/
Pasta Bar
-
Website
Italian
Islandwide
https://pastabar.oddle.me/en_SG/
Putien
-
Website
Chinese
Islandwide
https://inline.app/order/putien
Tsuta Raman
$60
Website
Japanese
Islandwide
https://order.tsuta.com/#/
Violet Oon
$100
Email: [email protected]
WhatsApp/ Contact: 9834 9935
Peranakan
Islandwide
https://violetoon.com/delivery-takeaway/
---
MICHELIN-starred Restaurants Providing Islandwide Delivery Services
If you are looking to pamper yourself with some really good food, here are some Michelin-starred restaurants which you can order from.
Odette – A 3 Stars MICHELIN Restaurant
Housed in the National Gallery Singapore, Odette is a fine dining restaurant helmed by Chef Julien Royer. Chef Julien Royer's work is inspired by his grandmother, Odette.
Burnt Ends – A 1 Star MICHELIN Restaurant
Burnt Ends is a wood fire grill restaurant with a casual atmosphere. It is also voted top 50 best restaurants in the world. Helmed by Chef and owner, Dave Pynt, Burnt Ends writes new menus every day and believes that there is magic that comes from cooking with wood.
Candlenut – A 1 Star MICHELIN Restaurant
Candlenut explores traditional Straits-Chinese cuisine with a contemporary touch. Helmed by Chef Malcolm Lee, Candlenut continues to inspire and elevate Peranakan dishes using only the freshest produce.
Cheek Bistro – A 1 Star MICHELIN Restaurant
Cheek Bistro is a venture by Chief Rishi Naleendra and his wife Manuela Toniolo.
It flaunts a more playful personality, showcasing familiar flavours with a twist!
Meta Restaurant – A 1 Star MICHELIN Restaurant
At Meta restaurant, Chef Sun Kim reinterpreted dishes and flavour combinations. Given his Korean heritage, Japanese culinary techniques and Western culinary training, Meta innovates and create well-balanced dishes using only the best seasonal produce and ingredients.
Nouri – A 1 Star MICHELIN Restaurant
Nouri is rooted in the Latin word for nourishment.
The restaurant is helmed by Chef Ivan Brehm, and dishes are influenced from all around the world.
Tsuta Ramen – A 1 Star MICHELIN Restaurant
Here's one for fans of ramen! Tasuta Ramen is the world's first Michelin-starred ramen shop.
Started by Chef Yuki Onishi, he looks to redefine the classic Ramen experience; without the use of artificial flavouring and MSG. Only premium and natural ingredients were used to create every bowl of ramen.
---
Restaurants Providing Islandwide Delivery Services
A-One Claypot House
A-One Claypot House offers a wide variety of dishes, cooked on piping hot claypots and hotplates. Recommended for Singaporeans looking to have the authentic claypot experience.
Acqua e Farina
Operated by two Italian Chefs, Antonio Manetto and Roberto Galbiati, their menu is a beautiful showcase of highly distinctive cuisine from the North and South of Italy.
Amò
Amò presents an extraordinary communal feast of antipasti, artisan pastas, pizzas and large mains to savour. Amò is known for their pizza where the crust remains light and easy to digest.
Bar-A-Thym
Helmed by Chef Francois Mermiliod, Bar-A-Thym Restaurant specialises in seafood and meat dishes done a la Plancha. Their unique French Omakase menu is inspired by regional specialities of Southern France, combined with his experience throughout Asia.
Beast and Butterflies
Located in M Social Singapore, Beast and Butterflies is helmed by Executive Chef Bryce Li. Dishes are divided into two categories, 'Beasts' and 'Butterflies', featuring both the robust and lighter types of dishes on their menu.
Birds Of A Feather
Birds of a Feather serves a delicious fusion of Western and modern Sichuan cuisine. If you are a big fan of spicy food, this is where you should be ordering from!
Blue Jasmine
Blue Jasmine service authentic Thai cuisine. Their menu has a wide selection of traditional Thai food to choose from, it is as though you are travelling in Bangkok right now.
BTM Mussels and Bar
Mussels and wine. Name me a better combination. I will wait!
BTM Mussels and Bar serve European comfort food. As the name suggests, fresh seasonal mussels in various variety and style make a great dinner over some Netflix series which you are binging on.
Buona Terra
Buona Terra is a modern Italian fine dining restaurant. It is helmed by Chef Denis Lucchi who has 1 Michelin Star and 3 Forchette Gambero Rosso under his belt.
Butcher Boy
Butcher Boy is a contemporary style Asian fusion bar and grill restaurant in Singapore. It is a concept by the team at Cure Singapore.
Burger and Lobster
Burger and Lobster started in London in the year 2011. One of the best combination of tasteful and a hint of luxury when you bring the two together.
Chuan Hung Noodle
Chuan Hung serves tradition noodles in Sichuan flavoured broths, perfect for fans of ma la. One can also look forward to having their fried crispy intestine for a sinful weekend.
The Coconut Club
Personally, one of the best Nasi Lemark I have tasted till date. The Coconut Club is passionate about all things coconut. From their Nasi lemak to Chendol, it is two years worth of hard work on their recipes and the search for the best coconuts in the world.
COMO Cuisine
COMO Cuisine serves international signature favourites from hotels and resorts. Their dishes are produced from scratch using organic fresh produce whenever possible.
Cure
Cure is helmed by Chef and owner Andrew Walsh. Andrew Walsh spent time working at London's Lindsay House under Award-Winning Chef Richard Corrigan.
I am starting to regret writing this article in the middle of the night. Now that McDonald's are suspended beyond 4 May, I have little solution to my hunger.
Kin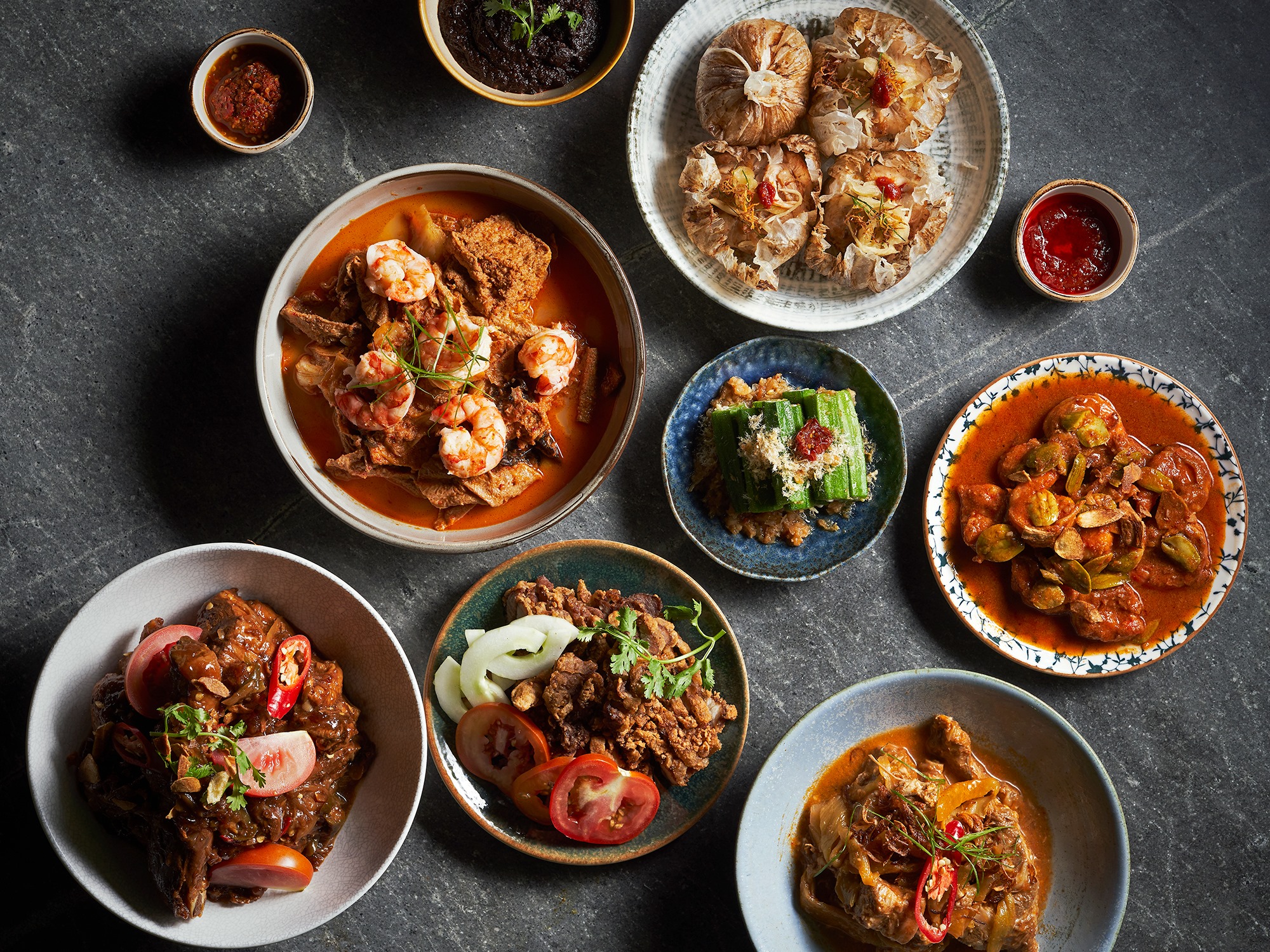 Kin serves heritage cuisine by Chef Damian D'Silva. Much of the food preparation is handmade from scratch in-house and only produced in limited quantities.
They even have seasonal dishes produced by local producers and fishermen.
Mitzo
Mitzo combines a contemporary take on Cantonese cuisine with artisanal cocktails. Mitzo is helmed by Chef Nicky Ng, who has a vast amount of experience with notable international five-star hotels regionally and internationally. Prior to Mitzo, he was the Executive Chef de Cuisine at a Michelin starred dining establishment, Hakkasan, in New York City.
Pasta Bar
Pasta Bar is one of the few establishments serving handmade Italian Pasta in Singapore. Their pasta is handmade daily using a variety of semolina and '00' flours combined with egg, water. Top that up with experience and skills to give their pasta the perfect texture and bite.
Putien
Putien delivers only the most unadulterated tastes to Singaporeans. Their cuisine encompasses the essence of people of the city Putian – unpretentious, simple and pure.
Violet Oon
Violet Oon is helmed by co-creator, Violet. Violet was appointed Chef de Mission, leading Singapore's team of chefs at the Worlds of Flavours Conference and Festival in the year 2004, 2007 and 2009.
Violet Oon showcases Singapore's diverse and nuanced culinary heritage with their fine flavours and Nyonya favourites in their dishes.
About Ming Feng
A stint in
Bloomberg
gifted me with a beer belly, which only grew larger when I moved on to become a Professional Trader. Now I turn caffeine into digestible finance-related content.
You can contribute your thoughts like Ming Feng
here.