Tech Firms Cutting Jobs in Singapore: Here's How to Prepare For Retrenchment in Singapore Before it Happens
Joel Koh
●
When COVID-19 broke out in Singapore in January 2020, the economy and labour market took a beating.
It was a dark time as we saw a staggering 8,130 retrenchments in Q1 2020 and 9,120 retrenchments in Q2 2020.
Thankfully the labour market situation is improving.
In Q2 2022, the total number of retrenchments in Singapore was 1,320 (0.6 per 1,000 employees), marking a 12 per cent drop from Q4 2021, where there were 1,500 (0.7 retrenched per 1,000 employees) retrenchments.
However, even though the overall labour market situation has improved, the same can't be said of certain sectors.
Several high-profile technology companies in Singapore have been laying off workers.
Here's all you need to know!
---
TL;DR: Retrenchment Singapore Guide — Here Are the Technology Firms in Singapore Cutting Jobs & How to Prepare Before it Happens
| Singapore Based Technology Company | Retrenchment Details |
| --- | --- |
| Crypto.com | 260 employees or 5% of its corporate workforce |
| Shopee | Unspecified number of employees from the ShopeePay & ShopeeFood teams in Southeast Asia |
| Stashaway | 31 employees across 5 markets |
Source: Channel News Asia
Notably, Tesla fired its Singapore Country Manager of one year, with CEO Elon Musk warning that Tesla could cut 10% of its worldwide workforce.
---
Reversal of Fortunes
The world was turned upside down when the COVID-19 pandemic broke out a little over two years ago.
Fear of the pandemic spread like wildfire in the early days, and companies worldwide were laying off their staff left and right to protect their own interests.
Governments also imposed COVID-19 lockdowns, and most were forced to stay at home.
This meant that traditional companies in industries like travel, entertainment and food and beverage establishments suffered as customers could not physically be there.
In contrast, the technology companies in industries like e-commerce, finance, online communications and more boomed as people were stuck at home.
As a result, the valuation of these technology companies soared based on this positive sentiment. And with interest rates low, capital was cheap, and companies took the opportunity to expand and hire aggressively.
But as most of the world began reopening and making headway in the fight against COVID-19, the demand for the online heavy goods and services from these technology companies waned.
A wave of revenge spending is taking place people around the world are going out to travel, shop and dine out after being cooped up for so long.
Other factors like the US Federal Reserve raising interest rates to fight inflation have increased the cost of borrowing. This means that these high-growth companies that rely on cheap capital had to consolidate or spend less in the short term.
Layoffs Singapore: Shopee Layoff
The most high-profile example would be Sea Ltd (NYSE: SE), with its e-commerce arm Shopee.
According to DealStreetAsia, Shopee is:
is laying off staff across multiple markets as it seeks to rationalize its e-commerce business.

The layoffs have affected employees across several of the company's Southeast Asian markets, including Indonesia, Thailand and Vietnam, sources told DealStreetAsia. The company is said to have emailed employees affected by the layoffs, the sources added.

Shopee's payments arm ShopeePay and food delivery business ShopeeFood are also said to be facing cuts. A general meeting was also reportedly held on Monday to address the job cuts with Shopee employees.
To add salt to the wound, on 1 May 2022, Prime Minister Lee Hsien Loong said there may be a recession in 2023 or 2024.
It may or may not happen then.
But I'm sure that you don't want to be caught unprepared for unexpected unemployment.
Tips on How To Prepare for a Retrenchment if and When It Happens
Here are some tips that would help.
1. Build Up Your Emergency Funds and Managing Costs in Singapore
Getting retrenched can be a highly stressful affair, and you might never know when it'll happen to you.
Personally, I have experienced periods of unemployment in my career.
I have learnt that finding a job is a full-time job.
You won't want to be worrying about trying to make ends meet while looking for a job.
Ideally, you would want to devote all of your time, energy and resources to finding a job and not take up part-time work.
This is why having an emergency fund is vital.
As my colleague Justin pointed out in his article The Ultimate Singaporean's Guide to Surviving a Recession, we have to prepare for the possibility of retrenchment.
Generally, it's recommended that you have at least six months' worth of living expenses saved up for a rainy day.
This will give you enough time to search for a new job to replace your primary source of income.
That said, recessions typically last more than 11 months, so if you want to be extra safe, try going for 12 months or more.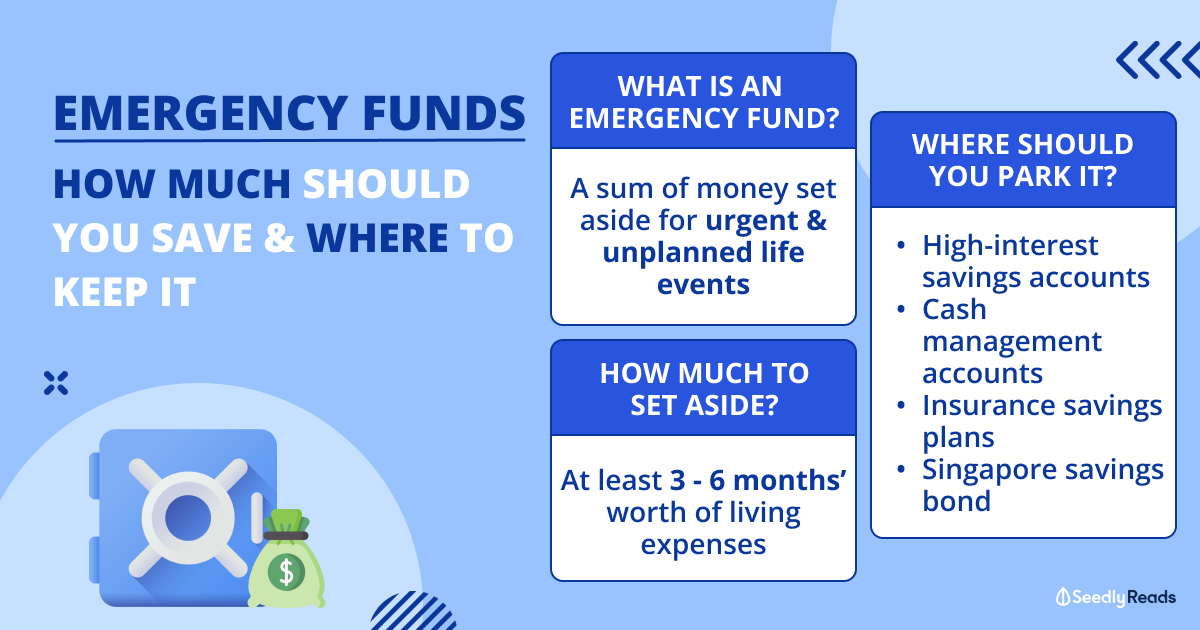 Moreover, your emergency funds must be liquid, i.e. withdrawable within three to five days max.
Aside from parking these funds in your bank's savings accounts,
You can also consider cash management accounts that offer higher interest rates but with slightly longer withdrawal times and a slight (but still very low) risk.
While you're at it, the world is volatile now, and anything can happen.
So you might want to consider having some emergency food supplies on hand… BUT there's no need to hoard!
2. Update Your Resume Regularly
Work in Singapore is challenging.
According to HCM technology provider Ceridian's 2022 Pulse of Talent report, 92 per cent of workers in Singapore reported experiencing burnout.
If you are feeling burned out, I would think that updating your resume would be a low priority on the list of your concerns.
But although it may seem unnecessary now, you never know what may happen.
It would be better to stay prepared, so you can start looking for a job once you learn of your retrenchment.
Regardless of your career position, it would be good to update your resume so you would feel less stressed if you lose your job.
Not to mention that you'll be ready to seize any new career opportunities that come your way.
Plus, it could be an excellent time to reflect on your career and evaluate it.
Check out our guide on how to write a resume that really stands out for a start.
3. Network Network Network
In addition to updating your resume and readying yourself to seize any career opportunities that come your way, you should be making a point to network, regardless of if you are employed or unemployed.
Attend networking events, industry-specific speaking engagements, roundtable discussions, professional conferences or work summits, community service clubs and more.
As this article from Indeed about networking states, it's all about finding the right networking style that fits you, making genuine connections, figuring out how you can contribute and staying consistent in your networking efforts.
If you continue building your network, it could give you an edge when you are retrenched and looking for work.
4. Retrenchment Benefits Singapore: What is Retrenchment Benefit in Singapore?
Knowledge is power.
If retrenchment is inevitable, you must know about the benefits that will aid you after losing your job.
While retrenchment benefits are not mandated by law, MOM strongly encourages employers to adhere to the advisories, including providing retrenchment benefits to help affected employees while searching for employment.
Severance Pay Singapore: How is Retrenchment Package Calculated in Singapore?
According to an advisory from the Ministry of Manpower (MOM):
'Employees who have served the company for at least two years are eligible for retrenchment benefits. Those with less than two years' service could be granted an ex-gratia (voluntary) payment out of goodwill.
The amount of retrenchment benefit depends on what is provided in the employment contract or collective agreement (for unionised companies). If there is no provision, it will have to be negotiated between the employees (or their union) and the employer.
The prevailing norm is to pay a retrenchment benefit of between two weeks to one month's salary per year of service, depending on the company's financial position and the industry.
In unionised companies where the amount of retrenchment benefit is stated in the collective agreement, the norm is one month's salary for each year of service.'
However, if you do not receive your retirement benefits, approach the Tripartite Alliance for Dispute Management (TADM) to file a claim.
But if your employer's company is in the process of being winded up, you should approach the Insolvency Office instead or look for the appointed judicial manager or liquidator directly.
But beware, there will be companies who will try and remove you unfairly from the company instead of retrenching you responsibly. This will be another matter altogether.
A Little Help Goes a Long Way
That being said, retrenchment is brutal so let's help each out.
If you have any job postings, do post them on this discussion thread on Seedly!
About Joel Koh
History student turned
writer
at Seedly. Before you ask, not a teacher. I hope to help people make better financial decisions and not let money control them.
You can contribute your thoughts like Joel Koh
here.