If You Can't Wait for the Grab IPO, You Can Ride on the Growth of These Companies
Grab is gunning for a listing this year, according to news reports.
The initial public offering (IPO) could raise at least US$2 billion with the company's last known valuation being US$14 billion.
If you can't wait for South-East Asia's ride-hailing and food delivery giant to go public, you can consider investing in its listed peers.
Those companies operate similar businesses as Grab, but in different parts of the world.
With that, let's dive right in…
Company #1: Meituan 
Meituan (HKG: 3690) is China's leading e-commerce platform for services, offering users access to everything from food delivery to hotel services.
According to TrustData, Meituan had around 65% market share in China's food delivery sector in 2019, with Alibaba's (HKG: 9988) Ele.me coming in second at 27%. 
Meituan's market share had increased from the previous year, which stood at 61%.
Meituan has also ventured into car-hailing services, operating an aggregation business model in 54 Chinese cities at the end of 2019.
The company's service offerings can be seen from the following chart:
From 2015 to 2019, Meituan's revenue grew from RMB 4.0 billion to RMB 97.5 billion, up a whopping 122% annually. The company turned a profit in 2019, with earnings coming in at RMB 2.2 billion.
For the three months ended 30 September 2020, the company's revenue grew 29% year-on-year to RMB 35.4 billion.
Meanwhile, net profit surged 374% to RMB 6.3 billion, but it was largely due to one-off fair value gains on investment in listed entities.
Meituan said that due to effective COVID-19 containment in China, its "businesses continued to recover steadily and achieved positive growth across all segments".
For instance, its newest marketplace model, Meituan Instashopping, achieved robust transaction volume growth in the latest quarter, especially in key categories like flowers and medicine.
Meituan ended off the latest quarter with a strong balance sheet, a trait that I like to see in companies. It had RMB 19.7 billion in cash and cash equivalents and just RMB 7.9 billion in total borrowings.
If we were to include short-term treasury investments of RMB33.7 billion, the company has ample capital resources to grow.
To position itself for long-term growth, Meituan is continuing to ramp up investments in new areas such as grocery retail business, marketplace, and community group-purchase.
Company #2: Uber
Uber Technologies (NYSE: UBER) used to be Grab's rival in Singapore until they merged.
Even though it's not operating in Singapore at the moment, Uber has a huge presence in 69 other countries.
According to the company, it has a pole position in every major region it operates in.
Uber also owns 37% of Yandex.Taxi (worth US$1.1 billion), 18% of Grab (US$2.3 billion), and 15% of Chinese ride-hailing firm, Didi Chuxing (US$6.3 billion).
As a business, Uber has four main operating segments:
Mobility
Delivery
Freight
Other Bets
Early last year, gross bookings across Mobility and Delivery saw a sharp drop due to the pandemic, but have since recovered.
Revenue for the three months ended 30 September 2020 fell 18% year-on-year to US$3.8 billion.
Revenue from its Mobility division declined 53% year-on-year to US$2.9 billion, but Delivery revenue surged 125% year-on-year to US$645 million.
Over the longer term, Uber's growth is most likely to lie in its food delivery business, which has a total addressable market (TAM) of US$2.8 trillion.
To capture more of the market, Uber recently acquired Postmates, an on-demand food delivery company.
Postmates, which has differentiated geographic focus areas and customer demographics, is complementary to Uber Eats.
Consumers will benefit from an expanded choice across a wider range of restaurants and other merchants, many of which are exclusive to Postmates.
Ultimately, Uber wants to be the largest food delivery company in the world (excluding China).
It may not be an easy task though. Currently, its listed competitor DoorDash (NYSE: DASH) has the biggest food delivery market share in the US.
Company #3: Yandex 
Yandex NV (NASDAQ: YNDX) is best known to be the Google of Russia. It's a leader in the country with a search market share of 59%.
Yandex also operates Yandex.Eats, a ready-to-eat delivery service, and ride-hailing businesses through Yandex.Go and Uber. It also has a car-sharing business, Yandex.Drive.
Those business segments come under "Taxi", whose portfolio is shown below:
Yandex's Taxi business is the second-biggest revenue driver for the company, behind online advertising under its "Search and Portal" business.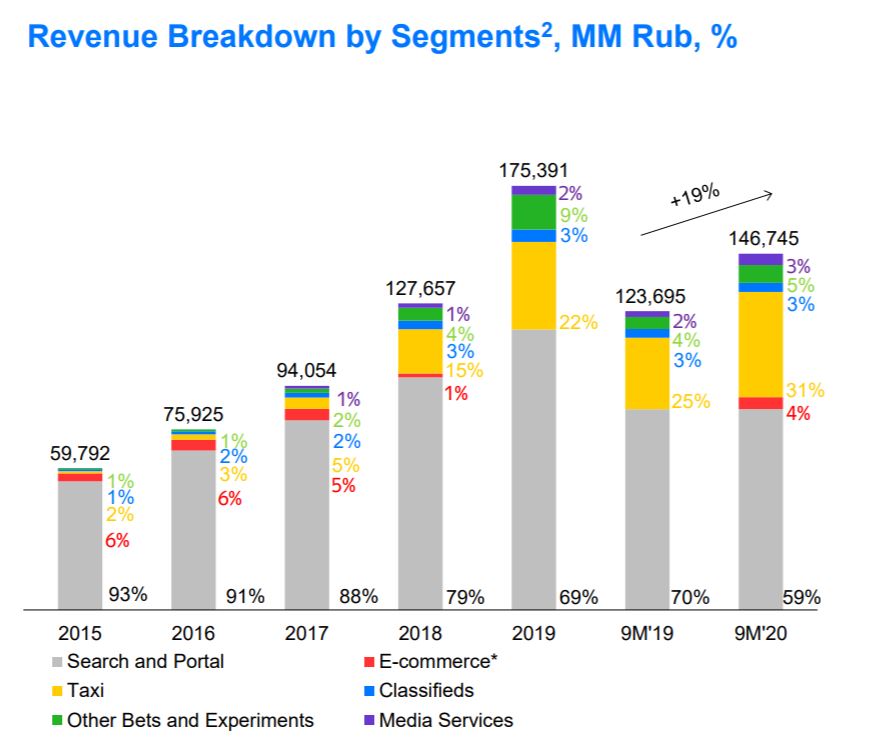 In the third quarter of 2020, Yandex's Taxi segment revenue grew 55% year-on-year.
The growth was due to better performance by its hyperlocal grocery delivery service, Yandex.Lavka, and Yandex.Eats.
Growth in its ride-hailing business, driven by an increase in the number of rides, also led to higher revenue.
For the latest quarter, overall revenue grew 30% year-on-year to RUB 58.3 billion while net income more than quadrupled to RUB 21.9 billion.
The huge bottom-line increase was largely due to the consolidation of its e-commerce business, Yandex.Market. Excluding this one-off item, earnings would have fallen 20% year-on-year to RUB 4.7 billion.
But over the longer term, there's plenty of growth for Yandex, especially in an emerging market like Russia.
Tigran Khudaverdyan, Yandex's deputy chief executive officer, commented on the 2020 third-quarter results and the growth prospects ahead:
"The third quarter turned out to be better for us than initially expected, with many businesses demonstrating recovery both in terms of revenue growth and profitability. …  In addition, we are currently actively exploring a number of strategic options to build a FinTech vertical with a particular focus on payments and digital finance services for consumers and SMEs. We believe all of these initiatives will strengthen our ecosystem strategy and support Yandex's long-term growth potential."
Yandex's FinTech vertical sounds similar to Grab's financial services arm.
With a rock-solid balance sheet, Yandex can tide through any tough economic conditions, and at the same time, pounce on any opportunities that may arise, including in the FinTech space.
Have Burning Questions Surrounding The Stock Market?
You can participate in the lively discussion regarding stocks here at Seedly and get your questions answered right away! 
Disclaimer: The information provided by Seedly serves as an educational piece and is not intended to be personalised investment advice. ​Readers should always do their own due diligence and consider their financial goals before investing in any stock. The writer may have a vested interest in the companies mentioned.
About Sudhan P
It isn't fair competition when only one company in the world makes Monopoly. But I love investing in monopolies. Before joining the Seedly hood, I had the chance to co-author a Singapore-themed investment book – "Invest Lah! The Average Joe's Guide To Investing" – and work at The Motley Fool Singapore as an
analyst
.
You can contribute your thoughts like Sudhan P
here.