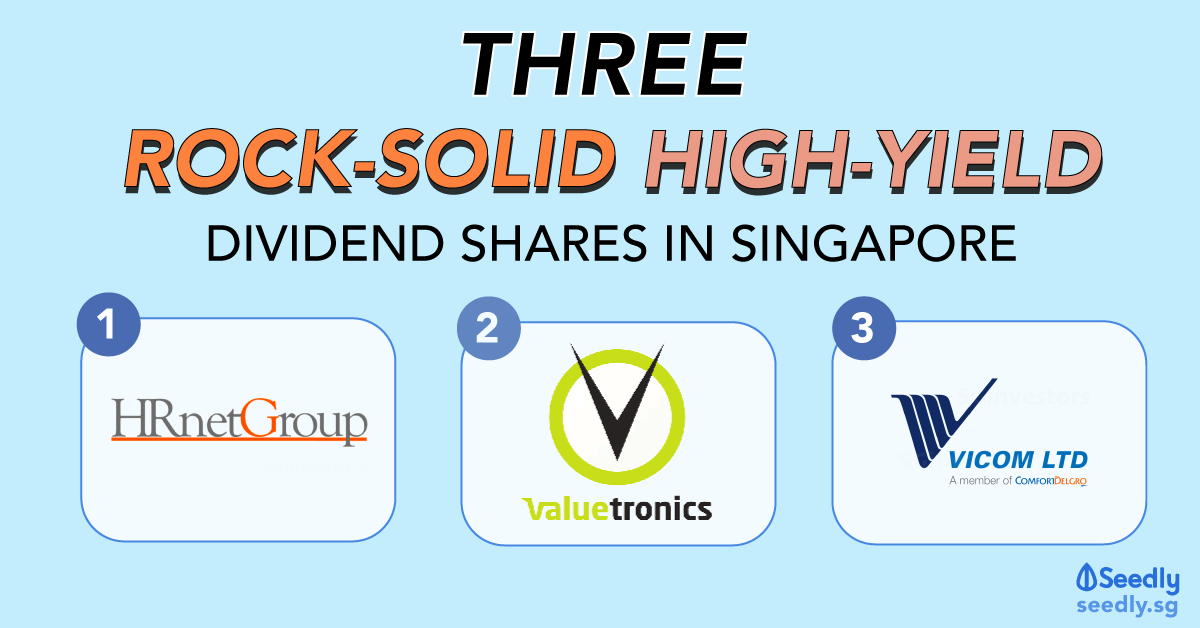 3 Rock-Solid Income Shares In Singapore With Dividend Yields Above 4%
Dividends, who doesn't love 'em? 
Dividends can be a form of passive income to supplement our salary or even sustain our lifestyle when we have retired. 
Here, let's look at three companies that could be strong candidates to be in a dividend investor's portfolio.
Those companies also have dividends yields of above 4% each, which handsomely beat Singapore's long-term average inflation rate of about 3%.

---
Company #1: HRnetGroup Ltd
HRnetGroup Ltd (SGX: CHZ) is the biggest recruitment firm in the Asia-Pacific region, excluding Japan. The company went public in 2017. 
HRnetGroup has exhibited growth in its net profit and free cash flow in 2018. Its dividend payout ratio has also been conservative at around 50%.
| | 2017 | 2018 |
| --- | --- | --- |
| Net profit (S$' million) | 41.3 | 48.2 |
| Free cash flow (S$' 000) | 34.3 | 49.9 |
| Dividend per share (Singapore cents) | 2.3 | 2.8 |
| Dividend payout ratio | 50.2% | 53.7% |
| Net cash position (S$' million) | 289.1 | 281.8 |
As of 30 September 2019, HRnetGroup had cash and cash equivalents of S$238.7 million with no bank borrowings. In terms of cash requirements, the company needs around S$126 million for working capital purposes, mergers and acquisitions, and investments. Therefore, HRnetGroup has plenty of cash on its balance sheet for use, including paying out higher dividends if it wishes to. 
At HRnetGroup's share price of S$0.61, it has a price-to-earnings (PE) ratio of 12 and a dividend yield of 4.6%.
Company #2: Valuetronics Holdings Limited 
Valuetronics Holdings Limited (SGX: BN2) is an integrated electronics manufacturing services provider with its headquarters in Hong Kong. The company offers a wide range of design, engineering, manufacturing, and supply chain support services for electronic and electro-mechanical products.
Valuetronics has a dividend policy of paying out 30% to 50% of its net profit after tax as ordinary dividends. It has also been paying consistent dividends from FY2008 to FY2019 (the company has a 31st March year-end), as seen from the chart below:
Valuetronics can pay regular dividends due to the copious amounts of free cash flow that it generates.
For example, in 2015, it generated HK$146.6 million in free cash flow, but that has swelled to HK$357 million in 2019. Together with the increase in free cash flow, total dividend per share improved from 20 HK cents in 2015 to 25 HK cents in 2019 (including special dividend). For 2019, inclusive of special dividend, its dividend payout ratio was a conservative 54%. 
As of end-September 2019, Valuetronics had S$1.03 billion in cash balance with no debt.
At Valuetronics' share price of S$0.76, it has a PE ratio of 9 and a dividend yield of 5.9% (including special dividend).
Company #3: VICOM 
VICOM Limited (SGX: V01) is a provider of technical testing and inspection services largely in Singapore. VICOM has around 70% market share in the vehicle testing business in our country.
Just like HRnetGroup and Valuetronics, VICOM's balance sheet is rock-solid. As of 30 September 2019, VICOM had S$85.0 million in cash balance with zero bank borrowings.  
Shareholders would be delighted to note that VICOM's total dividend from 2014 to 2018 had grown by 68% in all. 
| | 2014 | 2015 | 2016 | 2017 | 2018 |
| --- | --- | --- | --- | --- | --- |
| Net profit (S$' million) | 30.1 | 31.4 | 28.2 | 26.5 | 34.7* |
| Free cash flow (S$' million) | 32.7 | 32.6 | 29.2 | 28.9 | 3.9 |
| Total dividend per share (Singapore cents) | 27.00 | 28.50 | 26.50 | 36.00 | 45.25 |
| Dividend payout ratio | 79.4% | 80.4% | 83.4% | 120.4% | 115.6% |
| Net cash position (S$' million) | 91.0 | 100.1 | 105.7 | 107.5 | 104.1 |
*Note: Net profit in 2018 includes one-off property gain of S$7.7 million 
We can see from the table above that VICOM's dividend payout ratio has been above 100% each in 2017 and 2018. To explain the rationale, let's turn to VICOM's 2018 annual report. In it, the company's chairman said (emphases are mine):
"Though the present dividend policy is to distribute 90% of our profits, the Board of Directors decided to maintain its 2017's practice of paying out 120% of its profits for 2018. … This dividend payout reflects my earlier remarks in the past AGMs that so long as we do not need the extra cash, we shall return it to the Shareholders."
It looks like VICOM doesn't see a need for the extra cash on its balance sheet, and that it feels it's better to pay them to shareholders as dividends.
In 2018, free cash flow fell drastically as VICOM spent money to purchase a new property at Bukit Batok for its non-vehicular testing business. This is not a regular occurrence.
Over the years, net profit has also been falling due to low business volumes. However, things seem to be improving of late.
For the nine months ended 30 September 2019, net profit grew 5.4% year-on-year while free cash flow surged 44% year-on-year. In its outlook statement, VICOM commented that "[w]ith more older cars on the road, the demand for vehicle inspection is expected to remain strong."
At VICOM's share price of S$7.65, it has a PE ratio of 19 and a dividend yield of 6% (including special dividend).
Want To Discuss Further?
Why not check out Seedly's QnA and participate in the discussion surrounding Singapore stocks like VICOM Limited (SGX: V01) and many more!
Disclaimer: The information provided by Seedly serves as an educational piece and is not intended to be personalised investment advice. ​Readers should always do their own due diligence and consider their financial goals before investing in any stock. The writer has a vested interest in some of the companies mentioned.
About Sudhan P
It isn't fair competition when only one company in the world makes Monopoly. But I love investing in monopolies. Before joining the Seedly hood, I had the chance to co-author a Singapore-themed investment book – "Invest Lah! The Average Joe's Guide To Investing" – and work at The Motley Fool Singapore as an
analyst
.
You can contribute your thoughts like Sudhan P
here.