Your 60-Second Guide To SATS Ltd (SGX: S58) Shares
In this series, we will feature one Singapore-listed company each time as a quick guide to everything you should know about it in 60 seconds.
In this instalment, we have SATS Ltd (SGX: S58). Previously, we featured Mapletree Commercial Trust (SGX: N2IU), the owner of VivoCity and a few other properties.
What's SATS Ltd's Business About? 
SATS provides food solutions and gateway services solutions, mainly to the aviation industry. 
The food solutions segment provides in-flight catering and institutional catering, among other things. Meanwhile, the gateway services division offers services such as ground and cargo handling, passenger and security services, and baggage handling services. 
SATS Ltd's Financial Highlights 
SATS has seen some growth from FY2014-15 to FY2018-19 (the company has a 31 March year-end):
FY2014-15
FY2015-16
FY2016-17
FY2017-18
FY2018-19
Total revenue
(S$' million)
1,753.2
1,698.2
1,729.4
1,724.6
1,828.0
Share of results of associates/joint ventures, net of tax
(S$' million)
48.1
48.0
65.2
71.2
58.9
Profit attributable to shareholders
(S$' million)
195.7
220.6
257.9
261.5
248.4
Underlying net profit
(S$' million)
195.9
218.1
234.3
236.1
241.4
Net margin (%)
10.9
12.9
15.1
15.4
14.0
Total revenue climbed from S$1.75 billion in FY2014-15 to S$1.83 billion in FY2018-19, translating to an annualised growth rate of just 1% over the last five years. The slow growth in its top-line signifies that SATS is a mature business.
Meanwhile, its net profit grew around 6% per annum, from S$195.7 million to S$248.4 million. The increase can be mainly attributed to the growth in its associates and joint ventures and higher efficiency through technology.
The technological efficiency can be seen from SATS' increasing net margin over the years.
SATS Ltd's Dividend History
SATS has rewarded shareholders well in the last couple of years with growing dividends of around 8% per year.
Total dividend per share
(Singapore cents)
FY2014-15
14.0
FY2015-16
15.0
FY2016-17
17.0
FY2017-18
18.0
FY2018-19
19.0
SATS said in its latest annual report that it "targets to provide sustainable dividend payouts that take into account cash flow generation and balance sheet strength, along with projected capital requirements and investments".
Major Risk For SATS Ltd To Take Note Of
From the slow top-line increase, it looks like SATS has to do more to grow its business.
On that front, SATS has earmarked S$1 billion to invest in growth initiatives over the next couple of years. The amount is huge at around four times its annual net profit. There's an opportunity cost involved if the investments don't pay off.
SATS Ltd's Share Price And Valuation
From early 2015 to late 2019, SATS' share price has gone up around 66% in all, which is very commendable.
The return is, of course, not including the dividends shareholders would have received over the years.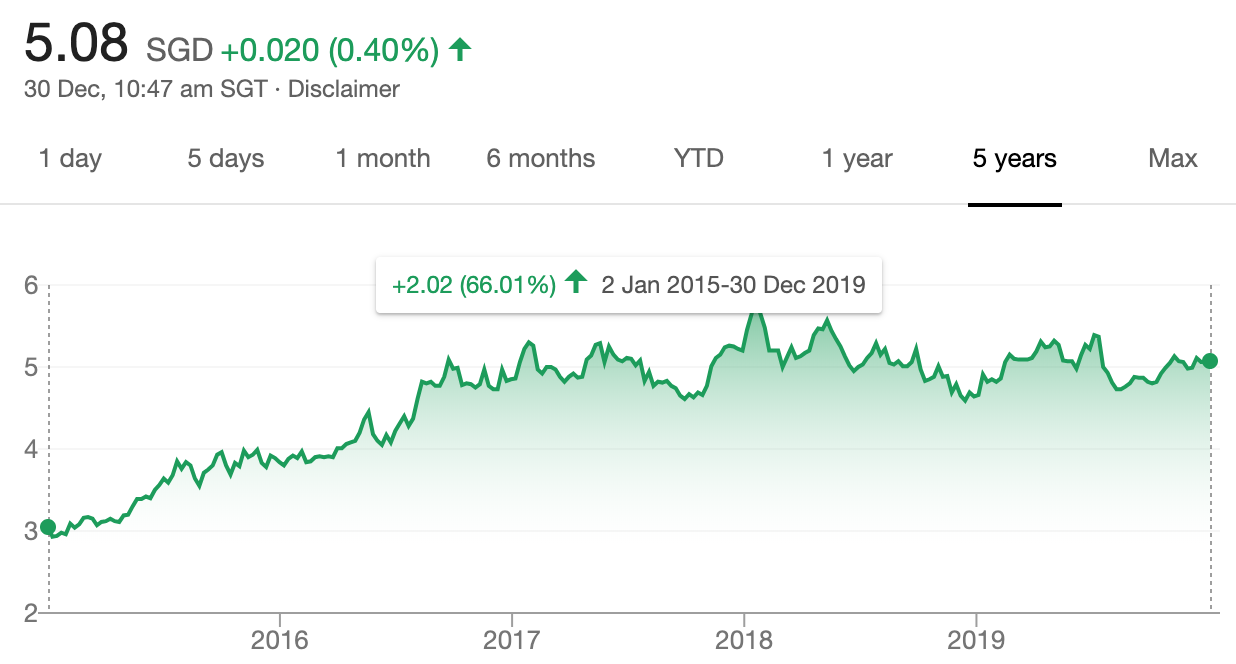 At its share price of S$5.08, SATS has a price-to-earnings (PE) ratio of 24 and a dividend yield of 3.7%.
In comparison, the SPDR STI ETF (SGX: ES3) has a PE ratio of around 12, suggesting that SATS is currently overvalued. The STI ETF can be taken as a proxy for the Straits Times Index.
Want to discuss further?
Why not check out Seedly's QnA and participate in the discussion surrounding stocks like SATS Ltd (SGX: S58) and many more! 
Disclaimer: The information provided by Seedly serves as an educational piece and is not intended to be personalised investment advice. ​Readers should always do their own due diligence and consider their financial goals before investing in any stock. The writer may have a vested interest in the company mentioned. 
About Sudhan P
It isn't fair competition when only one company in the world makes Monopoly. But I love investing in monopolies. Before joining the Seedly hood, I had the chance to co-author a Singapore-themed investment book – "Invest Lah! The Average Joe's Guide To Investing" – and work at The Motley Fool Singapore as an
analyst
.
You can contribute your thoughts like Sudhan P
here.