OCBC Phishing Scam
The dust for the recent OCBC phishing scams has yet to settle and we are looking at a new format of scams.
Before you dismiss this article, thinking that this is just another piece of article for the 'boomers', we suggest you hold that thought.
You see.
The recent OCBC phishing scam cases span across various age groups. Tech-savvy younger individuals made up part of the demographic of the victims.
In fact, people with higher average screen time is easier to fall prey to the techniques of these scammers, simply because we are constantly in touch with the platforms which they operate in.
" Our dependence on technology will eventually lead to the death of humanity our money."
With the battle against these unethical scammers ever ongoing, it is important that we educate Singaporeans to not fall prey to these scams.
---
A New Type of Scam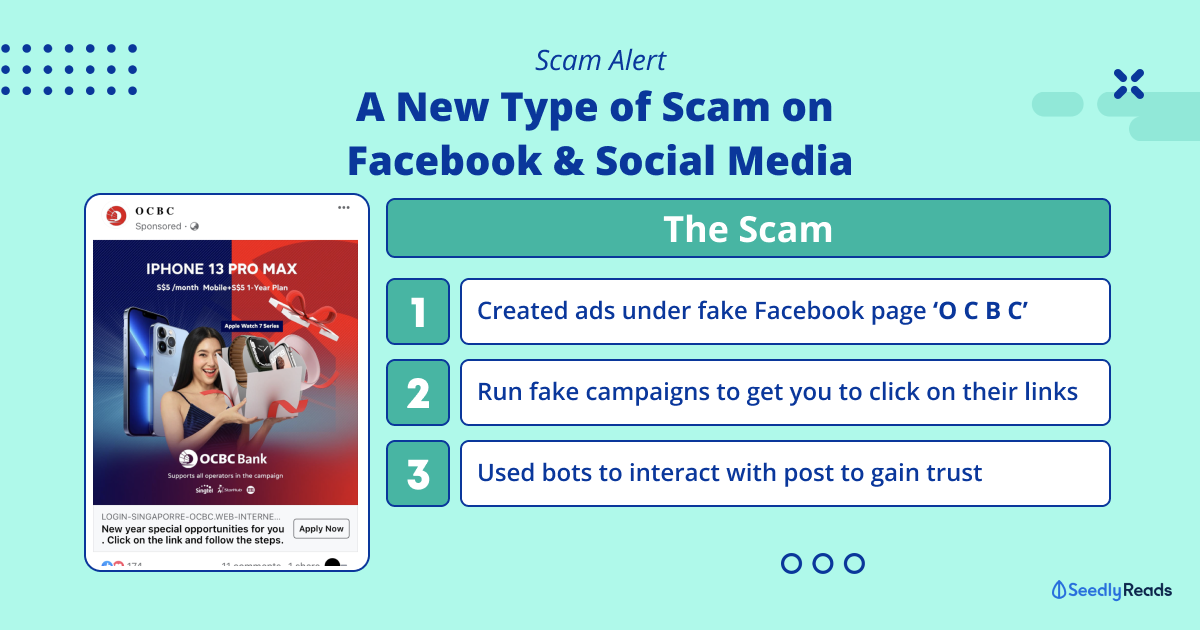 Just sometime today, we noticed a new form of scam going around on Facebook.
Here's how the scam is being carried out:
Scammers create a paid ad using brands that are familiar to Singaporeans.
(In this case, they used 'O C B C' to imitate OCBC bank which is a well-known brand to most Singaporeans)
These ads made use of professional and aesthetic artwork, coupled with attractive promotions or giveaways to grab your attention.
These scammers also adopted paid marketing strategy to disseminate the link to the public.
In order to gain the trust of their victims, these scammers even planted comments to make their ads appear convincing.
How Can We Prevent Falling Victim to These Scams?
Well, the general basis of every scam remains the same, "if something sounds too good to be true, it probably is".
With the recent OCBC scam, we learnt that there are a few ways to spot phishing scams.
Characteristics of Phishing Scams
What you need to know?
More details
What are the scammers usually after?
Password
Bank pin
Financial information
Identity
Money
Cryptocurrency
What to watch out for?
Spelling and grammar errors

Check to see if the sender address, number, email, Facebook page belongs to that of the official organisation.

Deals that sound too good to be true
Beware of unsolicited messages
Links

Attachments

Login websites or pages
Some other characteristics involved
The scammer tend to be trying to get you to provide information or execute an action urgently.
On top of that, for verified Facebook or Instagram pages of organisations such as DBS, OCBC, The Straits Times, there is usually a 'blue tick' to prove that it is the official page.

Also, if you are not sure if the link, promotion or information is accurate, always reach out to the customer service of the organisation to verify before transferring any money or cryptocurrency.
Again, if something sounds too good to be true, it probably is.
Let us all work together to prevent these scammers from getting their way.
About Ming Feng
A stint in
Bloomberg
gifted me with a beer belly, which only grew larger when I moved on to become a Professional Trader. Now I turn caffeine into digestible finance-related content.
You can contribute your thoughts like Ming Feng
here.