An Aesthetically-pleasing Expense Tracker? SIGN ME UP! - Guide to Seedly Expense Tracker and FAQ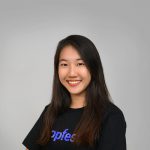 Ruth Lum
●
How do YOU keep track of your finances?
Some do it by drawing up an excel spreadsheet, while others, well, take a more guerilla Khong-Guan-biscuit-tin approach (if you know, you know). Risk free, and interest-free! 
Left Image Credit: irememberSG
It's about time you got a proper expense tracker. One that is
sleek and aesthetically pleasing
does all the calculations for you
sorts your spendings by smart categories
even lets you input foreign currency spendings while you travel?!
+++more!
The Seedly Expense Tracker (Free!)
Why we built it and why we're not ashamed to shout about it: This is one expense tracker that can help you reach a whole new level of financial knowledge and preparedness.
The Seedly app has been around for a while, and this is one of the biggest refreshes we've made to date.
Have a question about the app? Check out these FAQs!
1. Filter
Choose what you want to see
Filter all your transactions by Categories, Accounts, Date Range, and Sort By most or least spent.
Easily track rewards and cashback tiers
A feature that will satisfy you if you are someone who struggles to track all of your calendar month rewards and cashback tiers.
Say your credit card requires a minimum spend of $500/month on Entertainment.
All you have to do is:
Click on the filter button
Choose credit card calendar date
Choose 'Entertainment' category
Press 'Apply'
2. Create budgets for every type of expense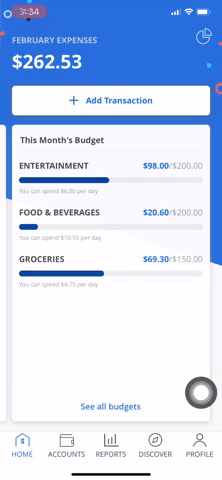 It's not enough to solely keep track of transactions that go in and out of your wallet. You could risk overspending in some categories, or simply be spending more than you should on certain things.
The budget function on the app lets you set monthly limits so you know exactly how much you have left for the month, calculated down to the day! This is great for people who shop way too much and wonder at the end of every month where all their money has gone to.
Whenever you exceed a budget, the bar turns red as a subconscious warning for you to take a rain check.
3. Swipe to compare – Month-on-month transaction comparisons
4. Keep track in travel currencies – Great for keeping track even in foreign countries
Say you're taking a trip overseas to Australia. Some people would either bring their cash to a money changer in Singapore to exchange it for AUD, while others may withdraw AUD from a local ATM there. Either way, you're going to have an overseas cash "wallet" which you can create in the app as shown.
Steps to create your own overseas wallet:
Click on "Add Account" in the Accounts tab
Choose "Cash" and enter wallet details
Here you can also change the currency from SGD to the relevant currency (AUD in this case)
Once wallet is created, add transactions on the go in AUD and the app will log it in in SGD for you
No more fumbling with calculations of changing currencies just to find out how much something costs in your home currency!
5. Syncing – read articles while waiting, it can sync in the background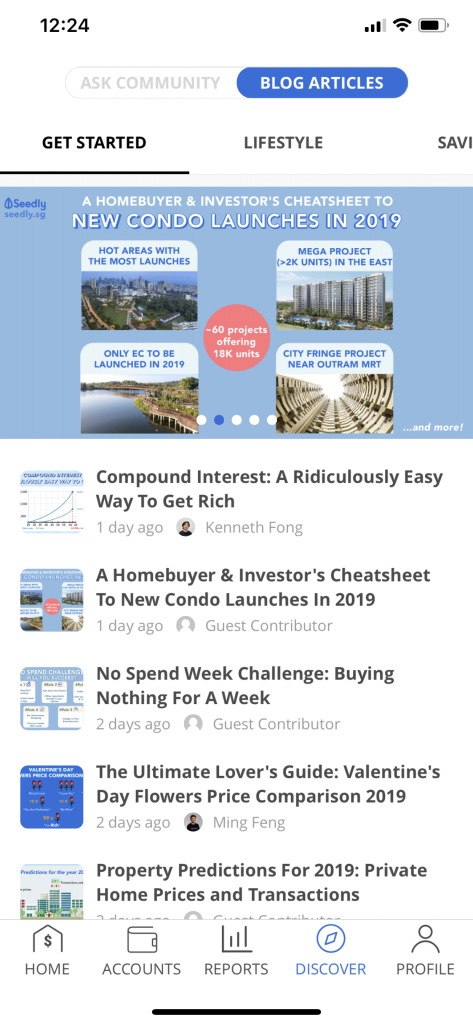 Syncing means making sure all your latest bank transactions show up on the Seedly app. It usually takes between 5 to 7mins. The good news is, you don't have to stare at the loading bar while waiting for sync to complete. You can now read personal finance articles or navigate through the app while waiting. Find these in the 'Discover' tab.
---

Frequently Asked Questions (FAQ)
I have trouble syncing my bank accounts in the app. What should I do?
While we try to make sure this does not ever happen, syncing issues arise from time to time. Please give it a few hours and re-try the syncing process again.
I am unable to sync my Standard Chartered Bank (SCB) account on Seedly.
Unfortunately, we have yet to come to an agreement with the bank. We promise you that we are continuing to work towards it so that our users can have the best experience on the app. Sorry for the inconvenience caused!
There are duplicated transactions showing up
The reason for duplicates is due to banks recently changing the description of certain transactions, and it hence shows up on your account as duplicates.
To help you understand this better, it's like copying from one notebook to another! When we open the bank's "notebook", our app registers the new description as a new entry instead of a change in entry, because all it sees are new things that are not imported.
Unfortunately, the only thing that can be done at this time is to manually erase the old info, so that it is "replaced" by the new transactions.
Can I change the currency of my banks and transactions within the app?
You can change the currency when adding a manual cash wallet in Seedly app. However, for your bank transactions, it is tied to the currency of the bank that you are transacting with.
Some/all of my past transactions are not showing up on the app
Firstly, are these 'missing' transactions showing up on your own iBanking app? Banks usually only show transactions from the past 3-6 months. However, the good news is that moving forward, as long as you sync regularly, the app will be able to show all your transactions.
a) Pending Transactions:
We apologise for the inconvenience caused by pending transactions. As the transactions are not finalised by the banks and merchants, we are unable edit it too. This is mainly dependent on how fast the bank approves the transactions.
b) Website vs App:
At the moment, the seedly.sg web app only supports logins from Facebook. The features on our web are slightly different from the Seedly Android/iPhone application.
Our web has a Community QnA, lots of loaded articles pertaining to personal finance, and a Reviews platform (where you get to leave reviews and ask/answer questions) whereas our Seedly app is a budgeting app.
We're looking to integrate all features into one app real soon. Stay tuned for that!
I would like to provide feedback for the app, how can I do so?
We love hearing suggestions and feedback because it helps us in our goal of becoming the most useful personal finance platform for everyone. Please drop us an email to [email protected] and we will be sharing it with the whole team.
How do I delete my Seedly account entirely?
We're sad to hear that the Seedly app no longer sparks joy for you. Did you make sure to hug it tight before deciding to remove it completely?
However, simply drop us an email to [email protected] with your account deletion request. Your account will be deleted within the next 24 hours.
Does the Seedly app spark joy for you? Leave us a 5-STAR review 🙂
Your feedback and reviews would really help us to reach out to more Singaporeans in our quest to become the best personal finance app possible. Simply leave a review on the iOS app store or Google play! You'll receive tons of virtual hugs in return.
---
We sincerely hope to help everyone make smarter financial decisions everyday! Happy budgeting!
About Ruth Lum
Breaking down 'chim' finance knowledge into manageable pieces so you don't have to.
You can contribute your thoughts like Ruth Lum
here.