How I Saved $360 On My Yearly Electricity Bill Using Seedly's Open Electricity Market Comparison Tool
If this is your reaction every time you look at your monthly electricity bill…
Or your parents' reaction – if you're not paying the bills yet (lucky you…).
Then that means that you're ready to make the switch over to an Open Electricity Market (OEM) electricity retailer!
So what would be the first thing that you do?
Go online to do a little research and compare electricity retailers to find which plan is the best electricity retailer plan for yourself?
Well… Pretty soon, you'll realise that:
You want an honest comparison tool that allows you to compare across ALL the various electricity plans including Non-Standard plans (not just Standard and Discount Off Regulated Tariff only)
You want to know at a glance what are the best deals and the hidden fees you should take note of
You want to know what credit card promos or promo codes are applicable so you can potentially save even more
You want real user reviews to help you make your decision – because let's face it, everybody also say that they're the best right…
And most importantly, you want to know how much YOU WILL SAVE if you make the switch!
You're probably thinking, "Got such a comparison tool meh…"
Ladies and gentlemen, feast your eyes on this:
Yep!
Here at Seedly, we've heard the people and that's why we built a Comparison Tool and combined it with real user reviews to help you decide which electricity plan is the best for you!
In fact, I used it myself and discovered that I could save as much as $360 per year!
---
Calculating Your Monthly Electricity Bill
For those of you who aren't paying the monthly utility bill yet, here's what the e-bill for SP Group looks like:
To find out how much I'm actually paying for electricity, I'd have to find out what the current SP Tariff rates (it's 25.92 cents per kWh, for 1 July to 31 September 2019) are and multiply it by my usage.
Frankly… that's just too much work. Ain't nobody got time fo dat.
But with the Seedly Comparison Tool, all I have to do is key in my usage in the "Electric Usage" field and I immediately know how much I'm paying for electricity with SP Group.
It turns out… it's $94 a month.
For those who're going, "Is that expensive?"
YES.
Contract Period
I'm not picky with my contract period so I left all the boxes unchecked.
But if you've got commitment issues, simple check the 'No Contract' box. Or any other periods which you're comfortable with. #nojudgement
Features
I don't mind that my electricity bill won't be in the same SP Group bill so I left the Same SP Bill option unchecked.
However, I would like access to a Self Service Portal as well as Mobile Tracking, so I can manage my bills on the go.
Credit Card Promos
There're many comparison sites out there in the market, but one of the coolest features of the Seedly Comparison Tool, is that it allows you to choose as many banks as you like (depending on which card or cards you have) to see what kind of credit card promos are applicable on your electricity plan!
For me, I only have the UOB One card, so UOB it is.
And voila!
I can immediately tell that if I used my UOB card and set up a recurring bill payment, I'll be getting up to 5% cashback!
Price Plan
As I'm thinking of switching to an Open Electricity Market retailer, I'm open to comparing ALL available plans to see which is the best for me. While most comparison sites only list Fixed Price Plans and Discount Off Regulated Tariff Plans, the Seedly Comparison Tool allows me to also compare them against Non-Standard Plans as well!
Retailers
In my search for the best electricity plan, I'm open to ALL retailers.
And since the Seedly Comparison Tool has ALL 12 retailers hosted on one platform for me to make my comparison, I'm assured that I don't need to do a separate comparison with any retailer that might be left out.
On top of that, I can even click on the various retailers and read real user reviews to get a more unbiased perspective with regard to things like the retailer's customer service, how easy is it to switch and etc.
Hidden Fees & Other Miscellaneous Charges
The other really neat thing about the Seedly Comparison Tool is that it also lets me know if there are hidden fees or things like:
Late Payment Fee
Admin Fees (as you can see for Union Power's "Fixed Saver 12" plan)
Early Termination Charges
Security Deposit
Paper Invoice
And even whether promos or referral codes are applicable (as you can see for Geneco's "Give Us A Try" plan)
Looks like I'll be going with iSwitch's "Chope The Rate 12m" plan since it's going to save me $29.50 a month if I switch…
More Details About The Electricity Retailer
When I click on "More Details", I see this: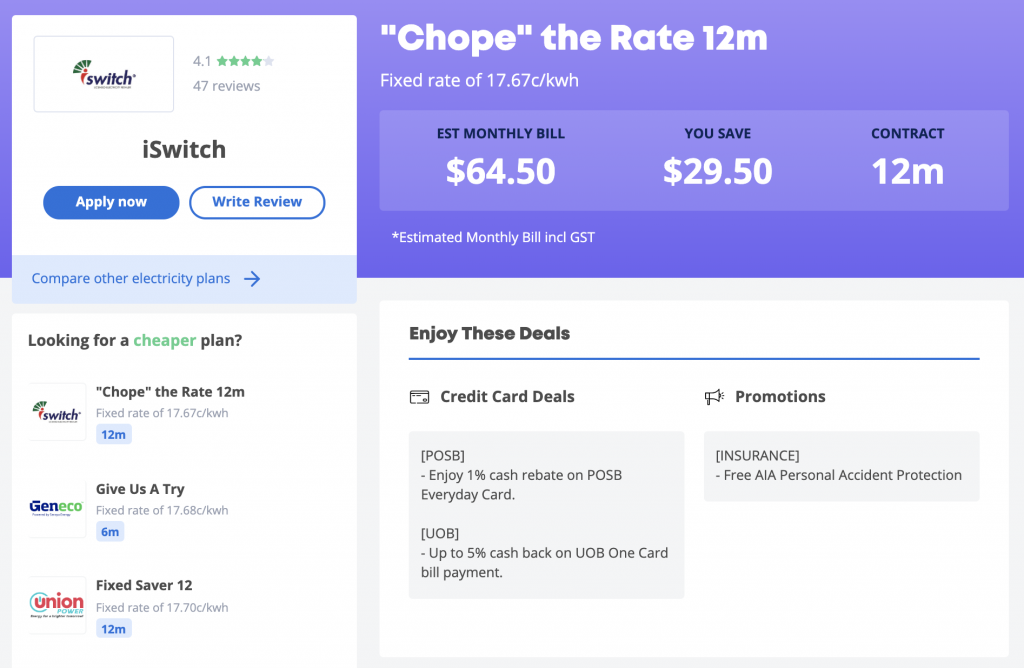 Besides seeing at a glance how much my estimated monthly bill will be with this electricity retailer, how much I would save as well as the contract length (if any).
It looks like I'll be getting perks like "Free AIA Personal Accident Protection" on top of the 5% cashback on my UOB One card bill payment!
And if I scroll down a bit more, it also shows me what Product Features are available and access to real user reviews again if I'd like to find out more about what other users have to say about the electricity retailer.
Got Any Doubts? Ask A Question And Get Answers!
And if I'm really not convinced or just need more information… I can simply head over to the Seedly QnA to ask the community there any questions I might have with regard to the Open Electricity Market or any electricity retailer for the matter.
---
How Seedly's Comparison Tool Helped Me Saved $360 A Year
If I'm going to save $29.50 a month just by switching to an open electricity market retailer, that actually works out to be $29.50 x 12 months = $354 or (that's almost $360 in savings just by making the switch)!
Free money leh… why don't want?
Give Seedly's Comparison Tool a whirl and see how much you'll stand to save if you make the switch.
All it takes is just a few clicks and you just might SAVE BIG on your next electricity bill…
I Want To Save Money On My Electricity Bill
Other Related Articles
Have you used the Seedly Comparison Tool yet? How much will you save if you made the switch? Let me know in the comments below!
About Kenneth Fong
I threw all of my money into the longkang once... because I wanted to see my
cash flow
.
You can contribute your thoughts like Kenneth Fong
here.