Missed the Seedly Personal Finance Festival 2022?
Don't kanchiong (Hokkien: worry).
As long as you're a Seedly community member AND a Seedly PFF 2022 ticket holder, you'll be able to enjoy 30-day access to all recorded content via Micepad, the platform that we hosted the festival on, from Wednesday, 27 April 2022 onwards.
Sign Up For A Free Seedly Account!
FYI: all recorded content will only be available till Friday, 27 May 2021, 11:59 PM. All content for SeedlyFest belongs to Seedly and may not be sold, reproduced, or distributed without our written permission.
Since we have so many stages and a staggering amount of content to go through.
It's best to start from the top.
Here are the highlights of SeedlyFest 2022 Day One!
---
TL;DR: Highlights from Seedly PFF 2022 Day 1
Before we get to the good stuff, we couldn't have pulled off SeedlyFest without the help of our sponsors and partners.
Here's who they are as well as some lobangs specially curated for you!
Platinum Sponsors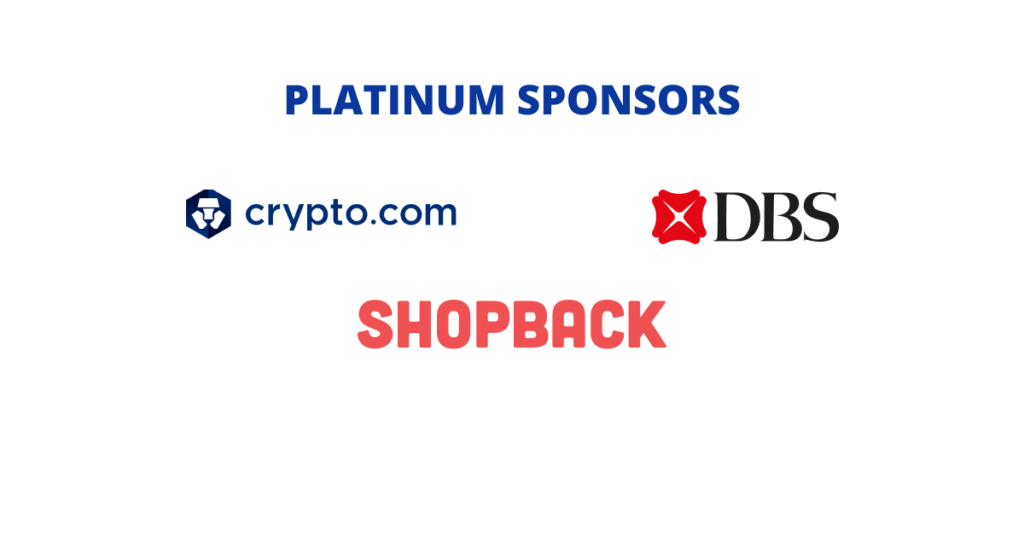 Sponsor
What They Are About
PFF Exclusive Deals

Crypto.com

Founded in 2016, Crypto.com serves over 10 million customers.

Crypto.com is built on a foundation of security, privacy and compliance and is the first cryptocurrency company in the world to have:
-ISO/IEC 27701:2019
-ISO22301:2019
-ISO27001:2013 &
-PCI:DSS 3.2.1, Level 1 compliance.

Plus the company is independently assessed at Tier 4, the highest level for both NIST Cybersecurity and Privacy Frameworks, as well as Service Organization Control (SOC) 2 compliance.
Find out more: https://crypto.com

DBS

DBS, your trusted personal finance partner.

As creators of digibanking, we've set to make your every interaction with us as seamless as possible. Be it savings, investing, payments, insurance, loans or wealth management, we've got all your bases covered with just two apps – digibank and DBS PayLah!

Enjoy trusted advice backed by a team of experts on how to track and manage your money, learn insights from our top investment experts when you invest or trade, and figure out insurance, home loans and all your financial planning needs in one place.

Whatever your financial goals are, we're here to help you reach them.
ProtectFirst (Promo period: 19 Apr – 30 Jun): 50% off first 2 years premium. Promo code: 50PFYA

CancerCare (Promo period: 1 Apr – 30 Jun): 35% off first year premium. Promo code: 35CC6

RetireSavvy (Promo period 1 Apr – 16 May): S$120 Cash Reward. Promo code: RSCASH2

Young Investors Account:
-Available for 18 - 25 years old, individual online accounts
-Flat commission fee for all markets (excluding market charges)
-No custody fee (S$2 per counter for foreign shares)

ShopBack

Better Shopping, Every Day.

The ShopBack Group is Asia-Pacific's leading shopping and rewards platform, serving over 30 million shoppers across ten markets. Growing from a team of six back in 2014 to over seven hundred today, ShopBackers across the region come together with a singular mission: to make shopping rewarding, delightful, and accessible for all.

By joining forces with leading Buy Now, Pay Later (BNPL) player hoolah and with the launch of ShopBack Pay, the Group now also offers shoppers responsible and convenient payment options at checkout.

More than half a billion shopping trips start with ShopBack each year. The Group powers over US$3.5 billion in annual sales for over 10,000 online and in-store merchant partners, across categories ranging from fashion, beauty, F&B, electronics, travel and more. ShopBack is continuously enhancing our suite of shopping services and solutions, to bring more value to our shoppers and merchant partners.
Download the ShopBack app and join our Telegram Channel ShopBack Moolah Savers for the latest deals and promotions.
Gold Sponsors
Sponsor
What They Are About
PFF Exclusive Deals
Income
Established in 1970, Income is an insurance co-operative and the leading composite insurer in Singapore offering life, health and general insurance.

But as today's financial needs become more complex and more unique, Income is evolving to work around the individual.

Their approach to financial planning is becoming more personalised and designed with the customer in mind. In order to better serve the protection, savings and investment needs of their customers, Income are also constantly innovating to reimagine our offerings so that we add value to people's lives while staying future-ready.
Get up to S$130 Investment Credits when you start SNACK Investment:

Complimentary $30 Investment Credits when you start SNACK Investment & 50% bonus Investment Credits for every dollar you invest, up to $100, when you sign up for SNACK.
Remember to apply referral code SPFF22 when creating a SNACK by Income account.
Download SNACK by Income here.

Promo T&Cs apply: ntucinco.me/spff22-tnc | Important notes: ntucinco.me/si-in

Get $30 GrabFood vouchers when you speak with an Income Advisor:

Book a 30 minute financial review with an Income Advisor from the comfort of your own home and receive a $30 GrabFood gift from us. Zero commitment is required.

Speak with an Income advisor now
T&Cs apply: https://ntucinco.me/3KzKRkd

Protected up to specified limits by SDIC. This advertisement has not been reviewed by the Monetary Authority of Singapore.
moomoo (Futu Singapore)
moomoo (Futu SG), with a Seedly rating of 4.2 stars out of 5, is the first global digital brokerage with access to multiple markets, to offer no fees*, including lifetime $0 commission on US stocks. The moomoo app combines technology and on-the-go trading platform, which helps to enhance your overall trading experience.

moomoo is your one-stop Asia's Award-Winning investment platform where you have everything you need to know for your next trade. Enjoy a wide array of product offerings from powerful, in-depth, and customised analytics tools to free learning courses, centralised information, an 18 million strong global community to connect with, and 24-hour customer service available on trading days.

The moomoo investing platform strikes a delicate balance between offering a user-friendly, digital-first interface as well as advanced tech-driven product features, thus filling the market gap between incumbents from traditional financial institutions and online brokerages. Futu SG is a subsidiary of NASDAQ-listed Futu Holdings, a company backed by Tencent.

Kickstart your investment journey with super-trading app, moomoo, today.
Welcome Bundle worth up to S$1,000 (Promo period 13 Apr - 30 June): Trade freely with no fees* for the US market and receive a sure-win stock which includes a Tesla stock!

Refer & be rewarded with NIO shares (Promo period 9 Mar - 31 July): Successfully invite your friends to join moomoo and be rewarded* with a NIO share (worth ~S$23) & 90 days commission-free trading card for HK & SG stock market, no capped!

Transfer-in Reward worth up to S$3,500 (Promo period: 1 Apr - 30 Apr): Transfer-in your US, SG & HK positions/shares into Futu SG via moomoo app and be rewarded* as much as an iPhone 13 or 1 Google stock!
PropsperUs by CGS-CIMB
ProsperUs was "born" in Nov 2020, with the brand name a deliberate play on the words "prosperous" and "prosper with us". It embodies our investing ethos of building long-term sustainable wealth. As we millennials like to say, FIRE "Financial Independence, Retire Early".

Our purpose statement is "driving individuals and communities to make better investment decisions for a sustainable future" and this leads to our commitment to bring investor education to the forefront of ProsperUs and everything that we do. Come join us on this new journey towards a more ProsperUs future!

Check us out at www.prosperus.asia for more information.
Earn S$150 cash credits when you open a ProsperUs Account with the promo code SEEDLY150:
-Sign up here
-T&Cs here
Singlife with Aviva
We are Singlife with Aviva, A Better Way to Financial Freedom.

Formed by the merger of Singlife and Aviva Singapore on 1 Jan 2022, we want to give you control over your financial wellbeing at every stage of your life.

Travelling soon under the vaccinated travel framework? Check out our travel insurance plans.

Or our car insurance plans, if you are looking for a new insurer.

Singlife Savvy Invest  - allows you to diversify your portfolio and boost your finances.

But we are more than just an insurer. We offer investment solutions through our dollarDEX and Navigator platforms.

Singlife Account – with a Singlife Debit Card – allows you to save, spend, earn and be insured all in one app.
N.A.
Singtel Dash
All-in-one mobile wallet that lets you pay, remit, save, invest and insure from one app. Home to: Dash PET, UOBAM Robo-Invest.
Free 1,000 Dash Points: Opt in (bit.ly/dashpff) and get 1,000 Dash reward points minimally.

️Dash Pet By Etiqa Insurance Promo:
Save better at 1.5%* p.a. returns for your first S$10,000 in this insurance savings plan, capital guaranteed with no lock-in period! Protect, Earn, Transact with Dash PET now.
-Get S$12 cashback into your Dash wallet
-Sign up and save S$5,000 or more from 23 April 2022 to 31 May 2022 to qualify
-Terms: https://bit.ly/dashpetseedlyfesttc
-Opt in to lock in this offer
-More about Dash PET: dash.com.sg/dashpet

UOBAM Robo-Invest Promo:
Get institutional-grade financial advice from this new robo-adviser, brought to you by UOB Asset Management.
-Get S$20 worth of credits into your UOBAM Robo-Invest account. Bonus 1,000 Dash reward points if you're a Singtel Mobile customer
-Top up Fresh funds of S$300 or more from 23 April 2022 to 31 May 2022 and maintain the topped up account value for 90 days to qualify
-GET A GOLD COIN WORTH $160 📀 Top up min. S$3,000 Fresh funds from 23 April 2022 to 31 May 2022!
-Terms: https://bit.ly/dashroboseedlyfesttc
-Opt in to lock in this offer
-More about UOBAM Robo-Invest: dash.com.sg/robo

ZIP (Buy Now, Pay Later) Promo:
Get what you want, now. Enjoy 0% interest payments across 4 instalments. Simple!
100 Dash reward points
-Sign up for your Zip account via Singtel Dash app, NO PURCHASE NEEDED
-Points will be credited to your active Dash Rewards account by 30 June 2022
-Opt in to lock in this offer
-More about Zip: dash.com.sg/paylater
*For the first policy year, 1.30% p.a. up to S$10,000 and 0.30% p.a. for subsequent amount in Account Value. Crediting rates are non-guaranteed. Additional 0.2% p.a. to the existing 1.3% p.a. returns for your first S$10,000 Dash PET savings during the first policy year while the complimentary protection is active.
Terms apply. Visit dash.com.sg/dashpet for full terms. This policy is underwritten by Etiqa Insurance Pte. Ltd. (Company Reg. No. 201331905K). Protected up to specified limits by SDIC.
Click to Teleport:
---
Building Our Economy, Seizing Opportunities
Format: Keynote & Fireside Chat
Speaker(s):
Alvin Tan, Minister of State, Ministry of Culture, Community and Youth & Ministry of Trade and Industry &
Kenneth Lou, Co-founder & CEO, Seedly (Moderator).
What to expect:
What's Singapore's long-term economic outlook? How will Singapore remain competitive?
What does this mean for everyday Singaporeans?
How can Singaporeans better prepare themselves for what is to come?
Investing Themes In The Year 2022
Format: Keynote
Speaker(s):
Cathie Wood Chief Executive Officer (CEO) and Chief Investment Officer (CIO) of Ark Invest.
Kenneth Lou, Co-founder & CEO, Seedly (Moderator).
What to expect:
What are the key investment themes for 2022?
How should investors allocate their portfolio strategy accordingly?
Which sectors are the possible winners and losers in 2022?
Managing Your Investments In Turbulent Times
Format: Keynote
Speaker(s):
Wey Fook Hou, Chief Investment Officer (CIO), DBS Bank.
What to expect:
What is happening with the markets today?
How does it affect you as a retail investor with inflation concerns, international wars and conflicts?
What are the bright spots that investors should be watching in 2022?
Optimising Your Investment Portfolio For The Year 2022
Format: Panel
Speakers(s):
Gavin Chia, managing Director, Futu Singapore, moomoo trading app
Kel Vin Tan, Youtuber, Kelvin Learns Investing
Calvin Neo, ETF Business Development Director, Nikko Asset Management Group
Yeap Ming Feng, Head of Marketing, Seedly (Moderator)
What to expect:
How do you recover from a 'RED' loss-making portfolio?
What are signs you should look out for to cut losses OR hold on to 'loss-making' stocks?
How can you build a well-diversified portfolio?
ESG & Sustainability Investing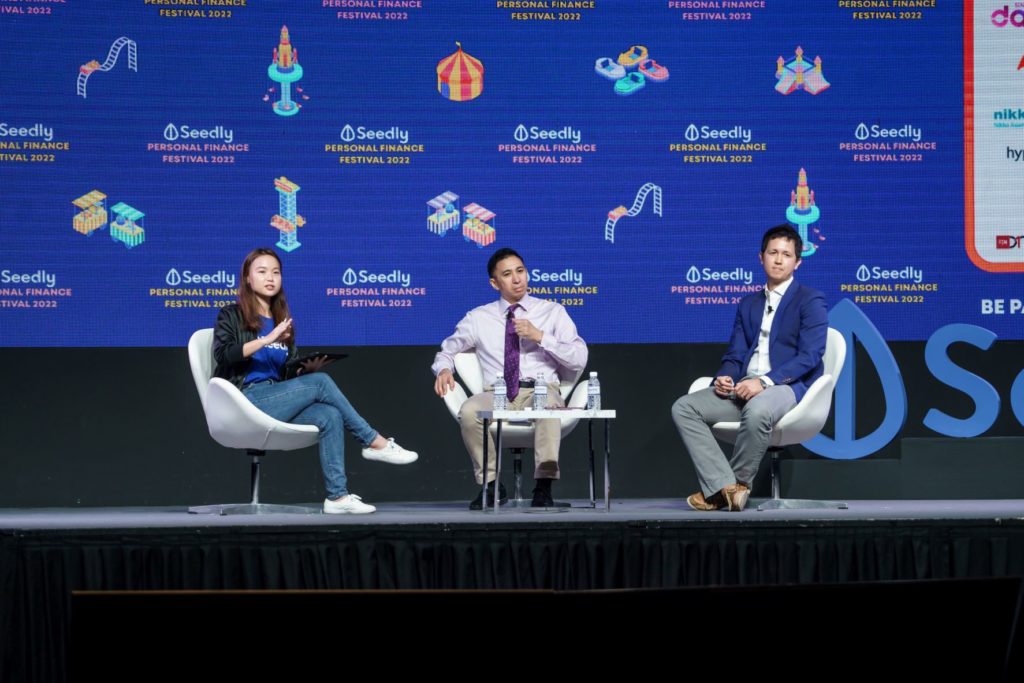 Format: Panel
Speakers(s):
Tim Phillips Head of Content & Investment Lead, ProsperUs
Dave Fernandez Director, SMU Sim Kee Boon Institute for Financial Economics & Co-Director, Singapore Green Finance Centre
Neo Hui Juan, Content Strategist, Seedly (Moderator).
What to expect:
What is ESG investing, and how is it relevant to you?
How should we evaluate our portfolio when it comes to investing in sustainability?
What are the methods Singaporeans can invest in ESG today?
Insurance: Bridging The Protection Gap In Singapore
Format: Panel
Speakers(s):
Koh Wei Lee, CEO, Singlife Financial Advisers
Tan Chuan How, Chief Agency Officer, Income
Gilbert Chuah, Chief Executive, Singtel Dash
Thomas Kapeller, Group Head of Insurance, Hyphen Group (Moderator).
What to expect:
Are Singaporeans sufficiently insured today?
What are the common insurance mistakes Singaporeans make?
How do you make the best decisions regarding purchasing insurance policies?
Tips & Tricks Of Financial Planning & Maximising Your CPF
Format: Fireside Chat
Speakers(s):
Tang Lee Huat, Chief Financial Officer, Central Provident Fund Board (CPF)
Joel Koh, Content Strategist, Seedly (Moderator).
What to expect:
Should you invest your CPF money?
Why does the retirement sum keep increasing?
How much CPF do you need for your desired retirement?
How can Singaporeans maximise their CPF money?
Achieving Financial Independence (FI) Early
Format: Keynote
Speaker(s):
He Ruiming, The Woke Salaryman
Wei Choon, The Woke Salaryman.
What to expect:
What is Financial Independence, and how is it relevant to you?
How long does it typically take to achieve financial independence?
What are the steps to get there as fast as possible?
About Joel Koh
History student turned
writer
at Seedly. Before you ask, not a teacher. I hope to help people make better financial decisions and not let money control them.
You can contribute your thoughts like Joel Koh
here.