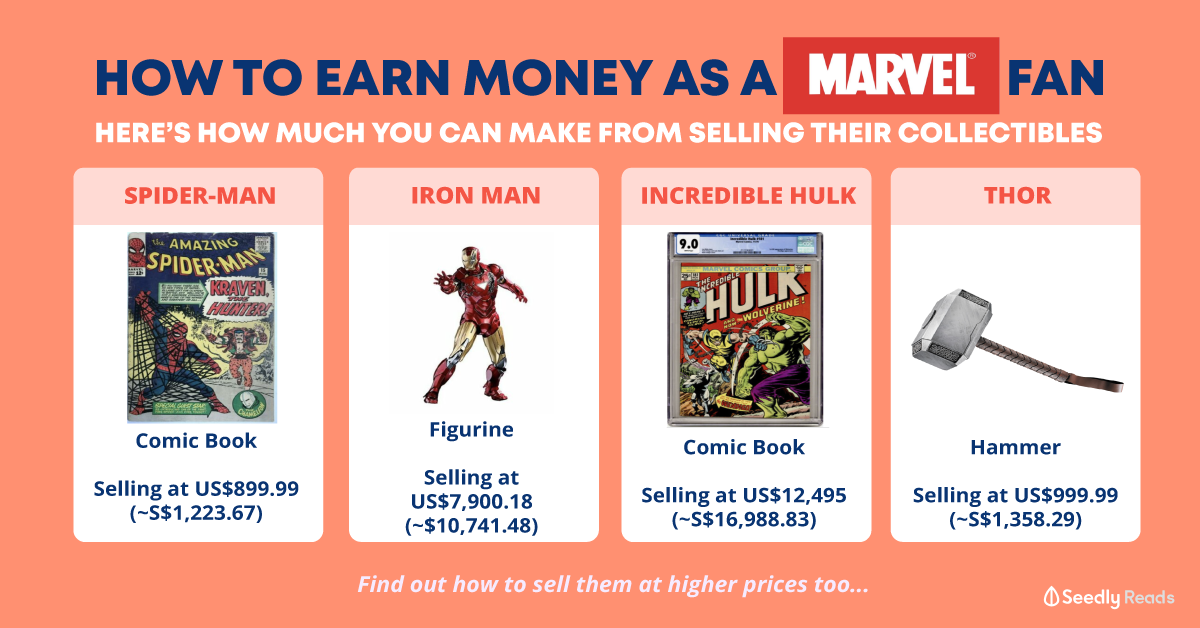 Are You a Marvel Fan? Here's How Much You Can Make From Selling Its Collectibles
Ever heard of Infinity Stones?
Or the phrase "Wakanda forever."?
If you know what they mean, it probably means that you're exposed to one of the biggest fictional worlds.
Yes, I'm referring to the Marvel world.
Which isn't surprising given how far the Marvel fever has spreaded over the years.
In fact, this popularity could be seen from the salaries of Marvel actors, like how our favourite Iron Man, Robert Downey Jr. earned $500,000 for the first Iron Man film back in 2008 and is reportedly raking $20 million 10 years later for 2019's Avengers: Endgame.
If only our investments had such growth too…
(Though Marvel fans probably got excited when it was acquired by Disney.)
To be honest, I was only exposed to the Marvel Cinematic Universe in recent years.
But you've been a die-hard fan of Marvel and have been following it since the beginning, you might have collected some of its goodies, such as comic books or figurines.
If you're one of such fans, good news to you!
You might be a bit richer if you're willing to part with some of these goodies that you own.
So if you're someone who feels that it's time to move on from these collectibles, or feel like you've outgrown them, this might be a good outlet to make some cash. 😉
I Don't Want To Sell My Collectibles. Can I Still Earn Money?
Some of us might not feel happy selling their collectibles away due to sentimental reasons.
If you've started to treat your collectibles as family, you might be ultra reluctant to sell them just to make a few quick bucks.
Fret not!
There are people actually making money from buying and selling old collectibles on online platforms such as eBay.
Being an enthusiast would give you an upper edge as you'd already be armed with extensive Marvel knowledge.
In fact, some people have turned it into a profitable side job.
Here are some tips by seasoned resellers on how to go about doing it:
Consider buying collectibles that are easily worn out. This can be common popular collectibles. There's a possibility of selling it for a much higher price if it's in mint condition, after keeping for a period of time.
Try to avoid limited editions, as you might be stuck with a rare toy, and the 'limited edition' label is sometimes used as a marketing ploy.
Keep in mind that there might be a situation where you won't be able to sell these collectibles, so make sure that they are items which still give you inner satisfaction that's worth more than the price you've purchased it at.
What Are Some Marvel Characters That Can Fetch Money?
The Marvel Universe is huge.
And it all began with comics.
If you have comics laying around, something you might want to take note of is their Certified Guaranty Company (CGC) grading.
It is a grading system that appraises the quality of the comics, where 10 would represent no evidence of defects, and 0.5 being one with major defects.
Why is that important?
Having such grading would make the comic easier to resell, as it provides an impartial way of authenticating them.
While the main CGC website doesn't seem to mention any CGC authorized dealers in Singapore, a quick search on Carousell shows a few listings of such dealers.
So please do your own diligence if you're planning to engage such services!
The good thing about Marvel is how universal it is.
This means that you can look at international platforms like eBay or Amazon for a wider base of customers.
Now, let's take a look at how much money some of these characters can fetch.
Spider-Man
Spider-Man comics are VERY popular, so let's take a look at some of its prices.
If you happen to be VERY lucky to own a copy signed by Stan Lee, you might not bear to sell it lah.
But if I am able to sell one and clear 2/3 of my HDB loan at one shot… I might think about it.
(TBH, the shipping fee seems rather intimidating too.)
For an unsigned copy, this edition can sell for US$899.99, which is approximately S$1,223.67.
This states that it's 1st App., which refers to the character's first appearance (which speaks of its age for sure).
Another one with 1st App. of Lizard, selling for US$1,138.65 (~S$1,548.17).
So the general rule of thumb would be – the older, the better!
Iron Man
Now, moving on to well-loved Tony Stark.
Do you own any of such cool Iron Man figurines?
If you do, you might just be US$7,900.18 (~$10,741.48) richer.
Even an Iron Man-themed phone can fetch you US$5,131.32 (~S$6,976.80).
Who knew phones could cross the 5-digit mark?
Amazing.
Incredible Hulk
One of the key issues of the series of Incredible Hulk comics would be Issue 180.
This is because that was when another key figure, Wolverine made his first cameo.
Because of this, items surrounding Issue 180 (as well as 181) would usually fetch great prices.
Let's take a look.
The First Wolverine Trilogy Set goes for US$12,495 (S$16,988.83).
Thor
Now, our handsome God of Thunder and Lightning (and son of Odin~).
Owning this macho figurine might potentially fetch you US$2,125.09 (S$2,889.38).
Or you can target potential fans who wish to be as strong as Thor, and sell this hammer to them at US$999 (S$1,358.29).
There are many other characters in the Marvel Universe, but you get our drift.
Tips on Getting Higher Prices for Old Collectibles
1. Keep them in pristine condition
This might sound duh, but when your collectibles are kept in a great condition (even better, sealed in a box), this would help greatly in the toy's value.
Collectibles in their original packaging bring the highest bids and cards and comic books preserved in mint condition is always precious.
2. Understand the importance of keywords
When it comes to selling your old collectibles online, it is important to make sure that your product listing contains all the important keywords to make it more easily searchable by others.
3. Research on its value
Try to find out the value of your collectibles to get a better gauge on how to price it.
A useful place would be browsing through the sold listings of online platforms, to find how much similar items were priced before they were successfully sold.
---
Making Money From Collectibles: Potential Side Hustle Idea?
There are so many ways to make money these days, including selling our collectibles that may no longer 'spark joy' in us.
So why not take a look at making your interest into a potential way of making money?
If you need any ideas on what are some other ways to hustle, do drop by our SeedlyCommunity and ask away!
About Xue Miao
A
millennial
who is learning to adult. She doesn't believe in the rat race and hopes to live on a farm someday.
You can contribute your thoughts like Xue Miao
here.