How to Order Coffee (Kopi) in Singapore Like Locals & Differences in Prices
If you work in the Central Business District, you would likely come across coffee shops such as Starbucks.
And before you know it, you've already spent $6.90 on an Iced Caffè Latte before heading back to your office.
How much are you spending on coffee, really?
But there's always a cheaper alternative nearby – local coffee that's brewed in hawker centers.
Contrary to the fancy western coffee joints that commonly use Arabica beans, coffee brewed using Robusta beans in hawker centers is significantly cheaper.
That said, have you ever stopped to wonder why there's a price difference between a cup of Kopi-O and Kopi-C?
---
TL;DR: Guide to Ordering Kopi or Teh in Singapore and Why There's a Difference in Price
Click here to jump:
Disclaimer: This article is not sponsored by Yakun, Toast Box, or any coffee joints mentioned. Prices reflected are accurate as of 13 December 2022.
---
Difference Between Kopi O, Kopi C, Kopi O Kosong, Kopi Siew Dai etc.
It's not a surprise that the price of coffee and tea has increased because of inflation…
One cup of Kopi C Ya Kun Kaya Toast Kopi O was $1.60 in 2020 and $1.80 now!
A quick look at the menu for Ya Kun Kaya Toast at the Metropolis on Grab, one will notice some of the price differences between each type of coffee: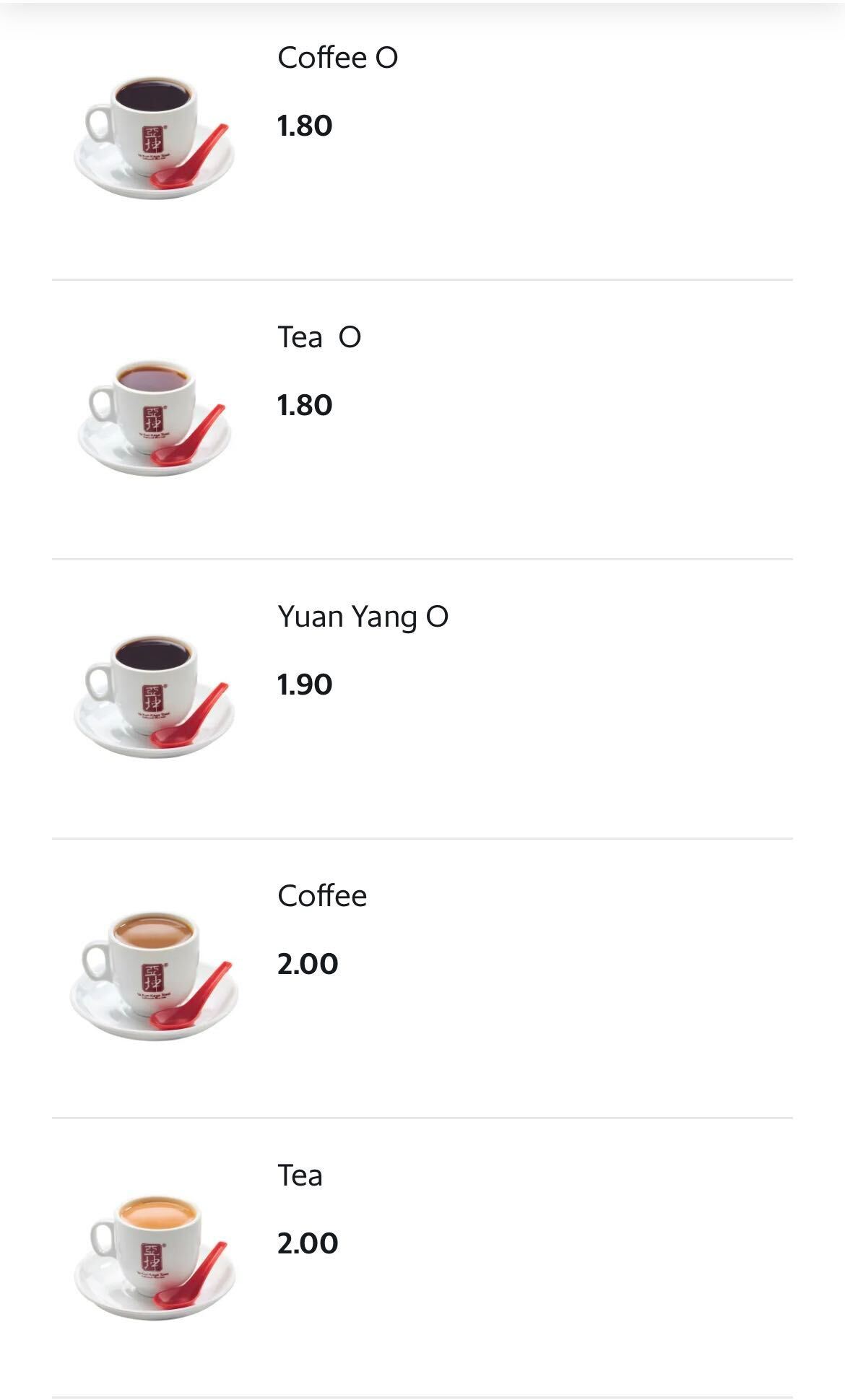 If you understand the ingredients used for each type of coffee, you can immediately guess why Kopi-O costs less than Kopi and Kopi C.
Generally, most coffee shops in Singapore follow this pricing hierarchy for each type of coffee.
Thus we did a breakdown of what makes up every cup of your Kopi to understand the difference in the price better.
Ordering Coffee in Singapore
Ordering Kopi in Singapore is an art.
While it seems difficult to understand at first, it is really easy once you get the hang of it.
These are Hokkien terms that we use, and a combination of these terms can affect the type of coffee you get.
Here's the meaning of each term:
Terms
Meaning
Kopi
Coffee
Teh
Tea
Kosong
No sugar
Gau
Strong
Po
Weaker/ Thinner
Siew Dai
Less Sweet
Gah Dai
Sweeter
C
Use Evaporated milk instead of condense milk
Peng
With ice
Tiao He
"Fishing"
(To describe Chinese Tea, Teabag)
Di Lo
"Pour all the way"
(to describe Extra Thick)
With the combination, they form coffee orders catered to the taste and preference of each individual. Here's your ultimate coffee order guide:
Singaporean's Term
What it means?
(Ingredients)
Kopi-O
Black Coffee & sugar
Kopi-O Siew Dai
Black Coffee, less sugar
Kopi-O Gau
Extra Black Coffee & sugar
Kopi-O Po
Black Coffee & sugar
(More water is added to thin the coffee)
Kopi-O Peng
Black Coffee & sugar with ice
Kopi-O Gau Peng
Extra Black Coffee & Sugar with ice
Kopi-O Kosong
Black Coffee
(No sugar, no milk)
Kopi-O Kosong Peng
Black Coffee with ice
(No sugar, no milk)
Kopi-O Gau Kosong Peng
Extra Black Coffee with ice
(No sugar, no milk)
Kopi-O Kosong Di Lo
Extra Thick Black Coffee
(No water added to dilute it, the thickest form of kopi)
Kopi
Black Coffee & condensed Milk
Kopi Po
Black Coffee & Condensed Milk
(More water is added to thin the coffee)
Kopi Gau
Extra Black Coffee & Condensed Milk
Kopi Gah Dai
Black Coffee & extra condensed milk, extra sugar
Kopi Siew Dai
Black Coffee & condensed milk, less sugar
Kopi Peng
Black Coffee & condensed milk with ice
Kopi Gau Peng
Extra Black Coffee & condensed milk with ice
Kopi C
Black Coffee & Evaporated Milk
Editor's note: Do note that one can replace "Kopi" with "Teh" to get tea. Also, if you want the iced versions, just say 'peng' (Hokkien for ice) at the end of each name. Everything you add to the coffee will require extra money, and the iced version will definitely cost more. 
If you are a more visual person, here is the infographic version of the table:
---
Breakdown of Costs for Kopi and Kopi-C
The Difference between Evaporated Milk And Condensed Milk
We once discussed whether it makes sense to charge consumers for the costs of ice.
Also, we found that there is an actual cost difference between the evaporated milk used to make Kopi-C and the condensed milk used to make Kopi.
According to FairPrice, a 385g can of evaporated milk costs $1.50:
On the other hand, a 385g can of condensed milk costs $1.70:
The strangest thing is that even though Kopi-C should be more expensive, most coffee shops are charging more for Kopi-C, which uses cheaper evaporated milk compared to Kopi, which is made with more expensive condensed milk (including Ya Kun, Toast Box, and Fun Toast).
Also, this is something you want to know.
Upon further research, we realised that evaporated milk is actually condensed milk without added sugar.
This makes evaporated milk a healthier option.
The Difference in Cost of Production
Robusta beans are easier to grow and cultivate hence it's lower in cost than Arabica beans, and are also considered to be of lower quality.
You should be able to tell the difference in taste with the kopitiam coffee tasting stronger and harsher.
Besides the beans, there are also differences in the equipment used in producing the coffee.
A normal serving of espresso requires the extraction of the coffee powder, while kopitiam coffee is usually brewed with aunties or uncles wielding a coffee sock at a hot water station.
---
What Do You Drink?
Make sure you use a cashback credit card when placing an online order!
For those who prefer coffee made in cafes such as Starbucks, you should know that the price difference is mainly due to the difference in the cost of production. For example, the type of beans used and the time taken to roast coffee beans.
While such coffee is more pricey than the local sock coffee, they offer a different flavor that cannot be replicated.
Related Articles
About Ming Feng
A stint in
Bloomberg
gifted me with a beer belly, which only grew larger when I moved on to become a Professional Trader. Now I turn caffeine into digestible finance-related content.
You can contribute your thoughts like Ming Feng
here.