The Ultimate Guide To The Singapore FinTech Landscape In 2019
For a recent Money FM show which just aired, we invited some interesting guests on the show together to speak about FinTech and where this whole industry is going from a consumer perspective.
We spoke at length about the whole industry, where it's going in the next 5 years, learnings from the China FinTech space.
I wrote a commentary piece on the FinTech space around 3 years back when we first started Seedly.
And I guess this would be a good reflection of where we've also come in this seemingly short amount of time.
If you are keen to learn more from Kelvin Teo, Co-founder and CEO of Funding Societies (P2P lending), Kelvin Lam, Country Manager of YouTrip Singapore (MultiCurrency) and Dhruv Arora, Founder and CEO of Syfe (Robo-Human Advisor) together on the recent MONEY FM show, you can listen to it here:
Below, I will share the full list of consumer-facing FinTech companies which has caught our eye.
And are making real strides in our consumer space, in the areas of Multi-Currency cards, Robo-Advisor, P2P Lending, Remittance, InsurTech and Payments.
TL;DR: Why Should I Care About FinTech as a Singaporean Consumer?
You should rejoice because you get much more options to choose from
With competition, consumers now get better interest rates, service, experience and lower fees across all services
These companies adapt with our fast-changing behaviours and habits
It will be so seamless that you wouldn't even recognise it
The older banks will also start reacting
What Does FinTech Actually Mean?
In the simplest of terms, it's basically using technology in the field of finance to serve with the idea of being cost-efficient and better user experience.
For both consumers and businesses.
There are two main strategies FinTechs use to grow
The "land and expand" methodology applies to these nimble upstarts. This is a common strategy adopted by FinTechs where they attack a wedge in which is underserved or badly served by the incumbent banks, and grow from there. Some examples include Multi-currency wallets, P2P lending providers and Robo Advisors.
The other strategy is to move into FinTech from a parallel established industry. This is a game for the bigger boys to play in. Companies who are parallel to the banks in terms of millions of users and active customers. Some examples include GRAB, Shopee, SingTel and Razer.
Ask Your FinTech questions here
Disclaimer: While we are affiliated with ShopBack… we select and review products and services independently in line with our Seedly Code of Ethics.
---
List of Singapore FinTech Companies
In no particular order, we will be grouping the list of FinTech companies here in this map which are offering consumer facing solutions to people living in Singapore!
Category 1: Multi Currency Cards
Multi-currency accounts allow you to hold your money in one or more foreign currencies as well as in Singapore dollars so you can travel with ease of mind. Singapore is one of the world's most travelled population for both locals and foreigners.
YouTrip: They are Singapore's first multi-currency travel wallet with a prepaid Mastercard launched in 2018, it is specially designed for travellers to pay overseas with no fees in over 150 currencies.
Revolut: After facing a delay in the launch, they have finally launched in October 2019 and now there are a ton of consumers rapidly signing up to the service which functions more like a multi currency and digital bank account with the HQ in London, UK.
Transferwise Mastercard: Under the Transferwise brand, they launched a borderless account and recently the VISA debit multi currency card.
InstaRem amaze card: Just launched in Nov 2019, it is quite similar to Transferwise with roots in Remittance but now moving into multi currency as well.
MCO Visa Card: The MCO card and the parent company (crypto.com) has mixed views from consumers, particularly for people who are crypto-averse. Primarily, it has both Fiat and Cryptocurrencies and is a VISA card which you can use to spend normally.
TenX Crypto Card: TenX is a Singapore-based blockchain company that makes cryptocurrencies spendable on-the-go with two main products, the wallet and card.
Category 2: Robo-Advisors
Robo-advisors in Singapore represents a cost effective way to invest globally with little effort.
They provide investment solutions based on rules or algorithms.
These algorithms are calculated and programmed by humans based on financial models and risk appetites set by the company and requires lesser human interference.
You can read over 500 User Reviews for Robo-Advisors in Singapore.
StashAway: StashAway is one of the first Robo-advisors to launch in Singapore back in 2017, and is a digital wealth management platform for both retail and accredited investors. Its technology delivers automated, personalised portfolio management for each client's individual portfolios using the investment strategy, ERAA (Economic Regime-based Asset Allocation)
AutoWealth: AutoWealth is a robo-advisory platform that started in 2015. They take a passive investment approach, placing strong emphasis on portfolio allocation and diversification.
Syfe: A relatively new player, Syfe is a digital wealth manager (Robo and human hybrid advisor) that launched in Singapore in July 2019 after raising $5.2 million in seed funding.
Smartly: Smartly started in the year 2015 and now is a full Robo advisor service in collaboration with VCG Partners (a fund management company).
Endowus: Positioned more as a Financial Advisory firm with technology underlying, Endowus came into the scene in mid 2019.
Kristal AI: Kristal.AI is an online asset management platform that gives investors access to independent advisors and portfolio managers founded in 2016.
SquirrelSave: A very new player to the scene, SquirrelSave uses AI & machine learning to design a globally diversify your investments.
Category 3: P2P Lending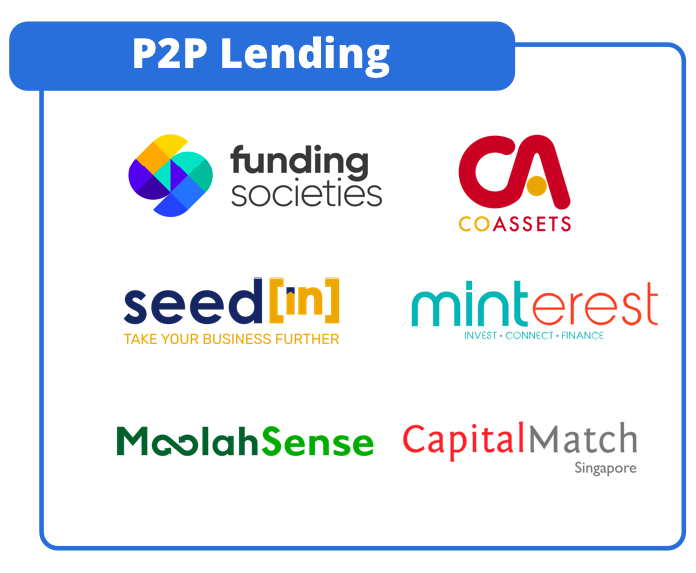 P2P Lending Platforms in Singapore crowd funds and raise money from a large number of investors. As retail investors, we can invest in these crowdfunding platforms to earn an interest from the loans we dispatched to these SME companies.
You can read over 300 User Reviews for P2P Lending companies in Singapore.
Funding Societies: It was the first peer-to-peer lender in Singapore which started in 2015 to engage an escrow agency to independently and safely manage investors' funds.
CoAssets: It is a listed company on the Australian Securities Exchange (ASX: CA8) and has raised more than S$100 million and funded projects in more than 10 countries globally.
SeedIN: They started with the name New Union but rebranded in 2018. Started in 2013.
Minterest: Minterest is a marketplace loans and invoice financing financial technology platform founded by a team of former bankers.
Moolahsense: They started with the idea to connect SMEs (small-to-medium enterprises) who are seeking short-term business loans with prospective investors who are looking for high-yield returns. (however, there are a flurry of bad reviews on the Seedly platform)
Capital Match: Capital Match is an online peer-to-peer lending marketplace for SMEs based in Singapore and Southeast Asia.
Validus: It is an online aggregator platform for SMEs to secure short term and medium term financing
Category 4: Remittance
Remittance in Singapore simply means sending or transferring money to another party, usually in another country of a different currency. Summarised in 4 words – International Money Transfer Service. Being one of the largest expat markets in the world, it is easy to understand why there has been a surge in Remittance players in the space today.
You can read over 400 User Reviews for Remittance companies in Singapore.
TransferWise: Founded in 2010 with the vision of making international money transfers cheap, fair, and simple. It hosts a borderless account and simple remittance feature.
InstaRem: Started with a vision of making international money transfer easy and focus on the process of sending and settling overseas payments, powered by continuous innovations in transparency, security, and cost efficiency. (now doing B2B as well)
WorldFirst: Focused on International money transfers to help Collect, convert & transfer money globally.
SingX: A local Singapore born company which focuses on real time exchange rates and same-day transfers when you send money overseas.
WorldRemit: An online remittance company which was founded in 2010 and claims to have 3 million customers worldwide.
CurrencyFair: CurrencyFair is an online peer-to-peer currency exchange marketplace. CurrencyFair is headquartered in Ireland.
OFX: Previously known as OzForex is an Australian online foreign exchange and payments company with headquarters in Sydney.
Category 5: InsurTech
InsurTech in Singapore is a huge market. To scope it out for this piece, we have selected companies who directly serve a consumer's need for an insurance offering.
You can read User Reviews for FWD, INCOME, SingLife and Tiq.
SingLife: With digital insurance roots and bought over all of ZURICH Life's customers and policies, now moving into full digital savings and endowments. (used to be branded Singapore Life).
FWD: In September 2016, FWD launched its direct-to-consumer business and offers a suite of life and general insurance products including direct-term life, car, travel, personal accident and maid insurance.
Tiq: This is a recent addition but you may be familiar with their parent company Etiqa (owned by MayBank) making digital insurance accessible to the masses.
INCOME: One of the local homegrown insurance brands, they actually have a pretty huge push towards DIY and self service online insurance products.
PolicyPal: Started off as an insurance aggregator app, but now offering a comparison feature for travel, home and maid insurance.
MoneyOwl: Used to be called DIY Insurance but recently rebranded to MoneyOwl to offer a bigger comprehensive suite of solutions from will writing.
Category 6: Payments
Payments in Singapore follows the situation closely in China with a rise in QR code payments and simple consumer to consumer transfers. Leading the way was the older banks before newer companies launched their own payment systems in the last 2 years.
You can read our compilation of deals on payments in Singapore in detail.
GrabPay: Launched in 2017, which works by linking your credit/debit card to your GrabPay Wallet. Can be used for your transport, food and also in-store purchases. Recently moving to online as well on Cathay, ZALORA etc.
FavePay: Part of the company Fave, which was previously known as GROUPON, it is now using primarily QR code which gives you cashback in-store.
LiquidPay: Focused on the Scan and Pay functions with a QR code. It provides quick, easy and secure Cashless mobile payments at local stores.
Singtel Dash: By the listed company we all know – SingTel, it is Singapore's first all-in-one mobile payments solution. With the Singtel Dash app, you can commute on trains, buses and taxis, shop and send money to others.
ShopBack GO: Link your card, pay normally via your card and earn cashback. It is allows users to use this card-link offers solutions on VISA and MASTERCARD to earn additional in-store cashback.
DBS PayLah!: It is one of DBS biggest push into mobile QR payments built on a separate app to allow users to transfer funds between people as well.
UOB Mighty: UOB's answer to DBS move into QR payments, bascically their own version of QR payments in-store.
OCBC PayAnyone: Same as the other banks, it was an extension of the OCBC pay anyone which was one of the earlier players to offer consumer-to-consumer payments, now also accepted in-store.
Category 7: Personal Finance
Personal Finance in Singapore's context basically means a broader look at connecting consumers to financial products which directly serve their financial needs.
Seedly: An Online Personal Finance community with Consumer Reviews, QnA and Comparison about all things money.
MoneySmart: A comparison site with a Singapore HQ which offers credit cards, loans and travel insurance.
SingSaver: A comparison site which is part of the bigger group of companies CompareAsia Group, with a Hong Kong HQ.
GoBear: A comparison site which is part of the whole GoBear group with presence in the region.
iMoney: A comparison site which offers credit cards, loans and mortgages.
Category 8: Upcoming Digital Banks
With the recent MAS regulations which has opened up the Digital banking license, these are the BIG 5 which are potentially the front runners in getting them.
Important note: These companies listed below are predictions, based on what I have found on Business Times, Straits Times and other technology publications I read in the past few months.
GRAB: Currently in the Transport and Food Vertical (with an early mover advantage into finance with GrabPay and loans)
Shopee: eCommerce and online shopping Vertical
SingTel: SGX Listed behemoth with its roots in the Telecom and Mobile Vertical
Razer: HK Listed company with a strong Gaming Vertical
Carro: Southeast Asia's Largest Automotive Marketplace
The applications for a digital banking license close in Dec 2019 (if you may have $1.5 billion paid up capital to spare). The licenses will be awarded in 2021.
---
Why FinTech: Your Behaviours Drive Your Financial Decisions
"Most Singaporeans are willing to enter a random passenger car to get from point A to point B."
If that is not trust, I don't know what is…
The idea surrounding this is that bigger technology companies like GRAB, Shopee and Razer have already huge user bases (in the millions) who already have some form of trust level established.
Speaking about building trust, you may have seen Ronaldo on Shopee bus and train ads recently.
It's basically showing consumers that they have the financial might and resources to get endorsement by the most followed football player in the world!
I would say the wildcard is SingTel from the Telco space, because they are recently facing market share erosion from other Telco players in their own vertical.
Also, the Dash wallet payment implementation was not the most successful over the last few years compared to how GrabPay really came in and scaled rapidly.
GRAB, The Front Runner In The Digital Banking Race
You might probably be realising by now, that you are starting to store huge amounts of prepaid value in these companies, which are indirectly eating away at the deposits which traditionally sits in your bank.
Case in point, I topped up $500 into my GrabPay wallet last week and it's now my second most used wallet (outside of my credit card for miles and cash back).
Oh and it links to my GrabPay Mastercard as well for online purchases.
Here are some FinTech advancements specific to GRAB Financial Group (GFG):
GrabPay – This is the obvious one, paying in-store for Grab transport, Grab Food and fund transfers between users
Grab Finance SME Loans – Businesses can borrow up to S$100,000 with interest rates as low as 0.7% a month.
Grab Robo-advisors – Launching soon?
Singapore's Hindsight Bias: China and USA's Learnings
Singapore is around 5 years behind developed FinTech countries like China who has leapfrogged everyone else to fully adopt the latest consumer and business finance software due to a huge surge in mobile adoption.
Kelvin from Funding Societies brought up a very point of how as a fast-moving advanced society, we can learn from what has happened in China in a very nimble way and adapt accordingly.
The Monetary Authority of Singapore (MAS) Our Regulators here, has already seen how:
Digital empires control your lives and the danger of that (eg. WeChat Pay and AliPay)
Some FinTech models failed in China (eg. the explosion of the P2P lending companies with multiple defaults)
Thus, creating a more open competitive landscape for companies to operate in and making sure retail investors do not get burnt in the process.
Some examples of MAS regulations:
Digital Banking: $100M paid up working capital for Wholesale banking license or $1.5B working capital for retail full banking license
Robo-advisors: Either Financial Advisor or Capital Market Services Licences
P2P Lending: MAS Circular requiring companies to publish their past 3 years' performance on their websites.
Multi–currency: Remittance, Stored Value Facility (SVF), Electronic Money Institution (EMI) Licences
Open banking: Creating an environment where competition thrives, for example the introduction of AliPay yesterday
Now what happens to DBS, OCBC and UOB?
Now you must be thinking… What happens to the incumbents?
They are not stopping at all. Innovations are happening within these banks as well, because the mentality of 'Innovate or Die' exists quite strongly in the Asian mindset which we adopt here.
At the 2019 DBS AGM, which we attended together with our analysts, we found that the bank's CEO, Piyush Gupta is bent on making DBS a 30,000 man startup.
The focus is the nimble mindset, more than anything else, and that is showing as well.
It has been 3 years since they created their DBS innovation team, with growing profits and new product innovation.
For example, they recently launched the DBS DigiPortfolio and a new DigiBank app which models after some of the best-in-class Robo-advisors and personal finance management apps out there.
In addition to this, last week when I was giving a talk to a group of students in NUS, I was shocked to know every single one of them raised their hands when I asked about the usage of DBS PayLah!
Clearly, DBS is going extremely aggressively into schools with the PayLah! app with tie-ups with NUS, NTU and SMU to focus on the younger segments of consumers.
For OCBC, they also recently launched a competitive Robo Advisor and also a new app experience for their users on their app.
Conclusion: Let Us Ride This Wave Together As Consumers!
That is primarily where Seedly fits in, with our user generated reviews and QnA and of course all these content we cover for consumers like you and I.
It's almost like a simplified TripAdvisor concept where we help to focus on helping consumers discover the best options in the market today.
If you have read till this part of the article, you should be quite savvy and into FinTech. So do wait for sign up promotions when these products launch and be ready to test them with an open mind 🙂
Read reviews on these products and services: Robo-advisors reviews, P2P lending reviews, Multi Currency reviews and Payments space.