Singapore REIT Investment Ideas: 5 REITs That Increased Their Distributions Recently
The earnings season is upon us again and a flurry of companies are reporting their financial results. 
Here, let's look at five real estate investment trusts (REITs) that have raised their distribution per unit (DPU) recently. 
Such REITs could signal to the market that they have a strong business.
And they could be worth researching further to add to your stock portfolio.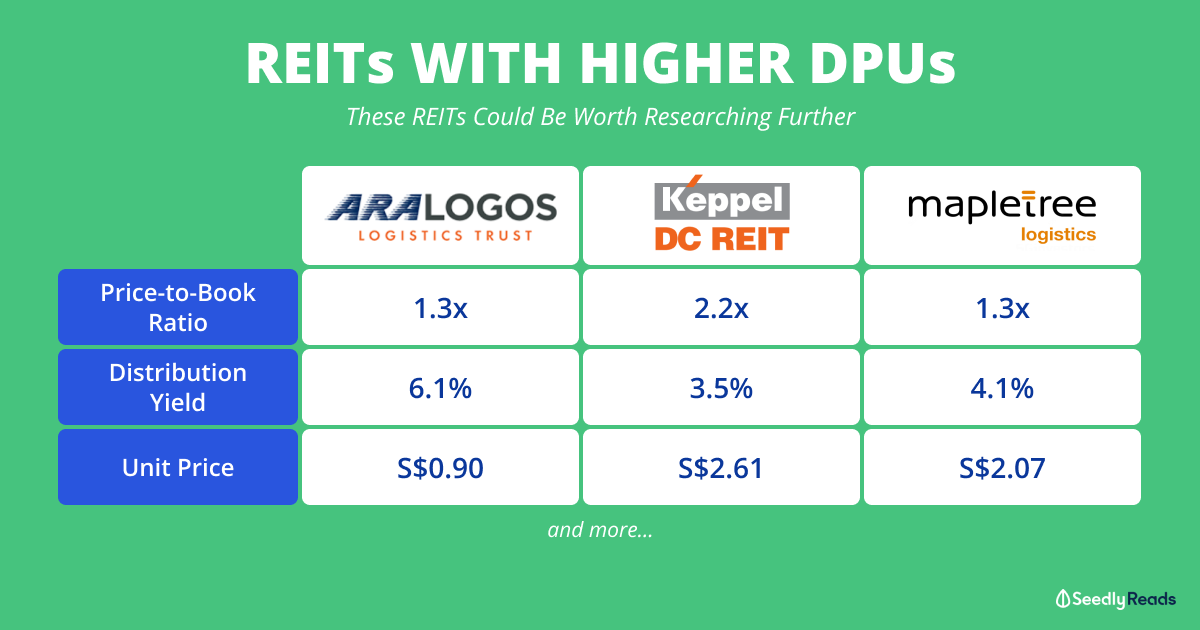 REIT #1: ARA LOGOS Logistics Trust
ARA LOGOS Logistics Trust (SGX: K2LU) is a logistics REIT that owns 29 logistics warehouse properties in Singapore and Australia. 
The REIT also has stakes in the New LAIVS Trust and Oxford Property Fund.
For the six months ended 30 June 2021, ARA LOGOS Logistics Trust's gross revenue rose 15.2% year-on-year to S$66.6 million while its net property income (NPI) grew 17.1% to S$51.4 million. 
The growth was due to incremental revenue generated from the REIT's recently completed Australian portfolio acquisition, stronger portfolio performance, and appreciation of the Australian dollar.
Furthermore, the REIT's distributable income rose 36.6% on the back of higher NPI and contribution from its investments in the New LAIVS Trust and Oxford Property Fund, respectively. 
With that, ARA LOGOS Logistics Trust's DPU improved 10.6% to 2.57 Singapore cents. 
Karen Lee, chief executive of ARA LOGOS Logistics Trust's manager, said in the REIT's earnings release: 
"While the economic climate continues to be challenging, the logistics sector continues to demonstrate its resilience. With ALOG's [ARA LOGOS Logistics Trust's] expanded portfolio strategically located across key logistics clusters, we are confident that it remains well-positioned to leverage on favourable tailwinds and deliver long-term value to our Unitholders."
The logistics sector is going strong even amid the pandemic due to warehouse demand from third-party logistics, e-commerce, and food logistics segments. It could be something worth looking into for investors.
REIT #2: Keppel DC REIT
Keppel DC REIT (SGX: AJBU) is a data centre REIT with a portfolio of over 15 data centre assets located in eight countries in Asia Pacific and Europe. 
For Keppel DC REIT's first half of 2021, gross revenue and net property income increased year-on-year by 9.0% and 8.4%, respectively. 
DPU rose 12.5% for the latest period to 4.924 Singapore cents, up from 4.375 cents a year back.
The growth was due to contributions from acquisitions and the completion of asset enhancement initiatives. 
Keppel DC REIT ended June 2021 with a strong balance sheet as well. It had a gearing ratio of 36.7% and its interest coverage ratio remains high at around 13x. 
Earlier in the year, Keppel DC REIT's manager announced that it is expanding its investment mandate to allow the REIT "to explore real estate and assets necessary to support the digital economy".
Following that announcement, the REIT's manager said it's looking to invest in a special purpose vehicle (SPV) that will be established by telco M1 to own and operate M1's current mobile, fixed and fibre assets. 
Keppel DC REIT's investment will be around S$87 million, which looks manageable given its balance sheet size. 
The REIT's manager explained the investment's rationale: 
"The planned investment into quality network assets is in line with Keppel DC REIT's drive to support the global digital economy. The SPV will own the network assets that underpin M1's business offerings. We believe this adds to the growth and cashflow stability for Keppel DC REIT. It also allows us to gain a foothold in Singapore's connectivity landscape, which we can leverage when seeking further opportunities for real estate and assets that support the digital economy."
But at least 90% of Keppel DC REIT's assets under management will still be data centres. 
To continue on its growth path, the REIT is expanding its geographical footprint with the acquisition of a data centre in Jiangmen, Guangdong Province, China. 
Guangdong is one of the top data centre locations in the country, with the highest rate of internet and mobile phone usage in Asia Pacific. 
The facility, Guangdong Data Centre, is a seven-storey fully-fitted data centre and is part of the Bluesea Intelligence Valley Mega Data Centre Campus. 
Keppel DC REIT has the right of first refusal to purchase the remaining five data centres to be developed within the campus. 
This gives the REIT additional growth prospects, on top of its already-growing portfolio of data centres. 
REIT #3: Mapletree Logistics Trust
Mapletree Logistics Trust (SGX: M44U) is another logistics REIT, similar to ARA LOGOS Logistics Trust.  
The REIT owns a portfolio of 163 logistics assets in Singapore, Hong Kong, Japan, Australia, China, Malaysia, South Korea, Vietnam, and India.
For Mapletree Logistics Trust's first quarter ended 30 June 2021 (1Q FY21/22), gross revenue rose 23.7% year-on-year to S$163.7 million while NPI grew 21.3% to S$144.2 million.  
With that, Mapletree Logistics Trust's DPU grew 5.7% to 2.161 Singapore cents.
Here's a visual summary of the REIT's latest earnings:
As for its outlook, the REIT mentioned:
"The global economy is gradually recovering, aided by higher rates of vaccination in developed economies. However, fast spreading mutations such as the Delta variant may slow the pace of economic reopening and recovery, while geopolitical tensions remain a risk. Demand for warehouse space in our markets has remained resilient to-date with stable occupancy and rental rates."
REIT #4: Parkway Life REIT 
Parkway Life REIT (SGX: C2PU) is a healthcare REIT that owns 55 properties located in Singapore, Japan, and Malaysia. 
In Singapore, its properties are Mount Elizabeth Hospital, Gleneagles Hospital, and Parkway East Hospital. 
For the second quarter of 2021, Parkway Life REIT's gross revenue fell 2.3% year-on-year to S$29.6 million. 
Loss of income from a divested property in Japan and depreciation of the Japanese Yen mainly led to the fall in gross revenue. 
The decline, however, was offset by income contribution from a Japanese nursing home acquired in December 2020 and higher rent from Singapore properties. 
With the lower gross revenue, NPI declined by 2.8% to S$27.4 million. 
However, DPU for the quarter rose 0.7% to 3.38 Singapore cents. 
The increase was largely due to contribution from Parkway Life REIT's existing portfolio and the absence of one-off COVID-19 related relief measures retained in 2020.
Parkway Life REIT recently announced that there would be new master lease agreements for its Singapore hospitals from 23 August 2022 to 31 December 2042, with an option to extend for a further 10 years. 
The agreements come with rental step-ups and a rent review formula, giving the REIT sustained organic growth. 
The weighted average lease expiry of Parkway Life REIT's overall portfolio (by gross rent) is expected to improve from 5.7 years to 16.6 years. 
Furthermore, Parkway Life REIT will inject a one-off renewal capital expenditure of S$150 million to renovate and upgrade its Singapore hospitals.
The REIT said that the renovation will enhance the competitiveness of its Singapore hospitals to ride on the growth potential of Singapore's healthcare industry. 
Parkway Life REIT will also have a ROFR over Mount Elizabeth Novena Hospital for a period of 10 years, enhancing the REIT's attractiveness. 
The proposed transaction requires the approval of Parkway Life REIT's unitholders at an extraordinary general meeting that'll be held at a later date. 
REIT #5: Suntec REIT
Suntec REIT (SGX: T82U) is the owner of Suntec REIT and many other properties in Singapore, Australia, and the UK.
In all, it has nine office assets, complemented by retail and convention components.
The REIT announced an 11.6% year-on-year increase in its gross revenue to S$166.8 million for the six months ended 30 June 2021 (1H 2021).
The increase can be largely attributed to its purchase of 477 Collins Street, which contributed from August 2020. 
Suntec REIT's DPU was 26.1% higher than last year, coming in at 4.154 Singapore cents. 
The increase was mainly due to higher distributable income.
Looking ahead, there could be continued DPU growth with the acquisition of The Minster Building in the UK.
The acquisition will be mostly funded by Suntec REIT's divestments of a portfolio of Suntec City Office strata units and its 30% interest in 9 Penang Road. 
Suntec REIT's latest asset recycling exercise is expected to have positive knock-on effects on its DPU. 
Want In-Depth Analysis And Discussion?
Why not check our community at Seedly and participate in the lively discussion surrounding REITs like Parkway Life REIT and many more!
Disclaimer: The information provided by Seedly serves as an educational piece and is not intended to be personalised investment advice. ​Readers should always do their own due diligence and consider their financial goals before investing in any stock. The writer doesn't own units in the REITs mentioned. 
About Sudhan P
It isn't fair competition when only one company in the world makes Monopoly. But I love investing in monopolies. Before joining the Seedly hood, I had the chance to co-author a Singapore-themed investment book – "Invest Lah! The Average Joe's Guide To Investing" – and work at The Motley Fool Singapore as an
analyst
.
You can contribute your thoughts like Sudhan P
here.