Have you ever looked at your partner and said:
"What can we do this weekend ah?"
You're not alone.
It's not easy to find new date ideas in Singapore, especially when you've been in a relationship for a while.
Most weekends would usually end up like this.
And now that we still can't go overseas…
Most couples have been flocking to staycations given that they can now be partially sponsored by our SingapoRedisovers vouchers.
But if you've already been on five staycations and hope to do something else for Valentine's Day…
Why not try out some of these new interesting activities!
And the best thing is… they are eligible for SingapoRediscovers vouchers as well! 🤩
TL;DR: Valentine's Day Date Ideas You Can Use SingapoRediscovers Vouchers On
| Activity | Price | Best for |
| --- | --- | --- |
| Unlimited Cable Car Rides With Arbora or Good Old Days Meal | $40 | Romantic couples |
| Skydiving at iFly Singapore | $56 | Adventure junkies |
| Wine Appreciation Evening With a Boat Ride | $69 | Wine aficionados |
| 1-Day Kelong Tour | $78 | Wanderlust couple |
| Cooking Class and Walking Tour (Thai, Hokkien or Hainan Cuisine) | $80 (Weekdays), $100 (Weekends) | Food lovers |
| Heritage Trail | $85 | History buffs |
| Sky Dining at Singapore Flyer | $150 | Romantic couples |
| Kayak Fishing Experience | $190 | Outdoor lovers |
| Sunset Cruise With 3-Course Dinner | $195 | Romantic couples |
| Immersive Dining Experience in Both Air & Sea | $250 | Romantic couples who are willing to spend a little more |
Unlimited Cable Car Rides With Arbora or Good Old Days Meal
Fancy unlimited rides on the Cable Car and have a sumptuous meal after?
Sounds like a romantic idea.
Get to access unlimited rides between the 6 cable car stations, and choose between a 2-course meal at Arbora or 3-course meal at Good Old Days.
Do note that there will be blackout dates for both restaurants, and reservations are highly recommended.
In addition, get to receive a retail gift from the Cable Car gift shop if you make a top-up to your package!
Price: $40
Arbora and Good Old Days Blackout Dates: 11 – 14 Feb 2021, 1, 2, 30 Apr 2021, 1, 12, 13, 25, 26 May 2021
Dine-in Time: Mon – Fri: 12pm – 3pm, 6pm – 9:30pm. Sat to Sun: 11am – 5pm
Operating Hours:
Singapore Cable Car
8:45am to 8:30pm (last boarding at 8:00pm
Arbora Hilltop Garden & Bistro
12pm- 3pm and 6pm – 9.30pm
Good Old Days
11am- 8pm (Last order at 7.30pm)
Singapore Cable Car Gift Shop (Sentosa Imbiah Lookout and Faber Peak)
Experience Skydiving with iFly Singapore
Want to take your love to a whole new level?
Literally.
If you're someone who has been wanting to try skydiving but has been hesitating due to its price, you can now recreate a similar experience for free with the SingapoRediscovers vouchers!
Get to experience true free-fall conditions where you would feel like you're falling through the air from 12,000 to 3,000 feet.
Price: $56
Note: Usage valid during off-peak timings only
Off-peak timings category: Mon to Fri (1pm to 6:30pm), Sat & Sun (10am – 11:30am & 6pm – 9:30pm)
Wine Appreciation Evening With a Boat Ride
Are you and your partner wine aficionados?
If so, a wine appreciation evening might be something you two might enjoy.
A bumboat river cruise awaits you at Clarke Quay after your exquisite wine tasting session.
Sounds like the perfect evening for lovebird to chill to.
Price: $69
Programme schedule:
5pm – Meeting Point at Clarke Quay MRT Station (Bus stop outside Exit E)
5:15pm – Wine Testing (Light snacks included)
7:15pm – Bumboat River Cruise @ Clarke Quay
8:15pm – Tour ends at Clarke Quay
1-Day Kelong Tour
Missing your travels with your other half?
You can now imagine like you're going to Malaysia as you embark on this 1-day Kelong tour.
Get to take a bumboat to the Kelong, where you'll get to enjoy a 5-course seafood meal (Fried fish head beehoon, BBQ fish, fish meat porridge, lala steam egg, fried prawn meat and steam bun) and do some fishing afterwards.
Doesn't taking a break from the city life and relaxing to the cool sea breeze sound appealing?
Perfect for couples who would want a little breather from the hustle and bustle of life.
The tour ends with a visit to Changi Jurassic Mile or Jewel Changi Airport.
Price: $78
Address: Assemble at People's Park Centre and depart for Changi Point Ferry Terminal
Dates: Tour available every Saturday & Sunday
Exclusion dates: 11 to 13 Feb 2021
Note: Tipping of $3 per person excluded, to be paid directly to Singatour upon booking confirmation
Cooking Class and Walking Tour (Thai, Hokkien or Hainan Cuisine)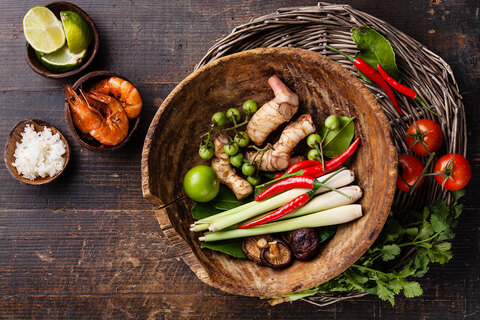 Wanna learn some new recipes with your beau to cook up new dishes at your new BTO flat?
You can also use your SingapoRediscovers vouchers on a cooking class with Chef Colin, a licensed Singapore tourist guide who is also trained in culinary arts.
Depending on which tour you choose to go for (Thai, Hokkien or Hainan), you will be brought to a specific market for a mini walking tour and be equipped with the knowledge to cook up an authentic meal afterwards.
Here are some dishes that you can expect:
Let's Go Cook – Discover Thailand:
Khanom Tako
Tom Yam Goong Soup
Thai Papaya Salad
Let's Go Cook – Discover Hokkien:
Stir-Fried Rice Cake
Fu Zhou Red Wine Chicken
Let's Go Cook – Discover Hainan:
Kueh Yi Bua
Hainanese Chicken Rice
Hainanese Pork Chop
Price: $80 (Weekdays), $100 (Weekends)
Note: Weekday refers to Monday to Thursday, Weekend refers to Friday, Saturday, Sunday and Public Holidays
Duration: 3 hours (2 timeslots: 9am & 4pm)
Meeting Point: Esplanade MRT Station Exit F
Ending Point: Let's Go Tour 462 Crawford Lane, #01-57, Singapore 190462
Heritage Trail To Explore Singapore's Past
Are you a history buff?
This heritage tour (Yesterday Once More) will take you back in time, revisiting some memories of Singapore's past.
Get to explore the last surviving kampung and taste the legendary coffee and bread from Ho Tit Coffee Powder Factory and Jie Traditional Bread Bakery.
The tour wraps up with an exploration of Tiong Bahru, one of the hidden gems of Singapore's heritage and culture.
Not forgetting the number of instaworthy photos you get to take during this tour.
(Perfect day to be that top-notch insta-bf/gf.)
Price: $65 for 5 pax, $85 for 2 pax
Location: MacPherson MRT Exit A
Duration: 8 hours (9am to 5pm)
Sky Dining at Singapore Flyer
If you prefer dining in the cabin, you can do so while admiring the Singapore skyline 165m above ground.
Get to enjoy two full rotations of the Singapore Flyer while savouring a 4-course set meal served by an in-flight host.
Having a full butler service while you have an hour to work through your meal and lay in the arms of your beau with the dazzling night view surrounding all these…
If that isn't the perfect romantic Valentine's Day dinner, I don't know what is.
Price: $150
Exclusion Dates: 13 to 14 Feb 2021
Package Includes: 
4-course meal: Choice of Western, Oriental or Vegetarian cuisine
Two rotations aboard the observation wheel (1-hour duration)
In-flight host
Exclusive check-in (express boarding)
Enjoy complimentary admission to Time Capsule after the ride on the Singapore Flyer
Kayak Fishing Experience for Outdoor Lovers
If you're an adventure junkie, get to experience one of the most unique ways to catch fish – by kayak fishing!
Fret not if you're a beginner when it comes to kayaking as there are three different levels to choose from (Beginner, Intermediate, Advanced).
This activity is also conducted in small groups, providing a more intimate experience.
A pretty refreshing activity to try with your partner, especially if you're running out of date ideas in Singapore.
Time to hunt for fishes like groupers and snappers!
Activity Details:
Total: 4 hours
Route: 2 to 4km
Price: $190
Note: Food is not included, recommended to bring own lunch or snacks. Insurance is provided by the operator.
Location: Along East Coast Park
Sunset Cruise With 3-Course Dinner
Sunset, sea breeze and good food.
Super romantic Valentine's Day idea for you lovebirds.
With the Sunset Cruise package, sail into the sunset while enjoying a three-course dinner onboard the Royal Albatross, a luxury ship that took craftsmen over 360,000 man-hours and 6 years to redesign.
There's also a City Lights Cruise, where you get to admire Singapore's skyline as they light up in the evening while enjoying a three-course dinner as well.
Which dinner venue could be more romantic than that?
Price: $195
Opening Hours:  Friday – Sunday
Address: 8 Sentosa Gateway, Sentosa Island, Singapore 098269
Immersive Dining Experience in Both Air & Sea
If you're willing to splurge a little more, why stop at just having a dining experience in the air?
You can now experience an immersive dining experience in BOTH air and sea.
Besides getting a unique lunch experience at S.E.A Aquarium, you will have the chance to have a guided tour around the attraction as well.
Your evening will then be spent on taking a cable car ride to Mount Faber, where you will get to enjoy a romantic dinner at Cable Car Sky Dining – Singapore Flavours Cabin.
Price: $250
Duration: 8 hours (11am to 7pm)
Note: There is a minimum of 5 pax to go. If there are not enough participants on your designated departure date, the company will contact you for alternative departure dates.
About Xue Miao
A
millennial
who is learning to adult. She doesn't believe in the rat race and hopes to live on a farm someday.
You can contribute your thoughts like Xue Miao
here.