How Much Do You Need To Build A Smart Home in Singapore?
We live in the age of technology and a Smart Home is probably something you've heard of.
If you have ever laid on the bed but realised you didn't switch off the lights, closed the curtains or off the TV in the living room, you should've a sense of leceh-ness (frustrating, troublesome) to climb out of the bed.
But what if you're able to control them using a phone app, or speaking?
That sounds… super convenient and advanced!
With the likes of so many home systems in the market, there're also those who prefer a Do-It-Yourself (DIY) approach.
We're here to share with you how much it costs to set up your own smart home!
---
TL;DR: How Much It Costs To Build A Smart Home in Singapore, Singapore Smart Home Systems, Pros & Cons of A Smart Home
Smart Home Systems/Hubs
Estimated Price
Google Nest
$139
Google Home / Mini
$189 / $79
Xiaomi Mi Home (Starter Kit)
$75
Apple HomeKit (HomeKit & Apple Home)
$1,899 (U.P. $2,040)
Amazon Echo (4th Gen) / Echo Dot (4th Gen
$141 + $18.78 shipping /
$69.96 + $12.08 shipping
Aeotec Smart Home Hub (previously known as Samsung SmartThings)
$477.60 to $1,248++
Smart Home Solutions Providers
Estimated Price
Koble Smart Home
$1,800 to $4,400

Automate Asia
$999 to $3,000
Ganen Asia
To provide upon request
Adler International
Automated Lifestyle
Home-A-Genius
Click here to jump:
Disclaimer: All prices mentioned reflected are as of 28 June 2022 and may be subject to change without prior notice. The list of providers and brands mentioned is also non-exhaustive. The Information provided by Seedly does not constitute personalised financial advice or an offer or solicitation of any retail packages. Readers should always do their own due diligence and consider their needs before purchasing any products. 
---
Smart Home Solutions & Providers
Based on a report by AT Kearney, the smart home market is anticipated to reach $120 billion, or approximately 30% of the global market share by 2030.
Property guru's survey also found that smart features at home are a popular choice, with 63% of those surveyed also sharing that they were willing to pay $40,000 to furnish their homes with smart technologies.
In essence, a smart home is a setup where communication between you and the system takes place, and your gadgets can be controlled using the system in place.
To start off, you will need to pick and understand the smart home ecosystems.
1. Smart Home Ecosystems
Technology has gotten so advanced that there are different wireless standards to connect smart home devices.
Before you start picking anything for your future smart home, you need to understand these ecosystems:
ZigBee and Z-Wave (used by companies such as Logitech, LG & Samsung)
Bluetooth and Bluetooth Low Energy (LE)
Thread – a technology that creates a mesh network without the need for a hub (used by Apple and Google)
Matter – the technology where all smart home devices work together securely, reliably, and seamlessly (onboarded are companies such as Apple, Samsung, Google & Amazon)
Regardless of the underlying technology, it is up to device manufacturers to decide which of the key ecosystems they want to support (if not all of them).
There are two ways to set up a smart home – Smart Home Systems and Smart Home Solution Providers.
2. Smart Home Systems
This approach would require you to set up the smart home yourself through the selection of a system, and buying of accessories that work with it.
These are some beginner/entry-level smart home systems available in Singapore.
Smart Home Systems/Hubs
Estimated Price
Systems Descriptions
Google Nest
$139
The voice assistant, Google Assistant, is the Nest ecosystem's key selling point. It answers to voice commands quickly, understands complex instructions or follow-up requests that would baffle Alexa or Siri, and is intelligent enough to talk in a conversational tone. Google Assistant is already built into Android devices, and the Google Home provides rapid access to smart-home shortcuts. It is a newer generation of the Google Home and Mini
Google Home / Mini
$189 / $79
The main difference between the regular Home and Mini is that the latter lacks the bass necessary for enjoyable music listening with strong bass. Additionally, because there are fewer buttons on the tablet, changing the level is a little more difficult.
Xiaomi Mi Home (Starter Kit)
$75
This set contains the Xiaomi gateway, motion sensor, door/window sensor, switch and a WiFi-enabled smart socket. The gateway functions as a night light, doorbell and security light, with a built-in speaker.
Apple HomeKit (HomeKit & Apple Home)
$1,899 (U.P. $2,040)
In Singapore, homesmart.sg seems to be the only Apple Smart Home solution provider.

Although the Apple Home software is free, you must pay for the smart HomeKit gadgets you install. All of them are combined by the HomeKit, which provides control directly on your gadgets as well as through Siri on your iPhone, iPad, Apple Watch, HomePod Mini, and Mac computer. Most HomeKit devices are added by scanning a special six-digit HomeKit code located on your compatible gadget, in its box, or in its manual using the Home app.

All the door locks, lights, and plugs you add will function the same way in the app as Apple regulates the capabilities of each device (even if they have different features in their own app).
Amazon Echo (4th Gen) / Echo Dot (4th Gen
$141 + $18.78 shipping / $69.96 + $12.08 shipping
With Alexa, a cloud-based voice service, the Echo (4th generation) can play music, set timers and alarms, manage compatible smart home devices, and more. Some Alexa features and skills might not be accessible in all countries or languages, and they are always subject to change. With a built-in smart hub, setting up compatible Zigbee devices to voice-control lights and plugs is straightforward. The difference between Echo and Echo Dot is the audio quality, much like Google Home and Google Mini.
Aeotec Smart Home Hub (previously known as Samsung SmartThings)
$198 to $240
The manufacturing of the Samsung SmartThing Hub has transferred to the Aeotec Smart Home Hub because Samsung decided to keep producing software but stop producing its own-brand hardware.

The Aeotec Smart Home Hub, which can interact with Z-Wave and Zigbee devices and is controlled by the SmartThings software, is essentially the same product as the SmartThings V3 Hub.

Note: SmartThings V1 Hub no longer works. V2 and V3 SmartThings Hubs will continue to work for now, so there's less pressure on upgrading to Aeotec Smart Home Hub.
Building a smart home is not so straightforward and requires more consideration and research on various electronic products.
At a minimum, your device should work with the ecosystem you've chosen, hence you should always check the compatability before any purchase.
To see if a smart home device works with your ecosystem of choice, look for a logo on the box or webpage.
It doesn't stop there – the prices of accessories will vary based on the type of smart devices you have or do not have, the number of plugs and switches you need, and the size of your home.
When building your own smart home, these are the basic items that you should be looking for:
Common Smart Home Devices
Smart Home Hub/Ecosystem

Examples of things you can control using this device: Switches, digital door/lock, aircon, robot vacuum, fridge, keyless letterboxes, smart displays, smart speakers, air purifier and water heater control
Dual gang Smart Switch
Motion Sensor
IR Blaster
Door Sensor
IP Camera
Door Camera
Smart Plug
3. Smart Home Solution Providers
If you don't know where to start and find that it might be easier for someone to plan it out for you, a smart home solution provider is there to help you.
Big smart home solution providers such as Koble Smart Home & Ganen Smart Home offer easy compatibility with the major ecosystems.
These providers plan your smart house and what you need to create one – basically the planner and project manager, just like how interior designers help with renovating a house.
Smart Home Solutions Providers
Smart Home Packages
Systems Descriptions
Koble Smart Home
Basic Smart Home (Lights, AC Control & Automation)

2-bedder, 1 Living room: $1,800

3-bedder, 1 Living room: $2,300

Multi-storey House: $4,400

Koble is a smart home solution provider of the Singapore Land Authority and Housing Development Board. The Koble Smart Home System was introduced in 2017 as a platform that can be accessed through a mobile app that seamlessly integrates every element of a home from any location at any time to offer comfort, convenience, and security.
Ganen Asia
To provide upon request
Ganen Asia is a distributor of innovative home automation products. They partner with third-party service providers to cater for a range of smart home products and brands that it works with that are aesthetically pleasing and functional - including adjusting the brightness of your light, and turning your water heater via the Ganen app.
Automate Asia
Unifi Networking: $999 (small homes or offices)

Basic Smart Home Package: $1,200 (BTOs and Executive Condominiums)

Homey Pro Package: $3,000 (Landed and Condominiums)
Automate Asia's smart home system has a wide range of features that are "future-proof". Their solutions are compatible with 50,000 devices and 500 brands world wide. It automates lighting, air-conditioning, curtains and blinds, door locks, video doorbells, auto gate, sensors and irrigation. Some notable clients include Govtech, Changi Airport Group, Bosch showroom.
Adler International
To provide upon request
Simon, Thinknx, Lingg, and Janke are just a few of the unique European brands that Adler International has been working with since 2003. Since then, these brands have been distributed extensively around the island. Adler is an expert in offering complete automation solutions for both residential and commercial buildings.
Automated Lifestyle
To provide upon request
Customised audio/video, business, and home automation systems and solutions are offered by The Automated Lifestyle. They provide solutions from automated remote control lighting, curtains, and blinds to music and audio distribution and video/TV systems.
Home-A-Genius
To provide upon request or visit to the showroom
Home-A-Genius, which has been featured in The Strait Times, CNA, and Qanvast, is one of the top smart home providers in Singapore because they guarantee to give you a system with features that will secure your house. By consolidating all of your home appliances' access controls into a single app, Home-A-Genius makes managing and controlling them easier. As a result, you can lower your lights, turn on the air conditioning, set up routines, and other tasks without switching between different apps.
Do note that engaging these providers can be more expensive as it involves having someone planning the smart home journey with you.
---
Pros & Cons of a Smart Home
With all the good things early adopters have to say to laggards, we also dive into the pros and cons of owning a smart home.
One major consideration especially if you have non-tech-savvy older folks at home.
| Pros | Cons |
| --- | --- |
| Makes your life easier as you spend less time making decisions | High cost of installation |
| Energy-saving and convenience | Security issues where there's always a risk for security breaches, which can expose personal information or recordings stored in the cloud |
| Keep your home safe with smart locks remotely | Most smart speakers and smart displays have physical mute buttons, but you might forget to unmute them, which can also be a hassle if you're not nearby |
| Streamline your chores with smart appliances | Not be suitable for elderlies who are not tech-savvy or those who are not proficient in English |
| Monitor your home with smart security alerts especially when you have young kids at home | Privacy issues where there's a risk of someone gaining access with stolen credentials through smart devices |
| Customised to needs | Things can go wrong when you're setting up smart-home devices; maintenance can be an issue |
Is a Smart Home Worth It?
We have lived through generations without turning our homes into smart homes, so building one is not a need (for now).
The thing is that smart devices alone are not that cheap either. A Philips Hue white and colour ambience LED smart bulb that is compatible with most smart home systems, costs $71 on Amazon.
If my house requires five of these lights, just setting up alone would cost me $355.
There are also considerations such as whether I would need to change out all my current devices to fit into a smart home theme.
This would inevitably lead to an increment in expenses.
Similarly, before getting a house, one could also adjust the placement of switches (two or three-way switches) so that it is convenient if walking is really a hassle.
So, if you want to install any items, consider doing so during your home renovation stage so that you can do everything at once.
By doing so, your Interior Designer or Contractor(s) are aware of what you want and can advise accordingly if there is a need to make changes.
---
Home Automation in Singapore Doesn't Have To Be Expensive
Some tips gathered by current smart home homeowners.
1. When Picking a Smart Home Product, You Don't Have To Stick to the Brand or Ecosystem
This brings me back to the point of checking an item's compatibility with the ecosystem before purchase.
You don't have to stick to the same brand or ecosystem, just pick the item that suits your budget and works for you.
2. Try Out Xiaomi and IKEA Smart Home Products
These two brands are worth mentioning due to their competitive prices, and quality products.
In fact, the brands have teamed up where IKEA's line of smart lighting products will be connected to Xiaomi's ecosystem, where the products will get full support for the Mi Home app and for Xiaomi's AI assistant.
There're also bonus points for Xiaomi's products as they are compatible with Alexa, Apple HomeKit, and/or Google Assistant.
3. Optimise Spending Using Credit Cards
This needs no introduction.
For online purchases, don't forget to use your credit cards to optimise your spending and savings when you earn cashback!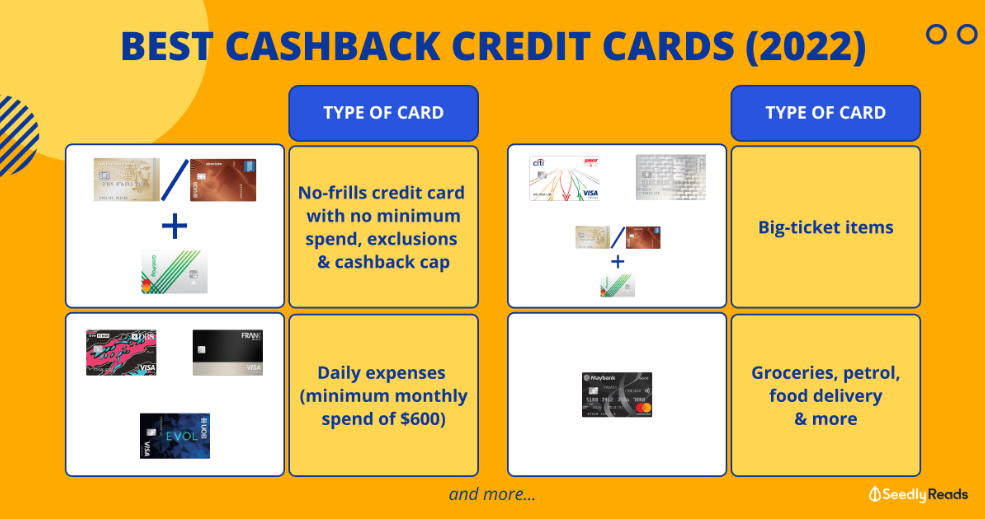 ---
Would You Build a Smart Home?
Personally, I don't see the need to create a smart home for now.
If you've always wanted a smart home system but find that it's slightly expensive, you can ahem hint to your loved ones that a housewarming gift would be great.
What are your thoughts and would you get one, or have you already upgraded to one?
Share your thoughts with us on our friendly Seedly Community!
Related Articles
About Hui Juan Neo
A savvy shopper and foodie at heart, I'm always on a lookout for discounts and deals to snag the best bargains.
You can contribute your thoughts like Hui Juan Neo
here.