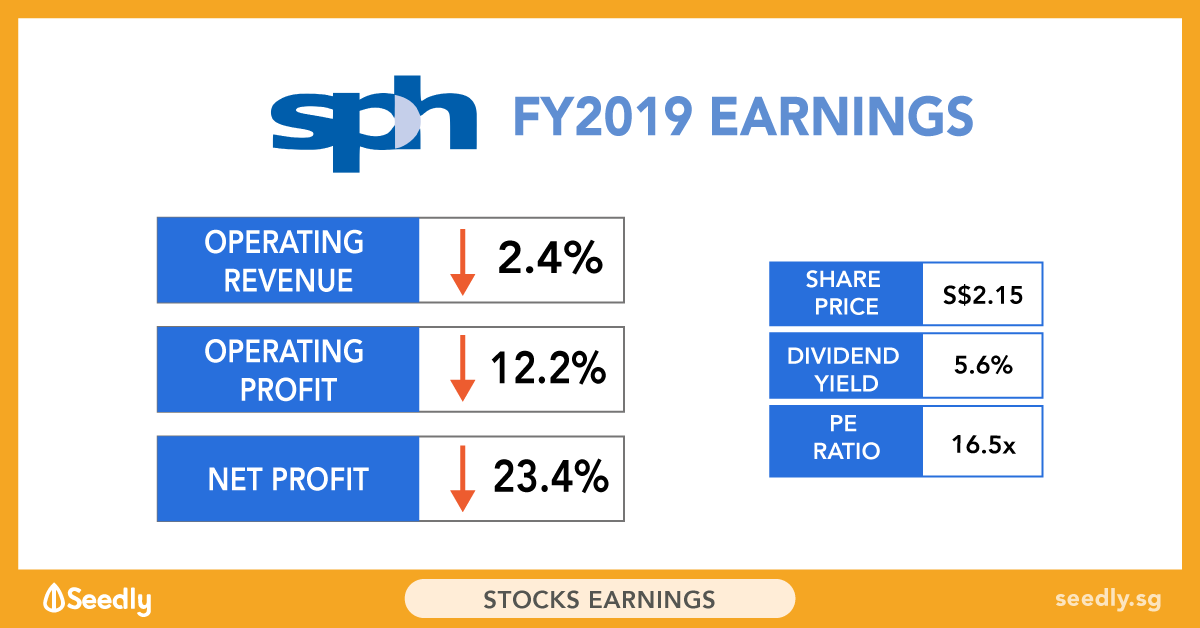 SPH's FY2019 Earnings: Overall Business Still Struggling
Singapore Press Holdings Limited (SGX: T39) (SPH) is Asia's leading media organisation with three business segments — media, property and others. It is also the owner of well-known publications such as The Straits Times and The Business Times.
Just yesterday, the company released its earnings for the full year ended 31 August 2019 (FY2019). The media business is still struggling, with no immediate respite in sight. Let's dive further.
---
TL;DR: Lower Profitability And Dividend At SPH

Revenue fell 2.4% year-on-year while net profit plunged 23.4%;
Dividend for FY2019 cut some 8%;
Current dividend yield high at around 6%, but doesn't look sustainable;
Staff retrenchment at the media business.
---
Show Me The Moolah
The following shows how SPH's different business segments performed for FY2018 and FY2019:
FY2019
(S$'000)
FY2018
(S$'000)
Change
%
Media
576,881
655,782
(12.0)
Property
296,512
242,417
22.3
Others (Incl. Aged Care)
85,862
84,356
1.8
Total
959,255
982,555
(2.4)
Source: Singapore Press Holdings FY2019 earnings presentation
As you can see, the media segment's revenue tumbled 12% to S$576.9 million, as compared to a year ago. This segment is involved in the production of content for distribution on print and other media platforms such as digital. Housed in this segment is also the advertisements that you see in the papers, both in physical and digital forms.
The decline in revenue in the media segment was due to 1) lower overall print advertisement revenue; 2) a fall in circulation revenue; and 3) the absence of revenue from ShareInvestor, which was divested in November 2018 for S$17 million.
SPH's property business, in which SPH REIT (SGX: SK6U) is a part of, shone like a bright spark.
Revenue from this segment surged 22.3% year-on-year to S$296.5 million. Asset acquisitions made during the year such as the UK student accommodations and Figtree Grove Shopping Centre helped to lift off performance. SPH REIT owns an 85% stake in Figtree Grove, an established sub-regional shopping centre in Wollongong, New South Wales, Australia. SPH REIT's gross revenue for FY2019 grew 7.9% year-on-year to S$228.6 million.
Overall, operating revenue for FY2019 fell 2.4% to S$959.3 million. Operating profit, which represents recurring earnings of the media, property and other segments, decreased by 12.2% to S$186.9 million. Net profit went south by 23.4% to S$213.2 million. Not good.
To add on to its woes, SPH's balance sheet continued to weaken.
Total debt stood at $2.06 billion and cash balance was at S$554.4 million, giving a net debt position of S$1.50 billion. A year ago, SPH had a lower net debt of S$1.25 billion.
That Media Business
SPH's main revenue driver is from media. So, it is worth taking a closer look at that segment. With readers consuming news more and more on the Internet, it's not easy to see where this business is headed. And that explains the diversification strategy of SPH away from media and into other asset classes such as aged care, and student accommodations.
For FY2019, overall print ad declined 13.9%, worse than the 12.4% fall seen in FY2018. If you recall, back in FY2012, the fall in newspaper ad revenue was "just" 2.9%. As for the digital ad business, revenue grew 4.5% year-on-year. But with print advertisement making up the bulk of SPH's business, print continues to be a mainstay for it.
SPH had tongues wagging again after it made public that it will reduce around 5% of its staff in the media business to restructure and streamline its operations. The retrenchment exercise is expected to cost SPH some S$8 million and be completed by the end of November this year.
Ka-Ching! Or Ka-Ching???
SPH declared a final dividend of 6.5 Singapore cents per share, which comprises of an ordinary dividend of 5.5 cents and a special dividend of one cent per share.
Including the interim dividend of 5.5 cents already dished out, the total dividend for FY2019 would be 12 cents per share. At SPH's current share price of S$2.15, the dividend yield is 5.6%.
The yield looks high, but readers should note that the latest dividend is lower than the total dividend of 13 cents per share given out in FY2018.
SPH's dividend looks precarious, given that it didn't generate any free cash flow for both FY2018 and FY2019. Free cash flow is money that the company can use to pay out dividends to shareholders, buy back shares, make acquisitions, reinvest into its business, or strengthen its balance sheet. With a lack of free cash flow, it's not surprising that SPH has to borrow more to sustain its business.
From The Horse's Mouth
Ng Yat Chung, chief executive of SPH, commented the following on his company's latest performance:
"The Media business continues to be challenged with the decline in print advertisement and circulation revenue. But we are seeing progress in our digital transformation strategy in terms of improved digital advertisement and circulation growth.
We have redeployed capital from our Treasury & Investment portfolio to invest in student accommodation which is yielding a steady stream of recurring income. We will continue to invest in such defensive, cash-yielding sectors to expand our recurring income base."
It pays to watch how the new investments pan out in the years ahead. At SPH's share price of S$2.15, it has a price-to-earnings (PE) ratio of 16.5 times, which doesn't look enticing to me given the struggles SPH faces.
Want More In-Depth Analysis And Discussion?
Why not check out Seedly's QnA and participate in the lively discussion surrounding stocks like Singapore Press Holdings Limited and many more!
Stock Discussion on Singapore Press Holdings Limited
The information provided by Seedly is for general information purposes only and is not intended to be personalised investment advice.
About Sudhan P
It isn't fair competition when only one company in the world makes Monopoly. But I love investing in monopolies. Before joining the Seedly hood, I had the chance to co-author a Singapore-themed investment book – "Invest Lah! The Average Joe's Guide To Investing" – and work at The Motley Fool Singapore as an
analyst
.
You can contribute your thoughts like Sudhan P
here.