Why I'm Wary of StarHub's Dividend Yield of 6%
StarHub Ltd
(SGX: CC3)
StarHub is well-known as a high dividend-yielding stock.
In its 2018 annual report, the telco commented:
"In line with past practice, StarHub remains the only local telco that pays dividends quarterly since 2005, with one of the highest yields in 2018."
With a dividend yield that is way higher than the stock market in general, StarHub is sure to attract retirees and income-hungry investors alike. 
However, before we invest in StarHub shares for its dividend, we should find out if the dividend yield is sustainable. If it's not sustainable, investors may end up investing in a dividend trap. 
As for me, I'm not all too excited about StarHub's high dividend yield as I think that it's unsustainable. 
Let me explain why by looking at things like its dividend yield, dividend history, and most importantly, its dividend sustainability.
StarHub's Dividend Yield
StarHub's share price is currently at S$1.41. At that price, it has a dividend yield of 6.4%. 
In comparison, the SPDR STI ETF (SGX: ES3), which can be taken as a proxy to the Singapore stock market, has a distribution yield of around 3.7%. 
The SPDR STI ETF is an exchange-traded fund (ETF) that tracks the performance of the Straits Times Index. 
StarHub's dividend yield is indeed higher than the stock market's average. But a company's dividend yield tells us nothing about its sustainability.
Let's press on.
StarHub's Dividend History
The following shows StarHub's dividend since 2006 (the company has a 31 December year-end):
Year
Total dividend per share
(Singapore cents)
2006
11.5
2007
16.0
2008
18.0
2009
19.0
2010
20.0
2011
20.0
2012
20.0
2013
20.0
2014
20.0
2015
20.0
2016
20.0
2017
16.0
2018
16.0
The company's yearly dividend from 2006 to 2016 grew consistently. Even during the Great Financial Crisis of 2007 to 2009, the telco did not slash its dividend.
However, for 2017, StarHub cut its dividend from 20.0 cents to 16.0 cents per share. For this year, the telco's dividend is expected to be reduced further.
StarHub's Dividend Guidance
StarHub mentioned the following about its dividend in its 2018 annual report:
"For FY2019, we have committed to pay 9 cents dividend per share, or at least 80% of our net profit attributable to shareholders."
The chart below shows the company's dividend guidance, as well as the outlook for 2019: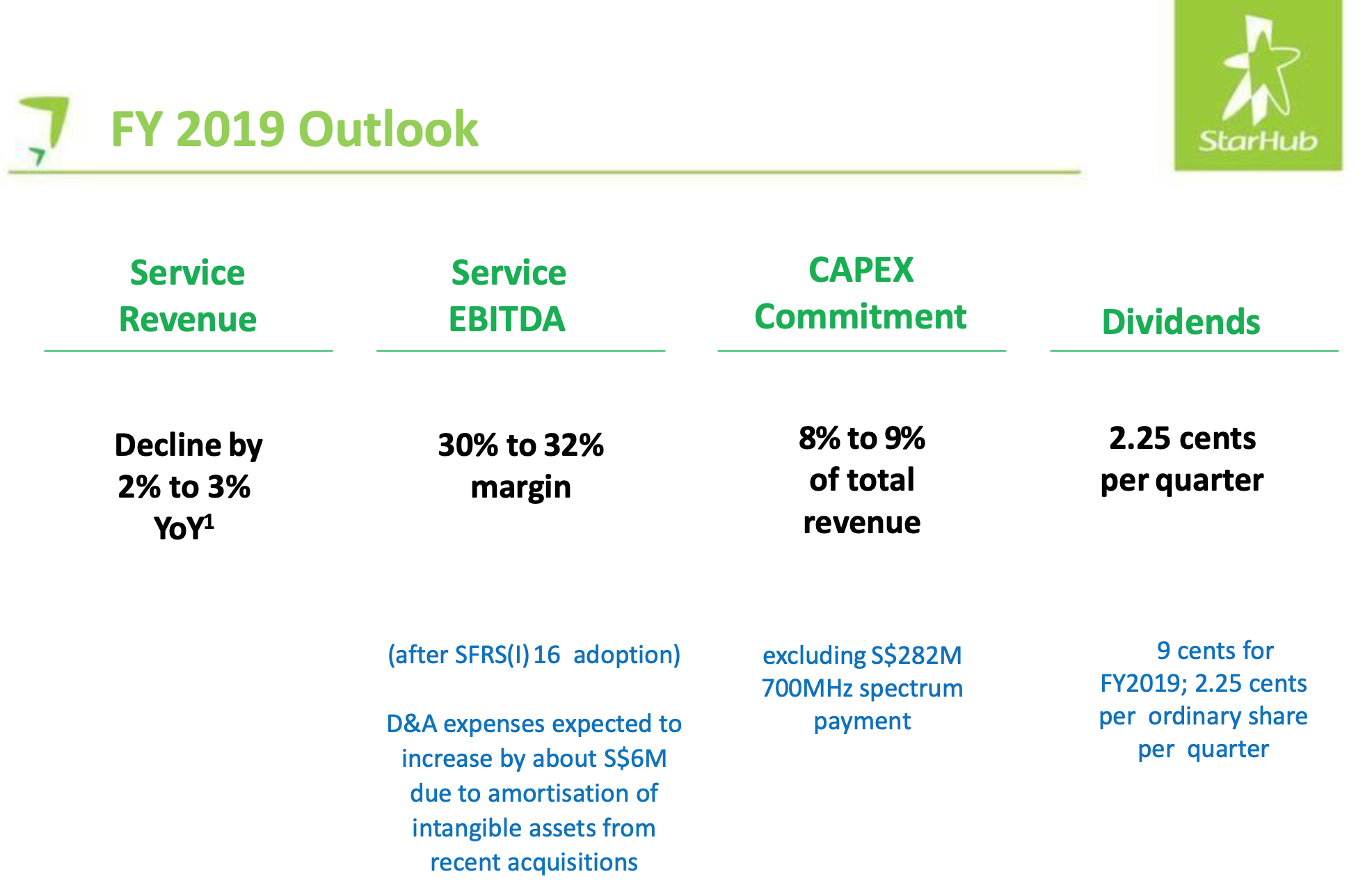 The 2019 projected dividend of 9.0 Singapore cents per share is a 44% reduction from the dividend paid out in 2018.
StarHub's Dividend Sustainability
To find out if a company has sustainable dividends, we can compare its free cash flow to the amount in dividends that it pays out. Companies that pay less than 100% of their free cash flows as dividends provide a margin of safety.
The following shows StarHub's net profit, free cash flow, total dividend paid, and dividend payout ratio since 2014:
9M2019
2018
2017
2016
2015
2014
Net profit
(S$' million)
151.5
201.7
272.9
341.4
372.3
370.5
Free cash flow
(S$' million)
182.9
145.5
221.3
184.0
215.7
333.3
Dividends paid
(S$' million)
116.8
276.8
276.6
345.5
345.8
345.1
Dividend payout as a percentage of net profit
77%
137%
101%
101%
93%
93%
Dividend payout as a percentage of free cash flow
64%
190%
125%
188%
160%
104%
From 2014 to 2018, the telco paid out more in dividends than its earnings and free cash flow could afford. This can be seen from the high dividend payout ratios.
For the first nine months of 2019 (9M2019), StarHub's dividend payout ratios came to more palatable levels, at 77% of net profit and 64% of free cash flow.
If the firm's earnings and free cash flow can be sustained for the whole of 2019 and beyond, StarHub would be able to maintain its total dividend of 9.0 Singapore cents easily.
However, given StarHub's track record of falling net profit and free cash flow in the past, and keen competition in the telco industry, the company's dividend looks unsustainable to me. For perspective, StarHub's net profit has tumbled 14% and free cash flow fell around 19% each per year during the period under review. 
With a lower service revenue guided for 2019 (as seen in the outlook chart earlier), things could get worse before it gets better.
What's Your Take on StarHub's Dividend Yield?
You can head to Seedly's QnA and participate in the discussion surrounding stocks like StarHub Ltd (SGX: CC3) and many more!
Disclaimer: The information provided by Seedly serves as an educational piece and is not intended to be personalised investment advice. ​Readers should always do their own due diligence and consider their financial goals before investing in any stock. 
About Sudhan P
It isn't fair competition when only one company in the world makes Monopoly. But I love investing in monopolies. Before joining the Seedly hood, I had the chance to co-author a Singapore-themed investment book – "Invest Lah! The Average Joe's Guide To Investing" – and work at The Motley Fool Singapore as an
analyst
.
You can contribute your thoughts like Sudhan P
here.