Affordable Stay-at-Home Activities for Your Kids To Keep Them Occupied and Not Bother You
"Wow, what a peaceful day of working from home today!"
Said no working parent ever.
As a regular millennial with no parental duties, I already find myself occasionally getting distracted by snacks and funny memes while working from home.
I cannot imagine how parents can juggle between an active child and work responsibilities…
They truly have 100% of my respect.
And with children mostly be based at home these days (holidays and home-based learning), parents might be fumbling to look for activities for them to do.
Since raising a kid is already expensive business, why not take a look at some affordable options to keep them occupied while they are home?
---
TL;DR: Affordable (or Free) Stay-at-Home Activity Ideas and Resources for Children To Enjoy and Learn From
Category
Activity
By
Price
Art & Craft
Colouring Sheets, interactive online music series
Singapore Symphony Orchestra (SSO)
Free
Virtual storytelling on classic music
$20
Giant colouring poster
Scribolo
$32
Origami
Canon
Free
Science & Tech
Challenge Cards featuring science experiments
James Dyson Foundation
Free
Science Kits (Follows MOE Science Curriculum)
Science Kits SG
From $4.90
Science Crates
Kiwico
From $20.64 for 12-month subscription
Coding, Robotics, Entrepreneurship Workshops
Smarter Me
From $20
Gardening
Grow your own microgreens
Kidz Treehouse
$12.90
Grow your own microgreens
Everything Green
From $4
Hydroponics Kit System
Eco City Hydroponics
From $35
Virtual Babysitting
Virtual interactive sessions
Virtual Babysitters Club (VBC)
From US$18/hour
Babysits
From S$12/hour
Online Platforms & Educational Resources
Online learning
Various platforms
Free
Online activities
Virtual field trips and excursions
---
Hone Your Child's Art & Craft Skills
We all know how beneficial art is for kids, encouraging creativity and self-expression.
If you're interested to get your child to develop their skills while having fun, here are a couple of activity ideas!
Learning Resources from Singapore Symphony Orchestra
Besides offering colouring sheets that showcase different details of Victoria Concert Hall, the Singapore Symphony Orchestra (SSO) also has other learning resources such as an interactive online series called Musical Soundbites.
There is also an ongoing virtual storytelling session which will introduce children to classical music.
Time to discover your child's hidden musical talent!
Price: $20 for the virtual storytelling session, free for all other activities
Giant Colour Poster
Wanna learn about Singapore's landscape while having some colouring fun?
Scribolo offers huge (like, huuuuuge) colouring posters which showcase different iconic locations of our country, with lengths spanning longer than the heights of some kids.
If you're one who wishes to keep your child away from digital screens, this might be the perfect item to purchase.
While the price isn't the cheapest, such a colouring sheet can probably last for days, meaning the cost per use is… effectively lower.
Get to enjoy some peace and quiet while your child colours away for hours on end.
Price: $32
Make Some Origami
If you're looking to create some adorable animals out of paper, Canon is offering free origami templates for families to enjoy.
Get your child to develop some motor skills while working on these crafts as well!
Choose from a huge selection of animals, ranging from red pandas, otters, sloths, cats, dogs to birds and more…
To be very honest, this is something I feel even adults can do.
They look so flippin' cute and seem to be a great addition to our work-from-home desks.
Price: Free, need a printer to print out templates
---
Spark That Inner Scientist With These Science & Tech Activities
I love science.
I've always had fond memories of science experiments, and don't even get me started on the number of times I've been wowed by them.
Science is AMAZING.
If this is an area you want your kids to explore, there are many activity ideas to encourage your child's curiosity in Science, Technology, Engineering, Arts and Math (STEAM).
He/She could be the next Bill Nye!
James Dyson Challenge Cards
Dyson is providing downloadable challenge cards curated specially for children.
These challenges are designed by Dyson engineers to get them excited about engineering.
While this won't be a fully hands-off project for parents since you might be cleaning up broken spaghetti bridges or raw eggs…
If you're someone who wishes to get your child interested in science while playing, these materials are a great start to interesting science experiments!
Price: Free, prepare your own ingredients
Science Kits
Science kits are a great way to experiment with different topics for different age groups.
With so many different types to choose from, here are some affordable ones to start with!
Details: Materials are closely aligned to MOE Primary School's Science curriculum
Price: From $4.90
Kiwico is founded by a mother of 3 and has delivered over 25 million crates worldwide.
Details: Has science projects for children from age 0 onwards
Price: From S$20.64 for a 12-month subscription
Coding, Robotics or Entrepreneurship Online Classes
If you hope to take it a little further, there are now online workshops held by Smarter Me for children to develop skills in robotics, game development and entrepreneurship.
They even have personal finance workshops to educate kids about financial literacy.
Details: Recommended for ages 8 to 17
Price: From $20 onwards
---
Unleash That Inner Gardener With Simple Gardening Kits
While most of us don't have huge gardening plots at our houses, indoor gardening kits have been all the rage these days.
We can now grow food easily out of small packages without needing a huge space!
Besides it being a fun activity, this will allow your child to gain a deeper understanding and appreciation of the origins of food too.
This is also perfect if you'd like to skip a few years ahead and get to taste food that's made by your child.
Here are some affordable options that are available: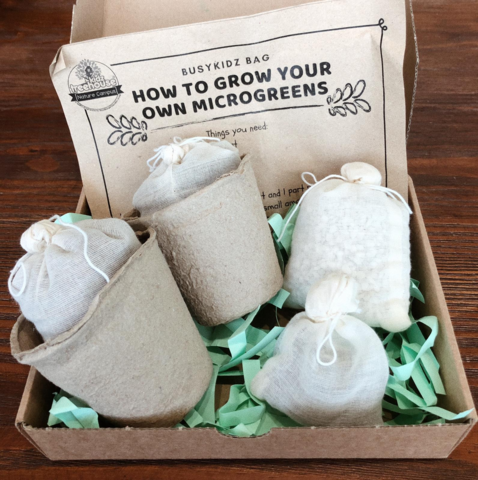 Price: $12.90
Contains:
Coco Peat x 2 bags
Perlite x 1 bag
Seeds x 1 bag
Pot x 2 pieces
Price: From $4
Price: From $35
Contains:
One Nutrient Solution Tank One Planting Board/Tank Lid (4-6 holes)
One Slab of Seed Germination Sponge
One Packet of LECA balls to support plants in the pot
One Packet of Hydro Pots (5-7 units)
One Packet of Sample Seeds
One Package LUSHGro-HYDRO Nutrient Solution A/B Formulation 250 ml set
If you have slightly more budget to spare, there are more garden kits and smart gardens to explore!
---
Virtual Babysitting
If you are a parent looking for a fuss-free time with zero assembling of kits or clearing of science experiments, there is now an option to hire a virtual babysitter.
And if you're wondering:
"Huh? Not even here how to babysit my kid?"
As imagined, virtual babysitting is done via a video call where the babysitter keeps the child engaged through various activities.
In fact, this is something that has been gaining popularity around the world as children can learn through interactive sessions instead of just staring at digital screens.
Nevertheless, it is usually recommended for children above 4 years old because there might be difficult keeping a child on his/her seat for any ages that are younger.
Virtual Babysitters Club (VBC) seems to be one more the more established agencies out there, hiring professional performers to provide activities for children.
They have performed on Broadway, toured internationally or have ivy league degrees in theatre.
Parents can sign their children up for different sessions, from one-to-one sessions to public group sessions (think dance parties, puppet shows etc.).
Price: From US$18 for 1 hour
If you're looking for one closer to home, Babysits has over 500 babysitters in Singapore who offer virtual babysitting.
Just like online dating, you choose a babysitter based on their profile and can zoom into the region they are based at as well.
Babysitters would typically come up with activities suitable for your child to keep him or her engaged during the session.
Price: From $12/hour
---
Free Online Platforms & Educational Resources
To entertain and educate your kid at the same time, there are tons of free educational content that is available online.
We have compiled a few of them based on their categories, namely:
Online Learning
Online Activities
Virtual Field Trips & Excursions
And the best part is… they are all FREE!
However, do remember to regulate their screen time to prevent screen fatigue!
---
Other Methods To Lower Your Expenses as a Parent
We know that raising a child can be really expensive.
If you're looking for ways to lower your expenses as a parent, here are some hacks you must not miss:
About Xue Miao
A
millennial
who is learning to adult. She doesn't believe in the rat race and hopes to live on a farm someday.
You can contribute your thoughts like Xue Miao
here.