The Definitive Singapore Neighbourhood Guide: Is Tampines the Best Neighbourhood to Settle Down in?
To help you find the best place to live in, we decided to create this Definitive Singapore Neighbourhood Guide series.
Where we lay out the facts of the neighbourhood and evaluate it as objectively as possible.
This guide will be particularly useful to you if you're:
a prospective homeowner
a homeowner looking for a change of environment
an expatriate looking to settle down in Singapore
The first instalments took us to Punggol, Tanjong Pagar, and Tiong Bahru.
This week, we'll head to Tampines to see if east side is REALLY the best side.
Note: this will be particularly useful to prospective homeowners looking at the Tampines May 2020 BTO launch.
---
TL;DR: The Definitive Guide to the Tampines Neighbourhood
Final Score for the Tampines neighbourhood: 27 | A-rank 
*Click on each individual category to jump straight to it.
---
Our Comparision Methodology
Each neighbourhood will be evaluated based on a list of 7 criteria with equal weightage.
Each criterion will be given a score from 1 – 5.
Personality and Charm
We will look at the distinct charm and character of the neighbourhood.

A score of 5 means that the neighbourhood is charming and full of character, while a score of 1 indicates the reverse.
Affordability
(Median Resale Flats Price)
We will look at the median price of HDB flats in the neighbourhood.

A score of 5 means that the flats are the most affordable, while a score of 1 indicates that prices are the most expensive.
Accessibility
We will evaluate transport links such as MRT stations, bus interchanges and accessibility by private transport.

A score of 5 means that the neighbourhood is very accessible, while a score of 1 indicates the reverse.
Schools
We will look at all the Primary Schools, Secondary Schools and Tertiary Institutions in the neighbourhood.

A score of 1 indicates that the school landscape is rather lacking, while a score of 5 indicates that this is where you will see all the parents queueing up to volunteer at schools.
Shopping and Lifestyle Amenities
We will evaluate the malls and shopping available in the area.

A score of 1 means that the neighbourhood is lacking in amenities and would be rather inconvenient, while a score of 5 indicates otherwise
Recreational Amenities
We will evaluate the access to recreational facilities like nature parks or reserves.

A score of 1 indicates that you will probably have to go outside the neighbourhood to have fun, while a score of 5 indicates you won't have to leave.
Food
We will look at the hawker centres, fast food joints and restaurants available in this neighbourhood.

A score of 1 indicates much improvement needed with food options, while a score of 5 indicates a foodie paradise.
The total score will then determine the neighbourhood's rank, which ranges from S Rank to D Rank:
S-Rank: 28 – 35 Points
A-Rank: 22 – 27 Points
B-Rank: 15 – 21 Points
C-Rank: 8 – 14 Points
D-Rank: 1 – 7 Points
Disclaimer: As objective as I strive to be, there'll inevitably be some bias present in my evaluation. So… All opinions expressed here are solely my own.
Is Tampines the Best Neighbourhood?
For this guide, the focus will be on the Tampines neighbourhood/planning area as demarcated by the boundaries in red.
The area spans over 20.89 square kilometres and consists of:
Tampines North
Tampines East
Tampines Changkat
Tampines Central
Tampines West
Simei
History of Tampines
Back when Singapore was a mere fishing village, Tampines was filled with swamps, sand quarries, forests, rubber plantations and an abundance of tempinis (Malay: ironwood trees).
The neighbourhood was named after a river, Sungei Tampines, as marked out in the Plan of the Town of Singapore map created by Franklin and Jackson back in 1828.
No prizes for guessing, but the river was given this name as it was said that many ironwood trees grew beside it.
Did you know?
The Tampines neighbourhood used to house military training facilities up till about 1987.
Another fun fact: Tampines was awarded the Word Habitat Award by the United Nations (UN) on 5 October 1992, due to its outstanding contribution towards human settlement and development.
1) Personality and Charm of Tampines (4/5)
Tampines is actually the regional centre for the East region, the third-largest new town in Singapore by land area and is also the third most populated.
Tampines is one of four regional centres that spread Singapore's commercial activity outside the Central Business District. These regional centres are important as they relive the congestion around the city's centre.
Although Tampines may not be as lively or busy as the city, it is exactly that laidback charm which is loved by both visitors and residents.
The neighbourhood itself can be described as a self SUFFICIENT town with houses, employment, shopping, education, recreation, culture — everything which marks the independent, satisfying town.
While most heartland neighbourhoods have just one mall to serve their residents, Tampines has FOUR! Tampines 1, Tampines Mall, Century Square and Eastpoint Mall.
Tampines is also home to the sprawling Tampines Retail Park, where warehouse retailers Courts, Ikea and Giant are located.
Not to mention Our Tampines Hub, Singapore's first-ever integrated community hub, which boasts sporting and lifestyle facilities for endless hours of fun.
With its laidback charm, UN prize and no lack of modern amenities, Tampines is deserving of a 4/5 score.
2) Affordability: Tampines Median Resale Flats Price (3/5)
We'll be using the median price of HDB resale flats during the fourth quarter of 2019 as a benchmark.
We have chosen this statistic as a measure of affordability as the median resale flat price provides a good indicator of the average price of housing in the area.
Although Tampines is a mature housing estate with excellent amenities, houses there are surprisingly still relatively affordable.
The main estate which includes Tampines North and Simei consists of 152,000 HDB flats and is home to over 237,800 residents.
Tampines Resale Flats Median Price 2019 Q4
We have included data from the most expensive areas and most affordable neighbourhoods.
| Town | 3-Room | 4-Room | 5-Room | Executive |
| --- | --- | --- | --- | --- |
| Woodlands | $240,000 | $330,000 | $398,000 | $550,000 |
| Bukit Merah | $310,000 | $684,000 | $783,500 | - |
| Punggol | $358,000 | $463,900 | $472,500 | * |
| Tampines | $326,500 | $430,000 | $530,000 | $675,000 |
(-) indicates no resale transactions in the quarter
(" * ") refer to cases where there are less than 20 resale transactions in the quarter for the particular town and flat type.
If you look at the data, Tampines flats lie in between more expensive neighbours like Bukit Merah and more affordable neighbourhoods like Woodlands.
Prices are also slightly more affordable compared to Punggol.
This downgrades their affordability rating to a middle of the road 3/5.
With the upcoming developments in Tampines North, closeness to commercial and industrial hubs, position as a regional hub, it is very likely that property prices in Tampines will be going up both in the medium and long term.
3) Accessibility: How Accessible is Tampines by Public Transport and Private Transport (3/5)
In terms of transportation, Tampines' far east location and distance from the city centre makes it one of the less convenient places in Singapore (read: ulu).
However, the neighbourhood is still rather well connected to the majority of Singapore's transport networks by MRT, bus or by private transport.
MRT Stations Near Tampines
Currently, there are two lines that pass through Tampines: the Downtown line and East-West line.
In this sprawling neighbourhood, there are a total of five MRT stations:
Tampines (EW2/DT32)
Tampines West (DT31)
Tampines East (DT32)
Simei (EW3)
Expo (CG1/DT35)
Tampines MRT is about 30 minutes away from Raffles Place MRT station (EW14/NS26) which grants easy access to the North-South Line.
You can also get to areas like Bencoolen MRT Station (DT21) Marina Bay via Downtown MRT Station (DT17) via the Downtown Line in about 30 minutes.
Expo MRT is also just an MRT stop away from Changi Airport MRT Station (CG2).
Bus Services Tampines
Tampines is also served by two bus interchanges; Tampines Bus Interchange and Tampines Concourse Bus Interchange.
Built in 1987, the Tampines bus interchange is linked to Our Tampines Hub and caters to about 25 bus routes.
Tampines Concourse Bus interchange opened in 2016 and is a stone throw away from Tampines bus interchange, serving four bus routes.
Tampines Bus Interchange Buses
| Service | Destination |
| --- | --- |
| 3 | Punggol |
| 3A | Pasir Ris Drive 12 (Blk 747A) |
| 4 | ↺ Changi North Way |
| 8 | Toa Payoh |
| 10 | Kent Ridge |
| 19 | ↺ Airport Cargo Road |
| 20 | ↺ Changi Business Park Avenue 3 |
| 22 | Ang Mo Kio |
| 23 | ↺ Rochor Canal Road |
| 28 | Toa Payoh |
| 29 | ↺ Changi Village |
| 29A | Tampines Avenue 7 (Blk 497D) |
| 31 | Toa Payoh |
| 31A | New Upp Changi Road (Tanah Merah Stn Exit A) |
| 37 | ↺ Changi North Crescent |
| 38 | Bedok |
| 46 | Upper East Coast |
| 65 | HarbourFront |
| 67 | Choa Chu Kang |
| 67W | Bukit Timah Road (Little India Stn Exit A) |
| 68 | Pasir Ris |
| 68B | Tampines Avenue 11 (Reebonz Bldg) |
| 69 | ↺ Bedok |
| 72 | Yio Chu Kang |
| 81 | ↺ Serangoon Central |
| 127 | ↺ Tampines Industrial Avenue 5 |
| 127A | Tampines Avenue 9 (Blk 742A) |
| 291 | ↺ Tampines Street 81 |
| 292 | ↺ Tampines Street 22 |
| 293 | ↺ Tampines Avenue 7 |
| 969 | Woodlands |
| 969A | Yishun Avenue 2 (Yishun Stn) |
Tampines Concourse Bus Interchange Buses
| Service | Destination |
| --- | --- |
| 18 | ↺ Bedok |
| 39 | Yishun |
| 129 | St. Michael's |
| 298 | ↺ Tampines Street 86 |
Tampines Public Transport Commute to Work Areas
Here is an estimation of how long it will take to get to the main work areas in Singapore from Tampines by public transport:
CBD:
35 – 40 minutes
Changi Business Park:
30 – 35 minutes
One North Buona Vista:
60 – 70 minutes
Jurong International Business Park:
75 – 80 minutes
Tuas:
135 minutes
Unfortunately, getting around Singapore from Tampines will take awhile on public transport. Even Changi Business Park which is relatively near is still about half and hour away.
Tampines Accessibility by Private Transport
Motorists can get around Singapore well from Tampines.
They can head onto the:
Pan Island Expressway (PIE) to head to town and further West.
Tampines Expressway (TPE) to head North-East
East Coast Parkway (ECP) to head to the airport. The ECP also connects and to the Marina Coastal Expressway (MCE) and Kallang-Paya Lebar Expressway (KPE)
Here is an estimation of how long it will take to get to the main work areas in Singapore from Tampines by car accounting for traffic:
CBD:
20 – 40 minutes
Changi Business Park:
10 – 20 minutes
One North Buona Vista:
25 – 45 minutes
Jurong International Business Park:
30 – 45 minutes
Tuas:
45 – 75 minutes
Overall Accessibility in Tampines
In terms of convenience by public transport or private transport, Tampines' connectivity is rather average for Singapore.
This is one of the downsides of its laidback charm.
I would give Tampines' accessibility a 3/5 score because of this.
4) Schools in Tampines (5/5)
There are 12 primary schools, 9 secondary schools, 2 international schools, and 3 tertiary institutions in Tampines.
Primary Schools in Tampines
Angsana Primary School
Changkat Primary School
Changkat Changi Primary School
Chongzheng Primary School
East Spring Primary School
Gongshang Primary School
Junyuan Primary School
Poi Ching School
Saint Hilda's Primary School
Tampines North Primary School
Tampines Primary School
Yumin Primary School
Secondary Schools in Tampines
Changkat Changi Secondary School
Dunman Secondary School
East Spring Secondary School
Junyuan Secondary School
Ngee Ann Secondary School
Pasir Ris Secondary School
Springfield Secondary School
Saint Hilda's Secondary School
Tampines Secondary School
Tertiary Institutions in Tampines
Temasek Polytechnic

ITE College East

Singapore University of Technology and Design
International Schools in Tampines
Middleton International School
United World College of South East Asia (East Campus)
Basically, you or your child can complete his or her entire education journey without having to leave Tampines.
FYI: there are also plans to add new schools in Tampines due to increasing demand.
With a new Pathlight campus set for Jan 2023, Tampines will become even more inclusive.
I am rating the school situation in Tampines 5/5 due to an abundance of Primary schools, Secondary schools, tertiary institutions and International schools.
5) Shopping and Lifestyle Amenities in Tampines (5/5)
Tampines is home to three major malls; Tampines Mall, Century Square and Tampines 1. There are also East Point and Our Tampines Hub. Although Our Tampines Hub is not a mall, there are quite a few shopping options there too.
A) Shopping Malls in Tampines
Tampines Mall: For the Young
Located just next to Tampines MRT, Tampines Mall is a favourite spot of the young and young at heart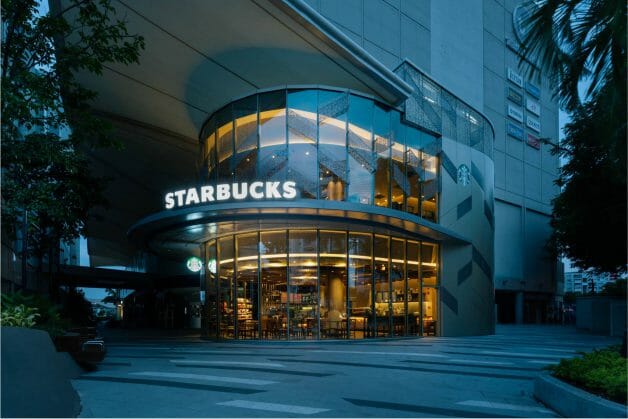 This established heartland mal houses Singapore's first Starbucks boutique concept, a beautiful two-storey building with cozy armchairs and an interactive bar. The boutique is also more atas (fancy) than regular starbucks outlets with unique features not found in a regular Starbucks.
Tampines Mall's shopping, dining, and entertainment scene are no slouch either with favourites such as H&M, Courts Megastore, Din Tai Fung, Decathalon, Golden Village Tampines, Genki Sushi and more. The roof level is also an education hub with many enrichment centres and a playground as well.
There is also a FairPrice Tampines Mall for all your grocery needs.
Century Square: For a Weekend Hangout
Right next to Tampines Mall is century square which is linked up via a sheltered walkway.
After undergoing a revamp in 2018, the mall received a fresh new look and an expansion with 50 per cent more stores to explore.
Century Square is a great spot to chill over the weekend for your family. Shops like Foot Locker are great for sneakerheads while Puma caters to the active ones. Popular food such as Hai Di Lao, Mediumrare by Saveur, Nakhon are a must-try when you're there.
After your meal, you can catch a movie at Filmgarde Century Square or let loose at the Virtualand arcade.
You can also grab your groceries at speciality Japanese grocery store J-mart.
Tampines 1: For Food and Fashion
Tampines 1 rounds up the trio of malls next to Tampines MRT.
Tampines 1 is known for its vast array of popular international fashion brands like AW Lab, Benjamin Barker, Sephora, Triumph and Uniqlo, complimented by local stores like The Closet Lover, The Editor's Market and The Tinsel Rack.
Hungry shoppers can rejoice at the wide range of popular dining options available, such as 4Fingers Crispy Chicken, Blackball Desserts, Châteraisé, iSteaks, Kuriya Japanese Market Yokocho, Sushi Tei and more.
You can also find Cold Storage and Shine Korea for all your grocery needs.
Our Tampines Hub: For Families with Kids
The crown jewel of Tampines is arguably Our Tampines Hub a huge complex that encompasses a stadium, a sports hall, a swimming complex, a library, a mall, and several government agencies all in one.
With these many activities and amenities available in one location, there really is no better place to keep the whole family entertained.
Once you've worked up an appetite, indulge at the mall with tasty treats from Hong Kong Sheng Kee Dessert, Commons, Qiji Express, Toasties and more…
There is also an NTUC Fairprice located there.
You can get there by exiting from the Tampines MRT exit.
Eastpoint Mall
Last but not least, there is Eastpoint a heartland mall that serves the Simei Estate.
The Mall has over 100 shops spanning six stories and is located right next to Simei MRT and easily accessible by other forms of public transport.
You can find favourites such as Daiso, a 24-hour FairPrice and over 30 F&B outlets.
Tampines Retail Park
Living in Tampines brings you closer to Tampines Retail Park with its trio of IKEA, Giant and Courts Megastores.
There is free parking, convenient shuttle buses from Tampines Mall and provides a great shopping experience!
B) Supermarkets and Wet Markets in Tampines
Tampines Supermarkets
Cold Storage Tampines
FairPrice Eastpoint
FairPrice Tampines Hub
FarePrice Tampines Mall
FairPrice Xtra Changi Business Park
Prime Supermarket (Tampines Street 81)
Sheng Shiong Tampines Central
Tampines Wet Markets
Tampines Mart Wet Market
Tampines Round Market & Food Centre
Kar Mui Market Produce Shop
C) Hospitals And Clinics in Tampines With CHAS
For healthcare, there is the SingHealth Tampines polyclinic and numerous private clinics in the area.
There are also Changi General Hospital and St. Andrews Community Hospital in Tampines for more serious ailments.
Do remember to check your Integrated Shield Plans to see what kind of coverage you are entitled to.
Now the good part, there are quite a few private clinics in Tampines.
Family Medicine
Able Medical
Adidah Family Clinic & Surgery
ALLHEALTH FAMILY CLINIC
Cecilia Family Clinic & Surgery
CENTRAL 24-HR CLINIC (TAMPINES)
Advanced Dental Surgery Tampines Pte Ltd
Amical Dental Surgery
Ann Arbor Dental Surgery Pte Ltd
Careway Dental Surgery
Charles Dental Surgery
Do note that this list is not exhaustive. You can check out the CHAS clinic locator to find one near your neighbourhood.
You'll be glad to know that these clinics support the new and improved CHAS card which provides subsidies for ALL Singaporeans for chronic conditions, regardless of income.
D) Post Office in Tampines
You'll be glad to know that there are the Singapore Post – Tampines Central Branch and numerous POPStations for all your mailing needs:
In terms of shopping and lifestyle amenities, Tampines has everything you need.
I am giving Tampines a 5/5 score for its close to perfect range of shopping and lifestyle amenities for all your needs.
6) Recreational Amenities in Tampines (4/5)
The opening of Tampines Hub opened up a whole range of things to do in Tampines.
There is a mixture of sports, cultural and leisure activities for both young and old here.
Sports & Fitness
Our Tampines Hub has a swimming pool, badminton courts and a football field for all your recreational needs.
There are also several gyms in Tampines Central for those who want to live the #fitspo life.
First and foremost, there is the Tampines Active SG gym which is one of the biggest ActiveSG gyms in Singapore.
There is also True Fitness at NTUC Income Building, which has up to state-of-the-art gym equipment, an aerobics and hot yoga studio and locker room facilities that come with dedicated steam rooms.
Fitness First at the CPF building offers group exercise classes for yoga and cycling, with over 60 cardio and resistance machines, and highly-qualified personal trainers.
Female gym-goers who would be more comfortable in a women-only gym can head down to Amore at Tampines 1.
Aside from the standard gym facilities and workout classes, there are also steam bath facilities and a boutique spa for you to treat yoself.
Parks And Nature
Those looking to get away from the city can head to the various parks in Tampines, such as Tampines Quarry, Sun Plaza Park, Tampines Eco Green and more.
In the past, Tampines Quarry used to be a Sand Quarry.
However, since it was no longer used for that purpose, it was left to collect rainwater and become this beautiful hidden nature spot buried within the heart of Tampines.
The quarry is great for biking, hiking and getting away from the hustle and bustle of the city.
Did you know? you can view Sakura in Singapore? Around March/April and August/September, the trumpet trees in Sun Plaza Park become painted with a beautiful shade of pink when the trumpet flowers bloom.
Tampines Eco Green is located near Tampines MRT station.
The wheelchair-accessible park is popular with nature lovers due to its includes open grasslands, freshwater wetlands and a secondary rainforest. Tampines Eco Green also has hiking trails and is a great spot to go bird watching,
Cultural and Entertainment
You can also head to HomeTeamNS Tampines located at 1 Tampines Walk.
Besides playing laser tag, you can start your climbing adventure at Clip 'n Climb- a rock-climbing arena. With over 20 climbing challenges of varying difficulty, there is something for beginners and even seasoned pros.
Again Our Tampines Hub features with its lively Festive Plaza.
Here you get to catch free live movie screenings and enjoy live music from local musicians in the evening.
There is also a full-sized football stadium where you can catch football or rugby games. Even if you are not a fan of these sports, the stadium itself is a sight to behold.
For music lovers, Club Jamming Paradise Studio is conveniently located near Tampines MRT. Here you can live out your dreams of becoming a musician or just jam with your friends.
For its whole range of sports, cultural and leisure activities for both young and old. Not to mention Our Tampines Hub, I will give Tampines a 4/5 for its recreational amenities, docking a point as there is nothing too spectacular.
7) Tampines Food (3/5)
Tampines has quite a decent amount of food options that will make you want to travel to the far east for.
Tampines Hawker Centres – Tampines Round Market
Cheap and good food can be found at the numerous hawker centres and Kopitiams spread all around Tampines.
You can find great eats at Tampines Round Market.
The hawker centre and wet market is home to a good number of acclaimed stalls including:
Xing Ji Wanton Mee
Yummy Sarawak Kolo Mee
Song Han Carrot Cake
137 Lor Mee Prawn Mee
Rajarani Thosai
Chai Chee Pork Porridge
Pigs' Viscera Pork Ribs Prawn Noodle
and more…
Tampines Street 21 is no slouch either with Mui Kee Hainanese Chicken Rice, Fu Yuan Teochew Bak Chor Mee and Saffron's Cafeteria at Tampines.
There are also other gems like Tampines 802 Carrot Cake, Al-Azhar Eating Restaurant (Tampines), Al Mahboob Rojak Restaurant located around Tampines
Tampines Cafes
Tampines has a decent range of cafes. The neighbourhood has some great cafes like:
Two Hana a Korean-Western fusion cafe
19Tea SG a cafe known for its souffle pancakes and bubble tea
Craze Kitchen a Muslim owned cafe with affordable western cuisine
Rocky Master a Halal certified cafe with Asian Western fusion food
Three's a Crowd with its ice cream and whole cakes
Merely Ice Cream with its French-style ice cream
and more…
Tampines Bars
Tampines is home to a few cool bars to grab drinks in the evening.
There's Harry's Tampines, which is known to be more chill due to its more remote location. Tipsy Penguin for its live music in the evenings and great drinks. Japanese Bar Five Izakaya and more.
I find the Tampines food scene slightly lacking due to a lack of notable hawkers and restaurants. Nothing too spectacular and nothing too bad either, which grants it an average 3/5 score in my books.
Final Score and Evaluation for Tampines
The scores are in:
Personality: 4/5

Affordability: 3/5
Accessibility: 3/5
Schools in the area: 5/5
Shopping: 5/5
Recreational: 4/5
Food: 3/5
Final Score for the Tampines neighbourhood: 27 | A-rank 
Tampines scores a great 27 points which land it in the A-Rank category.
There's a reason why the neighbourhood is popular with families with kids, retirees, nature lovers, and singles
If you have any other more specific questions and would like to discuss property, the friendly Seedly Community is here to help!
About Joel Koh
History student turned
writer
at Seedly. Before you ask, not a teacher. I hope to help people make better financial decisions and not let money control them.
You can contribute your thoughts like Joel Koh
here.