We all know that certain parts of Singapore can actually be an island on their own as they're pretty much self-sufficient.
Today, we will look at two representative hubs of in the East vs West debate.
We'll be comparing between Tampines Central and Jurong East.
Disclaimer: This is not a sponsored post. Opinions expressed in the article should not be taken as investment advice. Please do your own due diligence.
---
Factors To Consider
We'll be using these factors for comparison:
Retail
Residential
Commercial
Recreational Facilities
Schools
Retail
Both Tampines Central and Jurong East have a cluster of shopping malls near the MRT stations.
Each shopping mall has its own characteristics and caters to different groups of people.
JCube in Jurong East and Tampines Mall in Tampines Central are built to cater more towards the younger generation, with retail and F&B shops that are geared towards younger shoppers.
The malls in both Jurong East and Tampines Central have more than a thousand of retail and F&B shops, with many big names and franchises.
Huge franchises and chains such as Uniqlo, Muji, and Starbucks are some of the common retail and F&B shops in those malls.
IMM, which is within walking distance from Jurong East MRT, stands out the most amongst the many malls.
It is an outlet mall with more than 90 outlet stores such as Adidas, Nike, Coach, ESPIRIT, and Giordano. Understandably, locals and tourists frequent IMM for its discounts and sales. Furthermore, there are over 50 F&B shops such as Ajisen, Hai Di Lao, McDonald's, and Kopitiam to fill the tummies of shoppers.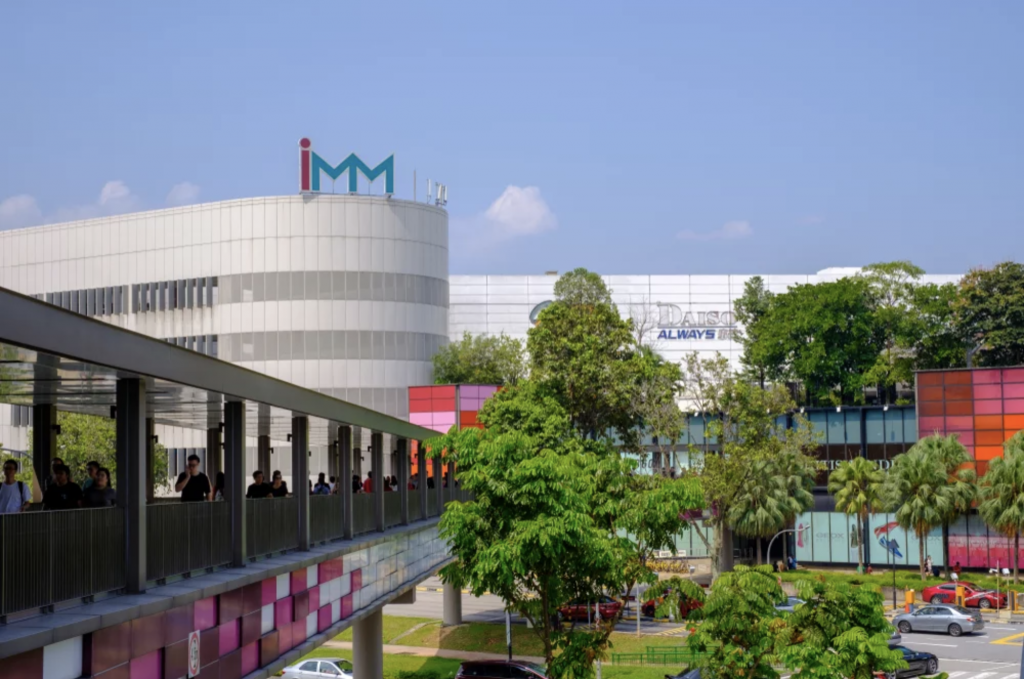 However, the shopping malls in Jurong East are actually more appealing than those in Tampines because they feel more up to date. There's also more variety, whereas retail in Tampines seems mainly confined to mid-range clothing brands.
A good example would be Westgate in Jurong East, which provides a holistic shopping experience for its consumers, and even offers special features such as alfresco dining.
Moreover, the interior and exterior of Jurong East malls are newer as compared to those in Tampines.
Winner: Jurong East
Residential
Tampines MRT and its cluster of malls are surrounded by residential buildings. Older HDB blocks are found in close proximity to the shopping malls, while newer HDB blocks are found further away – nearer to the fringe.
Besides HDB buildings, condominiums such as The Tampines Trilliant and CityLife @ Tampines are also found in the vicinity. However, newer condominiums such as The Alps Residences and The Tapestry are located slightly further away.
In contrast, there are not many residential buildings near the mall cluster in Jurong.
In fact, J Gateway Condominium is the nearest residential building that is in the vicinity. The rest of the residential buildings, both HDB blocks and condominiums, are located a distance away.
This gives Tampines a slight edge in terms of quick accessibility to retail and dining.
Winner: Tampines Central
Commercial
If you think that Tampines is all about retail, you're mistaken.
There are also many commercial buildings in Tampines Central, some of which tower over other malls and residential buildings.
Abacus Plaza and 9 Tampines Grande are perfect examples which offer cost-effective commercial space for companies. Bigger companies, such as AIA and Hitachi, also have their service centres and regional headquarters offices there.
However, Jurong East has more going for it when it comes to commercial space.
Commercial buildings such as JTC Summit and Westgate Tower are built to lease out office spaces to companies, providing them with the perfect platform to tap on nearby resources and businesses.
Furthermore, International Business Park (IBP) – Singapore's pioneer business park – has developed into a vibrant site for knowledge-based activities. Companies are also free to construct and build on allocated plots, which grants them the ability to build and meet their specific needs.
Comparing between Tampines Central and Jurong East, companies in the latter have more resources and expertise to tap on.
Moreover, there are more commercial buildings and office spaces that are available in Jurong East.
Winner: Jurong East
Recreational Activities
With the new Our Tampines Hub which officially opened two years ago, there are more things to do within Tampines Central.
Apart from a variety of retail and F&B shops, there are many facilities such as the swimming pool, badminton courts and even a football field. All of these facilities encourage and advocate a healthy lifestyle among Tampines residents.
The Festive Arts Theatre and Festive Plaza are also the ideal stages to promote cultural activities such as live music and drama performances. There are even movie viewings projected on a large LED screen which are free for everyone. All of these activities create a sense of vibrancy and community in Tampines Central.
For music lovers, Club Jamming Paradise is located a stone's throw away from Tampines MRT. It serves as a platform and provides a space for music lovers to congregate and jam to pop songs. Moreover, HomeTeamNS is just nearby, where activities such as laser tag and rock-climbing are available for its members.
Looking to the west, Jurong East has The Chevrons – which is catered to SAF personnel. The Chevrons also has entertainment and facilities such as a KTV, bars, and chalets for its members.
There are also other recreational facilities such as the Jurong West Sports and Recreation Center. Tourist attractions such as the Science Center and Snow City are also in relatively close proximity to Jurong East MRT. However, you'll have to take a feeder bus to get to Jurong Bird Park.
In comparison, there are more recreational facilities and activities in Tampines Central than Jurong East. With a good mixture of sports, cultural, and leisure activities, Tampines Central would be more attractive to people, regardless of their age.
Winner: Tampines Central
Schools
There are quite a few schools and enrichment centres in Tampines Central.
Here are just some examples:
Junyuan Primary School
St. Hilda's Primary School
Tampines Primary School
Pasir Ris Secondary School
Tampines Secondary School
MindChamps Kent Ridge Education
Yamaha Music School
As compared to Tampines Central, there are fewer schools and enrichment centres available for Jurong East residents. Some examples are:
Fuhua Primary School
Jurong Primary School
Crest Secondary School
Jurongville Secondary School
The Brainery Code
The Learning Lab
Of course, the greater number of schools and enrichment facilities, the better it is for its residents.
Since Tampines Central has more schools and enrichment classes for its residents, there is a wider selection for them to choose from.
Hence, staying in Tampines Central may be a better choice especially if you plan to have children.
Winner: Tampines Central
So…Tampines Central Or Jurong East? Which Is Better?
It's difficult to come to a conclusion because both Tampines Central and Jurong East have their own unique features.
Whether you choose Tampines Central or Jurong East boils down to your priorities.
If you focus more on residential and recreational facilities, you will go with Tampines Central.
In contrast, if you prioritise commercial use, then Jurong East is a better place.
---
This article first appeared on 99.co and is part of a content syndication agreement between 99.co and Seedly.
For our Property Talks, the Seedly team worked closely with 99.co, who is an expert in the field, to curate unbiased, non-sponsored content to add value back to our readers.
99.co is a Singapore-based property portal that aims to take away the tedious bits of property hunting.
If you have any questions regarding property, feel free to discuss them with the friendly Seedly Community!