12 Things To Know About Ascendas REIT Before You Invest
Ascendas REIT (SGX: A17U) is the first industrial REIT listed on the SGX.
It owns a portfolio of:
business & science park properties
high-specification industrial properties
data centres
light industrial properties
flatted factories
integrated development amenities & retail properties, and
logistics & distribution centres
located across Singapore, Australia, and the UK.
Presently, Ascendas REIT (A-REIT) is worth S$9.5 billion in market capitalisation and is, thus, the largest industrial REIT in Singapore. In this article, I'll cover its recent developments in 2019, the latest annual results as well as its stock valuation.
Here are 12 things to know about Ascendas REIT before you invest.
Disclaimer: This is not a sponsored post. Opinions expressed in the article should not be taken as investment advice. Please do your own due diligence.
---
Overall Portfolio Value Growth
A-REIT's portfolio value grew 10.1% year-on-year from S$10.1 billion in 2018 to S$11.1 billion in 2019.
Growth was mainly attributed to the acquisition of new investment properties in Australia and the UK, the completed redevelopment of 20 Tuas Avenue 1, and asset enhancement initiatives (AEIs) for five existing properties in Singapore. A-REIT currently owns 171 properties in total.
Singapore Portfolio Value Growth
A-REIT's Singapore portfolio value grew from S$8.65 billion in 2018 to S$8.77 billion in 2019.
This is despite the divestment of 30 Toh Tuck Road and 41 Changi South Avenue 2 during the year, which was offset by the increase in value from the redevelopment of 20 Tuas Avenue 1 and AEIs on five other properties.
| Property | Cost (S$ millions) | Completed |
| --- | --- | --- |
| 20 Tuas Avenue 1 | 61.4 | Apr 2018 |
| 21 Changi South Avenue 2 | 4.5 | Apr 2018 |
| KA Centre, KA Place, and 1 Jalan Kilang | 7.8 | Jun 2018 |
| Nordic European CEntre | 8.5 | Jan 2019 |
| Aperia | 11.8 | Jan 2019 |
| 138 Depot Road | 3.9 | Mar 2019 |
Australia Portfolio Value Growth
A-REIT's Australia portfolio value increased from S$1.56 billion in 2018 to S$1.65 billion in 2019.
The REIT acquired four new properties and now owns 35 properties in the country.
| Property | Cost (S$ millions) | Completed |
| --- | --- | --- |
| 169 - 177 Australis Drive | 34.5 | 4 Jun 2018 |
| 1314 Ferntree Gully Drive | 16.4 | 26 Jun 2018 |
| 1 - 7 Wayne Goss Drive | 30.8 | 7 Sep 2018 |
| Cargo Business Park | 33.9 | 4 Oct 2018 |
Entrance Into UK Market
A-REIT entered the UK market in 2019 with the acquisition of 38 properties for S$832.4 million in two tranches.
On 16 August 2018, Ascendas REIT completed the acquisition of the first tranche of 12 freehold distribution centres for S$373.3 million. The properties are all fully occupied and count DHL, Amazon, and Howden Joinery as key tenants.
On 4 October 2018, Ascendas REIT completed the acquisition of the second tranche of one leasehold and 25 freehold distribution centres for S$459.2 million. The properties are also fully occupied with key tenants such as:
Aston Martin
Amethyst Group
Eddie Stobart
Royal Mail
Sainsbury, and
Vax
Revenue And Distributable Income Growth
A-REIT's total revenue and distributable income have grown at an annualised rate of 8.8% and 8.4% respectively from 2010 to 2019.
This is mainly due to acquisitions and asset enhancement initiatives during the period.
Likewise, distribution per unit (DPU) has steadily grown from 13.1 cents in 2010 to 16.04 cents in 2019.
Gearing Ratio And Credit Rating
As of 31 March 2019, A-REIT has a gearing ratio of 36.3% and an A3 credit rating from Moody's.
Average cost of debt is 3.0% and 83% of debt is at fixed interest rates. Average debt to maturity is 4.0 years.
Portfolio Occupancy Rate
As of 31 March 2019, A-REIT has a portfolio occupancy rate of 91.9%.
The REIT has 1,360 tenants and the 10 largest tenants accounted for 20.2% of revenue in 2019.
| Top 10 Tenants | Percentage Of Gross Revenue (2019) |
| --- | --- |
| Singapore Telecommunications Ltd | 4.8% |
| DSO National Laboratories | 3.1% |
| Citibank, N.A. | 2.1% |
| DBS Bank Ltd | 2.0% |
| Westfarmers Group | 1.6% |
| Ceva Logistics S Pte Ltd | 1.5% |
| JP Morgan Chase Bank, N.A. | 1.5% |
| A*STAR Research Entities | 1.2% |
| Siemens Pte Ltd | 1.2% |
| Federal Express Corporation | 1.2% |
The REIT has a weighted average lease expiry of 4.2 years. Sixteen per cent of leases will expire in FY2020 with the majority coming from Singapore.
Land Lease Expiry Profile
As of 31 March 2019, A-REIT has a weighted average land lease expiry of 44.6 years.
The REIT's acquisition of Australia and UK properties are mostly freehold or have a lease period of 965 – 999 years (as good as freehold).
Future Developments
A-REIT is constructing two build-to-suit buildings in one-north business park.
The development costs S$181.2 million and is scheduled for completion in Q3 2021. Upon completion, the buildings will be leased for 11 years to GrabTaxi Holdings Pte Ltd at initial net property yield of 6.4%.
Redevelopment Plans For Ubi Road 4
A-REIT is redeveloping 25 and 27 Ubi Road 4 in Singapore for S$35.0 million.
The project involves the demolition of two light industrial buildings and redeveloping them into a single high-specification industrial building. It is scheduled for completion in Q1 2022.
P/B Ratio
As of 31 March 2019, A-REIT has a net asset value per unit of S$2.13.
Based on its share price of S$3.08 (as at 15 August 2019), A-REIT's P/B ratio is 1.45 which is well above its 10-year average of 1.21.
Dividend Yield
A-REIT paid a DPU of 16.035 cents in FY2019. Therefore, its current distribution yield is 5.21%, the lowest in 10 years.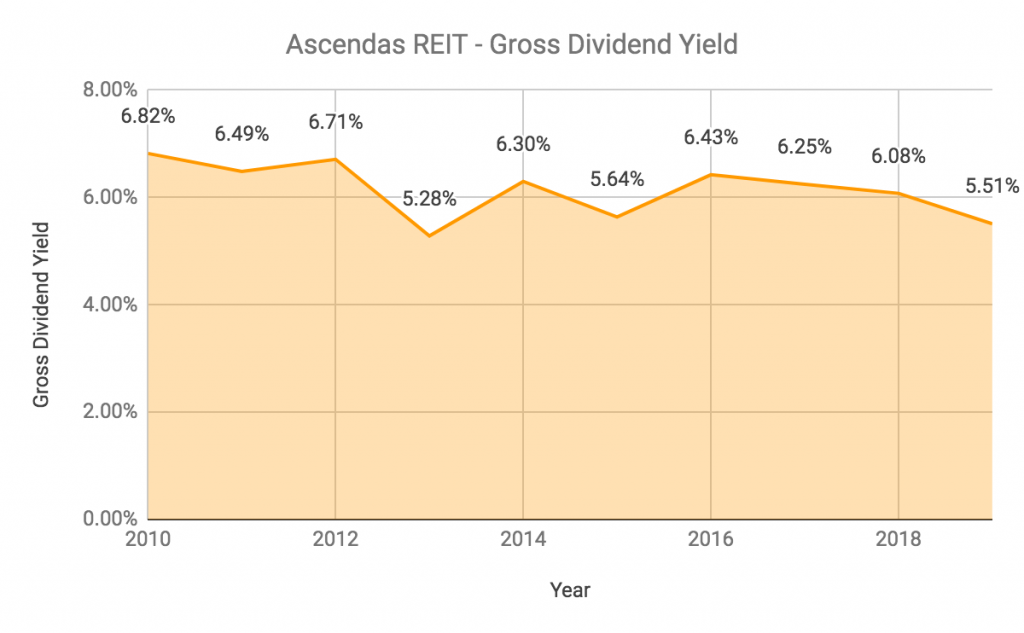 The Fifth Perspective
Ascendas REIT has a solid track record of delivering consistent growth in revenue, DPU, and NAV over the past 10 years.
The recent acquisition of Ascendas-Singbridge (A-REIT's sponsor) by CapitaLand in April 2019 also hints at potential synergies with CapitaLand's sister REITs in the future.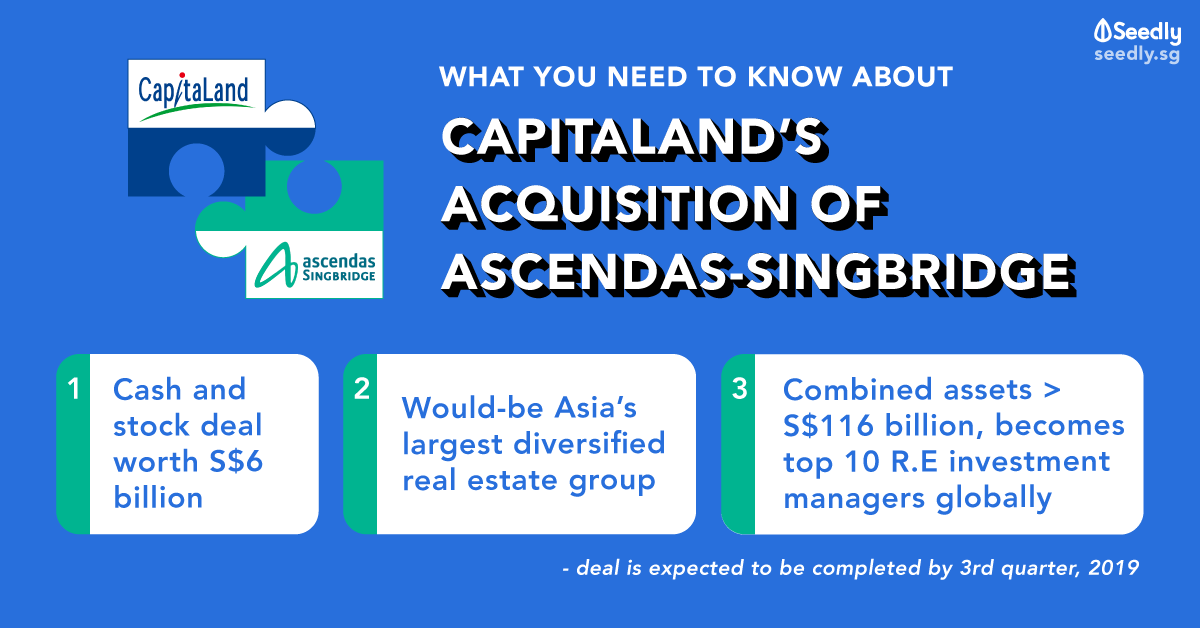 However, A-REIT's presently high valuation means that investors may prefer to wait for a more opportune time to consider the stock.
Want More In-Depth Analysis And Discussion?
Why not check out Seedly's QnA and participate in the lively discussion surrounding stocks like Ascendas REIT and many more!
Stock Discussion on Ascendas REIT
---
Seedly Contributor: The Fifth Person

For our Stocks Analysis, the Seedly team worked closely with The Fifth Person, who is an expert in the field to curate unbiased, non-sponsored content to add value back to our readers.
The Fifth Person believes in spreading a message – that sound investment knowledge, financial literacy and intelligent money habits can help millions of people around the world achieve financial security, freedom, and lead better lives for themselves and their loved ones.
Their company and the knowledge shared was born from that vision and they hope to foster smarter, more profitable investment decisions for people and the world at large.
If you have any questions on the mentioned stocks, feel free to discuss them with the Seedly Community here.
Read other articles by The Fifth Person:
Whether you hate or love our investment content, give us your feedback!