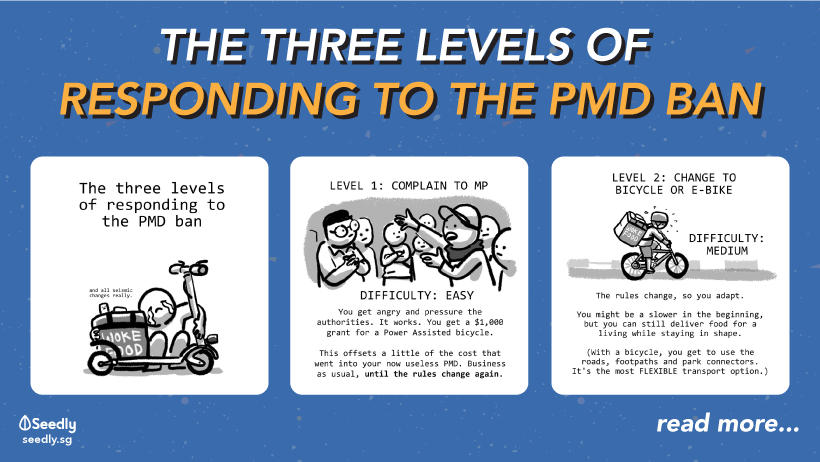 The Three Levels Of Responding To The PMD Ban
If you haven't heard about the recent e-scooter ban, were you even in Singapore???
It's pretty unfortunate that extreme measures had to be taken since I personally knew a few friends who were responsible riders.
Alas, the situation got out of hand, and now there's a new entry to the fines and penalties for personal mobility devices.
You know what happens when you ban things…
Some may be supportive, but some will also get rather angry…
But how will the individuals affected by the ban respond to it?
There's no doubt that cycling is beneficial for your health, and you can even travel by bicycle!
Who knows, you might end up getting a motorcycle even?
Be careful on the road though, remember to get insurance to cover yourself!
Even if the idea of a ban, or worse, retrenchment is not looming over you, skills upgrade should always be part of your plan.
Don't feel like using your SkillsFuture Credits for career advancements since your company will sponsor you?
Well, you can also use them to learn new skills like cooking and baking, or even a new language!
Plus, we all know that as a food delivery rider, you are limited in the number of trips you can make and there's only so much you can realistically earn…
---
This article first appeared on The Woke Salaryman and is part of a content syndication agreement between The Woke Salaryman and Seedly.
For this series of comics that are related to all things personal finance, the Seedly team worked closely with The Woke Salaryman to bring you useful sh*t which you can apply to your everyday life.
The Woke Salaryman is the brainchild of a Singapore-based duo that aims to help people reach financial independence early. It is the quintessential page for people living in Singapore who earn the median salary and didn't inherit their fortunes from their parents.
If you have any questions with regard to personal finance and retiring early, feel free to discuss them with the friendly Seedly Community!