Tiger Brokers Review: Is This Tiger King of Brokerages in Singapore?
Joel Koh
●
Chinese company Tiger Brokers /UP Fintech and their Tiger Trade platform is the latest competitor to enter Singapore's competitive brokerage scene. Here are the pros and cons of using this brokerage.
TL;DR: Tiger Brokers Review
| Tiger Brokers Pros | Tiger Brokers Cons |
| --- | --- |
| Highly competitive fees | Limited number of stock exchanges available |
| Superb user interface and smooth signup process | Platform still has translation issues and visual bugs |
| Seamless compatibility over desktop and mobile | Fund deposits are not processed over the weekend |
| Wealth of stock data available for free | Not as reputable as more established brokerages |
Click on the links to jump ahead to the section of the review.

The following article is a non-sponsored review. Check out the Seedly Code of Ethics to find out more about our editorial policy.
---
Who Are Tiger Brokers?
Well, I'm glad you asked.
Tiger Brokers are a Chinese online securities brokerage startup based out of Beijing. They are a popular product on SeedlyReviews, with 100+ reviews and avid followers.
The company was founded back in Jun 2014 and is backed by Interactive Brokers Group Inc (IBKR), Xiaomi Inc, the ZhenFund, and Wall Street investment guru Jim Rogers.
Reportedly, Xiaomi owns a 14.1% stake in the company while Interactive Brokers owns a 9.5% stake. But, the biggest shareholder is CEO and founder Wu Tianhua, who started the company after he left his job at NetEase.
The company is steadily growing as it was recently listed on the NASDAQ exchange in March 2019 with the ticker symbol (NASDAQ: TIGR).
And according to Crunchbase, Tiger Brokers has raised a total of US$139.1 million with the latest round of Series C funding of US$80 million.
In 2018, Tiger Brokers reported that they achieved US$119.2 billion in trading volume. And more recently in Q1 2020, the company achieved profitability for the first time, with a net income of US$3.03 million for the quarter.
It is somewhat comforting to know that the company is now profitable and looking to expand its business with more investment products as well as proprietary analytical tools.
When it comes to its business, the company's core focus is its Tiger Trade platform which allows investors to trade in financial instruments such as equities, exchange-traded funds (ETFs), futures, and stock options on multiple exchanges around the world across desktop and mobile on an all in one integrated account.
In addition, the company also provides financial services to institutional clients.
Tiger Brokers and subsidiaries hold 21 licenses/registrations in the USA, New Zealand, Australia, Hong Kong and Singapore.
Its subsidiary Tiger Brokers (Singapore) runs the Tiger Trade platform in Singapore. You will be glad to know that the company is regulated by the Money Authority of Singapore (MAS) and that it is a capital markets services licensee allowed to deal in:
Securities

Collective Investment Schemes

Exchange-Traded Derivatives Contract.
Is Tiger Brokers Safe?
How are your stock custody and safety held for Tiger Brokers?
When investing with Tiger Brokers, your investment is held in a trust account on your behalf by either a custodian bank or brokerage firm.
Do note that with custodian accounts, you do not own the stock and there is a risk of losing your stocks when you trade with a custodian account that ends up going bankrupt.
Unlike the other brokerages operating in Singapore, Tiger Brokers does not have a custodian license and has to rely on a third-party broker or bank.
However, this arrangement of using a third party as the custodian is shared amongst the robo-advisors in Singapore.
As of 8 Jul 2020, Tiger Brokers Singapore has appointed DBS Bank as the designated custodian bank for clients' funds.
As for the Tiger Brokers app, I found it a bit concerning that you could trade just with your username and password. I would advise that you download the Tiger Authenticator, although it was a bit troublesome to use and some of it was in Chinese.
Also, Tiger Brokers is authorised and regulated by the Monetary Authority of Singapore (MAS); they have a Capital Markets Service License, granted by the MAS.
---
Tiger Brokers' Key Features
At a glance, the Tiger Trade platform has a comprehensive suite of features available to investors.
For now, investors can trade on the:
Singapore Exchange (SGX)

NASDAQ

New York Stock Exchange (NYSE)

Stock Exchange of Hong Kong (SEHK)

Shenzhen Stock Excange (SZE)

Shanghai Stock Exchange (SSE)

Futures trading.
Most notably, you are unable to trade on the London Stock Exchange for now.
You can also choose to trade via desktop or mobile although I would recommend the mobile app as it provides a better experience.
In addition, the platform supports multi-currencies with an in-app foreign currency exchange service with no currency conversion fees at the time of writing.
As for information and research, the brokerage offers real-time stock quotes, trading charts, data and in-app stock screening.
Do note that for Singapore stocks there seems to be a price lag of 15 minutes on the desktop, although U.S. stock prices are delivered in real-time.
---
Commissions and Fees — Cheapest Brokerage in Singapore?
When it comes to brokerage fees, it is clear that the Tiger Trade platform offers very competitive rates with no custodian fees, or account management fees at the moment.
Tiger Brokers Fees and Charges
Market
Type
Charges
Charged by

US Stocks & ETFs

Commission
USD 0.005 / Share
Min. USD 0.99 / Order
Tiger Brokers
Platform
USD 0.005 / Share
Min. USD 1 / Order
Tiger Brokers
SEC Membership Fee
(Sell orders only)
0.0000051 * Trade Value
SEC
ADR (American Depositary Receipt) Fee
USD 0.01 - 0.03 / Share
DTCC (US Depository Trust & Clearing Corporation)

Hong Kong Stocks

Commission
0.03% * Trade Value
Min. HKD 7 / Order
Tiger Brokers
Platform
0.03% * Trade Value
Min. HKD 8 / Order
Tiger Brokers
Trading Fee
0.005% * Trade Value + HKD 0.5
HKEX
Clearing Fee
0.002% * Trade Value
Min. HKD 2 and Max. HKD 100 / Order
HKSCC
Transaction Levy
0.0027% * Trade Value
SFC
Stamp Duty
0.13% * Trade Value
(Rounding up to the nearest integer)
Government of Hong Kong

Singapore Stocks, ETFs & REITs

Commission
0.04% * Trade Value
Min. SGD 1 / Order
Tiger Brokers
Platform Fee
0.04% * Trade Value
Min. SGD 1.88 / Order
Tiger Brokers
Trading Fee
0.0075% * Trade Value
SGX
Clearing Fee
0.0325% * Trade Value
SGX

Singapore DLCs

Commission
0.04% * Trade Value
Min. SGD 1 / Order
Tiger Brokers
Platform Fee
0.04% * Trade Value
Min. SGD 1.88 / Order
Tiger Brokers
Trading Fee
0.001% * Trade Value
SGX
Clearing Fee
0.004% * Trade Value
SGX

China Shares

Commission
0.03% * Trade Value
Min. CNH 7 / Order
Tiger Brokers
Platform Fee
0.03% * Trade Value
Min. CNH 8 / Order
Tiger Brokers
Handling Fee
0.00487% * Trade Value
SSE/SZSE
Securities Management Fee
0.002% * Trade Value
CSRC
Settlement Fee
0.004% * Trade Value
CSDC & HKSCC
Stamp Duty (Sell orders only)
0.1% * Trade Value
(Rounding up to the nearest integer)
STA

Australian Stocks

Commission
0.03% * Trade Value
Min. AUD 2 / Trade
Tiger Brokers
Platform Fee
0.07% * Trade Value
Min. AUD 6 / Trade
Tiger Brokers
Fees of Tiger Brokers vs Other Online Brokerage Platforms
Tiger Brokers Singapore Equity Fees on SGX
Currently, Tiger Brokers is only charging 0.08% of the share's value (commission+ platform fee) with a trading fee of 0.0075% per trade for your trades on the SGX.
For context, most brokerages in Singapore charge at least S$10 for trading on the SGX. Standard Charted, for example, charges 0.2% of the share's value with a S$10 minimum fee per trade on the SGX.
However, I would think that this strategy is unsustainable and they are doing it mainly for customer acquisition.
Tiger Brokers U.S. Equity Fees on NYSE and NASDAQ
For equity in the U.S. Market, the company charges US$0.01 per share or a minimum amount of US$1.99 (commission + platform fee) per trade.
They also do not charge a custodian fee.
Their closest competitor is IBKR which charges US$0.005 per share at a minimum order of US$1, for their non no-transaction-fee ETFs.
For a list of other fees when investing in the U.S., check out this guide to taxes and fees for Singaporean investors,
Tiger Brokers Hong Kong Equity Fees on SEHK
As for equity on the H.K. market, the company charges 0.06% of the share's value or a minimum of HK$15 per trade.
The closes competitor is IBKR which charges 0.08% of the share's value or a minimum of HK$18 per trade.
Tiger Brokers China Equity Fees on Shanghai/Shenzhen-Hong Kong Connect
Tiger Brokers also allows you to invest in Chinese equity on the Shanghai/Shenzhen-Hong Kong Connect charging 0.06% of the share's value or a minimum of RMB$15 per trade.
This option is only available to a select group of brokerages in Singapore which charges an average of 0.25% of the share's value or a minimum of RMB$88 per trade.
Forex Fees
Since these stock markets are denominated in a currency outside Singapore dollars (SGD), investors need to be aware of the risk of currency fluctuations during transactions.
On top of this, some brokerages also charge currency conversion fees. When you top up SGD to your brokerage account and buy stocks in another currency, you will be charged a currency conversion fee which will eat into your returns.
At first, Tiger Brokers used to charge USD$2 for every currency conversion. However, according to my research, the company has since waived the charge.
Another important thing to remember is that when you are buying stocks from the U.S., Hong Kong or Chinese stock markets, you will need to convert your deposited SGD to their respective currencies first.
If you do not have sufficient funds in your account in the respective currencies, Tiger Brokers will consider that you are loaning money from them to buy the stocks and charge interest for the loan.
---
Tiger Brokers Signup Process
When it comes to their platform, Tiger Brokers makes getting started real easy as it has integration with Singapass and MyInfo.
Onboarding
With MyInfo, the whole signup process took about 15 minutes to complete with the MyInfo integration. If you do not have this, you will need to upload your documents manually which will take a bit more time.
After I submitted my application on a weekday, it took about an hour for the account to be approved even though the company stated that it would take one working day.
Depositing Fees
Method
Internet Bank Transfer/Fast and Secure Transfer (FAST)
Telegraphic Transfer (TT)
PayNow Corporate
(coming soon)
eNETS Deposit
(coming soon)
Detail
The most comment funds transfer method in Singapore. This is available with most Singapore banks
Telegraphic Transfer for Overseas Funds or Foreign Currencies
Local SGD Funds Transfer. Pay to UEN
Local SGD epayment format which commonly used in Singapore.
Speed
Almost instant to within next business day
1-3 working days
Almost instant to within next business day
Almost instant to within next business day
Cost
None
Fees may be imposed by client's bank and correspondent bank(s)
None
None
Transaction Currency
SGD
All currencies
SGD
SGD
Payment details
Please include Trading Account Number or Name, in order for Tiger Brokers to speed up the identifying process.
Source: Tiger Brokers  
Currently. the company only accepts FAST transfers and Telegraphic Transfer (TT) to deposit funds.
When I deposited my funds into the account to ANZ bank, it took about an hour for the money to reach my Tiger Trade account.
However, do note that your deposits will only be processed during working hours.
For example, If you were to deposit your funds on a Friday, the funds will only be in on the following Monday.
Another thing to note is that due to the Anti-Money Laundering (AML) act, you can only transfer funds to an account with the same name. To perform remittance transfers, please ensure that your bank account has the same name as your trading account with Tiger Brokers.
After opening an account, you can choose between a paper account, prime account or upgrade to a margin account.
The paper account is a market simulation account that allows you to trade without any money while the prime account is the standard account that lets you access most of the platform's features.
If you would like to engage in margin trading, you can choose to open a margin account which will be activated instantly without you needing to deposit any money.
---
Tiger Brokers Customer Service
If you need any support, you can contact customer service via these channels.
Contact Address:

50 Raffles Place, #29-04 Singapore Land Tower, Singapore 048623.

Contact Number:

(65) 6950 0591, 8:30am to 6:30pm
Email: [email protected]
Online Chat: Monday to Friday from 8:30am to 6:30pm
Their online chat can be accessed via the desktop application and mobile application. Do take note of the opening hours as customer service support is not available over the weekends on the online chat or their contact number.
When I contacted them with my queries on the weekdays, I received prompt replies within an hour on two. Initial impressions are good but some people have commented that they were unable to get customer support outside of the working hours.
This is something to be improved on.
Tiger Brokers User Experience
On the Tiger Trade mobile app and desktop platform, I found that the user experience to be superb and beginner-friendly. There is support for cross-platform trading, although you can only log into either the desktop or mobile account at one time.
Out of the brokerage platforms I tried, Tiger is the best so far. Their modern user interface allows you to view real-time market data seamlessly.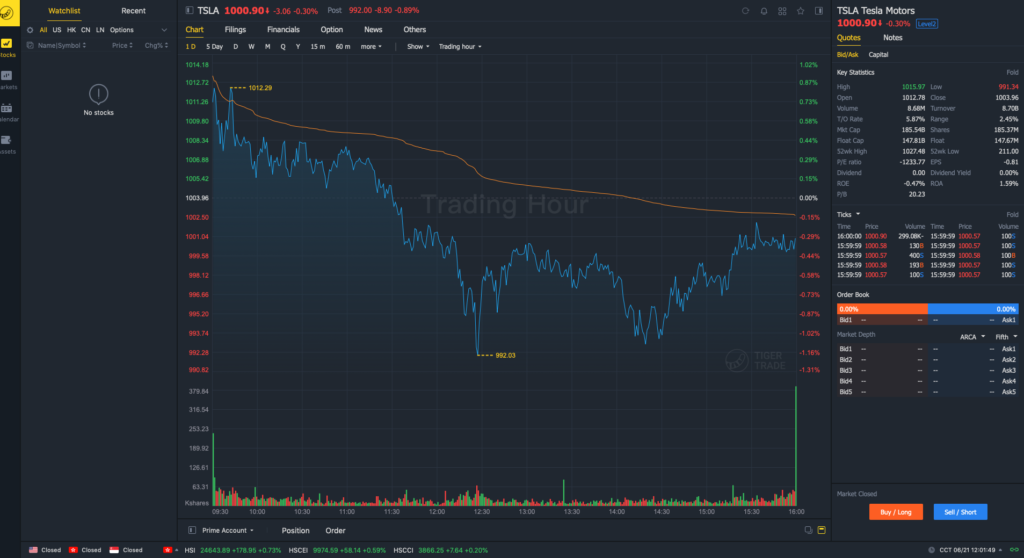 I found that although the desktop version is good, the mobile app is even better. If you are looking to invest on the go, you'll want to check out the app.
I downloaded the Android app for use on my phone and found it a joy to navigate.
The app was well optimised with buttons placed below for easy access. I also liked that the user interface design was very clean and intuitive which as I was able to figure out the app pretty quickly.
However, there was still a couple of bugs here and there.
There were some parts of the user interface that were half translated, displaying a mix of Chinese and English which mars the experience. But overall despite the bugs, the user experience is pretty superb.
---
Tiger Brokers Research Resources
In terms of stock research, there is a wealth of resources available to investors for free with an account.
Daily Overview of Stock Markets
Firstly, the Markets tab gives you a wealth of information about the Singapore, Hong Kong, China, U.S. and Futures stock markets. The platform even offers us useful information about the London stock markets even though you cannot trade there for now.
Their daily overview of the market provides you with a high-level view of the performance of the stocks in the selected market. The information provided here is real-time which makes it useful even if you are trading on other brokerage platforms.
You can even create a watchlist of the stocks that you are interested in or view information based on industry, popular stocks, indexes, ETFs and more.
Individual Stock Information
When you click on any of the quotes, you will be shown a wealth of information about the stock.
From price data, financial ratios, advanced charts, bid-ask prices and quantities, news about the company, analysis, as well as information about the company's finances like its income statement, balance and more.
The depth of information available is great for all kinds of investors and is accessible for free by using the Tiger Trade platform's paper trading account.
Stock News
In addition, the platform has a News aggregator that pulls news about the markets from Bloomberg, MarketWatch, Reuters, Yahoo Finance, Benzinga, Dow Jones, The Business Times etc.
Although this is not super comprehensive, it is quite good for a brokerage platform.
In addition, you can also customise your news feed with the tab that aggregates news from the stocks in your watchlist.
Discovery Tools
There is also a Discover tab where you can find fresh new investing ideas based on themes like Internet Titans, Blockchain, Commodities, ETFs and more.
This is complemented by their inbuilt stock screener and technical stock screener which can screen stocks based on fundamental and technical analysis indicators.
There is even a quant screening feature which comes with allows you to find stocks with premade stock screening templates like the Benjamin Graham NVAC, KDJ Golden Cross, RSI oversold etc.
---
Tiger Brokers Promos and Rewards
Currently, Tiger Brokers is running some promotions for new signups which include:
Free level 2 data on U.S. stocks for 30 days after registration

Commission-free for 1 order of US&HK stocks in 30 days after opening an account

Get up to $100 worth of stock vouchers when you deposit funds or transfer shares

Get an additional $100 worth of stock vouchers when you refer friends

Source: Tiger Brokers
Final Thoughts
Tiger Brokers and their Tiger Trade platform is a welcome addition to Singapore's brokerage scene. For the longest time, fees have been an issue for this industry.
A low-cost entrant like Tiger might shake things up like and increase competition in the industry which will hopefully result in lower fees for retail investors.
However, as Tiger is new to space there are still questions about the Tiger's reputation, safety and trustworthiness that can only be answered with time.
The translation errors, visual bugs and sparse amount of documentation are not helping either.
Nonetheless, Tiger Brokers are. still, quite a compelling option to try out with a small portfolio.
If you would like to wait and observe without sinking in any money, you can still use the platform for its wealth of stocks data and information.
Got Questions About Tiger Brokers?
Why not join the discussion in the Seedly about this new brokerage!
Related Articles
About Joel Koh
History student turned
writer
at Seedly. Before you ask, not a teacher. I hope to help people make better financial decisions and not let money control them.
You can contribute your thoughts like Joel Koh
here.