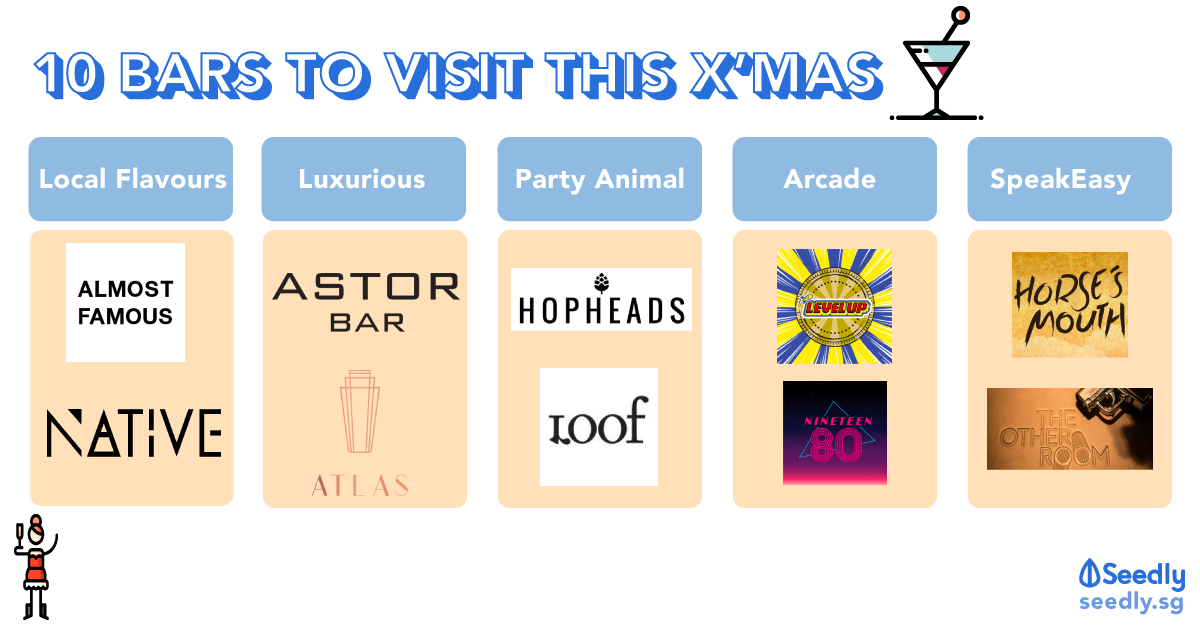 Top 10 Bars To Visit This Festive Season
Ahhh… the festive season is nearly upon us. Just another week of slogging it out before we're released into the streets of Singapore. Okay, I kid. But you get the point – it's time to wine & dine to your heart's content.
To help you with your upcoming Christmas festivities, here's a compilation of bars you must visit this season!
Friendly PSA: Remember to drink responsibly. Don't Drink & Drive.
1. Almost Famous Craft Beer Bar
(Source: Facebook)
Minimalist in its design, its been dubbed the "Apple Bar" among the beer aficionados. Located alongside Glasshouse, their beer offerings range from regional to international craft flavours, guaranteeing you a hypothetical alcoholic round trip around the world (almost free of charge of course).
As a homage to Asian cultures, you'd be pleasantly treated to a wide range of craft beers with proud origins from Asian breweries around the region. Notable ones include the Young Master Brewery from Hong kong and Pasteur Street Brewing Company from Vietnam.
Also, you'd be a fool to miss out on some of their exclusive bar bites. Their Crispy Kai Lan & Onion Churros were some of our personal favourites!
For the Instagram enthusiasts out there, Almost Famous boasts an adjustable lighting feature, aimed at dimming or raising the surrounding ambience.
Ladies, take note. Gents, it's your time to shine.
2. Native
(Source: Facebook)
The second bar in our list – Native also places an emphasis on utilising regional ingredients in their beverages. Menus are seasonal & made to feature local ingredients such as mango, turmeric or even tapioca.
As a side note, Native prides itself as a pure cocktail bar. As such, a drinks menu is only available.
3. Astor Bar
Advertised as the best whisky bar in Singapore, you'd be hard pressed to find better whisky selections in Singapore.
Moreover, as a bar special, each month boasts a different Bloody Mary concoction for guests to wow their tastebuds.
4. Atlas
(Source: Facebook)
Personally, Atlas remains one of my top recommendations. Exclusively termed as the "Wayne Towers" of Singapore for those in-the-know, this is a must-visit locale if you haven't already.
I recommend beginning your night with The Artist's Special – a concoction of malt whisky, oloroso sherry, lemon and plum liqueur. A beginner's refreshment if you will.
Do note that the bar practices a smart casual dress code from 5pm onwards and refrains from accepted guests in shorts or slippers.
5. Hopheads
Strictly speaking, I wouldn't classify Hopheads as a bar. Rather, it's perfect mix between a club and a bar offering patrons an all-in-one party venue. From private rooms to darts to beer pong, there's a little bit of everything for everyone.
Did I mention? They regularly host themed parties – one of which will be happening this December on the 22th from 10pm to 4am!
6. Loof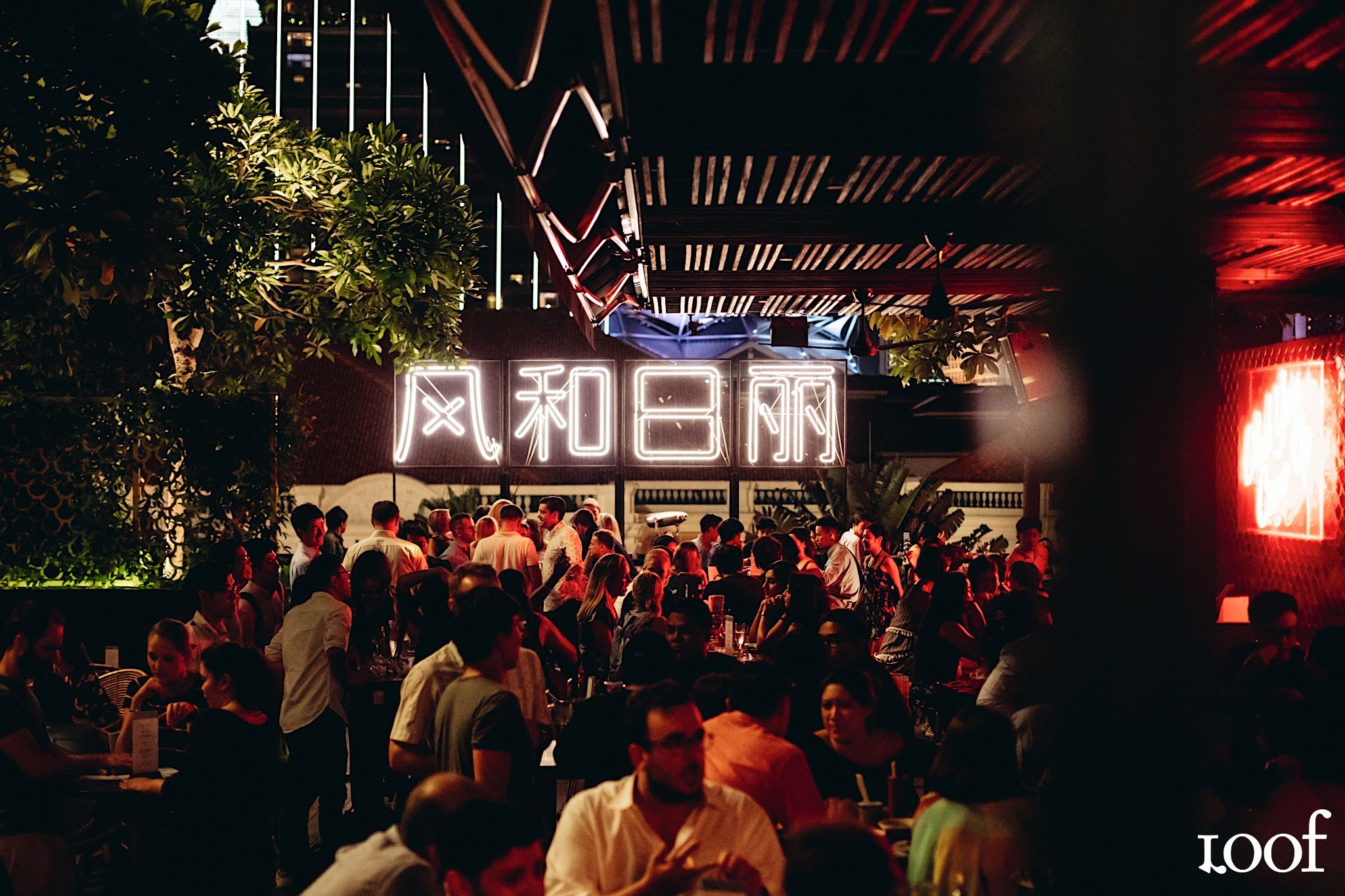 (Source: Facebook)
A common feature amongst bar enthusiasts, I'm sure most of you would have already chanced upon this sign in daily social media feeds. A gastro pub of sorts, you'd be pleased to find modern Singaporean bar bites alongside must-try beverages, courtesy of Singapore's top bartenders and chefs.
7. Level Up
(Source: Facebook)
Yearning for the arcade games of yester-year? Then look no further. Level Up's the perfect place for you to relive those childhood memories!
Plus, no meddling kids to ruin your perfect high-score. In short, it's the perfect adult playroom for you and your friends to reconnect with your "lost" childhood.
8. NINETEEN80
A good alternative to Level Up, NINETEEN80 is also modelled as an arcade bar, paying particular homage to the themes of 1980s and 1990s.
Bonus Fact: They boast one of the coolest website designs I've seen so far. Just checking in via their website already got me hooked!
9. The Horse's Mouth
(Source: Facebook)
Famous for being one of the hidden speakeasies, locating this particular bar is no easy feat. Hint: The entrance is located within a ramen store!
Besides cocktails, treat yourself to a variety of accompanying Japanese-inspired bar bites. After-all, you did work up a sweat on this particular bar hunt.
10. The Other Room
(Source: Facebook)
For our final recommendation, one need only look for an unmarked door in Marriott Hotel to find this bar. Boasting a comprehensive cocktail list, it's no wonder The Other Room remains one of the most highly recommend speakeasy bars in Singapore.
But don't just take our word for it, take a trip downtown and find out for yourself! Of course, you've got to first get past its hidden entrance.
Good luck!
---
About Casey Choo
Transforming finance into simple, digestible formats 1 step at a time!
You can contribute your thoughts like Casey Choo
here.